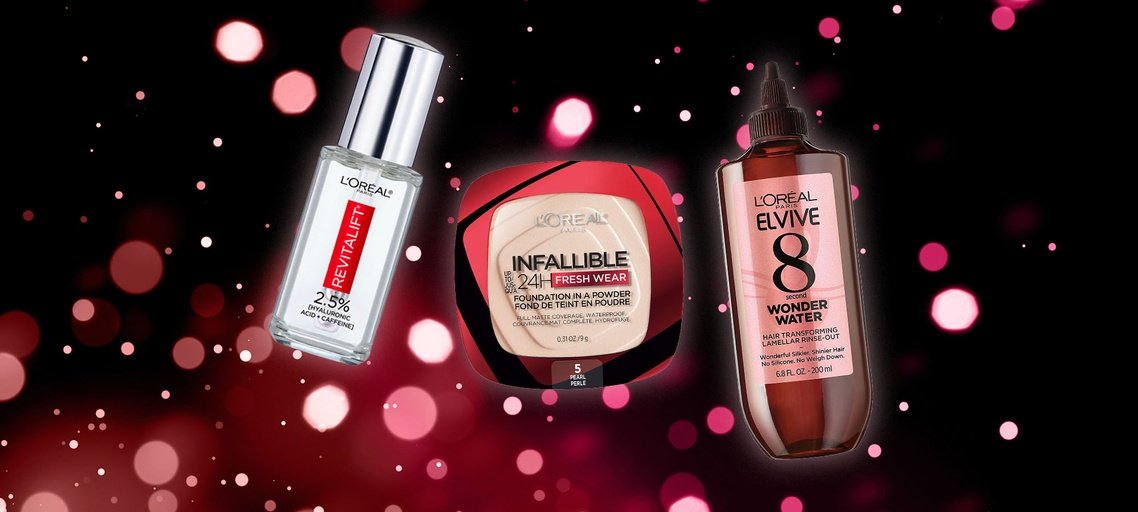 tendencias-belleza
The Best Amazon Prime Day Deals from L'Oréal Paris
Fill up your virtual shopping cart with these discounted must-haves.
The only thing more fun than buying new beauty products is getting those products at a discount. Wouldn't you rather purchase your favorite skin care, makeup, and hair essentials for less? Who doesn't love saving some coins? Exactly — no one, because everyone loves a deal! And Amazon Prime Day 2022 is quickly approaching, bringing along with it some of the best beauty discounts to help you fill up your makeup bag and vanity.
What Is Prime Day?
Amazon Prime Day is an annual event for Prime members, where products are on serious sale. It's a popular day to score deals on tech accessories and TVs, but you can also stock up on necessities, small pleasures, and most importantly, beauty products.
When Is Prime Day 2022?
This year, prime day falls on July 12 and July 13 — but, of course, the products with the best discounts can sell out quickly so don't wait. These two days of deals mean you can stock up on the must-haves you've had your eye on or you can start your holiday shopping early so it's out of the way when the fall rolls back around again. You don't have to wait for Black Friday to get the best deals.
The Best Amazon Prime Day Deals from L'Oréal Paris
There are almost too many deals to count, but below we're naming just a few of our favorite L'Oréal Paris products that will be 15 percent off for Amazon Prime Day 2022. With these products already priced so affordably these discounts will feel like a steal. You can find all of the deals, here.
If you ask us, every skin care routine needs a hyaluronic acid serum — even one for your eyes. This fast-absorbing formula instantly hydrates the eye area and over time, visibly reduces fine lines and crow's feet, and brightens the look of dark circles. It's an easy and simple way to get younger-looking skin.
For anyone that's been debating introducing retinol to their routine, now's your chance with this serum with a dose of pure retinol. From the start, you'll notice your skin texture feels refined. Over time, deep wrinkles start to appear less visible and your complexion is brighter and more luminous. It also contains glycerin and hyaluronic acid to help balance the drying effects of retinol.
Editor's tip: If you have reservations about using retinol because you've heard about adverse reactions, read our article, 8 Retinol Myths To Stop Believing Now.
If you have sensitive skin or simply prefer your skin care products without fragrances, this anti-aging face cream is a must-have. It has all the potent anti-aging ingredients you want, including Pro-Retinol, hyaluronic acid and vitamin C, so you can brighten skin, hydrate it and fight wrinkles all with one product.
This primer may be made with mature skin in mind, but it's for anyone who wants to create a smooth base for their makeup. Made with a caring serum, it wears comfortably all day without drying out the skin or making it excessively oily. It also improves the skin's appearance over time, making it smoother, softer and more radiant.
Finally you can get your hands on that foundation that has TikTokers hooked — and you can get it at a discount! It's the perfect foundation to reach for the complete your favorite summer makeup looks when it's hot and sticky and you're prone to sweating but you want coverage. Find out how this sweatproof, transferproof, heatproof, lightweight formula holds up year-round.
When smudged eyeliner is just not the look you're going for, reach for an eyeliner that plays defense against this makeup mishap. The creamy pencil glides on smoothly so you can easily create the eye looks of your social media dreams. It comes in six subtle shades perfect for any smokey eye.
Formulated with a protein repair concentrate, this shampoo and conditioner duo are exactly what you need to transform your damaged hair. Both products work to strengthen and soften hair without weighing it down. Use the system in conjunction with the L'Oréal Paris Elvive Total Repair 5 Power Restore Multi-Use Treatment for silkier, healthy-looking hair.
This hair treatment works its magic in less time than it takes to buy it. Seriously — it works in just eight seconds to visibly transform hair in a single use. The result is strands that feel healthy and silky, and look shiny.
While we're fans of rocking your grays if you embrace them, we understand that there may be some occasion where you need to look your best and you want those grays gone. Grab this root concealer to quickly cover your gray roots when you're in between permanent color sessions for your brunette hair. The lightweight formula doesn't smudge or leave your hair with a sticky residue.
Next: Sir John and Leah Juliett Close Out Pride Month With A Message of Love
Edited by: Shalwah Evans, Photo Design: Crystal Simone
{ "@context": "https://schema.org/", "@type": "WebPage", "speakable": { "@type": "SpeakableSpecification", "cssSelector": ["speakable-content"] }, "url": "https://es.lorealparisusa.com/revista-de-belleza/consejos-de-belleza/tendencias-belleza/best-prime-day-deals-loreal-paris" }
Descubrir más trucos y consejos
Ver todos los artículos
Shop Featured Skin Care products
Discover More
{ "@context": "http://schema.org", "@type": "BreadcrumbList", "itemListElement": [ { "@type":"ListItem", "position": 1, "item": { "@id": "/", "name": "Home" } } , { "@type":"ListItem", "position": 2, "item": { "@id": "https://es.lorealparisusa.com/revista-de-belleza", "name": "Revista de belleza" } } , { "@type":"ListItem", "position": 3, "item": { "@id": "https://es.lorealparisusa.com/revista-de-belleza/consejos-de-belleza", "name": "Ideas profesionales para tu look único" } } , { "@type":"ListItem", "position": 4, "item": { "@id": "https://es.lorealparisusa.com/revista-de-belleza/consejos-de-belleza/tendencias-belleza", "name": "Tendencias de belleza" } } , { "@type":"ListItem", "position": 5, "item": { "@id": "https://es.lorealparisusa.com/revista-de-belleza/consejos-de-belleza/tendencias-belleza/best-prime-day-deals-loreal-paris", "name": "best-prime-day-deals-loreal-paris" } } ] }