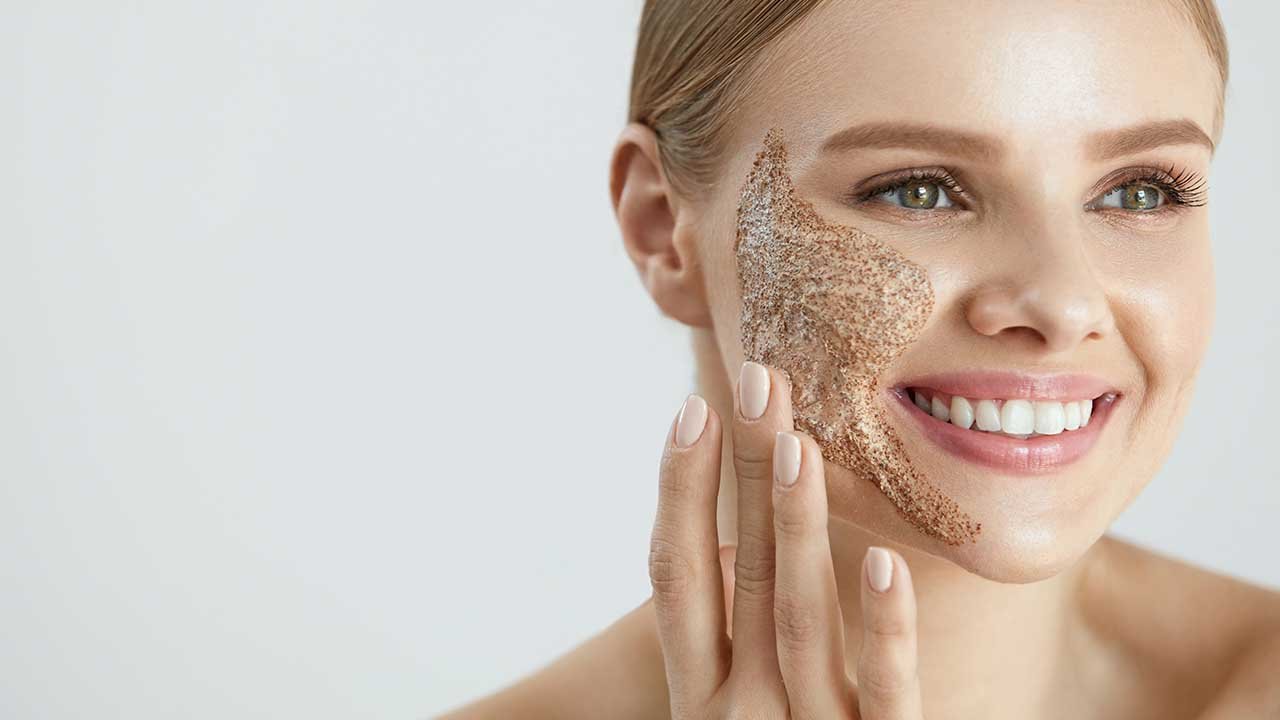 The winter has its upsides, the holidays and hot cocoa among them, but it isn't always kind to your complexion. As the air outside gets cold and dry, without the proper care, your skin can quickly follow suit. We're sure you know the feeling of waking up on a chilly morning with dry skin that's uncomfortable and worst of all, flaking. Throughout the coldest season, dead skin cells can build up on skin's surface, resulting in a complexion that feels dry and looks dull. No thanks! That's where adding exfoliation into your skin care routine comes into play. In the winter, your skin care product needs go beyond facial cleanser and moisturizer. During the winter months, make sure a face scrub or another type of exfoliant is part of your routine to help remove surface skin cell buildup and reveal softer, smoother-looking skin. Below, we're sharing our best exfoliants, from face scrubs to masks to peel pads, along with a few of our best tips for exfoliating.
OUR BEST EXFOLIANTS
When it comes to exfoliation, your options are far from limited. Not only do you get to choose between chemical and physical exfoliators, but you can also pick the right type of product for you, whether that's a face scrub or a facial cleanser, or something else entirely. Below, we've broken down our best exfoliants into three categories: face scrubs, cleansers, and face masks.
OUR BEST FACE SCRUBS FOR EXFOLIATING
One of the best and easiest ways to exfoliate your complexion is by using a gentle yet effective face scrub a few times a week. The L'Oréal Paris Pure-Sugar line is formulated with three different types of pure sugars that slough off dead, dull skin without stripping your skin of its essential oils. When choosing your face scrub, always keep your skin's individual needs and concerns in mind. For example, if you're prone to breakouts, choose a purifying formula. If you're prone to really dry skin, make sure you use a hydrating scrub. Take your pick from the following options:
L'Oréal Paris Pure-Sugar Smooth & Glow Grapeseed Scrub: This face scrub is formulated with finely ground acai and nutrient-rich grapeseed and monoi oils, along with three sugars. Immediately after use, skin feels smoother and looks glowing. With continued use over time, skin looks rebalanced and glowing with a more refined texture.
L'Oréal Paris Pure-Sugar Resurface & Energize Kona Coffee Scrub: If your skin's feeling tired or just overall fatigued, then this scrub, which is made with real Kona coffee grounds, is the formula for you. Dirt, oil, and impurities are removed and skin feels immediately awakened after just one use.
L'Oréal Paris Pure-Sugar Nourish & Soften Cocoa Scrub: Formulated with finely crushed cocoa and super moisturizing coconut oil and shea butter, reach for this scrub if you're prone to dry skin throughout the year.
L'Oréal Paris Pure-Sugar Purify & Unclog Kiwi Scrub: This sugar scrub is made with real kiwi seeds, which effectively slough off dead skin and purify pores. If your biggest skin care concerns are clogged pores and breakouts, this is the scrub to reach for.
OUR BEST FACIAL CLEANSERS FOR EXFOLIATING
We love multi-tasking beauty products—don't you? If you're interested in a cleanser that works double duty, consider one that also exfoliates! Find two options below:
L'Oréal Paris Revitalift Bright Reveal Brightening Daily Scrub Cleanser: This face scrub-cleanser hybrid, which contains micro-pearls and glycolic acid, exfoliates away dullness to reveal visibly brighter, more radiant skin. Over time, skin tone looks more even and texture becomes smoother.
L'Oréal Paris Revitalift Bright Reveal Brightening Daily Peel Pads: These peel pads are formulated with glycolic acid and are perfect for a quick exfoliating session whether you're at home or on the go.
Editor's note: Want to learn more about chemical exfoliants, like glycolic acid? Click through to our article, What's the Difference Between Mechanical Exfoliation and Chemical Exfoliation?
OUR BEST FACE MASKS FOR EXFOLIATING
Good news: You can pamper yourself while you exfoliate. Exfoliating face masks are an amazing way to show your skin a little TLC while exfoliating. So, if you needed another reason to practice self-care, now you have it!
L'Oréal Paris Pure-Clay Exfoliate & Refining Face Mask: Formulated with red algae extract, this mask will refine your skin in just a quick ten minutes. After one use, pores will appear more polished and minimized.
L'Oréal Paris Pure-Clay Clarify & Smooth Face Mask: Daily wear and tear—makeup and improper care—can leave skin looking uneven with roughness and imperfections. When a facial cleanser isn't enough to solve this problem, look to a face mask. Formulated with yuzu lemon extract, this face mask can help draw out the buildup of impurities, dirt, and pollution, shed rough, dead skin cells from the surface of skin, clarify tone, and improve skin texture.
4 EXFOLIATING TIPS TO KEEP IN MIND THIS WINTER
Contrary to popular belief, exfoliating isn't always a no-brainer. To turn yourself into a pro before your skin's condition gets dire, check out our best tips on the subject.
Exfoliating tip #1: Consider different kinds of exfoliation
You're likely familiar with face scrubs, exfoliating cleansers, and even exfoliating face masks, but let us remind you those aren't the only ways to exfoliate. You can also use an exfoliating tool, like a cleansing brush.
Exfoliating tip #2: Don't forget about your body
Your face isn't the only spot that's dying to say goodbye to dead skin cells. Your body wants in on the action, too. Suds up a loofah or break out a body scrub to pay your body the same attention as you do your face.
Editor's note: Want to exfoliate every inch of your skin—or close to it? Here's How to Exfoliate from Head to Toe.
Exfoliating tip #3: Always follow with moisturizer
You know that you should always moisturize after cleansing, and the same goes for exfoliating. Once you've finished sloughing away dead skin cells, apply a moisturizer, like the L'Oréal Paris Hydra Genius Daily Liquid Care for Normal/Oily Skin, L'Oréal Paris Hydra Genius Daily Liquid Care for Normal/Dry Skin, or L'Oréal Paris Hydra Genius Daily Liquid Care for Extra Dry Skin.
Exfoliating Tip #4: Find the right frequency
Exfoliating is not a one size fits all activity. While some skin types can handle daily exfoliation, others may be better suited to only exfoliating their skin once a week. Pay attention to how your skin responds to determine what works best for you.
Want to know what else your skin needs in the winter? Head on over to our article, How to Pamper Dry Skin in Winter.
{ "@context": "https://schema.org/", "@type": "WebPage", "speakable": { "@type": "SpeakableSpecification", "cssSelector": ["speakable-content"] }, "url": "https://es.lorealparisusa.com/revista-de-belleza/cuidado-piel/fundamentos-del-cuidado-de-la-piel/why-you-should-exfoliate-in-winter" }
Descubrir más trucos y consejos
Ver todos los artículos
Shop Featured Skin Care products
Discover More
{ "@context": "http://schema.org", "@type": "BreadcrumbList", "itemListElement": [ { "@type":"ListItem", "position": 1, "item": { "@id": "/", "name": "Home" } } , { "@type":"ListItem", "position": 2, "item": { "@id": "https://es.lorealparisusa.com/revista-de-belleza", "name": "Revista de belleza" } } , { "@type":"ListItem", "position": 3, "item": { "@id": "https://es.lorealparisusa.com/revista-de-belleza/cuidado-piel", "name": "Tratamiento de la piel para todas las edades" } } , { "@type":"ListItem", "position": 4, "item": { "@id": "https://es.lorealparisusa.com/revista-de-belleza/cuidado-piel/fundamentos-del-cuidado-de-la-piel", "name": "Esenciales del cuidado de la piel" } } , { "@type":"ListItem", "position": 5, "item": { "@id": "https://es.lorealparisusa.com/revista-de-belleza/cuidado-piel/fundamentos-del-cuidado-de-la-piel/why-you-should-exfoliate-in-winter", "name": "why-you-should-exfoliate-in-winter" } } ] }