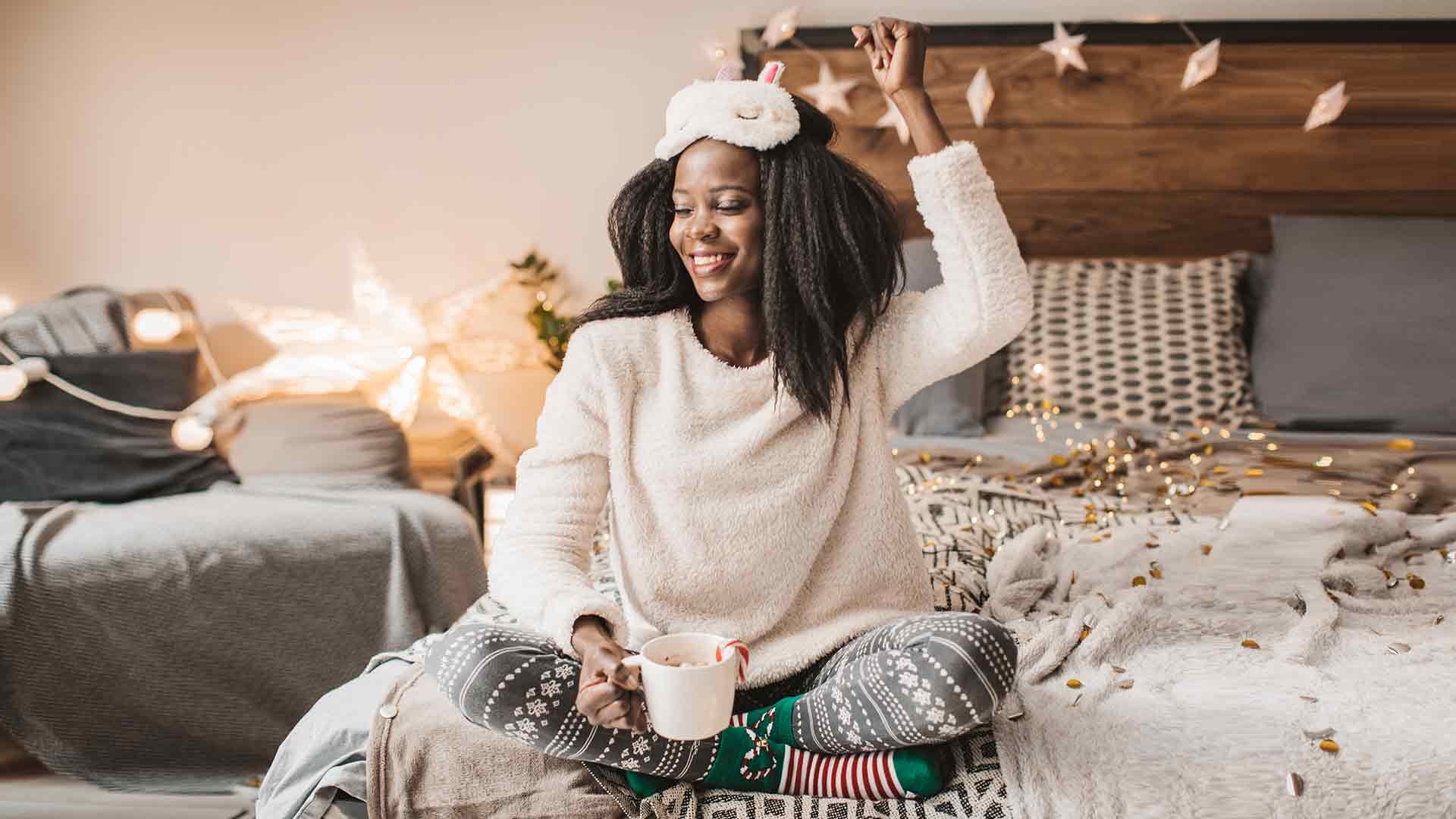 It's not news that stress and the holidays tend to go hand in hand. From spending time with loved ones, catching holiday shopping deals, and attending virtual parties, you may not have the time to pamper yourself. It's common to find acne breakouts, psoriasis, and eczema flare-ups affect your skin, since they're all linked to stress. That said, it's important to lock down a face-care routine that can help you avoid pesky blemishes and redness to leave you with healthy-looking skin. Ahead, we're giving you the full scoop on how to manage your holiday regimen, so you can keep your face looking more balanced.
#1. CLEANSE YOUR SKIN WITH GLYCOLIC ACID
The holiday season tends to have chilly temperatures that can lead to dull-looking skin, so seek out a facial cleanser with glycolic acid, which helps to resurface the skin and even skin tone. Try the L'Oréal Paris Revitalift Derm Intensives 3.5% Glycolic Acid Cleanser, which is formulated with glycolic and salicylic acid. This offering helps to exfoliate dead skin cell buildup from the surface of your face and refines the appearance of enlarged pores. As a result, you'll sport a fresh and bright complexion.
#2. PAMPER YOURSELF WITH A FACE MASK
In between holiday activities and prep, add some "me" time to your calendar by pampering yourself with a face mask. This essential allows you to tackle your skin-care concerns while giving you time to focus on yourself. Try the L'Oréal Paris Pure-Clay Exfoliate & Refining Face Mask, L'Oréal Paris Pure-Clay Clarify & Smooth Face Mask, L'Oréal Paris Pure-Clay Detox & Brighten Face Mask, or the L'Oréal Paris Pure-Clay Clear & Comfort Face Mask. Each clay-formulated option can help draw out impurities from the surface of your face, while giving your skin a pick-me-up.
Smooth an even layer of your face mask of choice onto clean, dry skin. Leave it on for 10 to 15 minutes, then rinse thoroughly with lukewarm water. Use it up to three times a week for best results.
Editor's note: You can also pamper your skin with a multi-masking session. This trend uses multiple face masks at once to address different skin care concerns. Visit our article, How To Multi-Mask, to learn more.
#3. INVEST IN A LUXE FACE SERUM
Since you may be focused on wearing more makeup during the holidays, investing in a face serum formulated with hyaluronic acid is a smart move. Hyaluronic acid provides your skin with glowing hydration that pairs well with makeup. Consider adding the L'Oréal Paris Revitalift Derm Intensives 1.5% Pure Hyaluronic Acid Serum to your holiday skin-care regimen. This lightweight formula replenishes the skin with hydration to leave you with a visibly plumped and youthful-looking complexion. Every morning and evening, smooth two to three drops over the face and neck.
#4. HYDRATE, HYDRATE, HYDRATE
The weather during the holidays can dry out your skin, so you'll want to look for a moisturizer that's formulated with aloe vera to provide moisture. Try the L'Oréal Paris Hydra Genius Daily Liquid Care - Normal/Oily Skin, L'Oréal Paris Hydra Genius Daily Liquid Care - Normal/Dry Skin, or L'Oréal Paris Hydra Genius Daily Liquid Care - Extra Dry Skin. Each option is formulated with aloe vera water and hyaluronic acid to leave you with a balanced and refreshed glow.
#5. PROTECT YOUR SKIN FROM THE SUN
There is no reason why you should ever skip out on sun protection. Spending prolonged periods of time in the sun without proper protection can damage your skin and lead to visible signs of aging down the road. Per the Food & Drug Administration, you should make it a point to apply a broad-spectrum sunscreen with an SPF of 15 or higher regularly and as directed. One easy way to always make sure you're in the clear is to use a moisturizer with SPF, like the L'Oréal Paris Revitalift Bright Reveal Brightening Day Moisturizer SPF 30. This sun-safe essential helps to correct uneven skin tone and reveal brighter skin, which the chilly temperatures during the holiday season can affect. Thanks to its SPF 30, it also provides the ultimate level of sun protection and helps disguise aging signs that can be exacerbated by stress.
Be sure to take additional sun protection measures, as well. The FDA recommends limiting your time in the sun (especially between 10 a.m. and 2 p.m., which are the sun's peak hours), seek shade when you're outside, and cover up exposed areas in long sleeves, pants, a broad-brimmed hat, and UV-blocking sunglasses.
#6. REMOVE YOUR MAKEUP BEFORE BED
By now, you've probably heard that sleeping with your makeup on can wreak havoc on your skin. Your makeup can mix with dirt and oils on the surface of your skin, leading to clogged pores and breakouts. Always make sure to completely remove your makeup before you sleep. For nights when you're too tired to wash your face, keep the L'Oréal Paris Micellar Cleansing Water Complete Cleanser Waterproof – All Skin Types and a few cotton pads on your bedside table. This French-favorite cleanser purifies and hydrates your skin all in one step—no rinsing or rubbing required. All you have to do is saturate a cotton pad with micellar water and wipe it over your face to clean your skin.
#7. FINISH WITH A NIGHT CREAM
Since the holidays and chilly temperatures go hand in hand, it's always a smart idea to add a night cream to your skin care routine. That's why we love the L'Oréal Paris Age Perfect Hydra Nutrition Honey Night Balm, which is formulated with manuka honey extract and nurturing oils. This moisturizer penetrates the skin's surface layer to provide long-lasting, non-sticky, and non-greasy hydration. Smooth it on the face in an upward and outward motion. Apply it from the neck to jawline, then upper chest until fully absorbed.
Next up: Your holiday skin care routine is in order, so you'll want to switch gears to your makeup. Check out our article, We've Checked It Twice—This Holiday Makeup Look Is Foolproof, to look your best.
{ "@context": "https://schema.org/", "@type": "WebPage", "speakable": { "@type": "SpeakableSpecification", "cssSelector": ["speakable-content"] }, "url": "https://es.lorealparisusa.com/revista-de-belleza/cuidado-piel/preocupaciones-de-cuidado-de-la-piel/holiday-skin-care" }
Descubrir más trucos y consejos
Ver todos los artículos
Shop Featured Skin Care products
Discover More
{ "@context": "http://schema.org", "@type": "BreadcrumbList", "itemListElement": [ { "@type":"ListItem", "position": 1, "item": { "@id": "/", "name": "Home" } } , { "@type":"ListItem", "position": 2, "item": { "@id": "https://es.lorealparisusa.com/revista-de-belleza", "name": "Revista de belleza" } } , { "@type":"ListItem", "position": 3, "item": { "@id": "https://es.lorealparisusa.com/revista-de-belleza/cuidado-piel", "name": "Tratamiento de la piel para todas las edades" } } , { "@type":"ListItem", "position": 4, "item": { "@id": "https://es.lorealparisusa.com/revista-de-belleza/cuidado-piel/preocupaciones-de-cuidado-de-la-piel", "name": "Preocupaciones de cuidado de la piel" } } , { "@type":"ListItem", "position": 5, "item": { "@id": "https://es.lorealparisusa.com/revista-de-belleza/cuidado-piel/preocupaciones-de-cuidado-de-la-piel/holiday-skin-care", "name": "holiday-skin-care" } } ] }