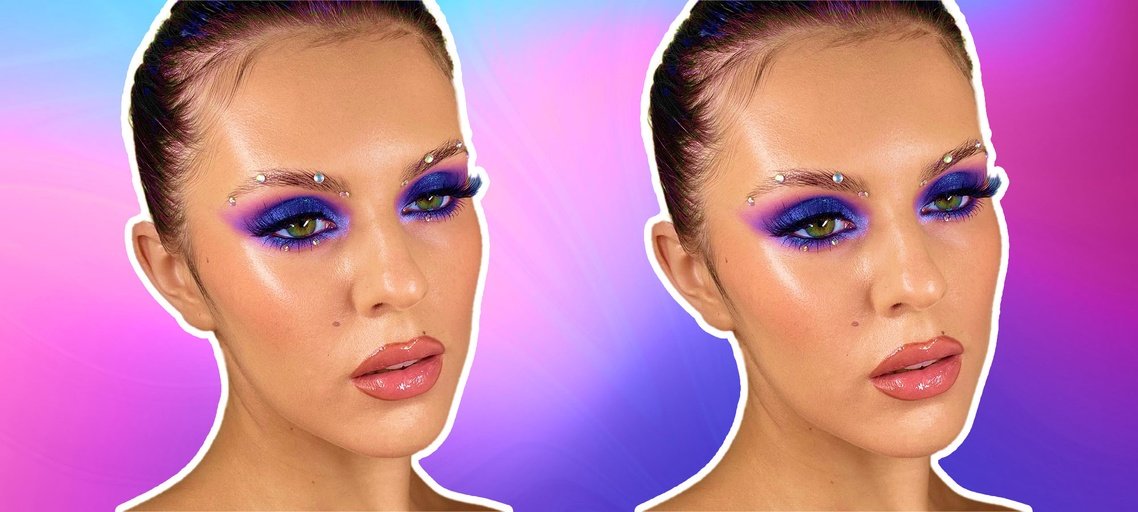 The weather outside might still be frightful, but spring 2022 makeup trends are already coming in hot — giving us something to look forward to when the temps rise again. In the last three months, we've so far seen an explosion of even more Y2K beauty trends, as well as a rise of embellished eyelids, all things glitter and glossy lips. And with spring just around the corner, expect to see even more of that.
L'Oréal Paris expert and celebrity makeup artist Sir John agrees — and also predicts that the upcoming warmer season is going to be all about rocking looks that make you feel good.
"It's all the choices in your makeup routine that make you feel a little bit sunnier inside," he says. "That's a trend that's not going to go away."
Keep scrolling for the biggest spring makeup trends — including some of Sir John's favorites — along with tips and products for trying each one yourself. From pops of neon color on eyelids to glowing skin, the options won't disappoint.
1. Fresh Face
While 2022 is already shaping up to be the year of over-the-top style and glam, skinimalism will still reign supreme this spring when it comes to base products. "People aren't using as much foundation as they used to in general," says Sir John, and instead, are opting for a fresh face, using minimal products and makeup with skin care benefits.
To hop on the skinimalism bandwagon, reach for the L'Oréal Paris True Match Hyaluronic Tinted Serum. It's a makeup-meets-skin care savior that helps hydrate (thanks, hyaluronic acid!) and brighten skin, leaving it with a radiant finish.
2. Statement Blush
"Go bold or go home" is the name of the blush game this spring. Awaken your complexion with a rosy or coral color using the L'Oréal Paris Glow Paradise Lip and Cheek Tint. Formulated with aloe and rose extracts, this multitasking product provides a sheer wash of dewy color and an instant blast of hydration to skin.
Or if you want to raise the ante, try blending a purple blush on your cheekbones. It delivers a very natural and healthy-looking flush with just the right amount of color.
3. Glossy Lips
It's official: Glossy lips are here to stay, too. But don't worry, they're nothing like the sticky ones you remember from middle school. The lip gloss category has evolved over the years, and there are plenty of buttery, high-shine finishes that your hair won't ever get stuck to.
Refresh your spring look with the L'Oréal Paris Glow Paradise Lip Balm-in-Gloss Pomegranate Extract. Its hydrating formula works wonders at brightening up your complexion and keeping your lips soft and smooth, never sticky.
4. Embellished Makeup
Late last year, Pinterest predicted in its annual trends report that makeup embellishments are going to be one of the standout looks of the year. And they weren't wrong. Everyone from TikTok influencers to beloved TV show characters to celebrities has been turning their glams into full-on glitzy works of art with crystals, pearls and gems.
Feminine with an effortless touch of edge, this trend makes it super easy to create an Instagram-worthy beauty look without the need for various eyeshadows. Attach tiny pearls all over your eye or scale it back by highlighting just the outer or inner corners with crystals — either way, you're bound to be the center of attention when you incorporate embellishments into your look.
5. Glittery Eyes
From subtle shimmers to brilliant metallics, glittery eyes is another Y2K makeup trend staking its claim this spring. With so many hues and high-shine finishes to choose from, shimmery eyeshadows can add a lustrous yet subtle touch to your glam but can also make an eye-catching statement, too.
Grab the L'Oréal Paris Brilliant Eyes Shimmer Liquid Eyeshadow Makeup to try the trend. Its liquid formula is extremely blendable and transfer-proof, so you won't have to deal with annoying fall-out. For a powder option, try the L'Oréal Paris Infallible 24 HR Eye Shadow instead.
6. Natural Brows
As proven by red carpets, runways, TV shows and social media, natural brows are going to be all the rage this spring, too. "Taking care of the hair on your face is a trend [I'm seeing]," seconds Sir John.
To get perfectly-shaped arches that are always on point, use the L'Oréal Paris Brow Stylist Definer Waterproof Eyebrow Mechanical Pencil. It has an ultra-fine pencil tip that makes filling in and defining your brows a cinch, plus a spoolie brush that blends and grooms, pulling the look together. Follow with the L'Oréal Paris Unbelieva-Brow Longwear Waterproof Brow Gel to thicken the look of and sculpt your brows.
7. Voluminous Lashes
Real talk: Big, fanned-out lashes will always be in — and for obvious reasons. They help emphasize any makeup look, make eyes look bigger and always add the perfect finishing touch. So, if you're on the market for a new mascara, look no further than the L'Oréal Paris options.
"L'Oréal Paris has the best mascara in the business, hands down," says Sir John, noting that his favorites are the L'Oréal Paris Telescopic Original Mascara and the L'Oréal Paris Lash Paradise Voluminous Washable Mascara.
"I really like to use Telescopic as a primer," he explains of a makeup hack he often does. "It really goes in and gives you those beautiful, dense bottom lashes, without them being clumpy." Then he waits for it to dry and loads on "as much Lash Paradise as possible."
8. Graphic Liner
Level up your eyeliner game with a graphic liner. While you can never go wrong with a classic cat-eye, a graphic liner allows you to tap into your creative side by using vibrant colors and geometric shapes to make your eyes stand out.
Try out the look yourself using the L'Oréal Paris Infallible Pro-Last Waterproof, Up to 24HR Pencil Eyeliner in fun colors, such as Cobalt Blue, Purple and Silver.
9. Brown Lip Liner
The dark lip liner trend of the '90s has come full circle and is set to be a major look for spring. Pair one of the L'Oréal Paris Les Nus By Colour Riche Intense Nude Lipstick hues with the L'Oréal Paris Colour Riche Lip Liner in a brown to get the throwback look.
Editor's tip: For a glossier version, top off your lips with the L'Oréal Paris Infallible Pro Gloss Plump in Mirror.
Next: 9 Short Hairstyles to Freshen up Your Spring 'Do
Written by: Sophie Dweck, Photo Credit: Jodi Murray IG/@jodimury
{ "@context": "https://schema.org/", "@type": "WebPage", "speakable": { "@type": "SpeakableSpecification", "cssSelector": ["speakable-content"] }, "url": "https://es.lorealparisusa.com/revista-de-belleza/maquillaje/tendencias-maquillaje/best-makeup-trends-for-spring" }
Descubrir más trucos y consejos
Ver todos los artículos
Shop Featured Makeup products
Discover More
{ "@context": "http://schema.org", "@type": "BreadcrumbList", "itemListElement": [ { "@type":"ListItem", "position": 1, "item": { "@id": "/", "name": "Home" } } , { "@type":"ListItem", "position": 2, "item": { "@id": "https://es.lorealparisusa.com/revista-de-belleza", "name": "Revista de belleza" } } , { "@type":"ListItem", "position": 3, "item": { "@id": "https://es.lorealparisusa.com/revista-de-belleza/maquillaje", "name": "Consejos de maquillaje para cada look" } } , { "@type":"ListItem", "position": 4, "item": { "@id": "https://es.lorealparisusa.com/revista-de-belleza/maquillaje/tendencias-maquillaje", "name": "Tendencias de maquillaje" } } , { "@type":"ListItem", "position": 5, "item": { "@id": "https://es.lorealparisusa.com/revista-de-belleza/maquillaje/tendencias-maquillaje/best-makeup-trends-for-spring", "name": "best-makeup-trends-for-spring" } } ] }