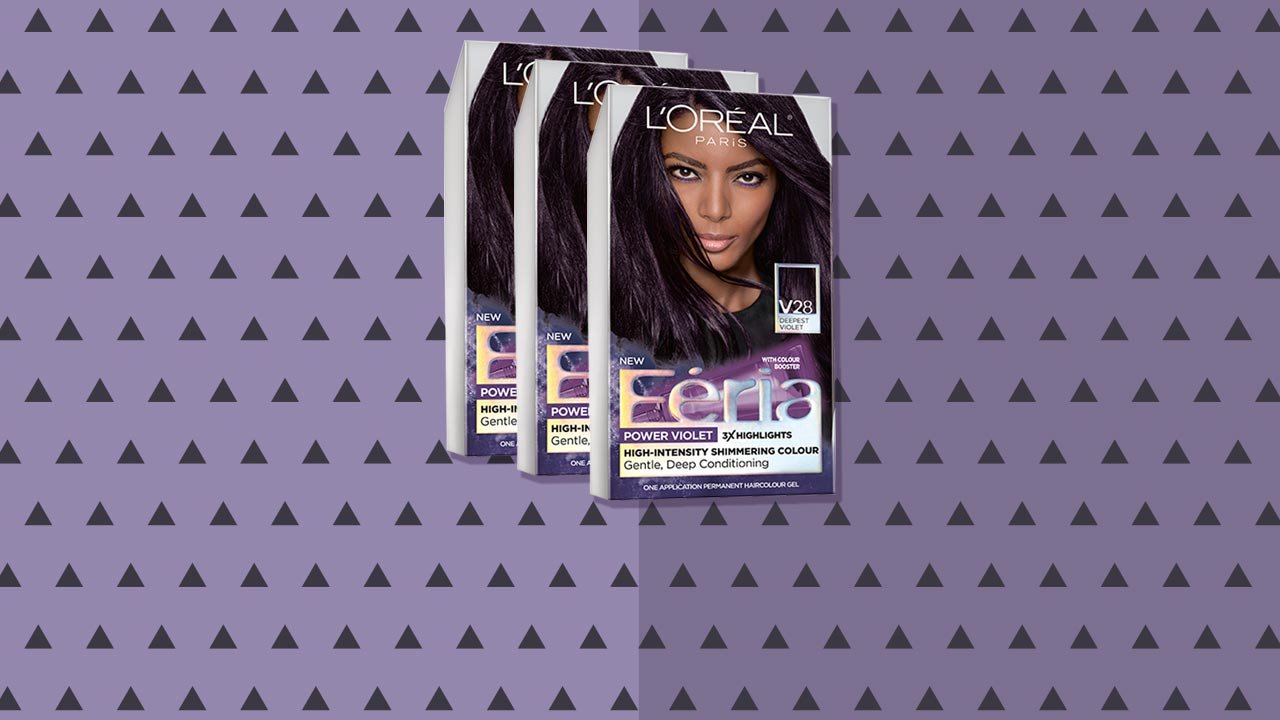 From marshmallow hair to peanut butter and jelly locks to candy-corn inspired color—we love food-inspired hair color trends. The latest hair color for all you foodies out there? Blackberry hair. This beautiful hair color is seriously perfect for the winter months—and we can't get enough of it! We have an inkling you'll feel the same, so keep reading to learn what exactly blackberry hair is.
WHAT IS BLACKBERRY HAIR?
Blackberry hair is the hair color trend for winter. The hue involves dark, black roots that transition into eye-catching purple highlights throughout. This hair color uses the balayage hair highlighting technique, blending the purple hue throughout your mane for a seamless, dimensional look. The shade of purple can be customized to your liking—whether that's a more pink or blue-toned hue—meaning almost anyone can find a way to wear this color.
HOW TO GET A BLACKBERRY HAIR COLOR
Want to rock this beautiful hair color? If you're ready to commit to a blackberry hair color, we recommend going to a professional colorist. This hair color trend is best left to a pro who's skilled at balayage since they'll be able to properly place each purple strand and pick the shade of purple that's most flattering to you.
If you just can't resist a good DIY, get a blackberry-influenced hue with the L'Oréal Paris Féria in Midnight Violet. If you have naturally dark hair and highlights that have started to grow out, go over them with this deep permanent shade and you'll have a refreshed, blackberry mane with minimal effort.
If you aren't quite positive that blackberry hair is right for you—but still want to give it a try—consider using a temporary hair color to test the waters before diving all in. Try a wash out option like the L'Oréal Paris Colorista Hair Makeup 1-Day Color in Purple or the L'Oréal Paris Colorista 1-Day Spray in Purple. Both of these temporary hair color options wash out in just one shampoo, so they're perfect for all of our commitment-phobes out there! Just keep in mind that you'll want to start with a black base and apply the temporary color so that it gradually builds up as it goes down the length of your locks.
Did none of the options above sound right? Maybe you're after a color that isn't permanent but will still last for longer than a single shampoo. In that case, reach for a semi-permanent hair color, like the L'Oréal Paris Colorista Semi-Permanent Hair Color in Purple or Indigo. This temporary hair color lasts four to ten shampoos, so you can try out a blackberry hair color for a little longer.
HOW TO TAKE CARE OF BLACKBERRY HAIR
Once you've decided to sport this trendy hair color, it's important to upgrade your hair care routine accordingly. You'll want to swap out your go-to shampoo, conditioner, and hair mask for a line that's safe for color-treated hair. We love the L'Oréal Paris EverPure Repair & Defend Shampoo, L'Oréal Paris EverPure Repair and Defend Conditioner, and L'Oréal Paris EverPure Repair Remedy Balm. The line restores strength and brilliance in your mane strand by strand while the sulfate-free formula will keep your color-treated hair looking its best.
HOW TO STYLE BLACKBERRY HAIR
Need some inspiration for styling this beautiful hair color? Look no further! Here are a few of our favorite hairstyles for showcasing this dimensional shade.
Hairstyle Idea #1: Go curly
Curls are always our go-to when it comes to showing off a hair color that involves plenty of dimensional highlights! We're fans of voluminous curls in particular. There's just something about a head of full-bodied, bouncy curls that does just about any hair color justice—especially when paired with long hair.
What you'll need:
Hair brush
Wide barrel curling iron
Wide-tooth comb
L'Oréal Paris Advanced Hairstyle Boost It Air-Blown Texture Mist
L'Oréal Paris Advanced Hairstyle BOOST IT High Lift Creation Spray
L'Oréal Paris Elnett Satin Hairspray Extra Strong Hold Volume
Get the look: For a step-by-step tutorial on creating gorgeous, voluminous curls, head over to our article, How to Create Voluminous Curls on Any Hair Type.
Hairstyle Idea #2: Add a braid
Whether you wear your hair straight, wavy, curled, or natural, adding a braid into the mix can showcase your highlighted hair color. The texture of a braid really highlights (pun intended) that dimension! Try adding a braided headband to your hairstyle of choice.
What you'll need:
Get the look: Read our article, How to Get a Braided Headband Hairstyle, to find out how to add a braided element to your 'do.
Hairstyle Idea #3: Boost texture
At the end of the day, a dimensional hair color calls for an equally dimensional style—we're talking lots of texture! This look is particularly perfect for short hair, which may not be quite as well-suited to braids or bouncy curls. Grab a texture spray and get to work!
What you'll need:
Your texture spray of choice
Get the look: Don't know how to use a texture spray? Check out our article, How to Use a Texture Spray, for everything you need to know!
Want more berry-inspired beauty ideas? Read our article, Our Best Berry Lipstick for Every Skin Tone.
{ "@context": "https://schema.org/", "@type": "WebPage", "speakable": { "@type": "SpeakableSpecification", "cssSelector": ["speakable-content"] }, "url": "https://es.lorealparisusa.com/revista-de-belleza/coloracion/ideas-coloracion/blackberry-hair-color" }
Descubrir más trucos y consejos
Ver todos los artículos
Shop Featured Hair Care products
Discover More
{ "@context": "http://schema.org", "@type": "BreadcrumbList", "itemListElement": [ { "@type":"ListItem", "position": 1, "item": { "@id": "/", "name": "Home" } } , { "@type":"ListItem", "position": 2, "item": { "@id": "https://es.lorealparisusa.com/revista-de-belleza", "name": "Revista de belleza" } } , { "@type":"ListItem", "position": 3, "item": { "@id": "https://es.lorealparisusa.com/revista-de-belleza/coloracion", "name": "Ideas atrevidas de profesionales de la coloración" } } , { "@type":"ListItem", "position": 4, "item": { "@id": "https://es.lorealparisusa.com/revista-de-belleza/coloracion/ideas-coloracion", "name": "Ideas de coloración" } } , { "@type":"ListItem", "position": 5, "item": { "@id": "https://es.lorealparisusa.com/revista-de-belleza/coloracion/ideas-coloracion/blackberry-hair-color", "name": "blackberry-hair-color" } } ] }