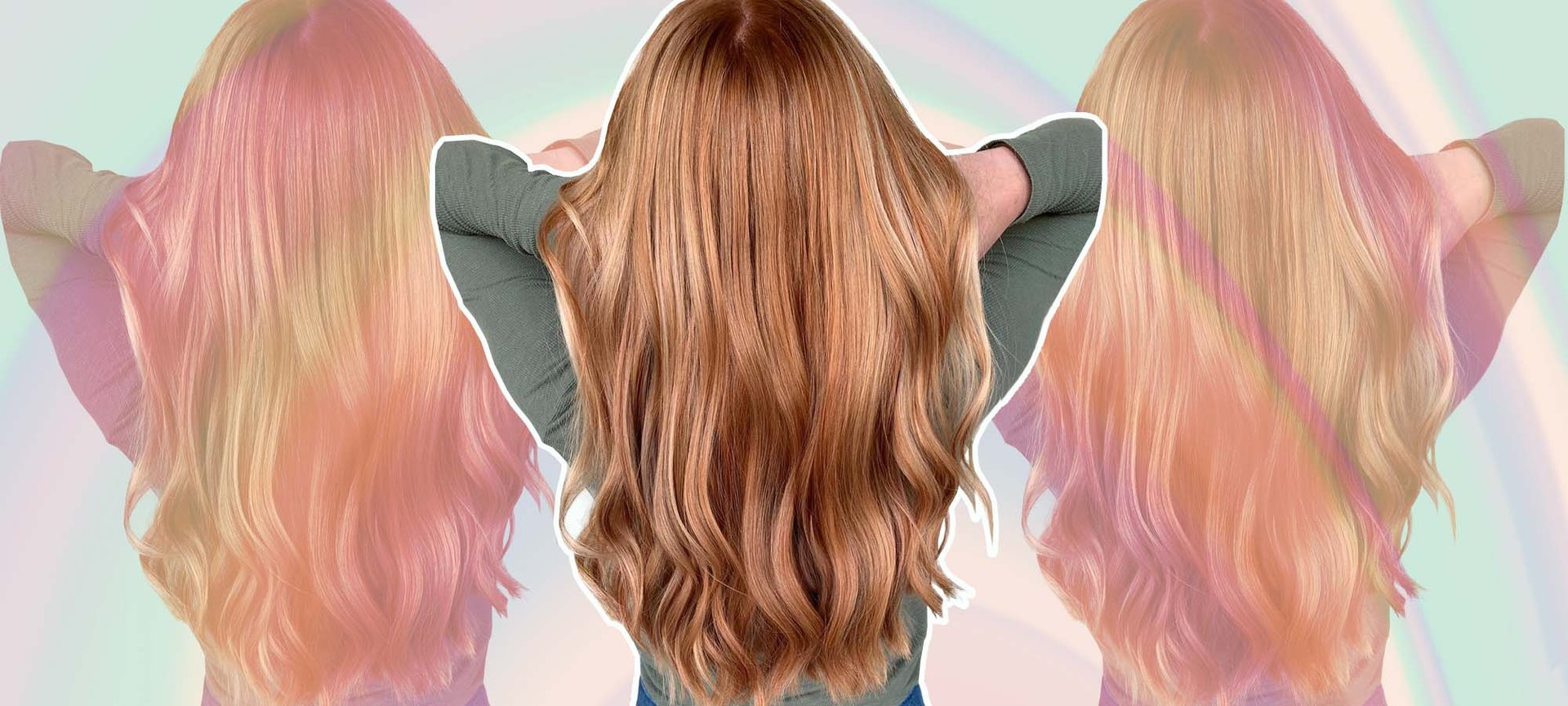 ideas de coloración
How To Get Copper Lowlights For Winter
A cozy hair color for a chilly season.
Copper hair is gorgeous, and opting for it during the winter is a great way to warm up your look for the cooler months. But going for an all-over copper hair color isn't the only way to incorporate the fiery hue into your hairstyle. In fact, opting for copper lowlights is a great option if you're starting with a medium to deep base color and are looking to add dimension to your hair. Keep reading to find out more about this enchanting hair color option, including how to get the look.

What Are Lowlights?
Most people are familiar with highlights 一 the hair coloring technique that lightens strands of hair typically about two to three shades lighter than the base color. Highlights are an extremely popular hair coloring technique because of the dimension and versatility they provide to the hair, but lowlights can be just as appealing. Think of lowlights as the opposite of highlights 一 a hair coloring technique that darkens strands of hair usually about two to three shades deeper than the base color.

Is Copper A Highlight Or A Lowlight?
Given that copper is a medium shade in terms of depth, you might be wondering if it makes for highlights or lowlights. The answer depends on the base color you're starting with. If you're starting with rich chocolate hair or another deep shade, copper will make for gorgeous highlights. But if you're starting with a light shade like blonde or strawberry blonde, incorporating copper into your hair color can be done through lowlights.

Can You Do Lowlights At Home?
Just like highlights, it can be tricky to do lowlights at home. Between placing the color on the strands evenly, understanding how long to leave it on, reaching the back of your head and potentially having to use bleach on your hair make, it can be a difficult process that's usually best left to a professional. You can always DIY your base shade and then head to a salon to have your lowlights added.

How To Get Copper Lowlights
If you need some inspo on how to incorporate copper lowlights into your hair, we're sharing a few of our favorite looks below.
1. Honey Blonde Hair With Copper Lowlights
Because copper is a warm shade, it blends beautifully with other warm hair colors like honey blonde. Honey blonde is a medium, sunny blonde shade that will pair well with copper without too much contrast. To get a honey blonde base color, try the L'Oréal Paris Féria in Dark Gold Blonde.

2. Light Auburn Hair With Copper Lowlights
Auburn, another warm, reddish orange hue is gorgeous when combined with copper lowlights. While deep auburn bases will need copper highlights, light auburn shades will incorporate copper in the form of lowlights. Get a stunning light auburn base color with the L'Oréal Paris Superior Preference Fade-Defying Shine Permanent Hair Color in Lightest Auburn.

3. Bronde Hair With Copper Lowlights
If you don't want to go blonde, but are concerned that brown hair will be too dark for copper lowlights, go bronde. A gorgeous hybrid shade between blonde and brown, this warm hue pairs beautifully with copper highlights. Get the color at home with the L'Oréal Paris Féria in Light Golden Brown.

4. Rose Gold Hair With Copper Lowlights
If you're not opposed to a bit of color contrast, give rose gold hair and copper lowlights a go. A cool-toned rose hue will provide a contrast against ultra-warm copper. But because both are medium shades and rose gold does have some warmth, they look beautiful when combined rather than appearing too stark.

5. Light Caramel With Copper Lowlights
Caramel is a warm, toasty hair color that instantly brightens your look. With a beautiful balance of brown and golden tones, it pairs well with copper lowlights. Opt for a light version of caramel hair with the L'Oréal Paris Superior Preference Fade-Defying Shine Permanent Hair Color in Hi-Lift Gold Brown to ensure the base color isn't too dark and the copper lowlights are visible.
Next: 10 Ideas For Dark Brown Hair With Highlights

Written by: Alyssa Kaplan, Photo Credit: Lauren Peters, IG/@loloslookss
{ "@context": "https://schema.org/", "@type": "WebPage", "speakable": { "@type": "SpeakableSpecification", "cssSelector": ["speakable-content"] }, "url": "https://es.lorealparisusa.com/revista-de-belleza/coloracion/ideas-coloracion/copper-lowlights" }
Descubrir más trucos y consejos
Ver todos los artículos
Shop Featured Hair Care products
Discover More
{ "@context": "http://schema.org", "@type": "BreadcrumbList", "itemListElement": [ { "@type":"ListItem", "position": 1, "item": { "@id": "/", "name": "Home" } } , { "@type":"ListItem", "position": 2, "item": { "@id": "https://es.lorealparisusa.com/revista-de-belleza", "name": "Revista de belleza" } } , { "@type":"ListItem", "position": 3, "item": { "@id": "https://es.lorealparisusa.com/revista-de-belleza/coloracion", "name": "Ideas atrevidas de profesionales de la coloración" } } , { "@type":"ListItem", "position": 4, "item": { "@id": "https://es.lorealparisusa.com/revista-de-belleza/coloracion/ideas-coloracion", "name": "Ideas de coloración" } } , { "@type":"ListItem", "position": 5, "item": { "@id": "https://es.lorealparisusa.com/revista-de-belleza/coloracion/ideas-coloracion/copper-lowlights", "name": "copper-lowlights" } } ] }