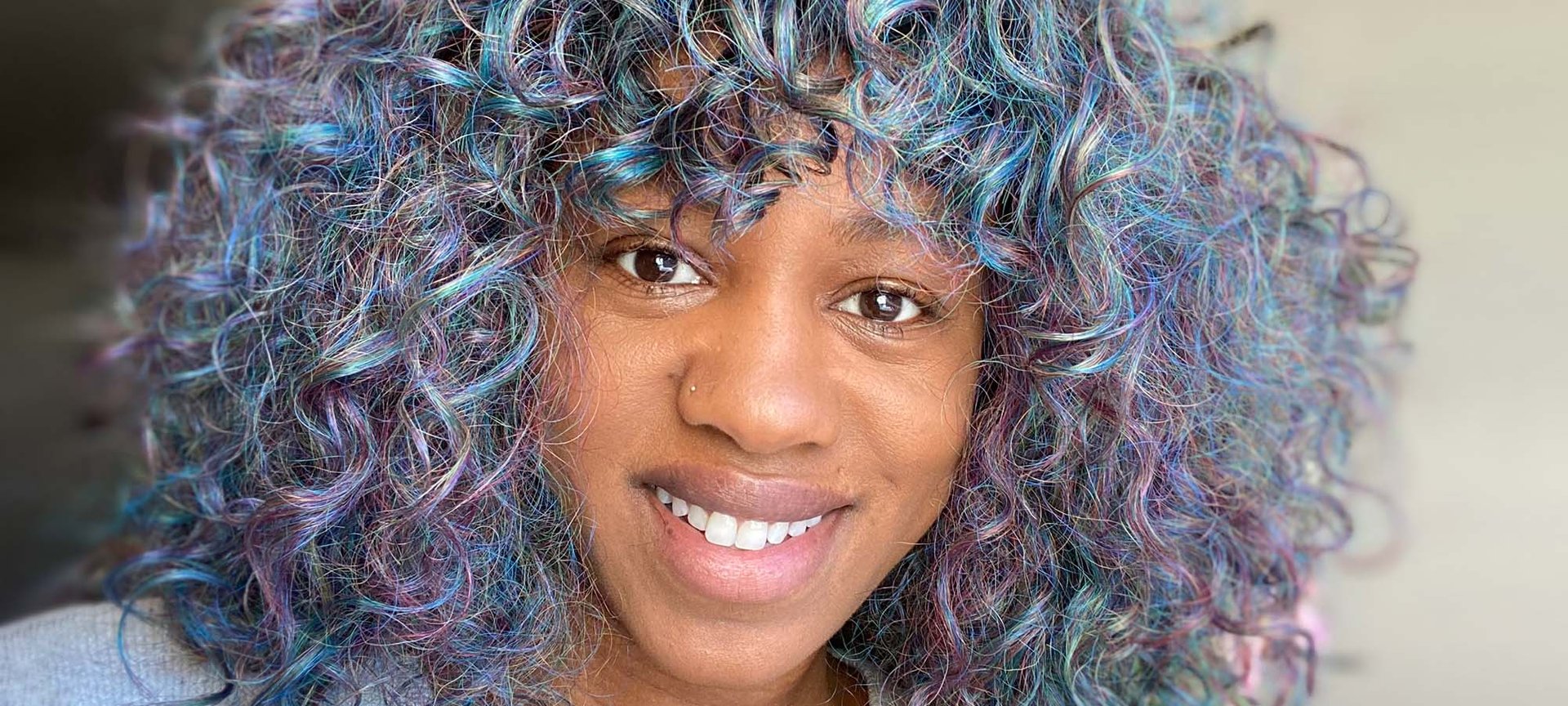 ideas de coloración
5 Pretty Hair Color Ideas For New Year's Eve
Ring in the new year with a new hue.
The new year is almost upon us, which means it's time to celebrate. And of course with any celebration comes a standout beauty look, right down to your hair and nails. If you've been contemplating ringing in 2022 with a new hair color but also asking yourself, "how do I choose a hair color" considering all the options available, then you've come to the right place. We're sharing five of our favorite hair colors to sport for the big ball drop. Whether you're heading to your first big in-person fête, joining the masses in a virtual jam, or partying at home with your BFFs, your new hair color will dazzle. From trendy metallic hair to variations of rainbow hair — including popular oil slick hair — check out these hair color ideas to try this New Year's Eve.
Cherry Bomb
This red balayage hair color is a head-turner in every way. Adding brightness and dimension to your strands, it's not for those who want to fade into the background of the party. Even though the cherry red hue is a statement maker, the balayage sweeping of the color still makes it a bit low-maintenance as you can leave your roots dark if you want that lived-in look. Since it requires a complex technique head to the salon for this one. If you don't want the style beyond the ball drop or you're not looking to bleach and color your tresses, try it with the L'Oréal Paris Colorista Hair Makeup Temporary 1-Day Hair Color Spray in Red instead.
Metallic Blend
Take inspiration from all those glasses of bubbly you'll be drinking as you count down to midnight by showing off a metallic blend of gold and rose gold hair on New Year's Eve. Rose gold has been holding steady as one of the trendiest hair colors for many seasons now, and blended with its yellow-tinted metallic counterpart, it's exceptionally stunning. It doesn't get any more festive than these colors this time of the year! Try this trendy style using the L'Oréal Paris Colorista Hair makeup Temporary 1-Day Hair Color Spray in Rose Gold and Gold.
Tinsel Tones
Another festive color that translates beautifully to hair is silver. Give tinsel-inspired silver hair a try for NYE for a shimmery look that can't be beat. Pair it with your favorite LBD and red lipstick for an update on a classic. Wondering how you can get the look at home just for the night? Grab the L'Oréal Paris Colorista Hair makeup Temporary 1-Day Hair Color Spray in Silver.
Midnight Blue
If you're more into dark hair colors, try midnight blue hair for New Year's Eve. This deep blue shade is perfect for brunettes who don't want to lighten their tresses or anyone looking to explore an edgy yet elegant hair color. With its varying degrees of darkness it offers dimension and intrigue. If you want to commit you can do a subtle all over shade of the hue with L'Oréal Paris Féria in Downtown Denim, or you can go for a real color pop using L'Oréal Paris Colorista Semi-Permanent Hair Color in Midnight Blue or the L'Oréal Paris Colorista Hair makeup Temporary 1-Day Hair Color Spray in Blue over your dark hair.
Rainbow Hair
Why opt for just one new hair color when you can have multiple? Whether you prefer oil slick hair color ideas for black hair, unicorn hair color ideas for blonde hair or the holographic hair trend to sport your rainbow 'do, it's an easy trend to try at home. Take rainbow hair for a spin using L'Oréal Paris Colorista Hair makeup Temporary 1-Day Hair Color Spray in Pastel Mint and more. If you want to add even more flair to the look (yes, it's actually possible), create an ombré effect by focusing the colors on just the ends of your hair.
How to Use Our Temporary Hair Color Sprays
Once you've decided on your temporary New Year's Eve hair color, it's time to get to work. Follow our step-by-step instructions below for how to use wash out hair color for a fun and festive hue.
Step 1: Protect your clothes.
Don't put on your celebration outfit first. Wear old clothes while you're spraying on your hair color and place a towel around your shoulders to protect your clothes.
Step 2: Shake the can.
Before spraying on hair color, shake the can well.
Step 3: Spray on your hair color.
Hold the can approximately four to six inches away from your head, then spray the hair color onto dry hair.
Step 4: Wait, And Repeat If Necessary.
Be patient! Wait a few minutes for your holiday-approved hair color to dry completely. Then add more color if you still haven't gotten the look and saturation you desire. Just keep in mind that over-spraying your hair may cause it to feel dry, so abide by the rule less is more.
Editor's Tip: If you're rocking an all over hair color, you may need to use more than one can. Once the celebration ends and the feeling of a new year sinks in, you can wash out your hair color — just one shampoo session will do it, so consider giving another hue a try if wearing fun hair colors is one of your resolutions.
Next: 5 Short Hairstyles That Are Perfect for New Year's Eve
Written and photographed by: Shalwah Evans
{ "@context": "https://schema.org/", "@type": "WebPage", "speakable": { "@type": "SpeakableSpecification", "cssSelector": ["speakable-content"] }, "url": "https://es.lorealparisusa.com/revista-de-belleza/coloracion/ideas-coloracion/hair-color-ideas-for-new-years-eve" }
Descubrir más trucos y consejos
Ver todos los artículos
Shop Featured Hair Color products
Discover More
{ "@context": "http://schema.org", "@type": "BreadcrumbList", "itemListElement": [ { "@type":"ListItem", "position": 1, "item": { "@id": "/", "name": "Home" } } , { "@type":"ListItem", "position": 2, "item": { "@id": "https://es.lorealparisusa.com/revista-de-belleza", "name": "Revista de belleza" } } , { "@type":"ListItem", "position": 3, "item": { "@id": "https://es.lorealparisusa.com/revista-de-belleza/coloracion", "name": "Ideas atrevidas de profesionales de la coloración" } } , { "@type":"ListItem", "position": 4, "item": { "@id": "https://es.lorealparisusa.com/revista-de-belleza/coloracion/ideas-coloracion", "name": "Ideas de coloración" } } , { "@type":"ListItem", "position": 5, "item": { "@id": "https://es.lorealparisusa.com/revista-de-belleza/coloracion/ideas-coloracion/hair-color-ideas-for-new-years-eve", "name": "hair-color-ideas-for-new-years-eve" } } ] }