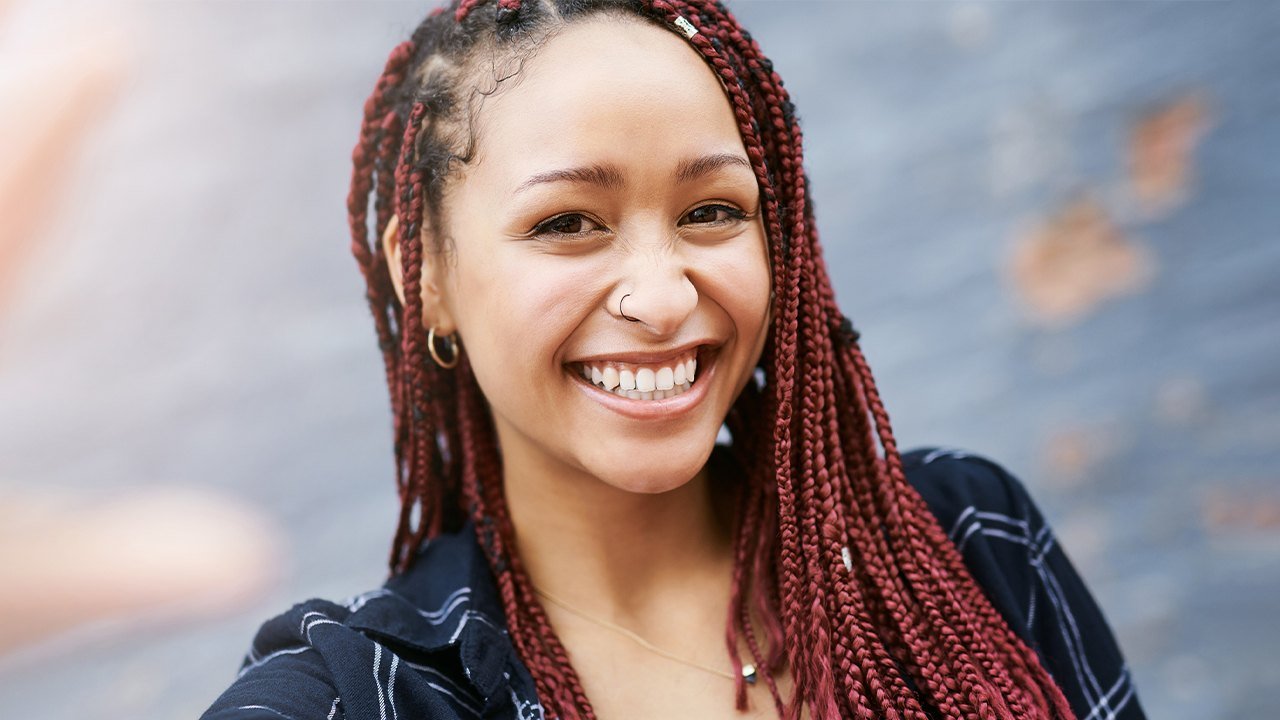 If you're looking to switch up your mane, allow us to point you in the direction of dark red hair. From red lipstick to red dresses, it's safe to say red is a standout shade for any part of your beauty look. But what better way to incorporate this confidence-exuding hue into your look than with a trendy dark red hair color? Below, we're sharing 13 stunning dark red hair color ideas—along with some dark red hair dye recs so you can bring your fiery mane to life.
1. DARK RED BOX BRAIDS
Want to add a bit of life to your box braids? While box braids are beautiful on their own, box braids with color happen to be trending at the moment. So, it's easy to see why dark red box braids have earned the top spot on our list. Consider it a must-try option if you want to protect your natural hair in style.
2. DEEP BURGUNDY
As far as dark red hair colors go, it doesn't get more stunning than a deep burgundy hue. This is an ideal shade for those who are ready to fully embrace a dark red mane—not to mention it looks beautiful on pale and deep skin tones alike! To DIY the color, pick up the L'Oréal Paris Féria in Deep Burgundy.
3. DARK RED BALAYAGE
It's no secret that dark red hair isn't the most low-maintenance hue. If you prefer something with a little less upkeep, give the dark red hair trend a try by asking your colorist for deep red balayage highlights. Expertly placed, these highlights will add beautiful dimension to your mane without requiring frequent touch-ups.
4. DARK RED WITH CARAMEL HIGHLIGHTS
If you have an all-over dark red hair color, you don't have to stop there. To add a bit of movement and depth to your flaming strands, consider adding some caramel highlights into the mix. This color combo is undeniably striking, so get ready to snap plenty of pics for Instagram!
5. DARK RED OMBRÉ ON BROWN HAIR
Speaking of color combos, dark red-brown hair is another match made in hair heaven. If you're naturally brunette, consider adding a bit of color to your strands by trying dark red ombré on a brown base. We particularly love this look when paired with medium or dark brown hair.
6. BLACK CHERRY
Have black hair? Look no further than a black cherry hair color. This dark red hair option features a black base that's brought to life by a mix of deep burgundy and bright cherry highlights throughout. Pretty, right?
7. DARK RED ENDS
If you want to test the waters with dark red hair, add a pop of color to your mane with dip-dyed ends. You can leave your starting color as-is (or try a new base color if you please), then color the very ends of your hair with a dark red hair dye.
8. DARK RED INVERTED OMBRÉ
Sure, ombré hair is beautiful, but what about an inverted ombré 'do? Go all out with a fully red mane while still embracing a variation in shades with a dark red inverted ombré hair color. Transitioning from a light, vibrant red to a deep, dark shade on your ends, it's one hair color that'll truly make a statement.
9. DARK RED HIGHLIGHTS
A subtler option for trying the deep red hair trend is adding wine red highlights throughout your mane. This color looks particularly beautiful when blended throughout darker strands, adding a pop of color that will brighten a dark base.
10. DARK AUBURN
Prefer something a bit more natural? If you want a red mane that has a more true-red feel, color your mane with a dark auburn hair dye. Get the look at home with the help of the L'Oréal Paris Superior Preference Fade-Defying Shine Permanent Hair Color in Dark Auburn or L'Oréal Paris Féria in Power Reds - Deep Auburn/Red Velvet.
11. DARK RED UNDERLIGHTS
Want to keep your scarlet strands a secret? You can—with the help of dark red underlights, that is. This unique hair coloring placement is a play on the peek-a-boo hair trend, focusing highlights on the underneath layer of your hair. Show off your dark red tresses as you please when you put your hair up or keep them hidden when you wear your hair down! So versatile.
12. DARK RED WITH COPPER HIGHLIGHTS
Another option for bringing depth to a dark red base is having your colorist add bright, copper highlights throughout. The contrast in shades is sure to catch some stares—in the best way, of course! We particularly love copper balayage highlights on dark red hair, as the placement creates a beautiful, subtle transition in shades.
13. DARK RED LOWLIGHTS
Who says lowlights have to be standard shades like brown and blonde? Definitely not true! Dark red lowlights are a trendy way to add dimension to a lighter base color. Consider having them mixed with a caramel blonde base for a Pinterest-ready 'do.
{ "@context": "https://schema.org/", "@type": "WebPage", "speakable": { "@type": "SpeakableSpecification", "cssSelector": ["speakable-content"] }, "url": "https://es.lorealparisusa.com/revista-de-belleza/coloracion/tendencias-coloracion/dark-red-hair-colors-and-dyes" }
Descubrir más trucos y consejos
Ver todos los artículos
Shop Featured products
Discover More
{ "@context": "http://schema.org", "@type": "BreadcrumbList", "itemListElement": [ { "@type":"ListItem", "position": 1, "item": { "@id": "/", "name": "Home" } } , { "@type":"ListItem", "position": 2, "item": { "@id": "https://es.lorealparisusa.com/revista-de-belleza", "name": "Revista de belleza" } } , { "@type":"ListItem", "position": 3, "item": { "@id": "https://es.lorealparisusa.com/revista-de-belleza/coloracion", "name": "Ideas atrevidas de profesionales de la coloración" } } , { "@type":"ListItem", "position": 4, "item": { "@id": "https://es.lorealparisusa.com/revista-de-belleza/coloracion/tendencias-coloracion", "name": "Tendencias de coloración" } } , { "@type":"ListItem", "position": 5, "item": { "@id": "https://es.lorealparisusa.com/revista-de-belleza/coloracion/tendencias-coloracion/dark-red-hair-colors-and-dyes", "name": "dark-red-hair-colors-and-dyes" } } ] }