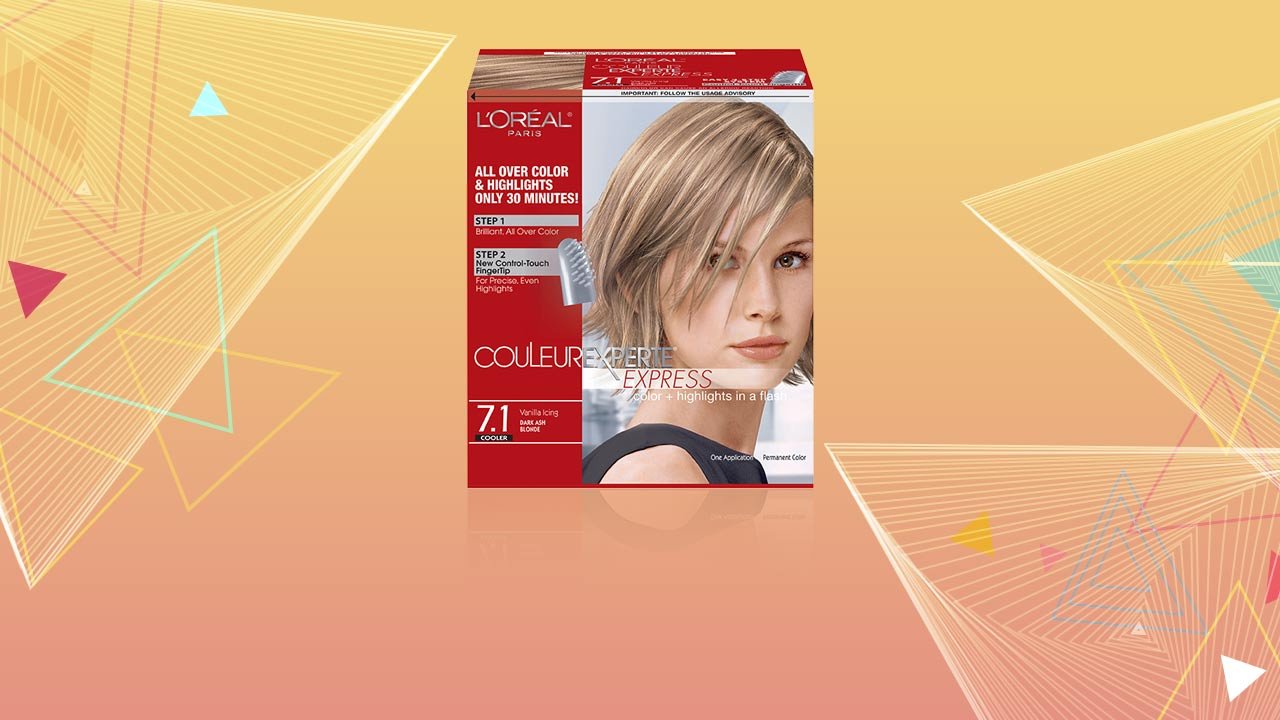 When you weigh the options of seeking out a professional colorist or dyeing your hair at home, the latter certainly has its perks. But still, at-home hair color can seem intimidating. Eliminating that fear is all about finding the right at-home hair color kit. L'Oréal Paris Couleur Experte provides you with a new base color and highlights all at once. It doesn't get much easier than that. Lighten or deepen your base color while perfectly covering grays, then add precise, even highlights for dimension and shine. Tempting, right? Find all the details on Couleur Experte and coloring your own hair, below.
Step 1: Select a Shade
You can't possibly dye your hair without choosing a color, so let's start there. If you aren't leaning in one direction, focus on finding inspiration pictures. When there's a color you're drawn to, see if the model has a similar skin tone to yours. Assuming the answer is yes, the shade is likely to work for you, too. If they don't, keep searching. Here are a few shade suggestions to get you going:
If you have fair skin…chances are you'd make a striking redhead. Bonus points if you have freckles! Try the L'Oréal Paris Couleur Experte in Ginger Twist.
If you have light skin…you'll have more fun as a blonde. Try the L'Oréal Paris Couleur Experte in Vanilla Icing.
If you have medium skin…pick something equally in-between, like a brown base with even lighter brown highlights. Try the L'Oréal Paris Couleur Experte in Almond Rocca.
If you have dark skin…deepen up your color to match. A caramel shade is just right. Try the L'Oréal Paris Couleur Experte in Caramel Glaze.
If you're looking for something different, don't worry. There are still six other shades to choose from, so you're sure to find your match.
Step 2: Dye Your Hair
Once you've made the hard decision and have your Couleur Experte hue of choice right there in your hands, you're ready to roll. That's right, DIY dyeing time. Open up the box and you'll find a multi-tonal color base, multi-tonal creme developer, illuminating powder, illuminating creme developer, wand, control-touch fingertip, spatula, creme conditioner, two pairs of gloves, and of course the coloring guide. Don't bother trying to guess how to use all the contents on your own—you'll want to follow the included instructions exactly—and let them answer all of your questions. Keep in mind that lightening your hair will require bleaching—and the darker the base shade you're starting with, the more work may be required to reach your desired end result.
Step 3: Switch Up Your Hair Care Routine
A new hue means it's time to make room in your bathroom for new hair care products. Gone are the days of reaching for any old shampoo and conditioner. Instead, after coloring your hair with Couleur Experte, stock your shower with a system of shampoo, conditioner, and hair mask formulated for colored hair. Try the L'Oréal Paris Hair Expert Color Vibrancy Intensive Shampoo, L'Oréal Paris Hair Expert Color Vibrancy Intensive Conditioner, and L'Oréal Paris Hair Expert Color Vibrancy Intensive Ultra Recovery Mask. Swap out the conditioner once or twice a week for the hair mask, which should be used after washing with the shampoo.
Step 4: Sport Air Dried Styles
Put down your heat tools—at least once in a while—and embrace your natural texture post-Couleur Experte dye job. After showering, towel dry your tresses part way before applying a styling cream, mousse, or hair spray, like the L'Oréal Paris Advanced Hairstyle AIR DRY IT Undone Style Cream, L'Oréal Paris Advanced Hairstyle AIR DRY IT Ruffled Body Mousse, and L'Oréal Paris Advanced Hairstyle AIR DRY IT Wave Swept Spray. Work the product through your hair, then let it finish air drying.
Step 5: Touch Up Your Color
No matter how dedicated you are to taking care of your strands, eventually you'll need to touch up your hair color. As it tends to go, that day always comes sooner than you expect it—which means it's best to be prepared. Keep an extra box of Couleur Experte on hand in your chosen color. That way you can get to dyeing at practically a moment's notice. No need to demand an emergency salon appointment or so much as leave your house.
Don't put an end to your hair color education just yet. Keep it going with our article, 28 Hair Color Terms Every Woman Should Know.
{ "@context": "https://schema.org/", "@type": "WebPage", "speakable": { "@type": "SpeakableSpecification", "cssSelector": ["speakable-content"] }, "url": "https://es.lorealparisusa.com/revista-de-belleza/coloracion/tutoriales-coloracion/couleur-experte-application-instructions" }
Descubrir más trucos y consejos
Ver todos los artículos
Shop Featured Hair Care products
Discover More
{ "@context": "http://schema.org", "@type": "BreadcrumbList", "itemListElement": [ { "@type":"ListItem", "position": 1, "item": { "@id": "/", "name": "Home" } } , { "@type":"ListItem", "position": 2, "item": { "@id": "https://es.lorealparisusa.com/revista-de-belleza", "name": "Revista de belleza" } } , { "@type":"ListItem", "position": 3, "item": { "@id": "https://es.lorealparisusa.com/revista-de-belleza/coloracion", "name": "Ideas atrevidas de profesionales de la coloración" } } , { "@type":"ListItem", "position": 4, "item": { "@id": "https://es.lorealparisusa.com/revista-de-belleza/coloracion/tutoriales-coloracion", "name": "Tutoriales de coloración" } } , { "@type":"ListItem", "position": 5, "item": { "@id": "https://es.lorealparisusa.com/revista-de-belleza/coloracion/tutoriales-coloracion/couleur-experte-application-instructions", "name": "couleur-experte-application-instructions" } } ] }