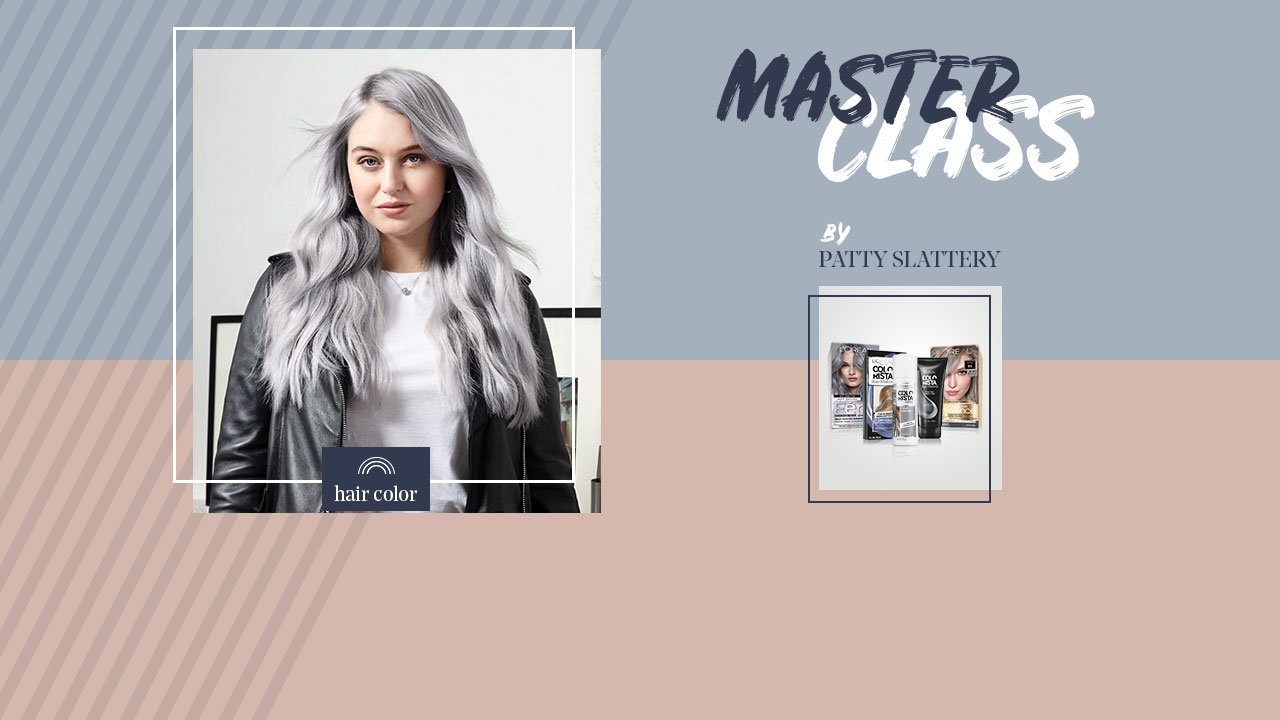 Take our word for it, the silver hair color trend is not going anywhere. In fact, L'Oréal Paris—in partnership with Vogue—recently named silver as the 2019 Hair Color of the Year. The choice was an easy one given the color's popularity on search engines, social media, runways, and amongst people of all ages. Trying the "it" color of the year at home has never been easier thanks to L'Oréal Paris' range of silver hues—including Preference Silver Blonde, Feria Smokey Silver, Colorista Hair Makeup Silver Blue and Grey, and Colorista Silver Spray. Thinking about taking the plunge? We spoke to Patty Slattery—L'Oréal Paris expert colorist—for tips on how to achieve silver locks. Whether you're starting out as a blonde or brunette, you'll want to read this before embracing the silver hair trend.
Who Can Try the Silver Hair Trend?
Anyone can try silver hair, but the process will not be the same for all. While for some, it may be a quick change, others will find it to be a multi-step process. This is especially true if your hair is a dark brunette shade since you'll need to pre-lighten your hair before you apply the silver.
"The first thing I would do is go to a wig shop and put a silver wig on," Patty says. "Check to see if [silver] looks good against your skin." The last thing you want to do is invest time and energy in achieving silver hair only to hate the way it looks against your skin tone. The good news is, this color is known for being flattering against a vast range of skin tones.
How to Get Silver Hair
Here is a breakdown of what you will need to do to obtain silvery strands:
If your natural hair color is blonde…achieving silver hair will be a breeze. Even better news? Light blondes and medium blondes can have their pick of any of the three L'Oréal Paris silver shades: Féria Smokey Silver, Preference Soft Silver Blonde, and—if you only want silver hair for a single day—the Colorista Hair Makeup in Silver Blue or Colorista Silver Spray. For permanent silver hair, simply apply Feria Smokey Silver or Preference Soft Silver Blonde for the allotted amount of time. Follow the instructions on the packaging of the at-home hair color you chose and VOILA, you're a silver bombshell!
If your natural hair color is a light brunette…you'll want to bleach your hair to a lighter shade that's similar to the inside of a banana. "You'll need to get your hair light enough so that the end result will reflect as being silver or smoky colored," Patty says. "The more yellow you have in your hair, the less smokey silver you'll have. You'll just be ashy." Patty recommends bleaching your hair with L'Oréal Paris Féria Absolute Platinum Extreme Platinum. Once your hair color is similar to the inside of a banana, follow with your favorite permanent shade (either Feria Smokey Silver or Preference Silver Blonde) all over your bleached hair. For a temporary silver option, apply a dime-sized amount of Colorista Hair Makeup in Silver Blue or Grey to your fingertips and then apply the hair makeup onto the tips and strands of your dry hair. Once finished, brush out your hair and then blow dry until the hair is dry and brushable. This temporary hair makeup will wash out with your next shampoo, so there's zero commitment.
If your natural hair color is a dark brunette…going silver is a bit more complicated. If you only want silver hair for one day, simply spray on Colorista Silver Spray. If you want a more permanent silver option, be prepared to be patient because it will not be an overnight process. Multiple applications of bleaching are needed before applying the silver hair color. Again, Patty recommends bleaching your hair with L'Oréal Paris Féria Absolute Platinum Extreme Platinum. To maintain the integrity of your hair, make sure you take the time to treat and condition your hair in between the bleaching applications. We do not recommend bleaching more than once in a 24-hour period. Please refer to the instructions within your bleaching products for the exact period of time. Once you have achieved the desired light hair color (again, a shade similar to the inside of a banana), then we recommend using the Feria Smokey Silver hair color all over for best results.
If you have color-treated hair…the process is more complicated because the hair needs to be color corrected and may require a salon visit. To start, your current hair color needs to be removed before you can go silver. We recommend using the L'Oreal Paris Colorista Hair Color Remover for this step. Do a strand test to see if the hair color is easily removable. If the existing color easily comes out of the strand, apply the hair color remover all over according to the directions. The goal is to get your hair to be that same inside-of-a-banana color and then proceed using the directions above. If the color does not come out of the strand, then we recommend having a consultation with a professional colorist. Remember, you can always try silver hair for one day with the Colorista Silver Spray.
If you have more than 50% gray hair already…you are half way there! We recommend using Colorista Hair Makeup in Silver Blue or Colorista Silver Spray to add a pop of color to your preexisting silver-gray hair. We recommend shying away from using one of the permanent silver hair colors.
Now that you've decided which type of silver hair is right for you, how about embracing the silver makeup trend? That's right, silver is trending in just about every realm right now! Here's How to Pull Off Silver Glitter Eye Makeup and How to Do a Silver Eyeliner Makeup Look.
{ "@context": "https://schema.org/", "@type": "WebPage", "speakable": { "@type": "SpeakableSpecification", "cssSelector": ["speakable-content"] }, "url": "https://es.lorealparisusa.com/revista-de-belleza/coloracion/tutoriales-coloracion/expert-how-to-silver-hair" }
Descubrir más trucos y consejos
Ver todos los artículos
Shop Featured Hair Color products
Discover More
{ "@context": "http://schema.org", "@type": "BreadcrumbList", "itemListElement": [ { "@type":"ListItem", "position": 1, "item": { "@id": "/", "name": "Home" } } , { "@type":"ListItem", "position": 2, "item": { "@id": "https://es.lorealparisusa.com/revista-de-belleza", "name": "Revista de belleza" } } , { "@type":"ListItem", "position": 3, "item": { "@id": "https://es.lorealparisusa.com/revista-de-belleza/coloracion", "name": "Ideas atrevidas de profesionales de la coloración" } } , { "@type":"ListItem", "position": 4, "item": { "@id": "https://es.lorealparisusa.com/revista-de-belleza/coloracion/tutoriales-coloracion", "name": "Tutoriales de coloración" } } , { "@type":"ListItem", "position": 5, "item": { "@id": "https://es.lorealparisusa.com/revista-de-belleza/coloracion/tutoriales-coloracion/expert-how-to-silver-hair", "name": "expert-how-to-silver-hair" } } ] }