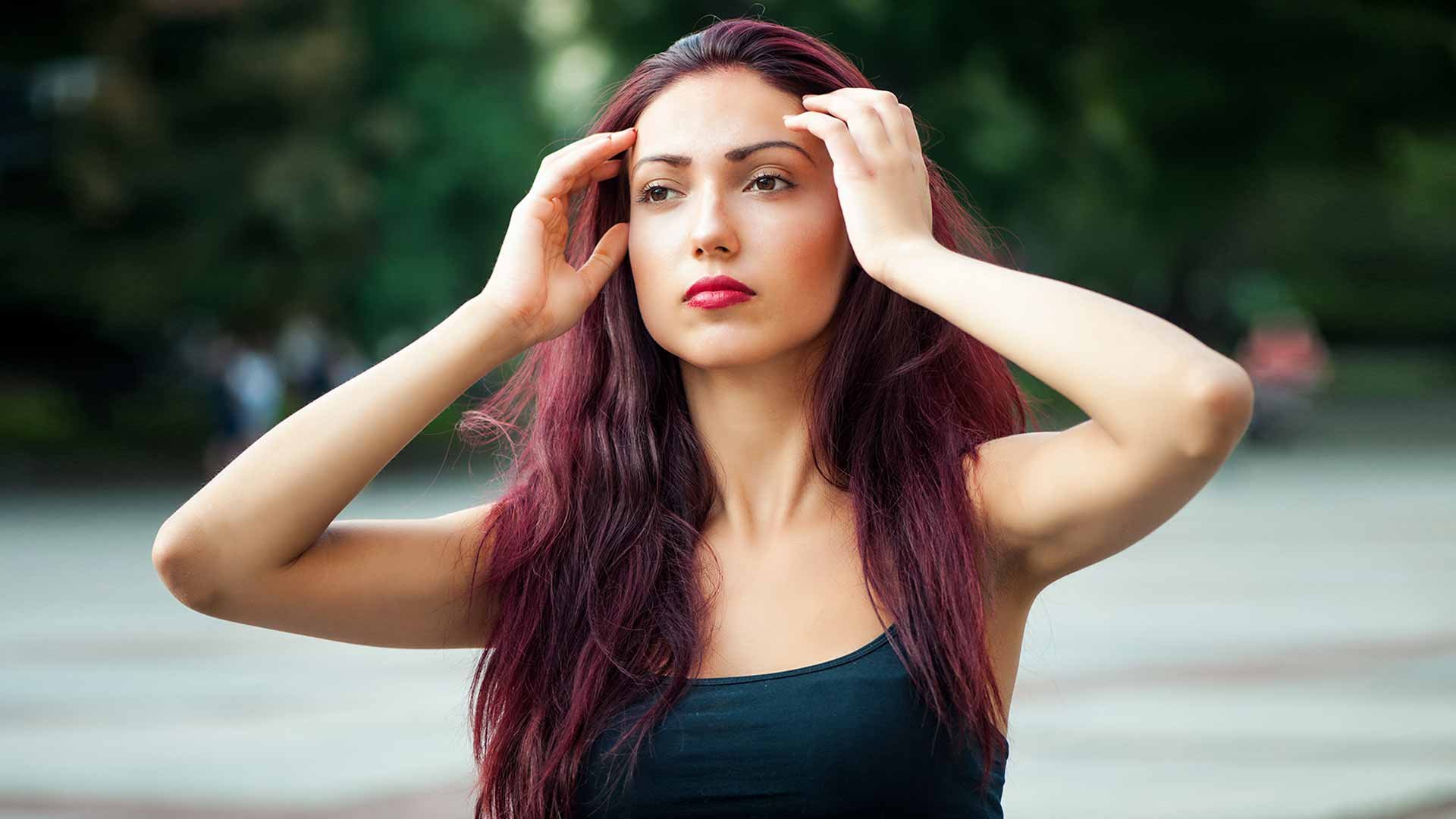 Indulging in a sweet treat for a delicious pick-me-up is always a win. If you love the idea of sharing your love of tasty snacks with your beauty look, you may find chocolate cherry hair color to be a solid choice. This hair color trend gives your mane instant warmth with stunning dimension. Not to mention, it's a cool way to hop on the food-inspired hair color bandwagon. If you're up to transform your hair color with an eye-catching hue, we're here to show you the way. Ahead, we're giving you the full scoop on how to score chocolate red hair like a pro.
WHAT IS CHOCOLATE CHERRY HAIR?
Chocolate cherry hair color is just what the name suggests: a deep, cherry red base complemented by rich chocolate hues blended throughout your mane. This gorgeous color provides your mane with subtle dimension and intense hues. We also appreciate that you can customize this shade to complement your skin tone. You can choose from a vibrant finish or muted tone—it's all up to you.
HOW DO YOU GET CHOCOLATE CHERRY HAIR?
If you're game to explore the wonders of chocolate cherry hair, there are two options to try. One of the easiest ways to get the ball rolling is to enlist the help of a professional. You both can decide on the number of highlights and lowlights to use throughout your mane and specific shades of cherry red and chocolate brown. A colorist also has the skills and expertise to seamlessly blend in the highlights and lowlights to create a super-flattering look.
You can also bring chocolate red hair to life with a DIY hair coloring session. All you need is the right at-home coloring kit to transform your mane. Try the L'Oréal Paris Féria in Deep Burgundy Brown, L'Oréal Paris Féria in Rich Mahogany, or the L'Oréal Paris Superior Preference Fade-Defying Shine Permanent Hair Color in Dark Mahogany Brown. Whichever at-home hair color kit you choose, follow the included directions to transform your mane.
HOW TO TAKE CARE OF CHOCOLATE CHERRY HAIR
Once you've achieved the chocolate red hair color of your dreams, you'll want it to stick around for the long haul. Consider our three hair-care tips below to help your newly color-treated hair look and feel its best.
#1. OPT FOR A COLOR-TREATED HAIR SYSTEM
It's time to bid your go-to shampoo and conditioner farewell. You'll need to upgrade your shower essentials with a system that's formulated for color-treated hair. Try the L'Oréal Paris EverPure Repair & Defend Shampoo and L'Oréal Paris EverPure Repair and Defend Conditioner. This sulfate-free duo will strengthen and protect your strands from environmental damage and daily color aggression.
#2. ADD A HAIR MASK INTO THE MIX
Step into the world of pampering by adding a nourishing hair mask into your weekly regimen. The L'Oréal Paris EverPure Repair Remedy Balm goes the extra mile to restore strength and brilliance to your mane, strand by strand. Once or twice a week, swap out your conditioner for this offering to score some extra TLC.
#3. PASS ON THE HEAT-STYLING
Allow your color-treated strands to go the distance by minimizing heat-styling, since excessive heat usage can cause damage to your locks and lead to color fading. Instead, style your strands with heat-free essentials to highlight your natural texture. Grab a hair mousse, like the L'Oréal Paris Advanced Hairstyle CURVE IT Elastic Curl Mousse, and apply an egg-sized dollop to your towel-dried strands. Scrunch and let air dry. Once complete, you'll have soft and bouncy curls to play with.
If you can't seem to part with your hot tools, you'll need to use a heat protectant to shield your strands. Spritz on the L'Oréal Paris Advanced Hairstyle SLEEK IT Iron Straight Heatspray before applying heat. This essential provides up to 450-degree heat protection, conditions, and seals in shine.
HOW DO YOU STYLE CHOCOLATE CHERRY HAIR?
The idea of giving your mane a break from your hot tools to style your locks is a smart move. As we mentioned, excessive heat can take a toll on your hair color, so you'll want to opt for heat-free styles. Here are three of our favorite styles to choose from.
HEAT-FREE HAIRSTYLE #1: A FISHTAIL BRAID
This gorgeous braid can be worn during the day or dressed up for a bohemian, nighttime 'do. It's something slightly different from your traditional three-strand braid, but it's still super-easy to do.
What you'll need:
Dry shampoo
L'Oréal Paris Advanced Hairstyle BOOST IT High Lift Creation Spray
Clear elastics
Get the look:
Head over to our article, How To Do a Fishtail Braid, for a step-by-step tutorial.
HEAT FREE HAIRSTYLE #2: BEACHY WAVES
It may sound hard to believe, but you can totally achieve beautiful, carefree beachy waves without a curling iron. Put your heat tools away and give this technique a try.
What you'll need:
Hair elastic
Silk scarf
Get the look:
STEP #1: PART YOUR STRANDS
Divide your mane into two equally-sized sections and clip one side out of the way.
STEP #2: FORM YOUR BUN
Fasten your hair into a ponytail and secure it with a hair elastic. Twist the length of your pony and wrap it into a bun. Keep your hair in place with bobby pins. Repeat on the other section.
STEP #3: GET BEAUTY SLEEP
Cover your hair with a silk scarf. Let your buns sit in place and air dry overnight as you get some shut-eye.
STEP #4: REVEAL YOUR WAVES
In the a.m., unravel your buns and finger comb your strands for effortless, beachy waves.
HEAT FREE HAIRSTYLE #3: MESSY BED HEAD
If you want a look that's fun, undone, and can be achieved in under a minute, messy bed head may be the answer you're looking for. Here's how to do it.
What you'll need:
L'Oréal Paris Studio Line Overworked Hair Putty
Get the look:
Apply a pomade throughout your hair, starting with a dime-sized amount and adding more product as desired. Shape your strands in different directions to create a messy, undone style with plenty of texture and thickness.
Next up: Now that you're a chocolate cherry hair expert, why not continue your journey into the world of trendy hair color. Check out our article, How To Get Rose Gold Hair In 3 Easy Steps.
{ "@context": "https://schema.org/", "@type": "WebPage", "speakable": { "@type": "SpeakableSpecification", "cssSelector": ["speakable-content"] }, "url": "https://es.lorealparisusa.com/revista-de-belleza/coloracion/tutoriales-coloracion/how-to-get-chocolate-cherry-hair" }
Descubrir más trucos y consejos
Ver todos los artículos
Shop Featured Hair Care products
Discover More
{ "@context": "http://schema.org", "@type": "BreadcrumbList", "itemListElement": [ { "@type":"ListItem", "position": 1, "item": { "@id": "/", "name": "Home" } } , { "@type":"ListItem", "position": 2, "item": { "@id": "https://es.lorealparisusa.com/revista-de-belleza", "name": "Revista de belleza" } } , { "@type":"ListItem", "position": 3, "item": { "@id": "https://es.lorealparisusa.com/revista-de-belleza/coloracion", "name": "Ideas atrevidas de profesionales de la coloración" } } , { "@type":"ListItem", "position": 4, "item": { "@id": "https://es.lorealparisusa.com/revista-de-belleza/coloracion/tutoriales-coloracion", "name": "Tutoriales de coloración" } } , { "@type":"ListItem", "position": 5, "item": { "@id": "https://es.lorealparisusa.com/revista-de-belleza/coloracion/tutoriales-coloracion/how-to-get-chocolate-cherry-hair", "name": "how-to-get-chocolate-cherry-hair" } } ] }