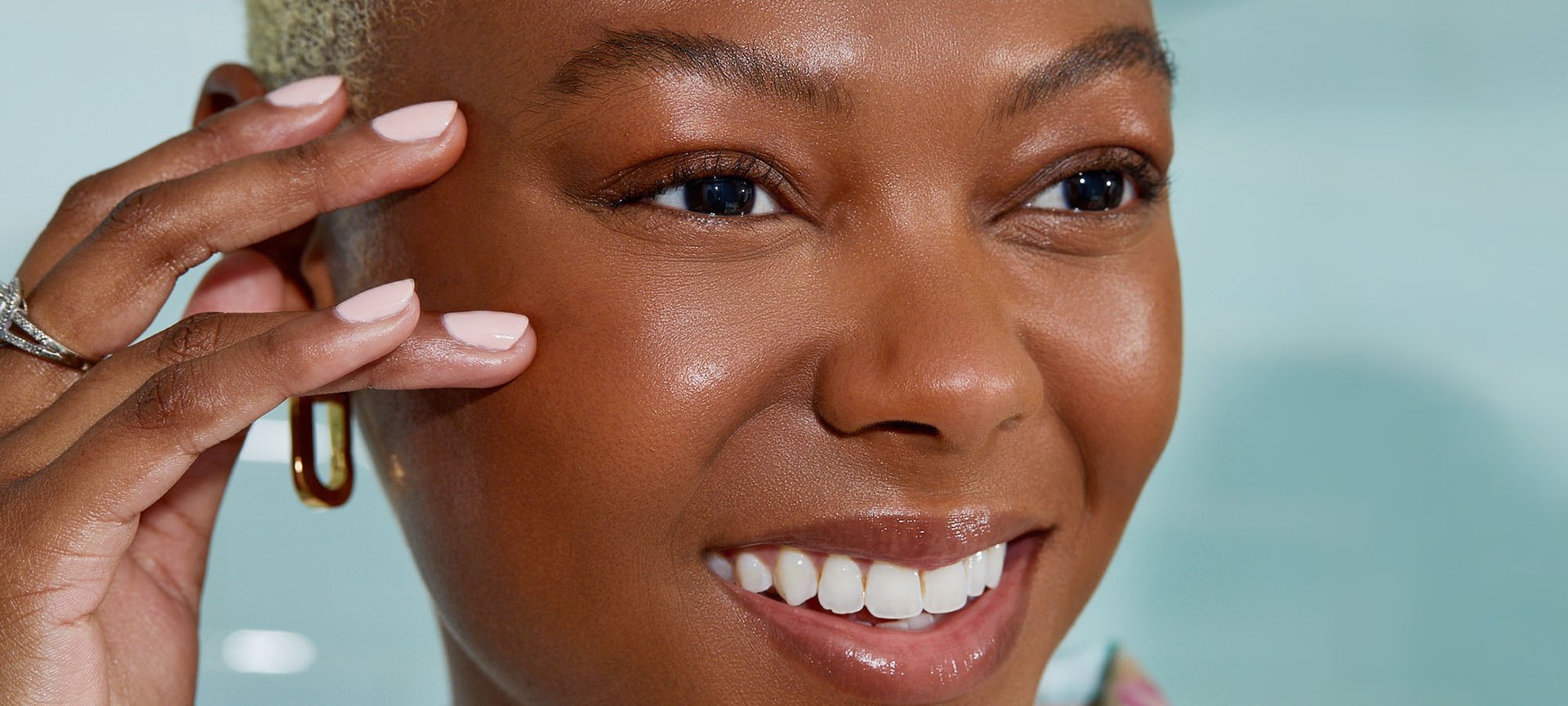 tendencias-belleza
10 Ways to Upgrade Your Beauty Routine for Spring
We're sharing skin care, makeup and hair swaps to try.
After months of enduring brisk winds and bitter temperatures, perhaps your beauty routine needs a serious revamp to match the new spring weather 一 not to mention the changing beauty trends. This season, it's all about lightweight complexion products, bold blush colors, metallic eye makeup and voluminous hairstyles.
That means you'll have to make swaps to your skin care, makeup and hair care routines to keep up with the changing weather and trends. So ahead, we're sharing 10 simple swaps to make that will have you looking and feeling your best through the spring season.

Spring Clean Your Skin Care Routine
Starting with the skin, there are a few swaps you should make when the temperatures start to warm up.

1. Switch Your Facial Cleanser
While using gentle, cream cleansers during the cold months is a great option to ensure you're not stripping your skin of necessary moisture, it might not be your best bet during the spring. The spring season is the start of warm weather and humid days which can lead to oily, congested skin.
So swap your winter cleanser for one like the L'Oréal Paris Revitalift Derm Intensives 3.5% Glycolic Acid Cleanser. It's formulated with glycolic acid to gently exfoliate the skin while cutting through excess oil and impurities.

2. Add an Exfoliating Toner Into Your Routine
During the cooler months, you might forgo using an exfoliating toner as they're often viewed as potentially drying. But during the spring, adding a toner, like the L'Oréal Paris Revitalift Derm Intensives 5% Glycolic Acid Peeling Toner, into your routine is a great way to gently exfoliate the skin and reveal a brighter complexion.
This one removes dead skin cells without being too harsh or stripping thanks to nourishing ingredients like aloe vera in the formula.

3. Opt for Lightweight Moisturizer
Heavy creams during the winter can be necessary in order to give your skin sufficient hydration, but come springtime, they can feel like too much. Instead, make the switch to a more lightweight pick, like the L'Oréal Paris Age Perfect Rosy Tone Broad Spectrum SPF 30 Sunscreen. Its texture feels like a hybrid between a gel and cream, and it has SPF protection which is absolutely essential.

Give Your Makeup Bag a Refresh
Changing makeup trends means that you might want to swap out some of your makeup go-to's if you're looking to stay on the pulse of what's popular in the category.

4. Swap Full-Coverage Foundation for Tinted Serum
Winter makeup often favors more full-coverage, matte looks, but this spring is all about skinimalism. So swap out your more heavy duty complexion products for a lightweight tinted serum, like the L'Oréal Paris True Match Hyaluronic Tinted Serum.
It has light, yet buildable coverage that works to even out your complexion in a natural-looking way. It's formulated with hyaluronic acid to keep the skin hydrated while also creating a gorgeous luminosity to the skin.

5. Opt for Vivid Blush Colors
Blush has been arguably one of the most popular makeup items over the last year, and its popularity isn't slowing down. This spring, swap out your neutral picks for more bold, poppy hues, like the L'Oréal Paris Age Perfect Radiant Satin Blush with Camellia Oil in Marigold. If you prefer a multitasking product that can be used on your lips and cheeks, try the L'Oréal Paris Glow Paradise Lip and Cheek Tint in Rosy Bliss.

6. Choose Metallic Eyeshadows Over Mattes
Metallic eyeshadow is a major eye makeup trend this year and there are tons of ways to make it fitting for spring. Instead of going for a matte look, grab a light or medium neutral or colorful metallic eyeshadow, like the L'Oréal Paris Infallible 24H Eyeshadow in Iced Latte, and swipe it on your eyelids with your fingertips. It makes for an easy, one and done eyeshadow look.

7. Go for Glowy Lip Colors
Move over matte lips, high-shine options are taking over for spring. We love the L'Oréal Paris Glow Paradise Balm-in-Lipstick with Pomegranate Extract because it comes in stunning neutral and pink shades that glide effortlessly onto the lips for a glowing lip look.
Plus, it keeps the lips feeling smooth and hydrated throughout the wear thanks to pomegranate extract in the formula.

Up Your Hair Care and Styling Game
Changes in weather means that you'll need to alter your hair care routine to match your current needs. Plus, why not make the new season an excuse to change up your hairstyle?

8. Implement a Scalp Scrub Into Your Routine
Scalp scrubs are great for exfoliating your scalp and getting rid of dead skin cells 一 but they're also really effective for ridding your scalp of product buildup and excess oil which is common during warm weather.
Try using the L'Oréal Paris EverPure Sulfate-Free Scalp Care + Detox Scrub once a week to give your scalp the refresh it needs. It's formulated with apricot seeds for exfoliation and menthol to leave your scalp feeling invigorated.

9. Get In on the Glass Hair Trend
Glass hair that looks incredibly smooth and shiny will continue to be popular this spring. To up your hair's shine and make it look glossy, try using our glossing system. Start by shampooing with the L'Oréal Paris EverPure Sulfate-Free Glossing Shampoo, pH Balanced, and then coat your hair in the L'Oréal Paris EverPure Sulfate-Free Glossing In Shower Acidic Glaze.
The acidic glaze helps to seal the hair cuticle and increase shine. After letting the glaze sit in the hair for three minutes, move straight on to conditioning your hair with the L'Oréal Paris EverPure Sulfate-Free Glossing Conditioner, pH Balanced. This three part system has an acidic pH between three and four which helps intensify the hair's luminosity.

10. Opt for Voluminous Hairstyles
It's no secret that '80s and '90s hairstyles are making a comeback. This spring, don't be afraid to experiment with hairstyles that feature tons of volume, like a 90's blowout, a chic twist out or curly bangs.
Next: 15 Skin Care Products and Trends Everyone Should Try in 2022
Written by: Alyssa Kaplan, Photography: Chaunte Vaughn, Senior Art Director: Melissa San Vicente-Landestoy, Associate Creative Producer: Becca Solovay, Makeup Artist: Jonet Williamson, Hair Stylist: Akihisa Yamaguchi, Wardrobe Stylist: Adriana Perez-Bell, Digital Tech: Paul Yem, Model: Chelsea Vaughn
{ "@context": "https://schema.org/", "@type": "WebPage", "speakable": { "@type": "SpeakableSpecification", "cssSelector": ["speakable-content"] }, "url": "https://es.lorealparisusa.com/revista-de-belleza/consejos-de-belleza/tendencias-belleza/best-beauty-tips-spring" }
Descubrir más trucos y consejos
Ver todos los artículos
Shop Featured Skin Care products
Discover More
{ "@context": "http://schema.org", "@type": "BreadcrumbList", "itemListElement": [ { "@type":"ListItem", "position": 1, "item": { "@id": "/", "name": "Home" } } , { "@type":"ListItem", "position": 2, "item": { "@id": "https://es.lorealparisusa.com/revista-de-belleza", "name": "Revista de belleza" } } , { "@type":"ListItem", "position": 3, "item": { "@id": "https://es.lorealparisusa.com/revista-de-belleza/consejos-de-belleza", "name": "Ideas profesionales para tu look único" } } , { "@type":"ListItem", "position": 4, "item": { "@id": "https://es.lorealparisusa.com/revista-de-belleza/consejos-de-belleza/tendencias-belleza", "name": "Tendencias de belleza" } } , { "@type":"ListItem", "position": 5, "item": { "@id": "https://es.lorealparisusa.com/revista-de-belleza/consejos-de-belleza/tendencias-belleza/best-beauty-tips-spring", "name": "best-beauty-tips-spring" } } ] }