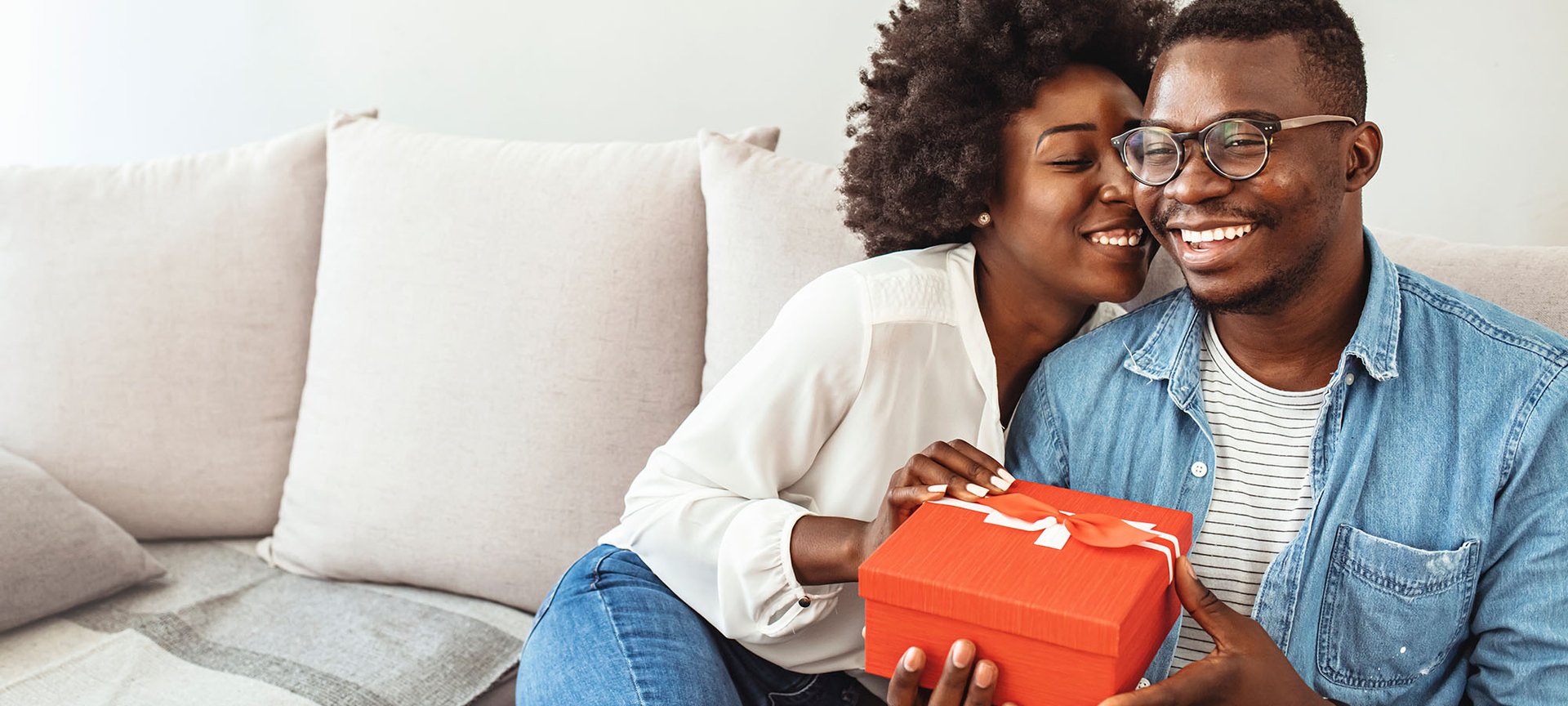 tendencias-belleza
11 Holiday Gifts To Step Up Your Guy's Self Care Kit
It's more than just aftershave.
With so many people to shop for during the holiday season, it can be hard to think of creative gifts that people will actually want to use. When it comes to holiday presents for guys, it can be especially easy to stick with the typical fancy socks, bottle of cologne, or special tie. This year, give the gift of grooming and help the man in your life step up their skin care, hair care, and self care routine instead. From hair dye to face masks and some of our favorite skin care secrets in between, we're sharing eleven products to satisfy the taste of every guy on your list.
1. An Exfoliating Toner
This year, upgrade everyone's shaving kit by adding an exfoliating toner into the mix. Just like an after-shave balm, using a toner with glycolic acid can be beneficial for your skin since it provides additional exfoliation and can help soothe signs of shaving discomfort, including razor burn, tightness, irritation, redness, and excessive dryness. The L'Oréal Paris Revitalift Derm Intensives 5% Glycolic Acid Peeling Toner is formulated with five percent pure glycolic acid to remove dead skin cells and infused with aloe vera to soothe and moisturize the skin.
2. A Hair Mousse
Give the gift of hair creativity and show the men in your life there are more tools to style your hair with than the everyday gel. Whether it's curly hair that needs some control or flat strands calling for a lift, there is a hair mousse to boost any man's mane. The L'Oréal Paris Advanced Hairstyle BOOST IT Volume Inject Mousse is a high-performance, lightweight mousse that gives lifeless hair a bouncy, and volumized look, and the L'Oréal Paris Advanced Hairstyle CURVE IT Elastic Curl Mousse adds hi-definition to curly hair for lasting, soft curls that shine from roots to ends.


3. A Lightweight Concealer
This holiday, let the men in on the secret to instantly brightening the appearance of tired eyes by slipping the L'Oréal Paris True Match Eye Cream in a Concealer, 0.5% hyaluronic acid into their stocking. This concealer and eye cream in one provides natural to medium coverage as well as hydration, all while remaining weightless on the skin.
4. A Temporary Hair Color
Add some spice to your guy's life and tempt them with a fun, new temporary hair color change. Throw the L'Oréal Paris Colorista Hair Makeup Temporary 1-Day Hair Color Spray in their gift bag and let them experiment with a different shade for their mane. This temporary hair color spray is available in a variety of hues, such as silver, green and blue and washes out after just one shampoo.
Editor's Tip: If he's looking for a hair color with more staying power that's made with his strands in mind, opt for the L'Oréal Paris Men Expert One-Twist Hair Color instead. It offers gray coverage, works in as little as five minutes, and is suitable for all hair textures and types.

5. A Brightening Eye Cream
The gift of anti-aging is something anyone would be glad to receive. Since our eyes are more likely to show early signs of skin aging, including crow's feet, dark circles, and under-eye bags from fatigue, an eye cream is a must-have. The L'Oréal Paris Revitalift Derm Intensives with 1.5% Hyaluronic Acid, 1% Caffeine Eye Serum is formulated with pure hyaluronic acid and pure caffeine to help re-energize and brighten the under-eye area. It also comes with a cooling applicator that provides a gentle massage to help refresh and depuff the eyes.

6. A Face Mask
A face mask is a perfect gift for the guy in your life who needs some extra "me time." The L'Oréal Paris Pure Clay Detox & Brighten Face Mask works to clear out the pores and rid the skin of excess dirt and oil so your guy can lay back and embrace the self care and skin benefits this present provides.

7. An Eyebrow Gel
When it comes to men's grooming, the eyebrows are often overlooked. A sharp set of eyebrows can make all the difference when it comes to defining the face. If you know someone with full or unruly brows that could benefit from a clear brow gel, gift them the L'Oréal Paris Unbelieva-Brow Longwear Brow Topcoat, Waterproof Universal Transparent. It's easy to apply, even for makeup novice guys, and can keep their eyebrows looking great for up to 30 hours.

8. A Waterless Face Wash
Everyone knows the importance of a fresh face, but a ten-step skin care routine is not for everyone — especially low-maintenance men. Instead, give them the gift of clear skin with an effortless cleaner like the L'Oréal Paris Micellar Cleansing Water Complete Cleanser Waterproof - All Skin Types. It's a waterless, sinkless cleanser (meaning it doesn't need to be rinsed off) that rids the skin of makeup and excess dirt and oil. It makes for mess-free, quick cleansing in their regular routine, after a workout, or when they're on the go.

9. A Root Touch Up
For that guy that's not so happy about those recent gray hairs popping up or the one who's pushing the limits on his dyed hue, a root cover-up is a good idea. The L'Oréal Paris Magic Root Cover Up is a convenient root concealer that temporarily colors grays in seconds for seamless coverage and flawless-looking roots.

10. A Scalp Scrub
Once you've set your guy up with exfoliating products for his face and body, turn him into a self-care king by introducing a scalp scrub into his hair care routine. Gift him the exfoliating experience of a detoxing massage for his scalp with the L'Oréal Paris EverPure Sulfate-Free Scalp Care + Detox Scrub. This scrub is formulated with apricot seed and menthol to remove buildup and create a purified base for your hair care routine. It can also help address a dry or oily scalp, as well as flakes and dandruff, and is gentle on color-treated hair.
11. A Moisturizer With SPF
While you're sharing the gift of skin care this season, don't forget to remind the men in your life about protection against sun damage. Make it simple for them by gifting them a moisturizer with SPF already built-in. The L'Oréal Paris Revitalift Triple Power Day Lotion SPF 30 is great because it works as a daily moisturizer and SPF and it's also formulated with ingredients like Pro-Retinol, vitamin C, and hyaluronic acid to help address signs of aging.
Next: Sir John's Eyebrow Makeup Tips For Men

Written by: Lauren Paige Richeson, Photo Credit: iStock
{ "@context": "https://schema.org/", "@type": "WebPage", "speakable": { "@type": "SpeakableSpecification", "cssSelector": ["speakable-content"] }, "url": "https://es.lorealparisusa.com/revista-de-belleza/consejos-de-belleza/tendencias-belleza/best-gifts-for-men" }
Descubrir más trucos y consejos
Ver todos los artículos
Mejora tu rutina
Muestra más amor a tu nuevo look:
makeup
{ "@context": "http://schema.org", "@type": "BreadcrumbList", "itemListElement": [ { "@type":"ListItem", "position": 1, "item": { "@id": "/", "name": "Home" } } , { "@type":"ListItem", "position": 2, "item": { "@id": "https://es.lorealparisusa.com/revista-de-belleza", "name": "Revista de belleza" } } , { "@type":"ListItem", "position": 3, "item": { "@id": "https://es.lorealparisusa.com/revista-de-belleza/consejos-de-belleza", "name": "Ideas profesionales para tu look único" } } , { "@type":"ListItem", "position": 4, "item": { "@id": "https://es.lorealparisusa.com/revista-de-belleza/consejos-de-belleza/tendencias-belleza", "name": "Tendencias de belleza" } } , { "@type":"ListItem", "position": 5, "item": { "@id": "https://es.lorealparisusa.com/revista-de-belleza/consejos-de-belleza/tendencias-belleza/best-gifts-for-men", "name": "best-gifts-for-men" } } ] }