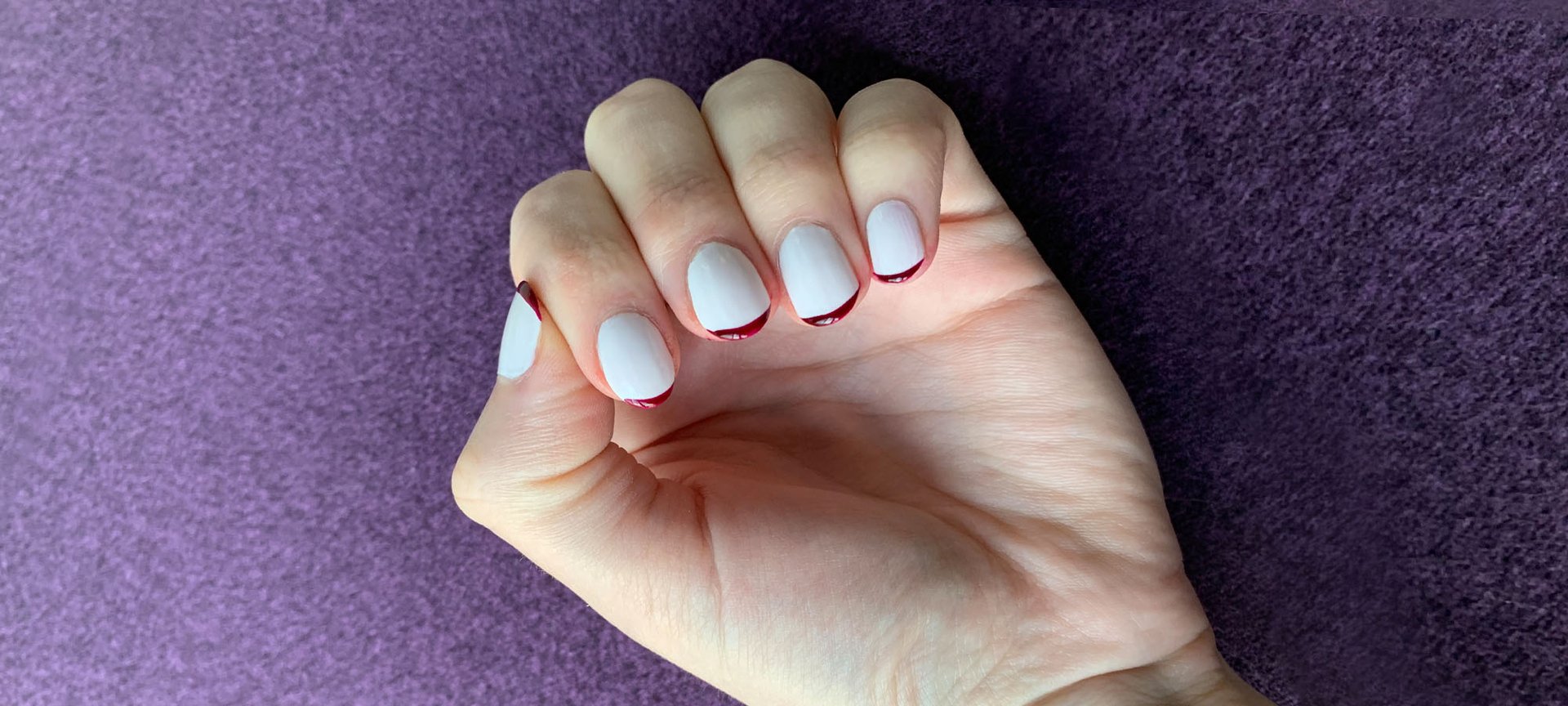 tendencias-belleza
Does A Silicone Nail Stamper Really Give You The Perfect Mani?
One editor shares her experience and underwhelming results.
With one quick scroll through beauty related content on TikTok, you're bound to come across someone using a silicone nail stamper to achieve French tips in what appears to be a quick and easy process. I prefer painting my own nails over heading to the salon, so this hack that promises an easy to do, at-home French manicure immediately caught my eye.
After doing some research, I discovered that people were using a variety of silicone stampers, most of which cost around $10 on Amazon. The results I was seeing online gave me high hopes, but I've been underwhelmed by viral beauty hacks in the past. So I was happy that I could test this one out at a low cost — which turned out to be key because the results were pretty underwhelming when I tried my hand (no pun intended) at the viral French manicure hack. Let me walk you through my experience in hopes of sparing you from the same disappointment.

How Does A Silicone Nail Stamper Work?
If you're unfamiliar with the tool, a silicone nail stamper is a round piece of soft silicone encased in plastic with the goal of helping to create a French manicure. The idea is that you'll paint a thin coat of nail polish onto the silicone and press the tip of your nail into that polish to transfer the color onto the tips of your nails. It's like you're literally stamping nail polish onto your nails. Quick and easy, right? Well, not exactly.

My Process Using The Silicone Nail Stamper
After watching countless videos of people using the tool and reading tons of articles that chronicled successful experiences with it, I figured it would be a breeze as I've been doing my own nails for years.
I started by applying my white base color to my oval shaped nails, and let it dry for about 20 minutes to ensure that it wouldn't smudge as I pressed the tips of my nails into the stamper. Then I painted red polish onto the stamper (wide enough to cover the width of my nails) and pressed my nails into the polish trying to gauge the perfect coverage for my red French tips. When I removed my nails from the stamper, I was left with a very thin line of polish at the tips that failed to fully curve around the nails (like a tiny half moon), leaving a blank space at the outer edges of the top of my nails.
Nail by nail, I tried to maneuver my hand to get better coverage, but just ended up with red smudges on my skin. I also found that the nail polish on the stamper dried very quickly which made it goopy and unable to stick to the nail well 一 it created a clumpy mess.
But I was not willing to give up 一 I've seen gorgeous results using this hack and so I decided to try my luck on my other hand. For my second hand, I realized that I would need to apply more polish (in several different spots) on the nail stamper for better results. While it did look slightly better than the first hand 一 I clearly learned from previous mistakes as I moved forward 一 the results were just not great. The French tips were too thin, I was unable to get coverage in a rounded French tip shape to flatter my oval nails, and my skin was covered in nail polish smudges. Aftering stamping each nail, I waited for the color to dry, sealed my nails with a topcoat and used a cotton swab to remove polish that got on my skin.

My Takeaways After Trying The Silicone Nail Stamper
Testing out this viral nail hack proved to be a bit of a rocky experience, but there are certainly some potential pros to achieving a French mani this way. These are three things I learned that you should consider if you're planning on trying the trendy tool.

1. Consider The Length Of Your Nails
If you have short nails, you might struggle as your skin would get covered in polish when you press the tips into the silicone. When I tried it out, the free edge of my nails was about half of a centimeter long, which seemed to be too short for this hack. I also think that a slightly thicker French tip would have made my nails look more impactful. If you're working with long nails, this could work for you as you're more likely to come out with a mess free result.

2. Consider Your Nail Shape
While you could use this hack with various nail shapes depending on your skill level, I think square or squoval nails will see the best results. Given that these two nail shapes don't have the slope that round, oval or almond nails have, they won't run the risk of the polish not covering the outer edges of the nail tips. While the silicone is soft, it doesn't wrap around the curved edges of the nails to give them the modern, curved French tip.

3. You Need Time And Patience
I've only tried the hack once so far, so I can't say whether practice would make this more efficient, but if you're looking for a quick DIY mani when you're in a time crunch, this isn't it. Between having to continuously add more nail polish to the stamper and clean up significant smudges on my skin, this hack wasn't quite as time-saving as I would have imagined. However, if you have time to spare and the patience to practice the technique until you achieve your desired results (not to mention lots of nail polish to blow through), the silicone stamper could become your next favorite toy. Plenty of people have created gorgeous manicures with this inexpensive tool 一 perhaps you can too if you if you're willing to get past the learning curve.
Next: 10 Easy Black Nail Designs To Try For Your Next Manicure
Written and photographed by: Alyssa Kaplan
{ "@context": "https://schema.org/", "@type": "WebPage", "speakable": { "@type": "SpeakableSpecification", "cssSelector": ["speakable-content"] }, "url": "https://es.lorealparisusa.com/revista-de-belleza/consejos-de-belleza/tendencias-belleza/silicone-nail-stamper-review" }
Descubrir más trucos y consejos
Ver todos los artículos
Mejora tu rutina
Muestra más amor a tu nuevo look:
makeup
{ "@context": "http://schema.org", "@type": "BreadcrumbList", "itemListElement": [ { "@type":"ListItem", "position": 1, "item": { "@id": "/", "name": "Home" } } , { "@type":"ListItem", "position": 2, "item": { "@id": "https://es.lorealparisusa.com/revista-de-belleza", "name": "Revista de belleza" } } , { "@type":"ListItem", "position": 3, "item": { "@id": "https://es.lorealparisusa.com/revista-de-belleza/consejos-de-belleza", "name": "Ideas profesionales para tu look único" } } , { "@type":"ListItem", "position": 4, "item": { "@id": "https://es.lorealparisusa.com/revista-de-belleza/consejos-de-belleza/tendencias-belleza", "name": "Tendencias de belleza" } } , { "@type":"ListItem", "position": 5, "item": { "@id": "https://es.lorealparisusa.com/revista-de-belleza/consejos-de-belleza/tendencias-belleza/silicone-nail-stamper-review", "name": "silicone-nail-stamper-review" } } ] }