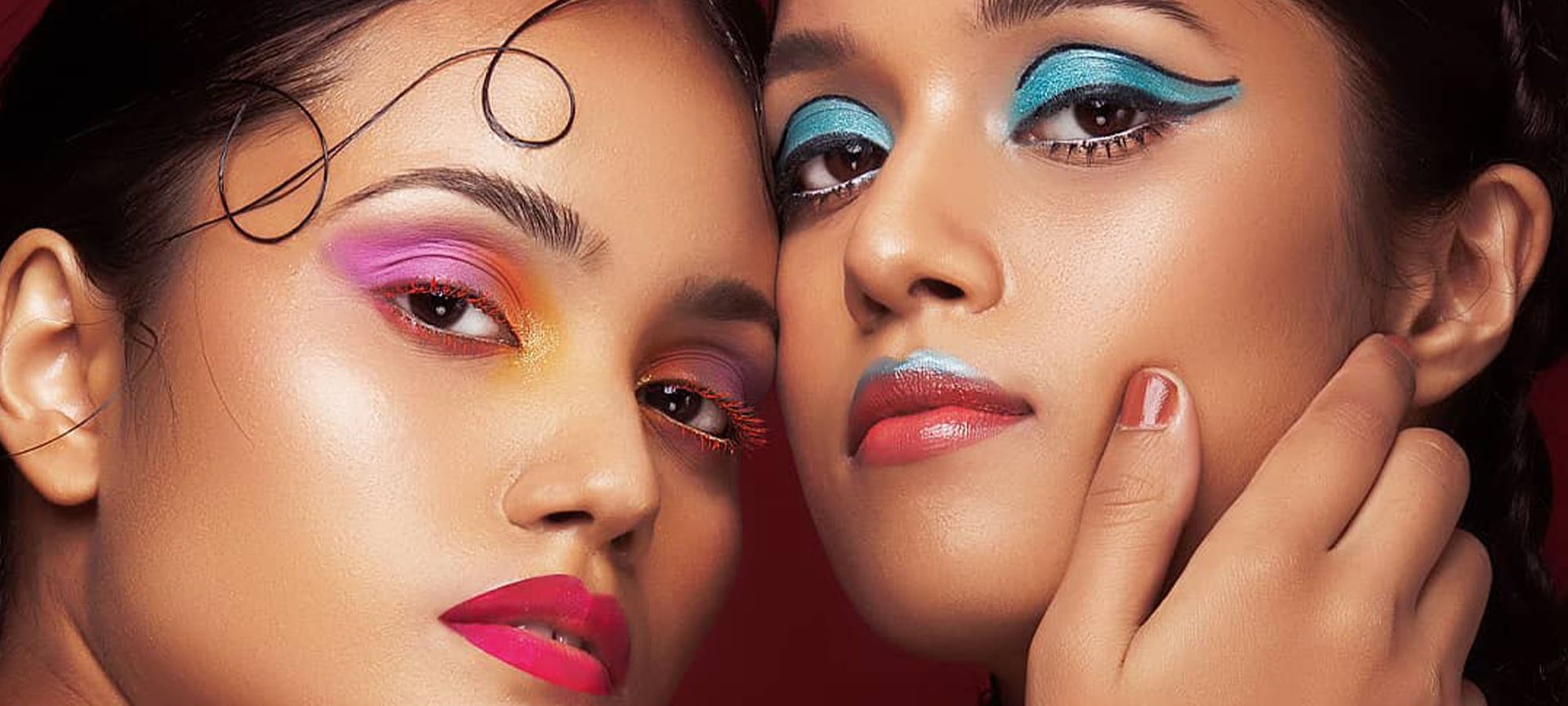 As the holiday season forges ahead, many of us are looking forward to unwrapping gifts and wrapping up the rest of 2021. This last year brought so many charming beauty looks, stunning styles, and new techniques, it's impossible to have been able to see them all. So before you pack your new year's makeup bag, take a moment to reflect on some of our favorite beauty trends from the not-so-distant past. From sea mammal-inspired skin to a hairstyle that caused a generational divide, we're sharing the ten best beauty trends from 2021 and how to try them if you haven't yet.
No Makeup, Makeup
Even though we were able to show our faces in more places this year, we still could not get enough of the no makeup, makeup trend. While a full-glam face is certainly not going away, it was the natural makeup looks — fresh skin, lightly flushed cheeks, a simple lip — that got us through the day-to-day. With even more minimal makeup trends like TikTok's clean look popping up daily, it's clear that embracing your born-with-it beauty is here to stay.


Try the trend: Start with a radiant finish foundation to give your complexion a gorgeous glow — we recommend the L'Oréal Paris Infallible Pro-Glow Foundation. Next, accentuate your features with a subtle sweep of bronzer and a pop of blush on the apples of your cheeks. Finally, add a quick swipe of mascara and voilà—a no makeup, makeup look that will always be on trend.
Graphic Eyeliner
Over the past few years, eye makeup has been reigning supreme and 2021 was no exception. While graphic eyeliner isn't exactly a new trend, this year we saw the popular eye makeup technique reach a whole new level of creative expression. From bright neon colors to geometric shapes and detailed designs, it was hard to take our eyes off of these ocular illusions.
Try the trend: There are endless ways to experiment with the graphic eyeliner trend, check out our article, 8 Graphic Eyeliner Looks To Add To Your Eye Makeup Rotation for some inspiration.
Dolphin Skin
Out of all the skin care trends that made waves this year, dolphin skin made the biggest splash on the scene. Dolphin skin is all about combining your skin care and makeup routines to achieve a soft, lustrous, dewy complexion. With its focus on minimal makeup and a clear, hydrated, healthy-looking complexion, this fresh-out-of-the-water beauty look fits right in with the sea of 2021's skin-first trends.

Try the trend: Start with a proper facial cleansing and exfoliation routine. Then, apply a layer of hydrating skin products like the L'Oréal Paris Revitalift Derm Intensives 1.5% Pure Hyaluronic Acid Serum and L'Oréal Paris Age Perfect Collagen Expert Day Moisturizer with SPF 30 to lock the moisture into your skin. Next, apply the L'Oréal Paris True Match Lumi Glotion Natural Glow Enhancer with a spritz of the L'Oréal Paris True Match Lumi Shake & Glow Dew Mist to create a natural, dewy glow.
Nail Designs
This year, all those at-home manicure skills we learned in 2020 really had their time to shine with the rise of super creative nail designs. From trendy indie nails to bright neon polish, modern twists on classic french tips and artistic accent nails, some of the coolest looks of 2021 we're right at the tip of your fingers.

Try the trend: The best part about nail art is that you can create anything from your imagination! You can find some of our favorite inspirations from 2021 in our article, 21 Easy To Do Nail Art Designs To Spice Up Your Timeline.


Colorful Eye Makeup
One of our favorite beauty trends we spotted this year was the move to all types of colorful eye makeup. In 2021, adding a pop of color to your makeup look was as simple as swapping a black winged eyeliner for a colorful flick, layering your mascara with a standout shade, or rocking a hint of pigment on your brows.
Try the trend: You can use colored eyeliner and mascara in the same way you would your typical black and brown shades. Start by lining your eyes with the L'Oréal Paris Infallible Pro-Last Waterproof, Up to 24HR Pencil Eyeliner, which comes in purple, cobalt blue, teal, and green. Then, step up your color with a monochromatic look by layering a coat or two of the L'Oréal Paris Voluminous Original Washable Bold Eye Mascara in the same shade. For a full-color face, finish with a few swipes of colorful mascara throughout your brows.
Skinimalism
In 2021, simplicity may have been the skin care theme but it was skinimalism that made it a trend. With a less-is-more approach to makeup and a focus on stripped-back skin care routines, it's easy to see why this slow beauty trend caught on so fast. We love skinimalism because it encourages embracing your skin in all its natural glory and for its earth- (and wallet) friendly sustainability benefits.
Try the trend: For a subtle and skinimalism-embracing look, swap your foundation for a tinted serum, like the L'Oréal Paris True Match Nude Hyaluronic Tinted Serum. Pair it with the L'Oréal Paris True Match Eye Cream in a Concealer, 0.5% Hyaluronic Acid to brighten any dark under-eye circles and you're all set.

Money Piece Highlights
One of the coolest hair color trends to top the 2021 must-have list was the money piece. These face-framing highlights were seen on celebrities, influencers (and you!) in a variety of styles and hues. Since this balayage-on-a-budget hair color only requires dyeing the front pieces of your hair, it's one of the easier DIY dye trends to try on your tresses.

Try the trend: If you want to add a money piece to your mane, your best bet is to head to the salon. Your colorist should know just where to place your face-framing highlights as well as how to blend them properly with the rest of your hair. However, If you want to take the money piece trend for a spin without any commitment, test it out by applying the L'Oréal Paris Colorista Hair Makeup Temporary 1-Day Hair Color Spray to your front pieces. Since the hair color spray washes out with just one shampoo, there's no damage to your strands if your color change comes up short.
Serums
After years of sheet masks being the big buzz in skin care, in 2021 face serums have taken top place. Serums are our favorite types of skin care products because their concentrated ingredients — including vitamin C, hyaluronic acid, glycolic acid — penetrate the skin to address issues such as fine lines and wrinkles, dryness, dullness, and dark spots. With so many serums on the shelves to help with almost any common skin care concern these topical trending products were this year's must-have beauty staple.

Try the trend: Just like the rest of your skin care routine, the right face serums depend on your skin's needs. To help guide you in the right direction, check out our article, The Best Face Serums For Common Skin Care Concerns.
The Middle Part
This year, the middle part trend sparked one of the most divided beauty conversations since the topic of getting bangs. The hairstyle timeline was in tangles when the Gen Z beauty world digitally declared that middle parts were more flattering and side parts should get the big chop. Although social media never settled on the perfect part, the trend did prove there are some absolutely fabulous hairstyles on both sides.
Try the trend: A slick, low ponytail is a classically chic way to show off the sharp style of a middle part. Start by straightening your hair, being sure to apply a heat protectant and frizz-fighting hair serum, like the L'Oréal Paris Elvive Dream Lengths Frizz Killer Serum Leave-In, throughout your mane to tame any flyaways and aid in getting a sleek look. Once your hair is smooth and straight, pull your strands back into a low ponytail, making sure there are no knots or bumps and secure it with a clear elastic at the nape of your neck. Then style your length to your heart's desire.
Bold Lipstick
Protective face masks be damned, in 2021 lip makeup began to make a comeback and we didn't hesitate to show off our painted pouts. We witnessed lipstick trends like bright lipstick, eclectic lip art, matte nudes, lip stains that last under a mask, visibly lined lips, super glossy grins, and the return of the classic red lip. Lipstick was also right in tune with this year's minimalistic moment since you can use lipstick on your cheeks and eyelids too.
Try the trend: There's no wrong way to rock the return of lipstick, as long as the color makes you feel confident! For some lip looks we loved check out our article, 5 Makeup Looks To Try As Lipstick Makes A Comeback.


Next: 10 Holiday Beauty Buys Under $20

Written by: Lauren Paige Richeson, Photo Credit: Tarun Singh, IG/@tarunsinghphotography
{ "@context": "https://schema.org/", "@type": "WebPage", "speakable": { "@type": "SpeakableSpecification", "cssSelector": ["speakable-content"] }, "url": "https://es.lorealparisusa.com/revista-de-belleza/consejos-de-belleza/tendencias-belleza/yearly-beauty-trends-recap" }
Descubrir más trucos y consejos
Ver todos los artículos
Mejora tu rutina
Muestra más amor a tu nuevo look:
makeup
{ "@context": "http://schema.org", "@type": "BreadcrumbList", "itemListElement": [ { "@type":"ListItem", "position": 1, "item": { "@id": "/", "name": "Home" } } , { "@type":"ListItem", "position": 2, "item": { "@id": "https://es.lorealparisusa.com/revista-de-belleza", "name": "Revista de belleza" } } , { "@type":"ListItem", "position": 3, "item": { "@id": "https://es.lorealparisusa.com/revista-de-belleza/consejos-de-belleza", "name": "Ideas profesionales para tu look único" } } , { "@type":"ListItem", "position": 4, "item": { "@id": "https://es.lorealparisusa.com/revista-de-belleza/consejos-de-belleza/tendencias-belleza", "name": "Tendencias de belleza" } } , { "@type":"ListItem", "position": 5, "item": { "@id": "https://es.lorealparisusa.com/revista-de-belleza/consejos-de-belleza/tendencias-belleza/yearly-beauty-trends-recap", "name": "yearly-beauty-trends-recap" } } ] }