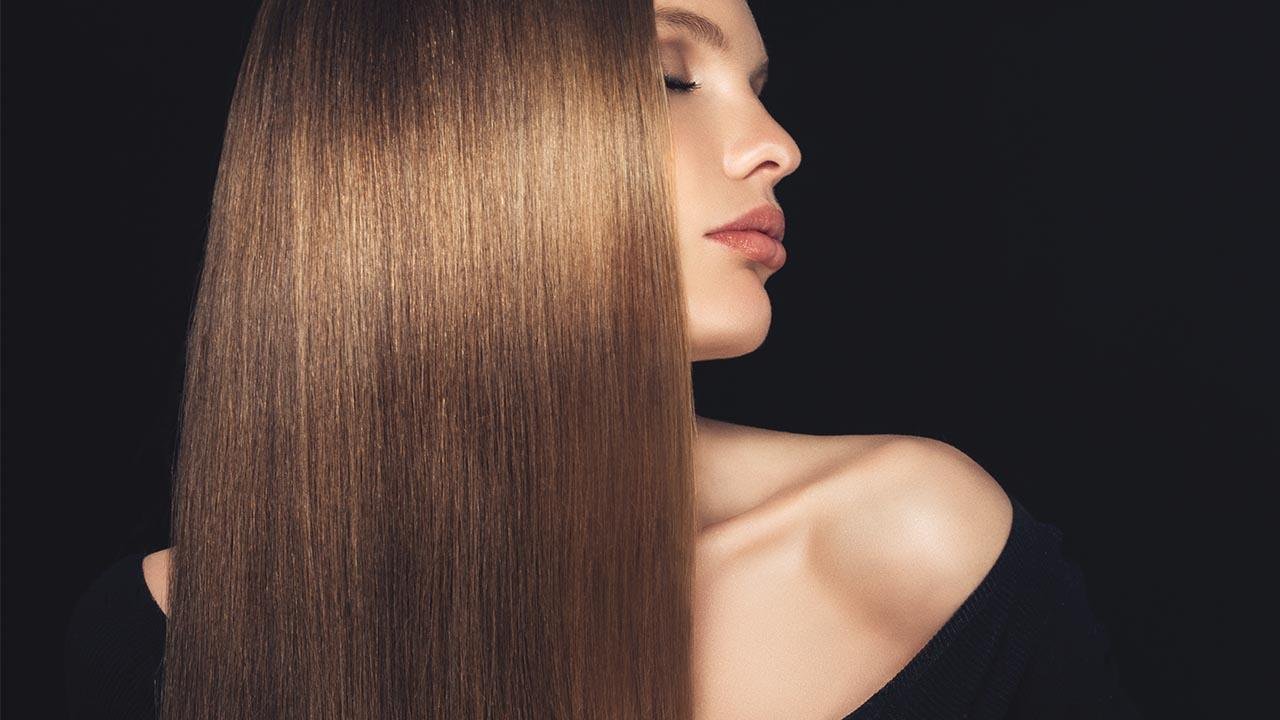 Let's be real—no one actually wants a dull mane. Rather, what's sought after is shiny hair. No look is complete without healthy, shining hair—and the same certainly can't be said for dullness. Shiny hair naturally lights up locks, adding dimension and life to any hair type. So, it's only natural that if you could choose between dull hair and shiny, sleek hair, you'd pick the latter 100 percent of the time. And as it turns out, you can choose.
Armed with the right hair-care regimen, complete with hair shine products like a shine-enhancing shampoo and conditioner and hair shine spray, you won't have to wonder how to get shiny hair any longer. Below, find all our best tips on how to make hair shiny.
SHINY HAIR TIP #1: SWITCH TO A SHINE-ENHANCING HAIR CARE SYSTEM
If there's something you want to change about your hair, it's pretty probable that you'll have to change your current shampoo and conditioner. Swap them out for a system that's better suited to your hair goals. If shiny hair is what you're after, you'll want to opt for a system that enhances shine, like the L'Oréal Paris Elvive Extraordinary Oil Shampoo and L'Oréal Paris Elvive Extraordinary Oil Conditioner. When used together, the shampoo and conditioner can help to revive dry hair, leaving behind free-flowing, lightweight strands with an intense shine.
Start your hair-care regimen off on the right foot by massaging the shampoo onto wet hair, building up a lather, then rinsing out with lukewarm water. Next, apply the conditioner and let it sit for one to three minutes. When time's up, rinse with more lukewarm water.
SHINY HAIR TIP #2: APPLY A LEAVE-IN TREATMENT
While it's true that no shiny hair-care routine would be complete without shampoo and conditioner, cleansing and conditioning alone won't make your hair appear shiny. When your mane feels super dry and requires extra love, go beyond the basics and reach for a leave-in treatment. Of course, you won't want to reach for any old product. The L'Oréal Paris Elvive Extraordinary Oil-in-Cream is actually meant to be used with the Elvive Extraordinary Oil Shampoo and Conditioner, so it's perfectly poised to take on the job.
After cleansing and conditioning as per usual, work a dime-sized amount of the hair cream through damp hair from mid-length to tips. The cream will instantly melt onto your hair for long-lasting softness and lustrous shine.
SHINY HAIR TIP #3: PAMPER YOURSELF WITH A HAIR MASK
Dry, shiny hair is something of an oxymoron. If your hair is parched, it's unlikely that it has a beautiful shine. That's why incorporating a nourishing hair mask into your routine is never a bad idea. A few minutes dedicated to masking, and you can be well on your way to shining bright. Gently massage a hydrating, shine-boosting hair mask onto your hair until it's completely coated. Then, play the waiting game and give the hair mask three to five minutes to work its magic. After five minutes, remove and rinse to reveal hair that's deeply nourished.
SHINY HAIR TIP #4: DEEP CONDITION YOUR STRANDS
Just like using a hair mask can help to nourish and hydrate your strands, resulting in a shiny mane, a deep conditioner can help bring back life to dry, dull strands. If you notice your hair needs some TLC, swap your conditioner for the L'Oréal Paris Elvive Extraordinary Oil Rapid Reviver Deep Conditioner. The deep conditioner for dry hair works in just one minute to nourish, deeply moisturize, and hydrate each strand. Say hello to silkier, softer, and shinier hair.
SHINY HAIR TIP #5: EMBRACE OTHER TIPS FOR DRY HAIR
As we covered above, addressing dry hair can help give hair a natural shine. Thus, it makes sense that to achieve shinier hair, you'll want to follow guidelines for taking care of dry hair. Give these tips a try:
1. Turn down the water temperature. Super-hot showers may be relaxing in the moment, but they're drying your hair—and your skin—out. Cranking the dial down, so the water is only lukewarm, can make a major difference in managing dryness.
2. Protect hair from the sun. We all love spending time outdoors, but don't forget that your hair needs sun protection too. Toss on a broad-brimmed hat and use hair products with UV protection to stay sun safe. If you want more sun tips for your mane, check out our article, This Is Your Summer Hair Protection Guide.
SHINY HAIR TIP #6: TRY HEAT-FREE STYLING
When trying to achieve shiny hair, it's essential to skip out on heat-styling whenever you can. Simply put, excessive heat usage can take a toll on your hair and cause dry, brittle strands to develop, which are the total opposite of shiny hair. So, switch things up with the help of heat-free styling products like the L'Oréal Paris Advanced Hairstyle CURVE IT Elastic Curl Mousse. All you need to do is apply an egg-sized amount to your hair, scrunch, and call it a day.
On the other hand, if you can't seem to part with your hot tools, you'll want to use a heat protectant before every styling session to keep your strands in shape. Try the L'Oréal Paris Advanced Hairstyle SLEEK IT Iron Straight Heatspray, which protects hair from heat damage, calms frizz, blocks humidity, and seals in shine for a fresh out of the salon look.
SHINY HAIR TIP #7: PROTECT YOUR HAIR AT NIGHT
Protecting your hair at night is another way to keep dry strands at bay so you can enjoy a shiny mane. That's right, merely hopping into bed without taking the proper precautions can ruin your shiny hair dreams. Consider swapping out your cotton bed sheets and pillowcases for a silk or satin alternative to help your strands maintain moisture and reduce the risk of friction. You can also opt for a silk scarf to keep your strands nice and shiny.
SHINY HAIR TIP #8: DON'T SHY AWAY FROM HAIR OIL OR SERUM
If you've ever caught sight of your hair, only to realize that your roots are looking awfully greasy, you may be slightly scared of using hair oils. After all, oily hair isn't exactly the goal here. But the truth is, using high-quality hair oils doesn't equal having oily hair. The right hair oil or serum will absorb quickly and won't leave behind a greasy residue. Not to mention, it's the perfect product for increasing shine. Try the L'Oréal Paris Elvive Extraordinary Oil Treatment, which is a lightweight oil for dry, lifeless hair.
Apply just one drop of oil to the length of your hair—focusing on dry, dull ends and avoiding your roots—and you'll be good to go. Try using a hair oil on damp hair to make it easier to style or on dry hair as a finishing touch.
SHINY HAIR TIP #9: BLOWOUT YOUR HAIR THE RIGHT WAY
In the spirit of boosting your strands with excess shine, blowouts are a fabulous way to get the ball rolling. However, since this technique is all about using heat and corresponding styling tools on your strands, not learning how to do a blowout the right way can totally leave you with breakage and frizz. Not cool! Learn How To Blowout Your Hair at Home for a shiny and bouncy mane.
SHINY HAIR TIP #10: BE MINDFUL OF THE BRUSH YOU USE
If you've been asking yourself how can I make my hair silky and shiny, the answer is actually more simple than you think. Using the right hair brush can easily give you the shiny, softer mane you're looking for. By now, you likely know that all brushes are not the same. Some brushes can tug, pull, and cause friction on your mane, which can lead to damage. Always use a boar bristle brush to gently smooth the cuticle of your hair and help distribute oils from the roots to your ends for a shiny finish.
SHINY HAIR TIP #11: CHOOSE HAIR DYE CAREFULLY
Not all hair dyes are created equally. When dying your hair a solid color, it's all too easy to end up with hair that looks flat and not at all shiny. To ensure you don't experience a dye job gone wrong—without having to step foot in a salon—look to the L'Oréal Paris Féria range. Available in a wide range of bold colors, the dye prevents the aforementioned problem by providing multi-faceted color with highlights. In the end, you're left with prismatic color that's never dull or flat. Follow the instructions included with the packaging and be sure to use the included Power Shimmer Conditioner, which seals and smooths while boosting light reflection for vibrant shimmering color.
SHINY HAIR TIP #12: TRY A HAIR GLOSS
Speaking of hair color, if you've yet to consider a hair gloss, allow us to fill you in. A hair gloss serves as a shine-enhancing treatment for colored hair, resulting in longer-lasting and more vibrant color as well as less frizz, split ends, and dryness. Depending on the gloss, it may also be able to help with other hair concerns such as brassiness and enhancing certain undertones. In fact, you can DIY one in the shower with our L'Oréal Paris Le Color Gloss One Step In-Shower Toning Gloss, which will leave you with toned, shiny hair.
Apply to clean, damp hair, evenly distributing the formula throughout your mane. Wait 15 minutes for the gloss to work its magic, then rinse thoroughly until the water runs clear.
SHINY HAIR TIP #13: USE HAIR SPRAY WITH A GLOSSY FINISH
If you finish styling your hair and your strands just aren't shiny enough, turn to a shine hair spray. Not only is it perfect for locking in your style and keeping stray hairs in place, but certain hair sprays can provide an ultra-glossy look. So, wrap things up by spritzing with the L'Oréal Paris Elnett Precious Oil Satin Hairspray, which gives a soft, shiny finish.
SHINY HAIR TIP #14: TURN TO WONDER WATER
For shining hair in just eight seconds, turn your attention to the L'Oréal Paris Elvive 8 Second Wonder Water Lamellar Hair Treatment. This hair treatment has a liquid formula that's meant to leave your mane silkier, shinier, and healthier-looking. To use, simply apply to wet hair and massage for eight seconds—yes, eight! Rinse out and follow with your normal conditioning routine. You can use this treatment two to three times per week.
Next up: Just because you're seeking shiny hair doesn't mean you'll want shiny skin. To avoid looking oily and create a perfect contrast in the process, pair your lustrous locks with matte makeup. To get you started, here's How To Wear Matte Makeup All Over Your Face.
{ "@context": "https://schema.org/", "@type": "WebPage", "speakable": { "@type": "SpeakableSpecification", "cssSelector": ["speakable-content"] }, "url": "https://es.lorealparisusa.com/revista-de-belleza/cuidado-capilar/todos-los-tipos-de-cabello/how-to-get-shiny-hair" }
Descubrir más trucos y consejos
Ver todos los artículos
Shop Featured Hair Care products
Discover More
{ "@context": "http://schema.org", "@type": "BreadcrumbList", "itemListElement": [ { "@type":"ListItem", "position": 1, "item": { "@id": "/", "name": "Home" } } , { "@type":"ListItem", "position": 2, "item": { "@id": "https://es.lorealparisusa.com/revista-de-belleza", "name": "Revista de belleza" } } , { "@type":"ListItem", "position": 3, "item": { "@id": "https://es.lorealparisusa.com/revista-de-belleza/cuidado-capilar", "name": "Todo sobre el cabello sano" } } , { "@type":"ListItem", "position": 4, "item": { "@id": "https://es.lorealparisusa.com/revista-de-belleza/cuidado-capilar/todos-los-tipos-de-cabello", "name": "Todos los tipos de cabello" } } , { "@type":"ListItem", "position": 5, "item": { "@id": "https://es.lorealparisusa.com/revista-de-belleza/cuidado-capilar/todos-los-tipos-de-cabello/how-to-get-shiny-hair", "name": "how-to-get-shiny-hair" } } ] }