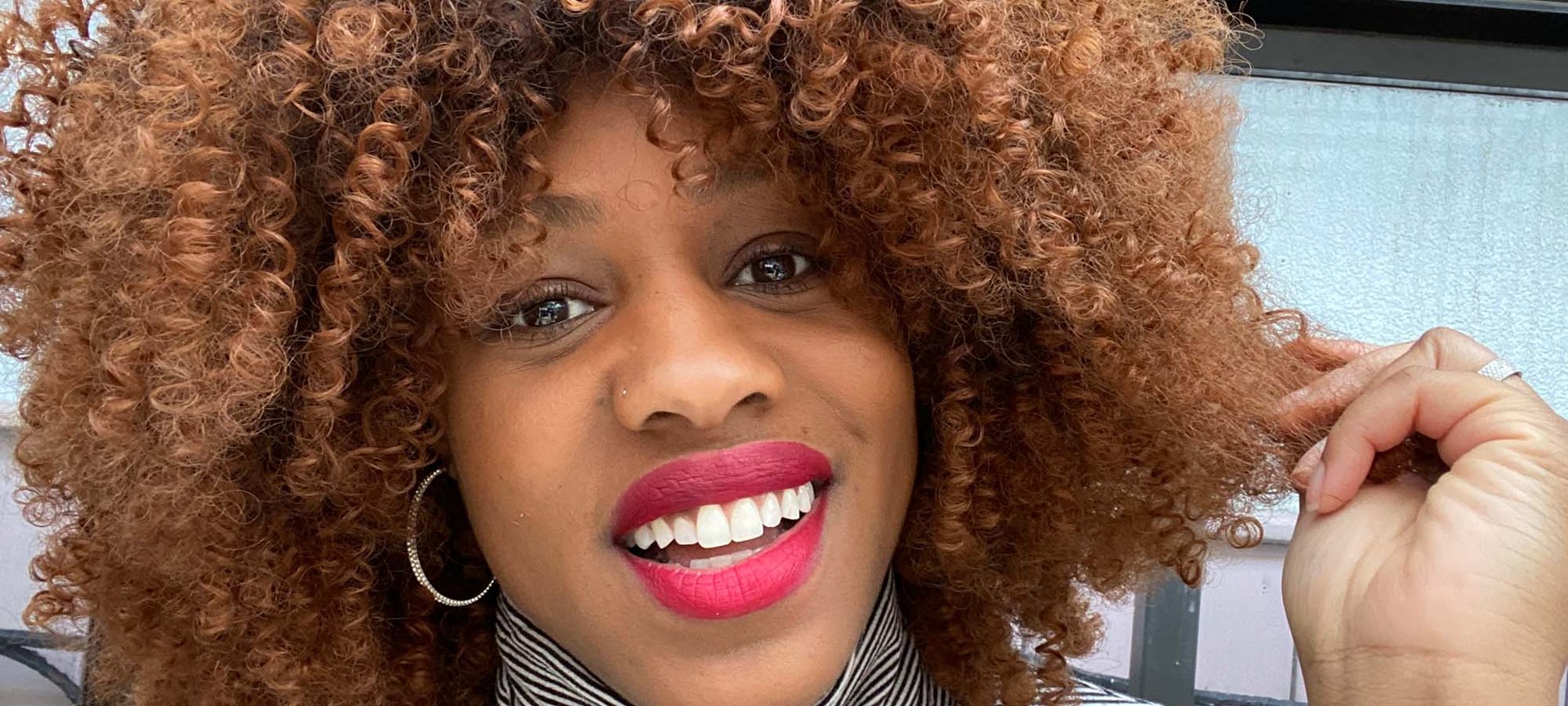 todos los tipos de cabello
8 Ways To Stretch Natural Hair Without Using Heat
Your length doesn't have to be at the mercy of shrinkage.

If you have natural hair, then you understand that shrinkage is real, and you sometimes have to get creative to show off your length. Since constantly putting heat to curly, coily, and wavy hair types can cause damage, it's not always best to grab that blow dryer or flat iron to stretch your strands. There are plenty of ways you can get the ball rolling to flaunt your length.
The key to stretching natural hair without damaging your mane is to opt for no-fuss hairstyles and hair techniques that require little to no heat. If you're ready to see what all the hype is about, let us show you the way. Below, check out how to stretch natural hair in eight different ways that allow you to keep your texture intact.
Is Hair Shrinkage Bad?
Before we get into all the ways to stretch your textured strands, it's important to understand shrinkage. This decrease in length when natural hair dries actually happens when your hair is healthy.
With moisturized and healthy-looking hair comes elasticity, which gives your strands the ability to withhold stress and manipulation. In turn, your strands can bounce back to their natural and healthy state without any damage (in other words, preserving your curl pattern). So, while shrinkage can be annoying when you want to show your hair's true length, it's a sign that your hair is nourished.
3 Techniques to Stretch Natural Hair
If you're ready to learn how to stretch your natural hair without sitting in a salon for hours on end, check out these techniques to put your length on full display.
1. The Banding Method
If you're looking for a quick and easy way to lengthen your strands, the banding method will meet your needs. Part your hair into six equal sections and clip them into place, so they're not in your way. Place a hair elastic at the root of one section, then continue to wrap the elastics down your hair shaft, spacing them out as you go. Leave the elastics overnight, then carefully unravel them the next day for elongated strands.
2. Hair Rollers
Hair rollers may have been thought of as a hair care staple for your mom, but it serves as an excellent method to stretch natural hair. Plus, you don't have to worry about adding any heat into the equation.
Starting on a freshly washed mane, take a section of hair and clip the rest out of the way. Apply a small amount of the L'Oréal Paris Advanced Hairstyle CURVE IT Elastic Curl Mousse to it and comb through. Place the roller at the end of the section, and start rolling it toward your roots. Secure it in place with a bobby pin or clip from the hair rollers. Let your rollers sit overnight and unravel in the morning.
3. Hair Stretchers
Sometimes the simplest solution is the one that eludes us the most. There are now hair stretchers that you can invest in that have one job: to stretch out natural hair. They look like a hybrid of alligator clips and curl formers (with no spiral). Apply to dry hair and leave overnight for lengthened tresses in the morning.
5 Hairstyles to Stretch Natural Hair
These five hairstyles for natural hair not only look gorgeous on their own, but they also help to stretch out coils and curls to show off your length when you desire.

1. Twist Out
A chic way to flaunt your hair length is to style your hair in a twist out. This hair technique gives your strands beautiful waves that are naturally stretched for longer-looking locks. Head on over to our article, How To Do a Twist Out In 7 Steps, for a step-by-step tutorial.
2. Braid Out
Similar to the twist out method, a braid out defines your hair texture while lengthening your strands for a longer appearance. To get the look, start with freshly washed and moisturized hair. Add a little bit of the L'Oréal Paris Elvive Dream Lengths Curls Non-Stop Dreamy Curls Leave-in Conditioner for added moisture. Part it in two even sections, then divide each side into six smaller sections.
Starting with one small section, braid your hair until you reach the ends and repeat. Once complete, gather a few braids and stretch them to the other side of your head. Secure with bobby pins if you want to pin them up for sleeping. Unravel the next day for a defined and stretched mane.
3. Pineapple
A popular hairstyle mostly used to keep your curls from getting crushed as you sleep, the pineapple also works double duty to stretch out your roots and elongate your curls. All you need to do is flip your hair and fasten it into a high ponytail at the crown of your head for the ultimate no-fuss 'do.
4. Ballerina Bun
Another fabulous way to stretch your natural hair is to rely on the ballerina bun. While this hairstyle may be the last thing on your mind, it can help you flaunt your length seamlessly. The key to stretching your strands with this style is to work on damp hair. Start by combing through your hair to smooth out any bumps or tangles. Pull your hair into a ponytail at the center of your head and secure it with a hair elastic.
Next, twist the length of your ponytail to the ends. Wrap your strands around the base of your pony to form a bun. Secure your hair with bobby pins. Cover your hair with a silk scarf and leave it on overnight. In the morning, unravel your bun, and you'll have stretched tresses to play with.
Editor's tip: If your hair is on the shorter side, try doing two ballerina buns to get the same effect.
5. Bantu Knots
Bantu knots are a popular protective style that can also be used to stretch natural hair. They work in your favor to create heatless curls and waves that sport major definition. Kick things off by washing your strands with the L'Oréal Paris EverPure Moisture Shampoo and the L'Oréal Paris EverPure Moisture Conditioner. Once complete, create a one- to two-inch part on damp hair. Start twisting from root to ends.
Twist each section tightly around itself to form a tiny bun (secure it with a hair elastic if necessary). Cover your hair with a silk scarf and leave the style in place. In the morning, gently unravel each knot for a stretched out style.
Next: 10 Tips to Follow When You Have Natural Hair
Edited and photographed by: Shalwah Evans
{ "@context": "https://schema.org/", "@type": "WebPage", "speakable": { "@type": "SpeakableSpecification", "cssSelector": ["speakable-content"] }, "url": "https://es.lorealparisusa.com/revista-de-belleza/cuidado-capilar/todos-los-tipos-de-cabello/how-to-stretch-natural-hair" }
Descubrir más trucos y consejos
Ver todos los artículos
Shop Featured Hair Care products
Discover More
{ "@context": "http://schema.org", "@type": "BreadcrumbList", "itemListElement": [ { "@type":"ListItem", "position": 1, "item": { "@id": "/", "name": "Home" } } , { "@type":"ListItem", "position": 2, "item": { "@id": "https://es.lorealparisusa.com/revista-de-belleza", "name": "Revista de belleza" } } , { "@type":"ListItem", "position": 3, "item": { "@id": "https://es.lorealparisusa.com/revista-de-belleza/cuidado-capilar", "name": "Todo sobre el cabello sano" } } , { "@type":"ListItem", "position": 4, "item": { "@id": "https://es.lorealparisusa.com/revista-de-belleza/cuidado-capilar/todos-los-tipos-de-cabello", "name": "Todos los tipos de cabello" } } , { "@type":"ListItem", "position": 5, "item": { "@id": "https://es.lorealparisusa.com/revista-de-belleza/cuidado-capilar/todos-los-tipos-de-cabello/how-to-stretch-natural-hair", "name": "how-to-stretch-natural-hair" } } ] }