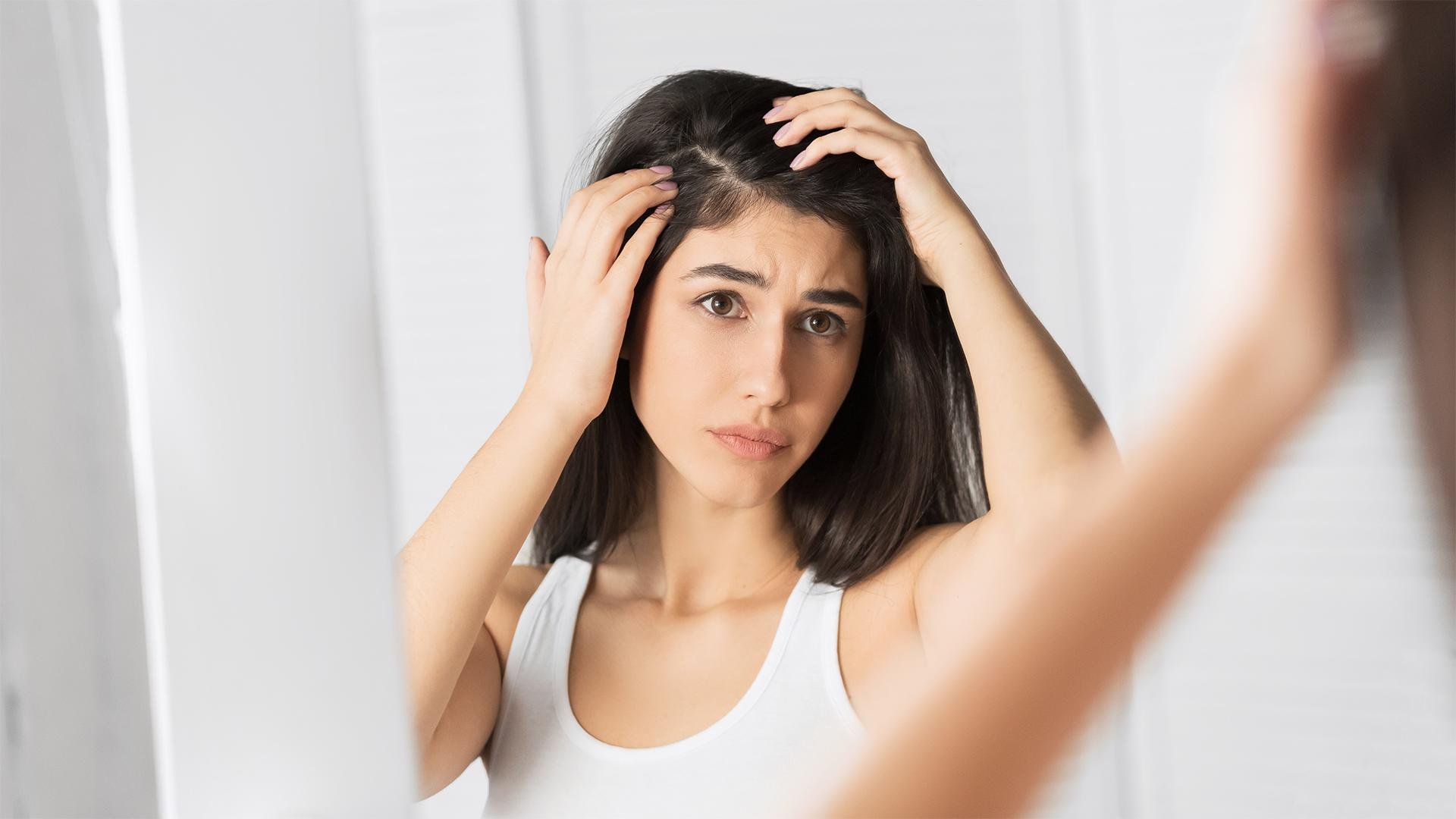 When it comes to the hair-care front, there are a few mistakes we've all made from time to time. You may have over-applied your hair-styling products or skipped out on your wash day routine. In turn, you may have been left to deal with an oily scalp. There's no denying that an oily scalp can put a damper on your mood, but you can take back control of your mane with the proper steps.
Thankfully, getting your mane in order is all about revamping your routine. That means using a shampoo for oily scalp along with other hair-care products to make your worries yesterday's news. If you're ready to work your way to a healthy-looking and balanced scalp, we're here to assist. Follow along as we give you the rundown on how to treat an oily scalp the right way.
WHAT CAUSES AN OILY SCALP?
Before we dive into tackling an oily scalp, it's important to know what causes this pesky concern. The most common culprit for an oily scalp is using the wrong products on your mane. Think about it: If you're washing your locks with a deeply nourishing hair-care system when you already have oily strands, it can cause your scalp to sport an oilier appearance. So, you'll need to switch things up with your wash day routine.
Overwashing your hair can also cause an oily scalp to become your new normal. Every time you wash your strands, your hair follicles produce more oil (sebum) to replace what's lost. So, if you find yourself washing your strands more than necessary, it can strip your strands of its natural oils. Therefore, this will cause your scalp to go into overdrive with sebum production.
Other causes for an oily scalp include not using dirty styling tools and products that can give your mane a weighed-down and heavy feel. You can also be left with an oily scalp by not rinsing your hair thoroughly after every wash session.
CAN YOU HAVE AN OILY SCALP AND DRY HAIR?
While an oily scalp naturally goes hand-in-hand with greasy hair, that doesn't mean that other hair types can't experience this pesky concern. If you've thought that the oily scalp dry hair myth is a simple misconception, think again. Just like your skin, you can have a combination of hair types. Hence, why it's important to lock down the right hair-care regimen for a happy and healthy-looking scalp.
IS AN OILY SCALP GOOD OR BAD?
While realizing that you have an oily scalp can cause some concern, there is no need to worry. As we mentioned, it's important for your scalp to produce oils to maintain a healthy-looking appearance. However, too much can adversely affect your scalp. So, it's all about keeping your scalp clean and balanced to stay in the clear.
HOW TO MANAGE AN OILY SCALP
Now that you have a better understanding of an oily scalp, it's time to put your knowledge to use. Keep our four tips in mind to restore your scalp back to its former glory.
TIP #1: REACH FOR A SCALP SCRUB
One of the best ways to give your mane TLC is to use an oily scalp treatment. This product comes in handy to remove impurities from your scalp without the harsh feel. See what all the hype is about with the L'Oréal Paris EverFresh Micro-Exfoliating Scrub. This offering is formulated with apricot seeds and works to gently remove impurities, flakes, and buildup from dirt and excess oils. Wet your hair and apply the scrub. Gently massage it onto your scalp and the rest of your hair. Rinse thoroughly.
TIP #2: USE THE RIGHT HAIR CARE SYSTEM
The key to handling an oily scalp like a pro is to always have your shower stocked with the right essentials. A fabulous place to start is with our best shampoo for an oily scalp. The L'Oréal Paris EverPure Scalp Care Detox Shampoo contains menthol and neem leaf extract that gives your hair and scalp a detox. In turn, it deeply purifies and cleanses the scalp of dirt, product build-up, and oil without stripping your hair. Apply the shampoo to wet strands, gently massaging it onto your scalp and hair. Rinse well.
Follow up with the coordinating conditioner, L'Oréal Paris EverPure Scalp Care Detox Conditioner, to moisturize your hair. Coat your strands with the conditioner and let it sit for one to two minutes. Rinse thoroughly with lukewarm water.
Editor's note: You can also help manage an oily scalp with the L'Oréal Paris Elvive Extraordinary Clay Shampoo and L'Oréal Paris Elvive Extraordinary Clay Conditioner. This duo is formulated with three refined clays that instantly purify oily roots while also keeping the lengths and ends of hair hydrated.
TIP #3: CONSIDER THE STYLING PRODUCTS YOU'RE USING
While some hair-styling products may have become permanent fixtures in your routine, others can exacerbate the look of an oily scalp. That's because some products tend to be formulated with oils that can weigh your hair down and give your scalp a greasy look. Always make sure to steer away from oil-infused products to keep your scalp in shape.
TIP #4: GRAB DRY SHAMPOO
There's a reason why dry shampoo is considered to be a holy grail beauty product. Not only does this offering help to refresh your strands by absorbing excess oils, but it can also tide you over until it's time for your next wash session. Just be sure not to overdo it, as it can lead to product buildup.
Next: How To Take Care of Your Scalp and Manage Scalp Buildup
{ "@context": "https://schema.org/", "@type": "WebPage", "speakable": { "@type": "SpeakableSpecification", "cssSelector": ["speakable-content"] }, "url": "https://es.lorealparisusa.com/revista-de-belleza/cuidado-capilar/todos-los-tipos-de-cabello/oily-scalp-treatment-tips" }
Descubrir más trucos y consejos
Ver todos los artículos
Shop Featured Hair Care products
Discover More
{ "@context": "http://schema.org", "@type": "BreadcrumbList", "itemListElement": [ { "@type":"ListItem", "position": 1, "item": { "@id": "/", "name": "Home" } } , { "@type":"ListItem", "position": 2, "item": { "@id": "https://es.lorealparisusa.com/revista-de-belleza", "name": "Revista de belleza" } } , { "@type":"ListItem", "position": 3, "item": { "@id": "https://es.lorealparisusa.com/revista-de-belleza/cuidado-capilar", "name": "Todo sobre el cabello sano" } } , { "@type":"ListItem", "position": 4, "item": { "@id": "https://es.lorealparisusa.com/revista-de-belleza/cuidado-capilar/todos-los-tipos-de-cabello", "name": "Todos los tipos de cabello" } } , { "@type":"ListItem", "position": 5, "item": { "@id": "https://es.lorealparisusa.com/revista-de-belleza/cuidado-capilar/todos-los-tipos-de-cabello/oily-scalp-treatment-tips", "name": "oily-scalp-treatment-tips" } } ] }