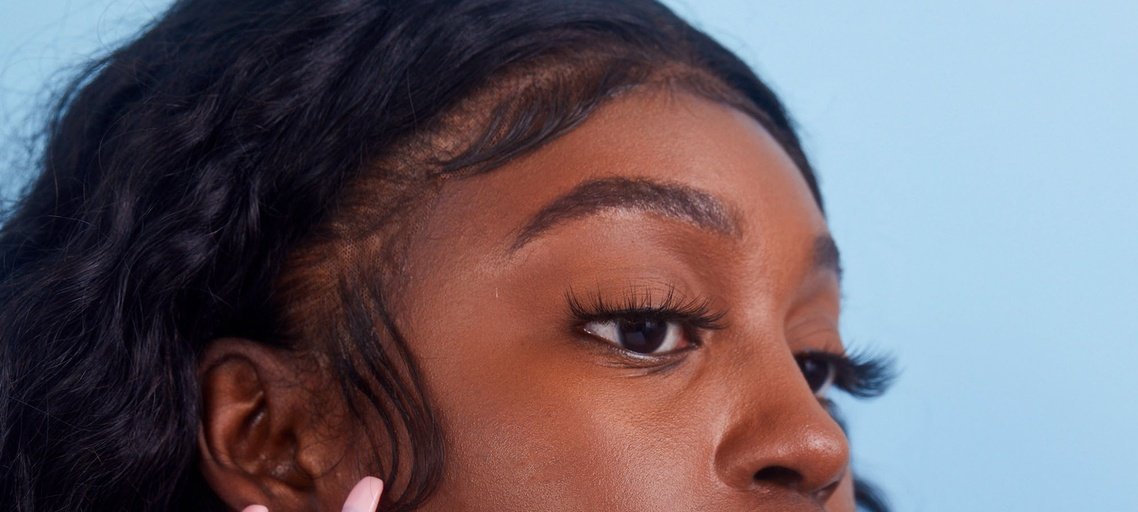 For those with natural hair, no super-cute hairstyle is complete without styled edges. The swoops, swirls, spirals and perfectly-laid edges (or baby hairs) are a necessity in framing the face and finishing a look. However, it comes with a caveat: Over-styling can wreak havoc on your hairline, causing thinning edges — and maybe even worse, permanent hair loss.
Medically known as traction alopecia, this type of hair loss is caused by excessively tight hairstyles. According to a study from the National Center for Biotechnology Information (NCBI), an estimated one-third of African-American women suffer from the condition — making it a common form of hair loss among that group. The study found that frequent pulling, tension and strain from traumatic hairstyles can lead to thinning edges, patchiness and overall hair loss.
But truthfully, anyone can lose their hairline if they're not styling and caring for it properly. The good news is, though, that it is possible to regrow and prevent thinning edges. Ahead, we share more on the hair loss condition — and how you can treat it.
What Causes Thinning Edges?
There could be a number of things causing your tresses to fall out. According to the Mayo Clinic, genetics, hormonal changes, medical conditions, medications and supplements and stress are among the factors to blame.
However, thinning edges could also be due to excessively tight hairstyles, says the Skin of Color Society (SOCS). If you constantly wear your hair tightly pulled back, the pulling and tugging may eventually lead to hair loss and scarring of the hair follicles. You may even notice small flesh-colored or white bumps forming at the nape of your neck or hairline, which states the SOCS, is a telltale sign that your hair is pulled too tightly. Additionally, the NCBI study states that the use of chemical relaxers is believed to be a factor as well.
How To Prevent Thinning Edges
If you're noticing patches or thinning at your hairline, the first thing you should do is see a board-certified dermatologist. The right physician will be able to assess your scalp, give you a proper diagnosis and start a personalized treatment plan. That being said, there are also steps you can take at home to prevent it.
1. Avoid Wearing Tight Hairstyles Frequently
The first step to treating your thinning edges is pretty obvious: Steer clear of hairdos that pull on your hair, states the American Academy of Dermatology Association (AAD). The continuous pulling can cause strands of hair to break, fall out and damage, leading to permanent hair loss.
That means you're going to have to go easy on wearing your hair in tight cornrows, weaves, dreadlocks, as well as sleek buns and ponytails. Instead, try a gentler style like looser braids or crochet braids. The AAD also recommends wearing a braided style no longer than two to three months.
2. Change Up Your Hairstyle Frequently
According to the AAD, switching up your do can help reduce pull. When you change your style frequently, you want to give your mane a chance to recover. So if you've been wearing cornrows for two months, try embracing your natural texture in an afro.
3. Don't Wear Tight Weaves
While weaves and extensions are a great way to add length to your hair, they might also be the reason you're dealing with thinning edges in the first place. The AAD advises wearing them for short periods of time and opting for sewn-in weaves rather than using bond glue. If your weave is uncomfortable on your head and irritating your scalp, remove it immediately. Your protective style should be doing exactly that — protecting your help, not harming it!
4. Avoid Chemical Treatments
The NCBI study recommends avoiding chemical and thermal treatments, too. But if you do plan to relax your hair, the AAD suggests booking an appointment with a hairstylist trained in chemical relaxers. This way, they can choose the best treatment without damaging your hair.
The Best Hair Care System For Thinning Edges
In addition to loosening up your 'do, incorporating top-notch hair products into your hair care routine could also be effective in treating your thinning edges. Reach for a thickening hair care system, such as the L'Oréal Paris EverStrong Sulfate-Free Thickening Shampoo and L'Oréal Paris EverStrong Sulfate-Free Thickening Conditioner. This duo helps weak and thin hair look thicker while caring for the scalp.
You can also try the L'Oréal Paris EverPure Sulfate-Free Volume Shampoo and the L'Oréal Paris EverPure Sulfate-Free Volume Conditioner. Both pump up the volume and help strengthen and condition weak hair.
To treat baby hair breakage, make sure to use the L'Oréal Paris EverPure Sulfate-Free Simply Clean Shampoo and the L'Oréal Paris EverPure Sulfate-Free Simply Clean Conditioner. The hair care system is formulated to tackle dull, damaged strands and transform them into healthy-looking ones without weigh down.
But remember, hair care can only go so far after you've done damage — the best way to treat traction alopecia is to avoid it altogether.
Next: Hair Loss vs. Hair Shedding: What You Need To Know
Written by: Sophie Dweck, Photo Credit: Crystal Simone
{ "@context": "https://schema.org/", "@type": "WebPage", "speakable": { "@type": "SpeakableSpecification", "cssSelector": ["speakable-content"] }, "url": "https://es.lorealparisusa.com/revista-de-belleza/cuidado-capilar/todos-los-tipos-de-cabello/thinning-edges" }
Descubrir más trucos y consejos
Ver todos los artículos
Mejora tu rutina
Muestra más amor a tu nuevo look:
makeup
{ "@context": "http://schema.org", "@type": "BreadcrumbList", "itemListElement": [ { "@type":"ListItem", "position": 1, "item": { "@id": "/", "name": "Home" } } , { "@type":"ListItem", "position": 2, "item": { "@id": "https://es.lorealparisusa.com/revista-de-belleza", "name": "Revista de belleza" } } , { "@type":"ListItem", "position": 3, "item": { "@id": "https://es.lorealparisusa.com/revista-de-belleza/cuidado-capilar", "name": "Todo sobre el cabello sano" } } , { "@type":"ListItem", "position": 4, "item": { "@id": "https://es.lorealparisusa.com/revista-de-belleza/cuidado-capilar/todos-los-tipos-de-cabello", "name": "Todos los tipos de cabello" } } , { "@type":"ListItem", "position": 5, "item": { "@id": "https://es.lorealparisusa.com/revista-de-belleza/cuidado-capilar/todos-los-tipos-de-cabello/thinning-edges", "name": "thinning-edges" } } ] }