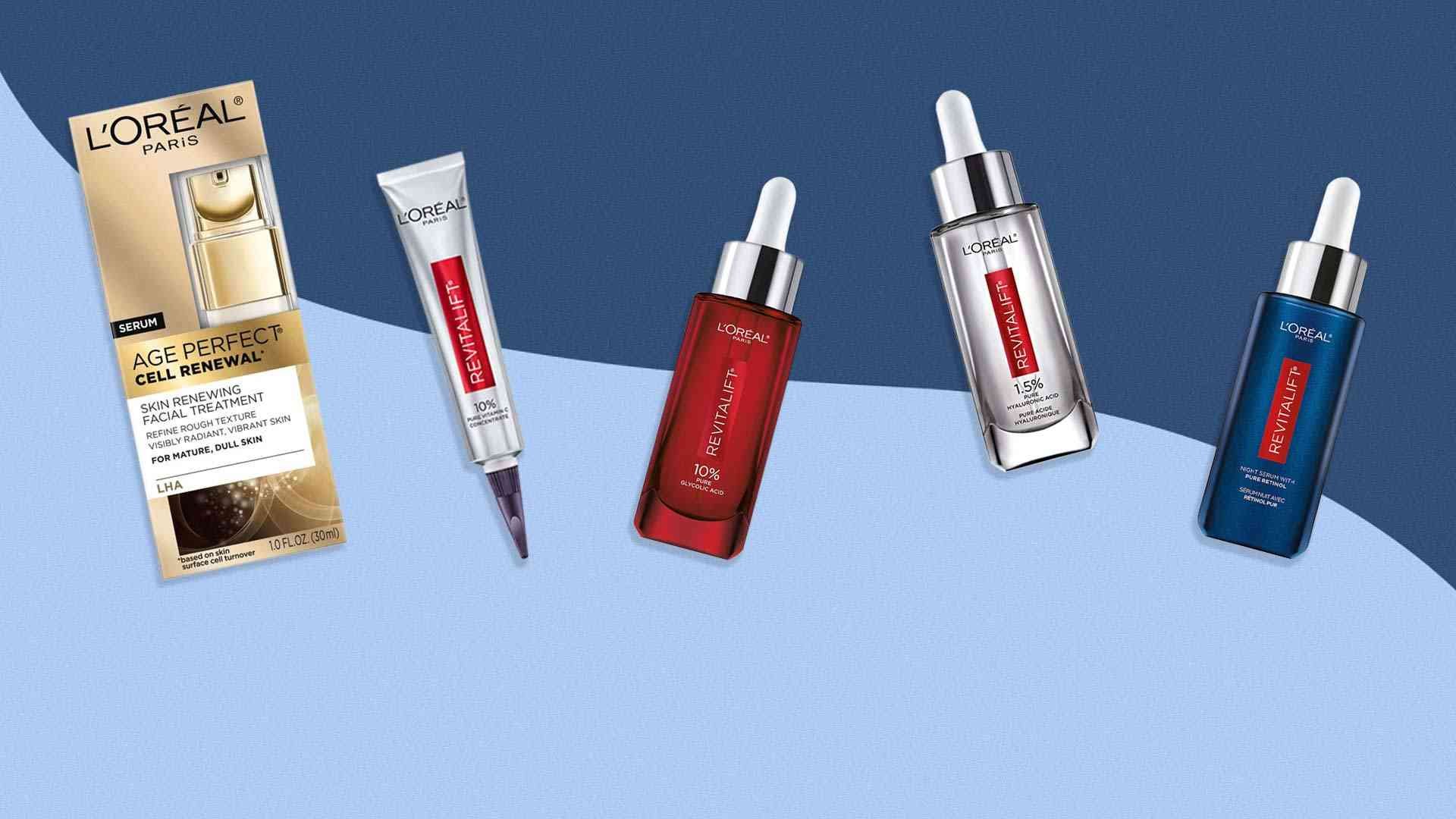 antiedad
Our Best Anti-Aging Serums For Mature Skin
As you age, the skin care products you used when you were younger may not necessarily be the right ones for your skin any longer. In fact, aging, mature skin has its own specific set of needs. One product that you should consider adding to your skin care routine if you have mature skin and you're looking to combat dullness, hydrate dry skin, or stave off fine lines and wrinkles is an anti-aging serum. Of course, that raises the question, when it comes to mature skin, what is the best anti-aging serum for dull skin? How about the best serum for dry skin or the best wrinkle serum? Here, get the lowdown on our best anti-aging serums so you can find the right one for your aging skin concerns, as well as tips for aging gracefully and pampering your beautiful complexion.
OUR BEST ANTI-AGING SERUMS FOR MATURE SKIN
Serums offer a concentrated amount of active ingredients, making them the ideal choice for those with mature skin who want to keep wrinkles at bay or rectify a loss of radiance. Here, we're sharing five of our best anti-aging serums for mature skin, including our favorite face serum for wrinkles.
OUR BEST SERUM FOR WRINKLES
Allow us to introduce you to one of our best wrinkle serums, the L'Oréal Paris Revitalift Derm Intensives 10% Pure Vitamin C Serum. This vitamin C serum effortlessly glides onto skin to restore its radiance and reduce the appearance of wrinkles.
OUR BEST SERUM FOR DEEP WRINKLES
Not all wrinkles are the same. If you have deep wrinkles, you may need something more. The L'Oréal Paris Revitalift Derm Intensives Night Serum, 0.3% Pure Retinol is formulated with 0.3 percent pure retinol, which is a top dermatologist-recommended anti-aging ingredient that's proven to help fight deep wrinkles. From the beginning, skin feels moisturized with a more refined texture, and over time, wrinkles are visibly reduced.
Editor's tip: You don't have to pick between wrinkle serums. To reap all the benefits, you can layer them. Try starting with your retinol serum, then applying the vitamin C serum on top.
OUR BEST SERUM FOR DARK SPOTS
Age spots can be another unwelcome effect of aging, but the right serum can help fade their appearance. Address dark spots with the L'Oréal Paris Revitalift Derm Intensives 10% Pure Glycolic Acid Serum for a renewed complexion. After two weeks of daily use, dark spots are visibly improved.
OUR BEST SERUM FOR DRY, MATURE SKIN
Speaking of lacking moisture—if hyaluronic acid isn't already part of your anti-aging skin care routine, we're about to convince you that it should be. This intensely hydrating ingredient can hold up to 1,000 times its weight in water, and when included in skin care formulations, it can help enhance your skin's moisture retention. Yes, please! Introduce your skin to hyaluronic acid with the L'Oréal Paris Revitalift Derm Intensives 1.5% Pure Hyaluronic Acid Serum, which absorbs quickly to plump and hydrate for visibly replenished, youthful-looking skin.
OUR BEST SERUM FOR DULL, MATURE SKIN
As you age, skin can start to look less radiant because, unfortunately, its ability to retain moisture decreases. Besides moisturizing more, an illuminating serum can seriously help. The L'Oréal Paris Age Perfect Cell Renewal Golden Serum is formulated with golden micro-reflectors to help illuminate the appearance of skin, making it instantly look refreshed after using this non-greasy, lightweight serum.
HOW TO USE ANTI-AGING SERUMS
Prep skin for your serum with the L'Oréal Paris Revitalift Derm Intensives 3.5% Glycolic Acid Cleanser, then apply an even layer of your serum of choice onto your freshly-cleansed skin. To use more than one serum, apply them starting with whichever one has the thinnest consistency, and work your way up to the thickest. Follow up with your moisturizer—we love the L'Oréal Paris Revitalift Triple Power Day Lotion SPF 30 for the morning.
Some serums, like our retinol serum, will have an acclimation period. This means you shouldn't jump straight into applying it every day. Rather, take things slow to start. In the first week, apply it twice. During the second week, increase to applying the serum every other night. By week three, if your skin can tolerate it, you can start nightly use.
Editor's tip: Keep in mind, some serums can be used morning and night while others are meant to be applied only at night. Follow the directions that coordinate with the formula you're using.
OTHER WAYS TO CARE FOR MATURE SKIN
You have the lowdown on how to use a serum if you have mature skin—but that's not the only way to pamper your complexion. Follow these other tips for caring for mature skin, too.
MATURE SKIN TIP #1. USE A CREAM CLEANSER
The goal of any anti-aging skin care routine is to keep moisture in, and using a gentle, nourishing cream-based cleanser can help achieve this. The L'Oréal Paris Age Perfect Nourishing Cream Cleanser is formulated with replenishing oils to gently yet effectively remove traces of makeup. Every morning and evening, lather the cleanser into wet hands, gently massage it onto skin, then rinse thoroughly with lukewarm water and pat dry.
MATURE SKIN TIP #2. USE AN EYE CREAM
You're never too young to add an eye cream to your routine. Keeping the eye area hydrated and moisturized will help keep fine lines and wrinkles at bay in the long-term and can also help with dark circles in the short term. Try the L'Oréal Paris Age Perfect Hydra Nutrition Manuka Honey Eye Gel, which has a rollerball applicator wand for easy application in the a.m. and p.m.
MATURE SKIN TIP #3. APPLY A NIGHT CREAM BEFORE HITTING THE SHEETS
Maximize your beauty sleep by applying a night cream before you go to sleep each night. The L'Oréal Paris Age Perfect Hydra Nutrition Honey Night Balm, which is infused with nurturing manuka honey, antioxidants, and calcium, is a great option. Used regularly, it can help comfort and strengthen mature, dry skin. Before bed, apply your night cream after you've washed your face and put on your serum.
MATURE SKIN TIP #4. PAY ATTENTION TO YOUR NECK AND CHEST
It's great to show your complexion attention—but don't forget about your neck and chest. To moisturize the skin below your chin, try the L'Oréal Paris Age Perfect Hydra Nutrition Manuka Honey All Over Balm – Face/Neck/Chest/Hands, which contains key ingredients including manuka honey, nurturing oils, calcium, and antioxidants, and is formulated for mature, very dry skin. After use, your skin will be softened, nourished, and appear more youthful, with a healthy glow. To use the silky balm, apply it on cleansed skin every morning and evening. Rub the formula between your fingers, smooth it gently onto your face in an upward and outward motion, then smooth it from your neck to jawline and upper chest until absorbed.
If you have mature skin, you should now be confident in your abilities to pick out the best wrinkle serum, brightening serum, and serum for dryness to add to your routine. If you need more help picking the right moisturizer to use after your serum, check out Our Best Anti-Aging Creams and Moisturizers.
{ "@context": "https://schema.org/", "@type": "WebPage", "speakable": { "@type": "SpeakableSpecification", "cssSelector": ["speakable-content"] }, "url": "https://es.lorealparisusa.com/revista-de-belleza/cuidado-piel/antiedad/best-serums-for-mature-skin" }
Descubrir más trucos y consejos
Ver todos los artículos
Shop Featured Skin Care products
Discover More
{ "@context": "http://schema.org", "@type": "BreadcrumbList", "itemListElement": [ { "@type":"ListItem", "position": 1, "item": { "@id": "/", "name": "Home" } } , { "@type":"ListItem", "position": 2, "item": { "@id": "https://es.lorealparisusa.com/revista-de-belleza", "name": "Revista de belleza" } } , { "@type":"ListItem", "position": 3, "item": { "@id": "https://es.lorealparisusa.com/revista-de-belleza/cuidado-piel", "name": "Tratamiento de la piel para todas las edades" } } , { "@type":"ListItem", "position": 4, "item": { "@id": "https://es.lorealparisusa.com/revista-de-belleza/cuidado-piel/antiedad", "name": "Cuidado de la piel antiedad" } } , { "@type":"ListItem", "position": 5, "item": { "@id": "https://es.lorealparisusa.com/revista-de-belleza/cuidado-piel/antiedad/best-serums-for-mature-skin", "name": "best-serums-for-mature-skin" } } ] }