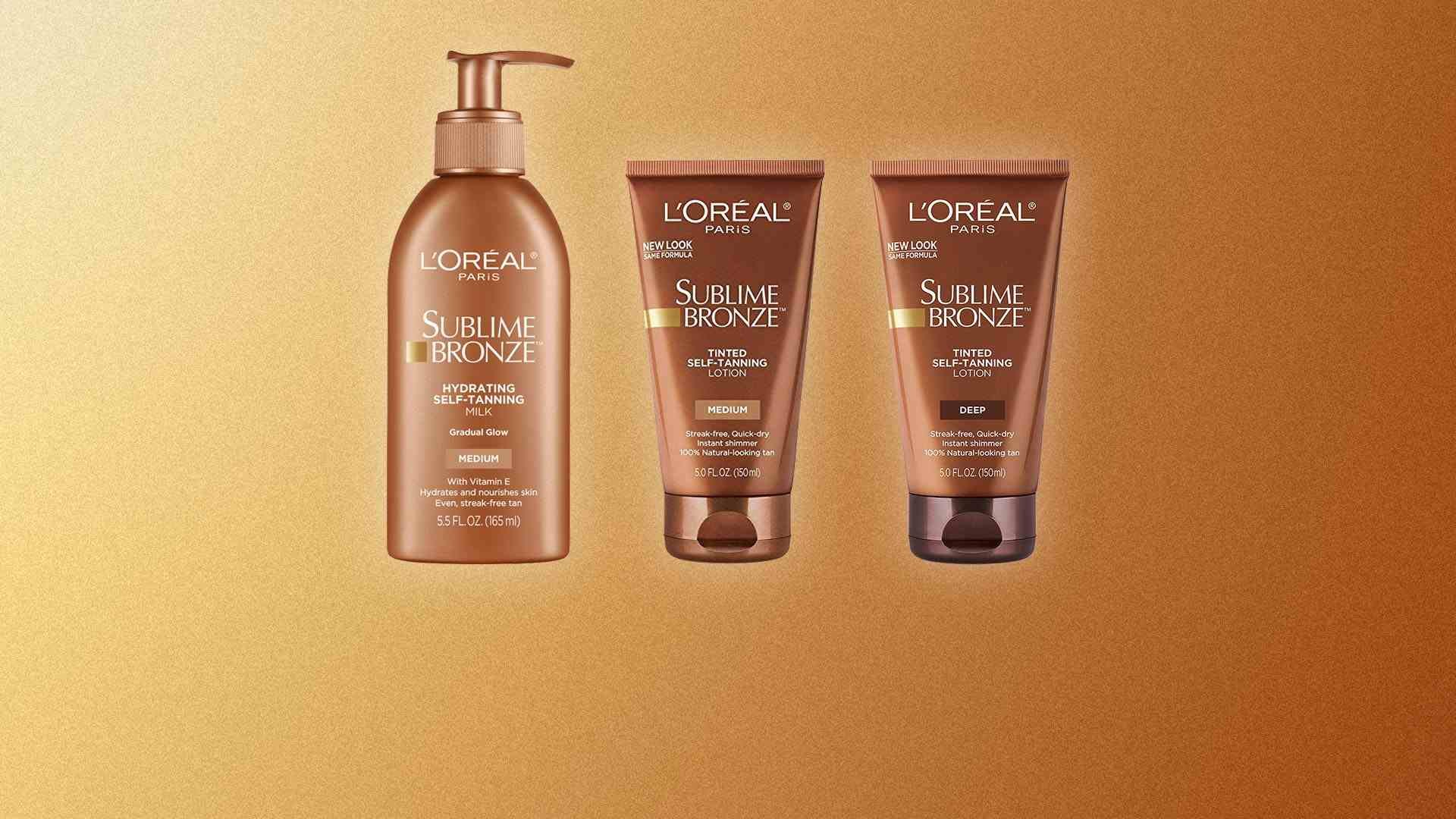 Faking it: We all do it from time to time. In fact, we're serious fans of faking a summer tan with the help of a little self-tanning lotion. We'd even go so far as to consider sunless tanning lotion a skin care essential. During the winter months, you may find yourself craving some golden color—and adding a tan lotion to your skin care routine is one way to get exactly that. The good news is, you have plenty of fake tan lotion options to choose from if you'd like to rock a faux glow. But with so many options, how do you choose the best tanning lotion for you? Keep reading for a round-up of our best self-tanning lotions, plus our top application tips for getting a perfectly streak-free, natural-looking glow.
OUR BEST SELF-TANNING LOTIONS FOR 2020
Ready to achieve a golden look? First things first, you need to pick a self-tanning lotion that's formulated for your skin tone—if you have very fair skin, for example, you won't want to use a tanner that's made for dark skin tones. Here are our best options to choose from:
L'Oréal Paris Sublime Bronze Hydrating Self-Tanning Milk Medium: This gradual self-tanning lotion delivers an even, bronzed glow while hydrating, softening, and nourishing your skin. Apply it three times per week to build up your color and maintain a streak-free glow.
L'Oréal Paris Sublime Bronze Tinted Self-Tanning Lotion Medium Natural Tan: This instant, streak-free formula gives a subtle shimmer while also smoothing skin (it's formulated with vitamin E). If you have a light or medium-light skin tone, this one's for you.
L'Oréal Paris Sublime Bronze Tinted Self-Tanning Lotion Deep Natural Tan: This is the same self-tanner lotion as the above, just a version for dark and deep skin tones—it's still instant, streak-free, and oh-so-shimmery. All you have to do is apply it with the proper application technique. Keep reading for instructions that can be applied to almost any fake tan lotion, including the three we've mentioned here.
HOW TO APPLY YOUR TANNING LOTION OF CHOICE
Although the tint and texture of sunless tanning lotions might differ, there are a few general application rules to follow, regardless of the exact product you pick. And remember, it's important to master your self-tanner technique in order to create streak-free bronzed color. So, follow these steps to use our best sunless tanning lotions—the right way.
STEP 1: CLEANSE AND EXFOLIATE SKIN
If you want your self-tanner to go on smoothly, your work should start in the shower where you'll need to cleanse and exfoliate your skin. Here's why: Self-tanner tends to stick to patches of dry skin, so in order to ensure an even application, you'll want to buff away dead skin cells from head to toe. Reach for a gentle sugar scrub, gently massage it onto your skin using circular motions, then rinse off. If you plan to apply self-tanner on your face, you can use the L'Oréal Paris Pure-Sugar Nourish & Soften Cocoa Scrub for this step.
Looking for another exfoliating option? You can also try dry brushing your skin before you get into the shower. (Here's our article on this topic, What is Dry Brushing? Why You Should Give This Exfoliating Method a Try.)
STEP 2: APPLY AN OIL-FREE MOISTURIZER
After you hop out of the shower, moisturize all over while your skin is still damp to help lock in hydration. Choose oil-free lotions for your face (such as the L'Oréal Paris Hydra Genius Daily Liquid Care - Normal/Oily Skin) and body and pay extra attention to dry areas.
STEP 3: REACH FOR YOUR SELF-TANNER
It's finally time to get your glow on! All you have to do is squeeze some of your sunless tanning lotion onto your hands and apply it evenly all over your face and body. You may want to consider applying your self-tanning lotion with an applicator mitt to avoid staining your hands.
STEP 4: DON'T GO OVERBOARD
Keep in mind that it's a good idea to use self-tanner sparingly around areas that tend to get dry, such as your elbows, knees, and ankles, as they can soak up more color—and chances are you probably want your tan to look even. As far as your face goes, use your self-tanner sparingly around your eyebrows and hairline.
STEP 5: WASH YOUR HANDS
If you used your hands to apply your self-tanner, wash them thoroughly once you're done. After all, you don't want your hands to look darker than the rest of your body, now do you?
STEP 6: WAIT TO GET DRESSED
Be patient! Don't get dressed or put on makeup until your skin has completely dried. When you do get dressed, opt for dark, loose clothing to help avoid staining.
And there you have it! Use your sunless tanning lotion one to two times per week, or as directed, to help maintain your color.
Ready to try another self-tanner option? You're in the right place! Check out our articles How Do You Use Self-Tanning Wipes?, How to Use a Self-Tanner Mist for a Spray Tan-Inspired Glow, and How to Use a Self-Tanning Mousse so you can give them all a shot.
{ "@context": "https://schema.org/", "@type": "WebPage", "speakable": { "@type": "SpeakableSpecification", "cssSelector": ["speakable-content"] }, "url": "https://es.lorealparisusa.com/revista-de-belleza/cuidado-piel/cuidado-solar-y-autobronceado/best-self-tanner-lotion-for-summer-glow" }
Descubrir más trucos y consejos
Ver todos los artículos
Shop Featured Skin Care products
Discover More
{ "@context": "http://schema.org", "@type": "BreadcrumbList", "itemListElement": [ { "@type":"ListItem", "position": 1, "item": { "@id": "/", "name": "Home" } } , { "@type":"ListItem", "position": 2, "item": { "@id": "https://es.lorealparisusa.com/revista-de-belleza", "name": "Revista de belleza" } } , { "@type":"ListItem", "position": 3, "item": { "@id": "https://es.lorealparisusa.com/revista-de-belleza/cuidado-piel", "name": "Tratamiento de la piel para todas las edades" } } , { "@type":"ListItem", "position": 4, "item": { "@id": "https://es.lorealparisusa.com/revista-de-belleza/cuidado-piel/cuidado-solar-y-autobronceado", "name": "Protección solar y autobronceado" } } , { "@type":"ListItem", "position": 5, "item": { "@id": "https://es.lorealparisusa.com/revista-de-belleza/cuidado-piel/cuidado-solar-y-autobronceado/best-self-tanner-lotion-for-summer-glow", "name": "best-self-tanner-lotion-for-summer-glow" } } ] }