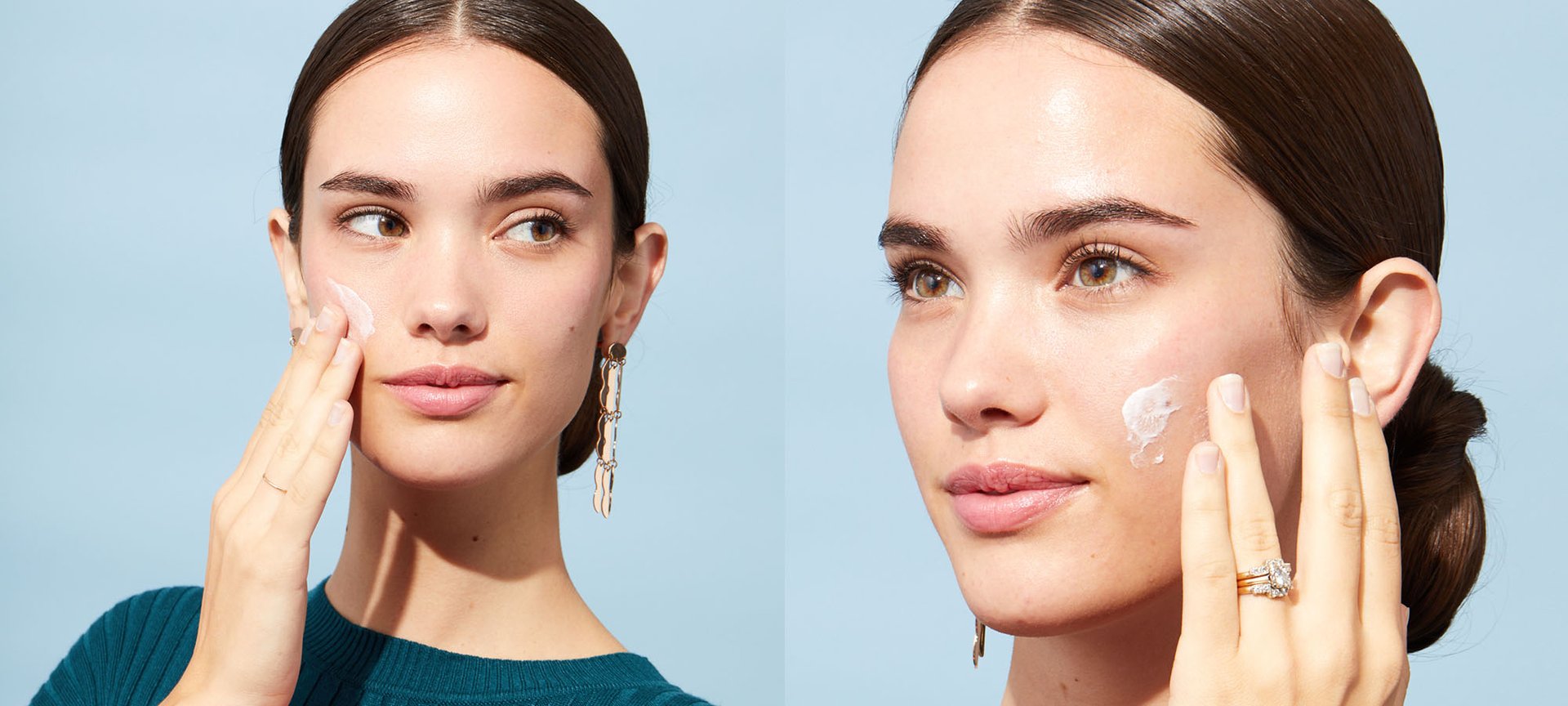 The summer sun and the scent of sunscreen go together like sand and the ocean, ice cream and cones, swimsuits and flip-flops — we could go on, but you get it. That smell of sunscreen transports you to days spent by the pool and playing volleyball on the beach with friends. But just because you can't do those things in the winter doesn't mean you should nix the SPF too. While it makes sense for SPF to be part of your summer memories and routine, you'd be wrong to reserve this skin care staple for only the warm weather months. Whether or not we need to use sunscreen during winter is a topic we've seen debated often — but it shouldn't be, and we'd like to put it to rest. So here, we're sharing the facts about why you should wear sunscreen on cold, winter days, too.
Do You Need To Use Sunscreen in Winter?
We can jump right into things: Yes, wearing sunscreen in the winter is a necessity. While you likely associate the sun's damaging rays with having them beat down on you and feeling the heat on your skin, the sun comes out even when it's cold. Beyond that, the sun can also damage your skin when it's cloudy.
According to the Skin Cancer Foundation, UVA rays can penetrate through clouds. Snow also reflects up to 80 percent of the sun's UV light, as per the Skin Cancer Foundation, so those rays are hitting you twice. That's the potential for double the damage the UV rays otherwise can leave. They also can reach your skin through glass, so don't assume you're protected solely by avoiding outdoor winter activities.
Can You Get Sunburned in The Winter?
Just like sun damage, sunburns don't only happen in summer. The assumption that you won't get burnt in the winter may be due to UVB rays being strongest in the summer. However, if you aren't wearing sunscreen in winter, the Skin Cancer Foundation states that you can, in fact, get burned. UVB rays, which are responsible for burns, can affect skin all year round. You may notice the effects of the sun less during the winter because there's often less exposed skin and you may spend less time outside than during the summer. Still, that doesn't mean burns aren't possible. This is another reason wearing sunscreen in winter is key.
How To Protect Your Skin From The Sun During The Winter
Follow these tips to stay safe this winter and keep your skin protected from UV rays even when it doesn't feel like they're doing much harm.
1. Dress For The Occasion
Of course your layers will start to come off when the weather gets warm, but when the temperatures drop you can break out the long pants and high necks. Not only will these clothes help keep you cozy in the cold, but they can also protect your skin. It's simple: When your skin is covered with fabric, it isn't exposed to the sun. Use it as an excuse to stock up on all those haute full sweaters you fell in love with during fall fashion week!
2. Accessorize, Too
Feel free to add accessories to your shopping list while you're at it. Wearing a wide-brimmed hat and UV-blocking sunglasses can further protect your skin — here's to avoiding premature skin aging while looking chic and on-trend!
Editor's Tip: If you really want a gorgeous fresh-from-vacation glow, baking in the sun for hours is never the solution. You can try self-tanners, like the L'Oréal Paris Sublime Bronze Self-Tanning Facial Water Mist, Vitamin E, for a gradual (UV-free), natural-looking tan.
3. Use Sunscreen — Every! Single! Day!
If ever there was an equivalent to shouting from the page, we're doing it right now: Wearing sunscreen everyday, year-round is a must! Sorry — just wanted to make sure you heard us. And to reiterate, that isn't only true when you'll be outside all day. While sledding and skiing are certainly occasions that call for SPF, you'd be hard-pressed to find a daytime activity that doesn't. Plus, with so many different types of sunscreen available, the application process is easier than ever.
The American Academy of Dermatology (AAD) recommends using a broad-spectrum (meaning it's got you covered for UVA and UVB rays) sunscreen with an SPF (sun protection factor) of 30 or greater. You should apply sunscreen as the final step of your skin care routine. If you're prone to forgetting, try using a moisturizer with SPF so you're at least getting some protection. We love the L'Oréal Paris Revitalift Triple Power Day Lotion SPF 30, the L'Oréal Paris Age Perfect Collagen Expert Day Moisturizer with SPF 30 and the L'Oréal Paris Wrinkle Expert 55+ Age Defense Lotion SPF, which all offer sun protection, hydration and added anti-aging benefits through powerhouse ingredients.
Editor's Tip: Take protecting your skin a step further and add more SPF to your routine via your makeup. While makeup with SPF shouldn't replace your sunscreen, it can complement it. We recommend the L'Oréal Paris Infallible 24 Hour Fresh Wear Foundation, Lightweight, which has a lightweight, breathable texture and SPF 25.
Next: 10 Anti-Aging Beauty Tips To Upgrade Your Skin Care Routine
Edited by: Shalwah Evans, Photo Credit: Chaunte Vaughn
{ "@context": "https://schema.org/", "@type": "WebPage", "speakable": { "@type": "SpeakableSpecification", "cssSelector": ["speakable-content"] }, "url": "https://es.lorealparisusa.com/revista-de-belleza/cuidado-piel/cuidado-solar-y-autobronceado/sunscreen-in-winter" }
Descubrir más trucos y consejos
Ver todos los artículos
Shop Featured Skin Care products
Discover More
{ "@context": "http://schema.org", "@type": "BreadcrumbList", "itemListElement": [ { "@type":"ListItem", "position": 1, "item": { "@id": "/", "name": "Home" } } , { "@type":"ListItem", "position": 2, "item": { "@id": "https://es.lorealparisusa.com/revista-de-belleza", "name": "Revista de belleza" } } , { "@type":"ListItem", "position": 3, "item": { "@id": "https://es.lorealparisusa.com/revista-de-belleza/cuidado-piel", "name": "Tratamiento de la piel para todas las edades" } } , { "@type":"ListItem", "position": 4, "item": { "@id": "https://es.lorealparisusa.com/revista-de-belleza/cuidado-piel/cuidado-solar-y-autobronceado", "name": "Protección solar y autobronceado" } } , { "@type":"ListItem", "position": 5, "item": { "@id": "https://es.lorealparisusa.com/revista-de-belleza/cuidado-piel/cuidado-solar-y-autobronceado/sunscreen-in-winter", "name": "sunscreen-in-winter" } } ] }