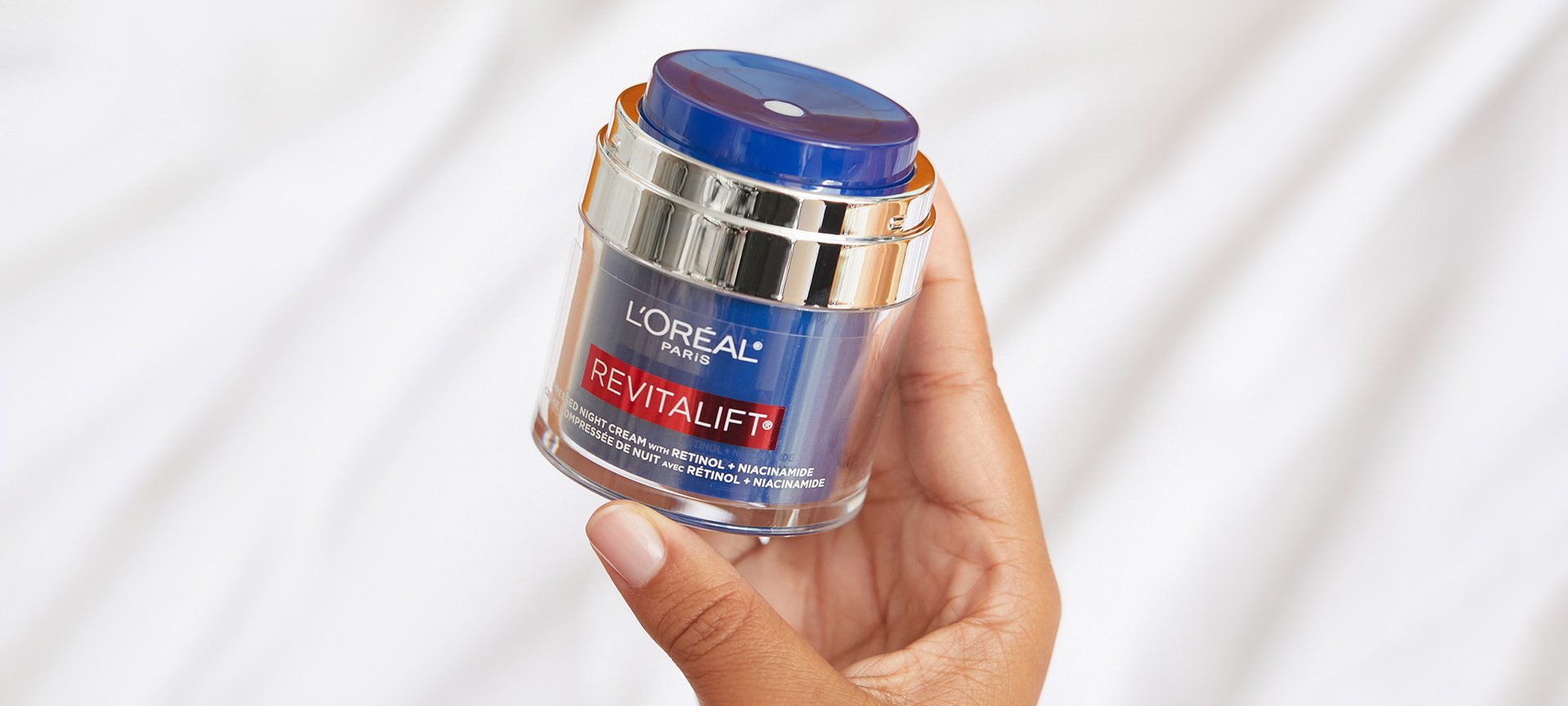 When it comes to ingredients that will put you on the fast track to really great skin, a few mainstays come to mind, but retinol dominates the top of the list. It's no wonder you can find a myriad of products formulated with the dermatologist-recommended anti-aging powerhouse, from retinol moisturizers to retinol serums and even tinted moisturizers that can replace your foundation on those skinimalism-inspired days. But if you're new to retinol you may have lots of questions about it, including, what exactly is retinol, how does retinol work and why is it good for your skin, and which retinol should you start with?
So we're answering your retinol questions, plus offering tips on how to add retinol to your skin care routine and the products to help you do it — all available at Amazon.
What Is Retinol?
It's easy to piece together a basic understanding of ingredients when you hear about them all the time, but it's important to know exactly what they are and how they may affect you. Retinol is part of the retinoid family, a vitamin A derivative that has antioxidant properties according to the Mayo Clinic. Unlike other anti-aging ingredients that naturally occur in the body, such as collagen and hyaluronic acid, retinol is obtained either topically or through food (the Mayo Clinic states that leafy greens, cantaloupe, carrots and dairy products are rich in vitamin A).
Retinol was found to have biofunctional benefits as early as World War I, as per the National Center for Biotechnology Information (NCBI). In the early '80s, its ability to rejuvenate skin and enhance skin's overall appearance was discovered and over-the-counter retinol products were soon introduced to the market. Clinical trials and studies have shown retinol to be effective in reducing wrinkles, photoaging and skin discoloration, as the molecules that make up retinol are so small that they can penetrate deep into the lower layers of the skin, where it finds collagen and elastin. According to further research in the NCBI library, retinoids work to strengthen the skin's barrier function (which in turn improves skin texture and skin tone), reduce transepidermal water loss, and protect collagen to prevent it from degrading.
The Mayo Clinic even cites retinol as a common topical treatment for acne. Depending on your specific skin care concerns, your dermatologist may give you a prescription for retinol or recommend a drugstore retinol based product.
"While [over-the-counter retinol] is not as effective in treating acne as prescription versions, it certainly can be useful if you are acne prone," says NYC-based board-certified dermatologist Joshua Zeichner, MD. "When it comes to retinol, you certainly can start using it at an early age."
Keep in mind, retinol can be drying for the skin in the first weeks of use, Zeichner informs, and it can increase the skin's sun sensitivity, as per the American Academy of Dermatology. So consulting with your doctor is important if you're looking to add retinol to your healthy skin regimen.
Our Best Retinol Products For Beginners
Once your derm gives you the green light and you first introduce retinol into your skin care routine you want to work up to nightly use. The L'Oréal Paris Revitalift Pressed Moisturizer With Retinol + Niacinamide is a great retinol cream for newbies because it's formulated with niacinamide and works to brighten and even skin tone. A 12 percent complex of soothing ingredients offsets the potential drying effects of retinol while deeply nourishing the skin for a smoother and softer appearance. The hydrating cream is lightweight, non-greasy and won't clog pores. Gently rub it into your face, neck and décolleté as directed.
Follow up the next morning with the L'Oréal Paris Revitalift Triple Power Day Lotion SPF 30 as part of your daytime skin care routine. Formulated with hyaluronic acid, vitamin C and Pro-Retinol, this day cream firms, brightens and hydrates the skin. It also contains SPF 30 to give your complexion some much-needed sun protection.
How To Work Retinol Into Your Skin Care Routine
Whether you already have a tried-and-true regimen and you're trying to see how retinol can fit into it, or you're building your skin care routine from scratch, these basic steps will help you get started.
1. Cleanse
Every skin care routine begins with cleansing your complexion to get rid of dirt, excess oil, impurities that build up over the course of the day, and makeup that you might have put on. We love the L'Oréal Paris Revitalift Radiant Smoothing Cream Cleanser as the first step in this particular routine because the creamy facial cleanser gently exfoliates dead cells from the skin's surface without drying it out.
2. Apply Serum
A hydrating serum like the L'Oréal Paris Revitalift Derm Intensives 1.5% Pure Hyaluronic Acid Serum is the quintessential follow up to your cleanser. It helps to replenish moisture in your skin, replump the skin and smooth its texture. Perfect for daytime and nighttime, you can use the serum daily for your anti-wrinkle, pro-brightening routine.
3.

Add Your Eye Treatment

When you add your eye cream or serum depends on the thickness of your products. You should layer from thinnest to thickest, so in this instance your eye serum would come before your moisturizer so that it can be easily absorbed into your skin. The L'Oréal Paris Derm Intensives With 1.5% Hyaluronic Acid, 1% Caffeine Eye Serum includes hyaluronic acid and caffeine to moisturize the skin under your eyes, brighten dark circles and smooth out lines and crow's feet. The triple roller applicator lets you massage around the contours of the eye to refresh the skin and reduce the appearance of puffiness.



4.

Moisturize

This is where your moisturizers formulated with retinol come into play. At night, use your retinol and niacinamide pressed night cream for lightweight hydration. Then follow up with your Pro-Retinol-infused moisturizer that includes SPF 30 for sun protection in the day.



5. Finish With SPF
As always, apply your broad-spectrum SPF of 30 or greater before you move on to your makeup. Remember, retinol can increase your skin's sensitivity to the sun so you don't want to skip SPF for your complexion's sake.
Next: 5 Top Retinol Creams And Serums You Can Get Over The Counter
Written by Shalwah Evans, Photography: Chaunte Vaughn, Senior Art Direction: Melissa San Vicente-Landestoy, Senior Visual Designer: Hannah Packer, Associate Creative Producer: Becca Solovay, Makeup Artist: Jonet Williamson, Hair Stylist: Akihisa Yamaguchi, Wardrobe Assistant: Victoria Ochoa, Digital Tech: Kyle Thompson, Model: AnnChristine Velazquez
{ "@context": "https://schema.org/", "@type": "WebPage", "speakable": { "@type": "SpeakableSpecification", "cssSelector": ["speakable-content"] }, "url": "https://es.lorealparisusa.com/revista-de-belleza/cuidado-piel/fundamentos-del-cuidado-de-la-piel/beginners-guide-to-retinol" }
Descubrir más trucos y consejos
Ver todos los artículos
Mejora tu rutina
Muestra más amor a tu nuevo look:
makeup
{ "@context": "http://schema.org", "@type": "BreadcrumbList", "itemListElement": [ { "@type":"ListItem", "position": 1, "item": { "@id": "/", "name": "Home" } } , { "@type":"ListItem", "position": 2, "item": { "@id": "https://es.lorealparisusa.com/revista-de-belleza", "name": "Revista de belleza" } } , { "@type":"ListItem", "position": 3, "item": { "@id": "https://es.lorealparisusa.com/revista-de-belleza/cuidado-piel", "name": "Tratamiento de la piel para todas las edades" } } , { "@type":"ListItem", "position": 4, "item": { "@id": "https://es.lorealparisusa.com/revista-de-belleza/cuidado-piel/fundamentos-del-cuidado-de-la-piel", "name": "Esenciales del cuidado de la piel" } } , { "@type":"ListItem", "position": 5, "item": { "@id": "https://es.lorealparisusa.com/revista-de-belleza/cuidado-piel/fundamentos-del-cuidado-de-la-piel/beginners-guide-to-retinol", "name": "beginners-guide-to-retinol" } } ] }