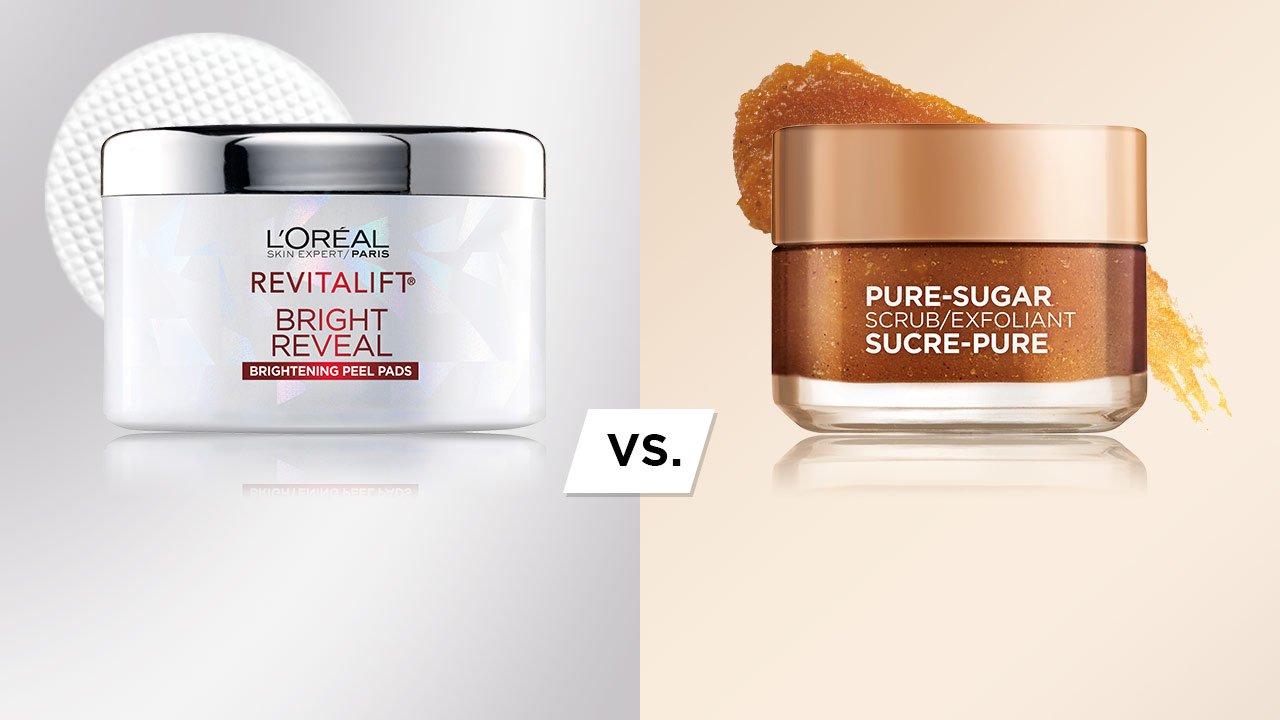 If you follow a consistent skin care routine for your skin type (including facial cleanser, moisturizer, and eye cream), you likely already know that exfoliating should play a role in caring for your complexion. In case you need a refresher, exfoliation is the process of sloughing off dead skin cells from the surface of your skin. But it turns out there are actually two types of exfoliation: mechanical and chemical. What's the difference? Well, that's what we're here to explain. Keep reading to learn about the differences between chemical exfoliation and mechanical exfoliation, as well as our best chemical exfoliants and best mechanical exfoliants to add to your skin care regimen.
WHAT IS CHEMICAL EXFOLIATION?
Chemical exfoliation involves the use of enzymes, beta hydroxy acids (BHAs) such as salicylic acid, or alpha hydroxy acids (AHAs) such as glycolic acid to dissolve dead skin cell buildup from the surface of your skin—no scrubbing necessary.
Chemical Exfoliation Option #1: BHAs. Like we mentioned above, BHAs like salicylic acid can be used for chemical exfoliation. The Cleveland Clinic states that salicylic acid removes dead skin and can improve the texture and color of sun-damaged skin.
Chemical Exfoliation Option #2: AHAs. Another option for chemical exfoliation is to use AHAs. The Cleveland Clinic explains that these include glycolic, lactic, tartaric, and citric acids. According to the Food & Drug Administration (FDA), products formulated with AHAs are marketing as having multiple uses, including smoothing fine lines and surface wrinkles, unblocking pores, and improving the condition of skin in general. The FDA notes that the extent of the effectiveness of these products will depend on the concentration of the AHA(s), the pH, and the other ingredients in the formula.
Keep in mind that AHAs like glycolic acid can leave your skin sensitive to the sun, so if you end up going with this option, make sure to apply a broad-spectrum sunscreen with an SPF of 30 or higher as directed in the morning. Take other sun protection measures as well, including limiting your amount of time in the sun (especially during the sun's peak hours of 10 a.m. to 2 p.m.), seeking shade, and covering up exposed areas in long sleeves, pants, a broad-brimmed hat, and UV-blocking sunglasses.
Chemical Exfoliation Option #3: Enzymes. BHAs and AHAs tend to get all the attention, but enzymes are another option for chemical exfoliation. According to the Cleveland Clinic, like other chemical exfoliants, enzymes can be used to improve skin tone and texture. Per a study from the National Institutes of Health, enzymes may exfoliate skin and improve clarity with less irritation than acid treatments.
OUR BEST CHEMICAL EXFOLIANTS
If you're looking to give chemical exfoliation a go, here are two skin care products to get you started.
L'Oréal Paris Revitalift Bright Reveal Brightening Daily Peel Pads: Formulated with glycolic acid, these peel pads gently yet effectively help dissolve uneven skin tone and reduce the appearance of uneven skin and fine lines and wrinkles. Plus, the multi-ply textured pads physically resurface dead skin cells to reveal brighter-looking skin. Immediately, skin looks more radiant, while the appearance of wrinkles is reduced with continued use over time. Use nightly on clean skin. Gently apply in a circular motion to your face after cleansing.
L'Oréal Paris Revitalift Bright Reveal Brightening Dual Overnight Moisturizer: This overnight moisturizer has an exfoliating concentrate formulated with glycolic acid in one chamber and a brightening infusion formulated with vitamin C and Pro-Retinol in the other. Every night, smooth gently over cleansed skin.
L'Oréal Paris HydraFresh Toner: This toner is 99 percent alcohol-free and has a gentle, non-drying formula. It's formulated with beta hydroxy acid and pro-vitamin B5 to help gently sweep away dull, tired-looking skin and protect against moisture loss. It also refreshes skin, helps to reveal a brighter-looking complexion, and leaves skin feeling soft and supple. To use, apply it to your skin with a cotton ball in the morning and at night.
Editor's note: Something to keep in mind when adding an exfoliant to your routine, whether chemical or mechanical, is that how often you should exfoliate depends on your skin. Some people can handle daily exfoliation, while others may only be able to handle exfoliating once a week. Pay attention to how your skin responds to see what works best for you.
WHAT IS MECHANICAL EXFOLIATION?
Now onto the second type of exfoliation! Mechanical exfoliation calls for the use of a tool or product that will act to physically remove dead skin cells from your skin's surface.
Mechanical Exfoliation Option #1: Body brush. Like we mentioned above, a physical instrument can be used for mechanical exfoliation. If you're looking to exfoliate your body, one option is dry brushing. Want to learn more? Read our article, What is Dry Brushing? Learn Why Dry Brushes are Worth a Try.
Mechanical Exfoliation Option #2: Facial exfoliating brush. Another type of brush for exfoliation is a tool specifically for your face. These can be electric or not, but they're intended to be used on damp skin with a cleanser. They're great for getting that squeaky-clean feeling!
Mechanical Exfoliation Option #2. Scrub. You can also use a face or body scrub as your method of mechanical exfoliation. We recommend using a sugar scrub; they tend to be extra gentle as the granules will melt into your skin. Simply apply the scrub to your skin, massage it in circular motions, then rinse.
Mechanical Exfoliation Option #3: Washcloth or exfoliating towel. While washcloths are typically intended for simply getting clean, they can also be used to exfoliate. There are even some specifically meant for exfoliation. Exfoliating towels are also a thing, and typically provide more intense exfoliation—but keep it in mind that those aren't meant for the face.
OUR BEST MECHANICAL EXFOLIANTS
Want to give mechanical exfoliation a try? Below, find our best skin care products for doing just that.
L'Oréal Paris Pure-Clay Exfoliate & Refine Cleanser: This facial cleanser goes beyond daily cleansing to exfoliate for skin that feels smoother. Immediately, skin is purified of dirt, oil, and pollution and is left with a clean, clear look. Once a day, squeeze a small amount of facial cleanser into hands and add water to transform it from clay to mousse. Gently massage the facial cleanser onto your face using circular motions, then rinse thoroughly with lukewarm water and pat dry.
L'Oréal Paris Pure-Clay Exfoliate & Refine Face Mask: Day after day, dead skin cells can accumulate on the surface of your skin, leaving your skin feeling rough. This face mask can help draw out the buildup of impurities, dirt, and oils, exfoliate dead skin cells from skin's surface, and smooth imperfections. Apply an even layer of the face mask to clean dry skin, leave it on for 10-15 minutes, then remove with water in circular motions to exfoliate. Use three times a week for best results.
L'Oréal Paris Pure-Sugar Smooth & Glow Grapeseed Scrub: This face scrub melts onto skin for gentle yet effective exfoliation. Immediately, skin feels smoother and looks glowing, while dirt, oil, and impurities are effectively removed.
L'Oréal Paris Pure-Sugar Nourish & Soften Cocoa Scrub: Immediately after using this face scrub, skin looks more refined and feels softer and smoother, while dry skin is smoothed with continued use over time.
L'Oréal Paris Pure-Sugar Purify & Unclog Kiwi Scrub: Skin feels purified and clean after using this green-hued face scrub, while the appearance of dull skin is gently polished away.
L'Oréal Paris Pure-Sugar Resurface & Energize Kona Coffee Scrub: Formulated with a blend of three pure sugars plus real Kona coffee grounds sourced directly from the Kona Coast of Hawaii, your skin will feel smooth, energized, and invigorated after using this scrub.
To use any of the above four face scrubs, use dry fingers to smooth a small amount onto clean, dry skin. Massage the face scrub over your face with wet fingers, then rinse thoroughly with lukewarm water. Use three times a week for best results.
Ready for your next skin care lesson? Head on over to our article, 10 Face Mask Mistakes You Could Be Making.
{ "@context": "https://schema.org/", "@type": "WebPage", "speakable": { "@type": "SpeakableSpecification", "cssSelector": ["speakable-content"] }, "url": "https://es.lorealparisusa.com/revista-de-belleza/cuidado-piel/fundamentos-del-cuidado-de-la-piel/mechanical-vs-chemical-exfoliation" }
Descubrir más trucos y consejos
Ver todos los artículos
Shop Featured Skin Care products
Discover More
{ "@context": "http://schema.org", "@type": "BreadcrumbList", "itemListElement": [ { "@type":"ListItem", "position": 1, "item": { "@id": "/", "name": "Home" } } , { "@type":"ListItem", "position": 2, "item": { "@id": "https://es.lorealparisusa.com/revista-de-belleza", "name": "Revista de belleza" } } , { "@type":"ListItem", "position": 3, "item": { "@id": "https://es.lorealparisusa.com/revista-de-belleza/cuidado-piel", "name": "Tratamiento de la piel para todas las edades" } } , { "@type":"ListItem", "position": 4, "item": { "@id": "https://es.lorealparisusa.com/revista-de-belleza/cuidado-piel/fundamentos-del-cuidado-de-la-piel", "name": "Esenciales del cuidado de la piel" } } , { "@type":"ListItem", "position": 5, "item": { "@id": "https://es.lorealparisusa.com/revista-de-belleza/cuidado-piel/fundamentos-del-cuidado-de-la-piel/mechanical-vs-chemical-exfoliation", "name": "mechanical-vs-chemical-exfoliation" } } ] }