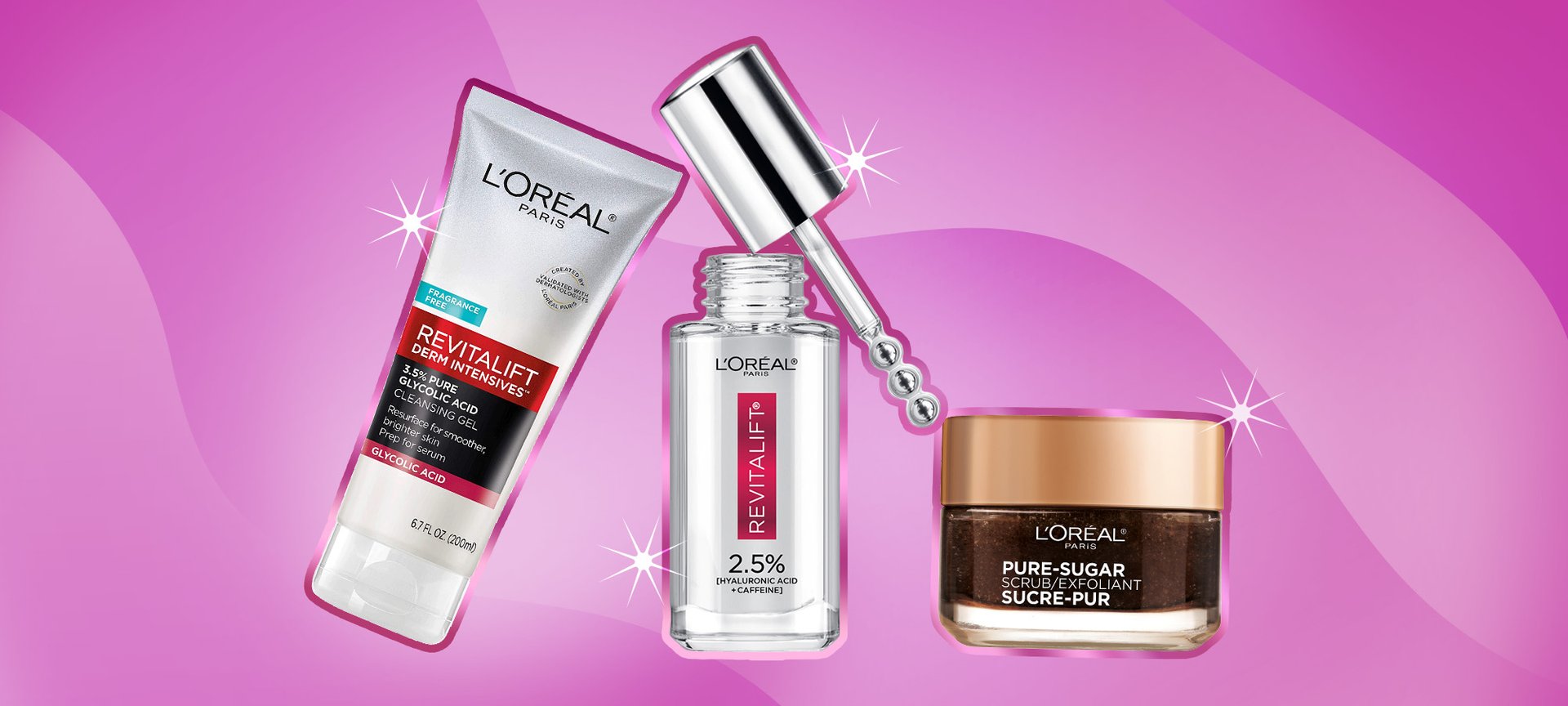 If you ask us, there's never not a good time to show yourself some love. We all deserve a relaxing spa day — always. But because Valentine's Day is just days away, we'd argue that now is an even better time to show ourselves extra TLC by staying in and creating a spa day at home. After all, the holiday is known to be a day of love and affection.
Whether you're celebrating February 14 with your special someone or spending it solo, laying in the bathtub in a hydrating face mask and massaging your scalp with a scrub in the comfort of your own home are some of the best ways to treat yourself. And it won't cost you luxury spa prices, either. So, if you're in desperate need of recharging and de-stressing, this is a must for you.
Ready to find your zen? Grab your bathrobe and cucumber water, and read on to learn about what you'll need to transform your bathroom into the ultimate at-home spa oasis on Valentine's Day.
1. Exfoliate With A Face Scrub
Dull, tired skin getting you down? Reach for the L'Oréal Paris Pure-Sugar Resurface & Energize Kona Coffee Scrub to liven up your complexion. Formulated with a naturally derived blend of sugars and coffee grounds, this gentle exfoliator helps pull up any dirt, oil and impurities sitting on your skin, leaving it looking and feeling soft and clean. Bonus: It can also be used as a lip scrub to remove any flakes and smooth out your pout.
2. Reset Your Complexion With A Face Mask
Winter and daily added stressors can do a number on your skin. Start your at-home facial with a luxurious face mask that's loaded with good-for-you benefits. The L'Oréal Paris Pure-Clay Detox & Brighten Face Mask is a creamy, non-drying treatment that works overtime to clean out pores (thanks, charcoal!) and address dull, tired skin to reveal a radiant complexion. After just 10 minutes, skin instantly feels velvety soft and purified and looks brighter with a healthy glow.
Editor's tip: For double the relaxation, reap the benefits of multitasking by applying the mask to your face while in the bathtub.
3. Upgrade Your Skin Care Routine With A Cleanser
Every great skin care routine begins with great skin care products. For a facial cleanser that evens skin tone, treats blemishes and reduces the appearance of wrinkles and dark spots, look no further than the L'Oréal Paris Revitalift Derm Intensives 3.5% Glycolic Acid Cleanser. It's formulated with glycolic acid — an effective anti-aging resurfacing ingredient — and salicylic acid, which helps refine the appearance of enlarged pores. The gel cleanser also contains aloe extract, making it a great option for folks looking for an extra dose of hydration.
Editor's tip: If you plan to use the gel cleanser, stay away from drying face scrubs or face masks as pairing these products can be overly drying and do more harm than good.
4. Glow At Home With A Serum
When you're looking for added hydration, incorporate a product infused with hyaluronic acid into your skin care repertoire. Considered the holy grail of skin care ingredients, hyaluronic acid is the key to a hydrated and plumper-looking visage.
After you're through cleansing with the Revitalift Derm Intensives 3.5% Glycolic Acid Cleanser, pat the L'Oréal Paris Revitalift Derm Intensives 1.5% Pure Hyaluronic Acid Serum onto your face with your fingertips. For best results, apply the luxurious serum onto damp skin to seal in extra moisture.
5. Treat Puffiness With An Eye Serum
When it comes to daily skin care essentials, an eye serum should never be overlooked. Not only can it address dark circles, dryness and puffiness, but using an eye serum with intense hydrating and anti-aging benefits can make a noticeable impact on your delicate skin's moisture levels. Follow your facial serum with the L'Oréal Paris Revitalift Derm Intensives With 1.5% Hyaluronic Acid, 1% Caffeine Eye Serum. It features three cooling, stainless steel balls that plump and nourish skin while helping to reduce the appearance of wrinkles and puffiness.
6. Quench Your Skin's Thirst With A Moisturizer
No matter your skin type — whether it's dry, oily or mature — a daily moisturizer is a must in your skin care routine. It is necessary for maintaining your skin's moisture barrier and preventing any environmental damage. For your at-home spa day, we recommend layering on the L'Oréal Paris Revitalift Triple Power Anti-Aging Moisturizer since it's powered by a trifecta of anti-aging ingredients — hyaluronic acid, vitamin C and retinol — that nourishes parched skin, boosts radiance and reduces wrinkles.
7. Massage Your Scalp With A Scalp Scrub
An at-home spa day shouldn't end at your face and body. Put scalp care at the forefront of your Valentine's Day at-home spa day, too. If you're experiencing dandruff or adry or oily scalp, the L'Oréal Paris EverPure Sulfate-Free Scalp Care + Detox Scrub is your best option. Formulated with apricot seed and menthol, this exfoliator intensely detoxes and removes unwanted impurities, excess oil and product build-up — all without stripping the hair. Follow with your favorite shampoo and conditioner for the freshest feeling scalp ever.
8. Transform Your Tresses With A Hair Mask
Whether your curls are feeling dry or your color-treated strands are looking extra dull, a hair mask — such as L'Oréal Paris Elvive Total Repair 5 Damage Erasing Balm Rinse-Out Mask — is the perfect solution to your hair woes. It has a luxurious formula that melts into hair and deeply conditions it, leaving you with smooth, nourished and stronger hair in a matter of minutes. Best part of all, the fan-favorite hair treatment can even be used daily, making it easier to reach your hair goals faster. Did someone say, "Best hair ever?"
9. Update Your Look With Hair Dye
While you're applying your hair mask, your favorite guy can update his look with the L'Oréal Paris Men Expert One-Twist Hair Color. Unlike many box dyes, this ammonia-free hair dye — which comes in seven natural hair shades — is super easy to use. All that is involved is twisting the applicator, giving it a good shake and applying it to the roots. Not convinced? It works on all hair textures in just five minutes and lasts for six weeks.
Next: 15 Valentine's Day Makeup Looks You'll Fall in Love With
Written by: Sophie Dweck, Designed by: Sarah Duvivier
{ "@context": "https://schema.org/", "@type": "WebPage", "speakable": { "@type": "SpeakableSpecification", "cssSelector": ["speakable-content"] }, "url": "https://es.lorealparisusa.com/revista-de-belleza/cuidado-piel/fundamentos-del-cuidado-de-la-piel/valentines-day-at-home-spa" }
Descubrir más trucos y consejos
Ver todos los artículos
Mejora tu rutina
Muestra más amor a tu nuevo look:
makeup
{ "@context": "http://schema.org", "@type": "BreadcrumbList", "itemListElement": [ { "@type":"ListItem", "position": 1, "item": { "@id": "/", "name": "Home" } } , { "@type":"ListItem", "position": 2, "item": { "@id": "https://es.lorealparisusa.com/revista-de-belleza", "name": "Revista de belleza" } } , { "@type":"ListItem", "position": 3, "item": { "@id": "https://es.lorealparisusa.com/revista-de-belleza/cuidado-piel", "name": "Tratamiento de la piel para todas las edades" } } , { "@type":"ListItem", "position": 4, "item": { "@id": "https://es.lorealparisusa.com/revista-de-belleza/cuidado-piel/fundamentos-del-cuidado-de-la-piel", "name": "Esenciales del cuidado de la piel" } } , { "@type":"ListItem", "position": 5, "item": { "@id": "https://es.lorealparisusa.com/revista-de-belleza/cuidado-piel/fundamentos-del-cuidado-de-la-piel/valentines-day-at-home-spa", "name": "valentines-day-at-home-spa" } } ] }