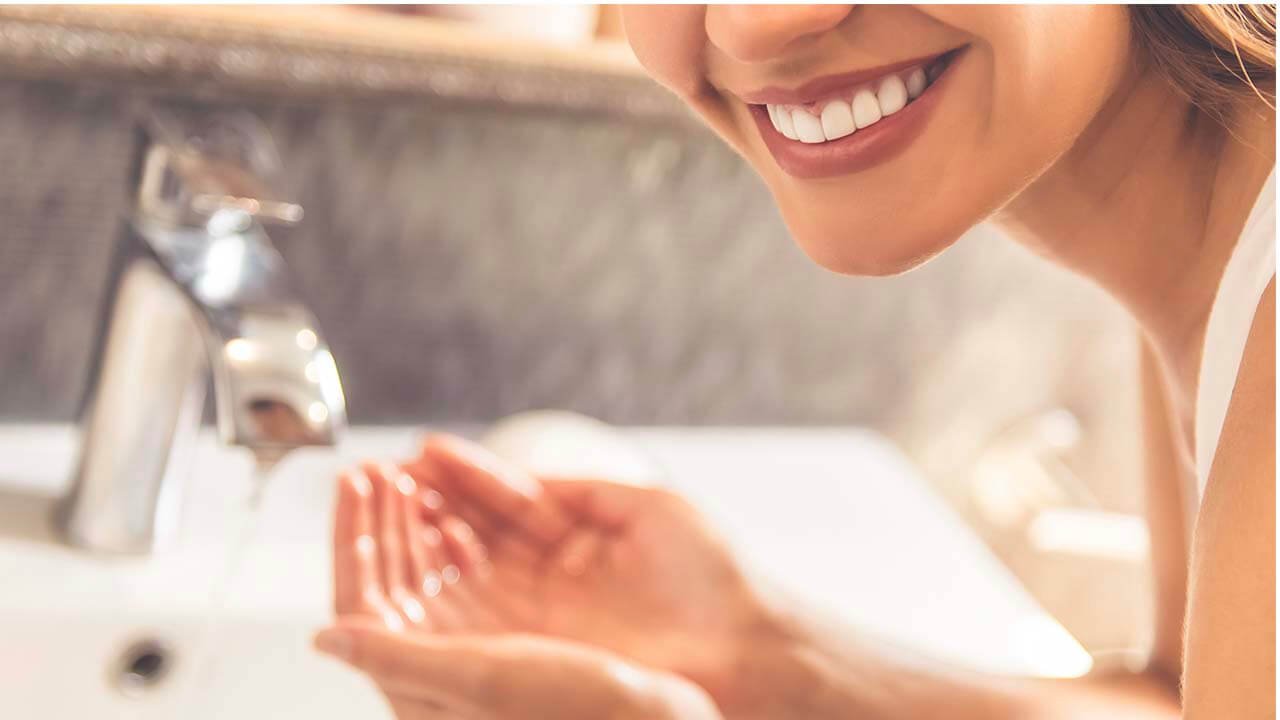 If you have sensitive skin, you probably know just how difficult it can be to find the best skin care products for your skin type—and that includes facial cleanser. While cleansing your skin should be part of your daily skin care routine, you may find that using a face wash in the morning and at night can leave your complexion feeling irritated. On the hunt for the best face wash for sensitive skin? Here, learn all about how to determine if you have sensitive skin, our best face washes for sensitive skin, and other sensitive skin care tips.
HOW TO KNOW IF YOU HAVE SENSITIVE SKIN
Before diving into what to do if you have sensitive skin, or which products to use, it's important to get the deets on this skin type. How can you tell if you have sensitive skin? The best thing you can do to help determine whether or not you have sensitive skin is to pay attention to how your skin responds to the skin care products in your skin care routine. For example, does your skin look red and feel irritated after using a skin care product formulated with fragrance, alcohol, or soap? Over-cleansing can also cause your skin to look red, so keep that in mind as you work your way through your skin care routine.
HOW TO FIND THE BEST FACE WASH FOR SENSITIVE SKIN
So, how does one go about finding the best face wash for sensitive skin? According to the American Academy of Dermatology (AAD), those with sensitive skin should avoid skin care products formulated with fragrances, soap, or alcohol. Read the label to check your face wash before trying a new one. Consider using a no-rinse cleansing option like micellar water, which is one of the best face washes for sensitive skin because it doesn't dry out or irritate skin. If you prefer a rinse-off cleanser, cream cleansers tend to be a good pick because they nourish skin while they cleanse.
OUR BEST FACE WASHES FOR SENSITIVE SKIN
Ready to get your sensitive skin care routine in order? As we said before, you'll need to start by finding the best face wash for your skin type. Remember, it may be a good idea to avoid certain ingredients in your skin care products. Looking for a face wash to use on your sensitive skin? We know a couple that are perfect for the job!
L'Oréal Paris Micellar Cleansing Water Complete Cleanser - Normal to Dry Skin: Have dry, sensitive skin? This micellar water for normal to dry skin is free of oil, soap, and alcohol and even says right on the packaging that's it's suitable for sensitive skin. This facial cleansing option won't strip the skin and exacerbate dryness, rather it's gentle on skin while removing makeup and dirt in one step. Skin is left feeling hydrated and soothed, in addition to being perfectly clean. To use, saturate a cotton pad with the liquid and sweep it over your skin. No harsh rubbing required.
L'Oréal Paris Age Perfect Nourishing Cream Cleanser: If you have sensitive, mature skin, this gentle daily cleanser is perfect for you. The facial cleanser replenishes oils while removing any traces of makeup so your skin is left smooth and soft without being over-dried. To use, moisten your face, then lather the cleanser into wet hands and gently massage onto skin. Rinse thoroughly and pat dry.
WHAT TO DO IF YOU HAVE SENSITIVE SKIN
If you have sensitive skin, there are a few things you should consider beyond the cleanser you should use. So, take the following tips into account.
1. DON'T SKIP OUT ON MOISTURIZER
The AAD advises using a cream-based moisturizer if you have sensitive skin. Apply it to damp skin to help lock in hydration. As with picking a facial cleanser, look for a moisturizer with a formula that's designated as being suitable for your sensitive skin. You can also use a facial oil or face serum to help moisturize your skin. Here are our best facial moisturizers for sensitive skin.
L'Oréal Paris Age Perfect Hydra Nutrition Honey Day Cream: Formulated with manuka honey, this rich cream penetrates skin effectively to restore comfort and nourishing moisture to mature, very dry skin. The formula is paraben-free, allergy tested, and suitable for sensitive skin.
L'Oréal Paris Age Perfect Hydra-Nutrition - Golden Balm Face, Neck & Chest: Also part of the Age Perfect line, this moisturizer is a great pick for mature skin. The balm intensely moisturizes your skin to nourish and strengthen. The product penetrates skin to give you long-lasting hydration and comfort.
L'Oréal Paris Age Perfect Hydra-Nutrition - Day/Night Cream: This moisturizer is designed for those with sensitive and mature skin. Enriched with calcium and precious oils, the cream leaves skin feeling firmer and silky with a healthy glow.
L'Oréal Paris Revitalift Cicacream Face Moisturizer Pro Retinol & Centella Asiatica: If anti-aging is what you're after, this moisturizer formulated with Pro-Retinol and centella asiatica fights wrinkles and resists signs of aging.
L'Oréal Paris Hydra Genius Daily Liquid Care - Normal/Dry Skin: This oil-free formula, which quenches skin with moisture and locks it in, is suitable for sensitive skin. It will give you long-lasting, intense yet lightweight hydration.
L'Oréal Paris Hydra Genius Daily Liquid Care - Extra Dry Skin: This moisturizer, which is also suitable for sensitive skin, is for those days when your skin is feeling super dry. Smooth it on to be left with fresh, healthy-looking skin.
2. EXFOLIATE AND PAMPER YOUR SKIN, TOO
No beauty regimen is complete without a face scrub and face mask—and that holds true regardless of your skin type. To exfoliate sensitive skin, we recommend the L'Oréal Paris Pure-Sugar Nourish & Soften Cocoa Scrub, which suitable for sensitive skin and will give your skin a gentle yet effective exfoliation. The formula is a blend of three pure sugars, finely crushed cocoa, coconut oil, and rich cocoa butter. The scrub is buttery-soft and can be used on both your face and lips. Use it three times a week to have your skin looking refined and feeling softer, smoother, and free of any impurities.
As for a face mask—since pampering your skin is an absolute must—try the L'Oréal Paris Pure-Clay Clear & Comfort Mask. This boldly blue face mask formula will help address your skin concerns for balanced, comforted, and perfected skin. With three pure clays and seaweed, the creamy formula is gentle enough for your sensitive skin while also visibly reducing the appearance of imperfections, clearing the look of congested pores, and gently cleansing stressed areas.
3. WEAR THE RIGHT MAKEUP FOR SENSITIVE SKIN
When you have sensitive skin, the makeup you wear can be just as important as the skin care products you use. Since sensitive skin is often prone to redness, keep a lookout for products that have a green tone to color correct your skin. Sensitive skin can also be irritated by products containing different oils and fragrances, so using makeup that is oil-free can help keep your skin from becoming aggravated. Some of our best makeup products for sensitive skin can be found below.
L'Oréal Paris Magic BB Anti-Redness (For All Skin Tones): This BB cream is formulated with beautifying beads that have color-transforming pigments to counteract any redness. The ultra-light lotion is multi-tasking, evening your skin tone while also hydrating it for a flawless, bare skin finish.
L'Oréal Paris True Match™ Super Blendable Foundation: If you're looking for face makeup with greater coverage that won't irritate your skin, this is the product for you. The formula is free of oil and fragrances, making it a perfect pick for sensitive skin types.
L'Oréal Paris True Match™ Color Correcting Crayon in Green: This concealer has a formula that is lightweight and easily blendable. The green tone will neutralize the appearance of red, blotchy skin as well as blemishes. Just be sure to follow with foundation or concealer in a shade that matches your skin tone—you don't want to be left with a green tinge!
Editor's note: After a long day, you can remove all of the above makeup using micellar water as a gentle, non-irritating makeup remover option. There's no harsh rubbing required, so removing your makeup doesn't have to be an activity that will cause a flare up for your sensitive skin.
Has all this talk of sensitive skin reminded you that it can be ultra-frustrating when the most-hyped skin care hacks won't work for your skin type? If that's the case, we have just the thing for you! Here are 9 Skin Care Hacks for Sensitive Skin.
{ "@context": "https://schema.org/", "@type": "WebPage", "speakable": { "@type": "SpeakableSpecification", "cssSelector": ["speakable-content"] }, "url": "https://es.lorealparisusa.com/revista-de-belleza/cuidado-piel/preocupaciones-de-cuidado-de-la-piel/best-face-wash-for-sensitive-skin" }
Descubrir más trucos y consejos
Ver todos los artículos
Shop Featured Skin Care products
Discover More
{ "@context": "http://schema.org", "@type": "BreadcrumbList", "itemListElement": [ { "@type":"ListItem", "position": 1, "item": { "@id": "/", "name": "Home" } } , { "@type":"ListItem", "position": 2, "item": { "@id": "https://es.lorealparisusa.com/revista-de-belleza", "name": "Revista de belleza" } } , { "@type":"ListItem", "position": 3, "item": { "@id": "https://es.lorealparisusa.com/revista-de-belleza/cuidado-piel", "name": "Tratamiento de la piel para todas las edades" } } , { "@type":"ListItem", "position": 4, "item": { "@id": "https://es.lorealparisusa.com/revista-de-belleza/cuidado-piel/preocupaciones-de-cuidado-de-la-piel", "name": "Preocupaciones de cuidado de la piel" } } , { "@type":"ListItem", "position": 5, "item": { "@id": "https://es.lorealparisusa.com/revista-de-belleza/cuidado-piel/preocupaciones-de-cuidado-de-la-piel/best-face-wash-for-sensitive-skin", "name": "best-face-wash-for-sensitive-skin" } } ] }