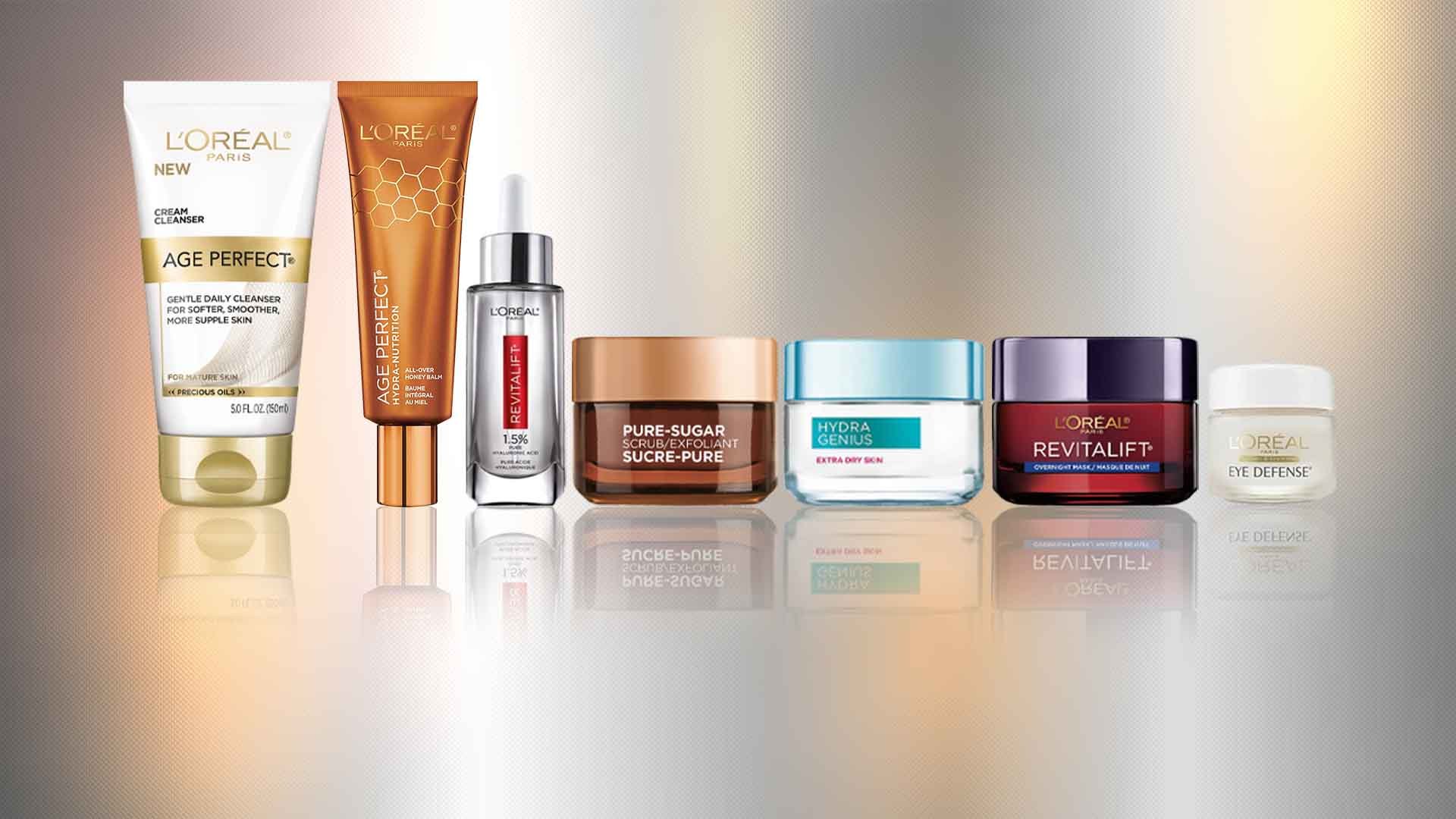 Creating a skin care routine for dry skin is key if you want to help maintain your complexion's hydration. While you may think of moisturizing as the most important step in your dry skin routine—and possibly the only one that matters—there are other skin care products to consider using, too, from facial cleanser to eye cream. Here, find L'Oréal Paris' best skin care products for dry skin, plus easy tips for caring for a parched visage.
OUR BEST MICELLAR WATER FOR DRY SKIN
When it comes to cleansing dry skin, being gentle is definitely important. Enter micellar water, a gentle, no-rinse cleansing option that's been beloved by the French for years. Micellar water is powered by tiny micelles—oil molecules—that act as a magnet to lift dirt, oil, and makeup up and away from the skin. Have dry skin? Try the L'Oréal Paris Micellar Cleansing Water Complete Cleanser Waterproof – All Skin Types, which intensely purifies in one step, sans the harsh feel that comes with some cleansers. All you have to do is saturate a cotton pad with the micellar water and wipe the pad across your face—no harsh rubbing required. Bonus: Since you don't have to be near a sink to use micellar water, it's a great travel-friendly cleansing option.
OUR BEST GEL CLEANSER FOR DRY SKIN
If you like to stick to the classics and consider yourself more of a traditional rinse-off facial cleanser kind of person, we feel you—there is something enjoyable about washing your face at the end of a long day. Of course, if you have dry skin, finding one that suits your skin type and doesn't strip away essential oils should be a priority. The L'Oréal Paris Ideal Clean™ All Skin Types Foaming Gel Cleanser lifts dirt and impurities without drying out skin. To use, wet your face and hands with lukewarm water, work a small amount of gel into a foamy lather, and massage the facial cleanser onto your face with a gentle, circular motion. Rinse with lukewarm water and pat dry with a soft towel, then follow up with moisturizer (we've got options for dry skin coming up soon!).
OUR BEST CREAM CLEANSER FOR DRY SKIN
While we love celebrating birthdays, there are certain things we don't enjoy all that much about getting older. For example: As skin matures, it can lose moisture, nutrients, and natural oils, which can result in drier skin. So, what can you do? For starters, consider using a cream facial cleanser, like the L'Oréal Paris Age Perfect Nourishing Cream Cleanser, which is formulated with replenishing oils and can help gently yet effectively remove traces of makeup without over-drying skin. Every morning and evening, lather the cleanser into wet hands, gently massage it onto skin, then rinse thoroughly and pat dry.
OUR BEST FACE SCRUB FOR DRY SKIN
When dead skin cells are sitting on the surface of your skin, it can impede your moisturizer's ability to be absorbed. That's why dry skin types should make sloughing away dead cells a regular habit. However, you'll need to toe a fine line and avoid drying out your skin by over-exfoliating. To do just that, choose a gentle face scrub and don't exfoliate every single day. The L'Oréal Paris Pure-Sugar Nourish & Soften Face Scrub is formulated with three types of sugar, finely crushed cocoa, coconut oil, and cocoa butter for a buttery-soft face scrub that's truly kind to your skin. The face scrub, which is meant to be used three times a week, nourishes skin with continued use. As for how to use it, smooth a small amount of the scrub onto dry skin. Then, massage over your face using wet fingers before rinsing off.
OUR BEST MOISTURIZERS FOR DRY SKIN
Drinking a cold glass of H2O can feel super-refreshing, and your skin is in need of something similar. Consider trying a water-based moisturizer to give yourself plenty of hydration. Normal and dry skin faces external factors such as pollution and UV rays that can damage the skin's moisture barrier, increasing loss of moisture and causing it to become drier. As a result, skin surface loses its glow, becoming dull-looking. The L'Oréal Paris Hydra Genius Daily Liquid Care - Normal/Dry Skin is formulated with hyaluronic acid and aloe vera water to help provide long-lasting hydration and improve the look of skin's radiance. Smooth it over your face and neck after cleansing.
Dry skin can sometimes end up feeling uncomfortable—which is why making moisturizer part of your daily skin care routine is important. Extra dry skin has a very fragile skin moisture barrier that can be easily damaged by external factors such as pollution and UV rays. Skin consequently loses its ability to retain moisture, becoming easily dehydrated, feeling tight and uncomfortable. The L'Oréal Paris Hydra Genius Daily Liquid Care - Extra Dry Skin is formulated with hyaluronic acid and aloe vera water to help envelop skin with moisture and provide comfort. Smooth it over your face and neck after cleansing.
OUR BEST FACE, NECK, AND CHEST BALM FOR DRY SKIN
Your dry skin routine wouldn't be complete if you didn't show your neck a little love. So, the next time you're moisturizing, make sure to extend it down past your jawline. While you can use your everyday moisturizer on your neck, you can also opt for one that is specifically formulated for the face, neck, and chest, like the L'Oréal Paris Age Perfect Hydra Nutrition Manuka Honey All Over Balm - Face, Neck, Chest and Hands for mature, very dry skin. This rich, luxurious balm intensely moisturizes and helps provide long-lasting hydration. Morning and night, apply it onto cleansed skin. You can wear it alone or under makeup.
OUR BEST EYE CREAM FOR DRY SKIN
Don't forget, the skin surrounding your eyes needs moisture, too. And since the skin in that area can be particularly sensitive and fragile, you may not want to use your regular old moisturizer. Rather, you should reach for a cream or treatment specifically formulated for the eye area, like the L'Oréal Paris Eye Defense. This light, non-greasy gel-cream—formulated with hyaluronic acid and caffeine—helps defend against signs of pre-mature aging around the eyes, like dark circles, puffiness, and wrinkles. To use, apply in small dots in a semi-circle shape under your eyes. Pat—don't rub—the eye cream into your skin using the pad of your finger.
OUR BEST FACE SERUM FOR DRY SKIN
If there's one ingredient dry skin is calling out for, we'd have to say it's hyaluronic acid. There's a reason why it's already come up a few times in our rundown of the best products for dry skin. And one of the best ways to introduce your skin to this popular ingredient is via a face serum. In case you haven't heard, hyaluronic acid can hold 1000 times its weight in water and, according to the American Academy of Dermatology (AAD), is capable of soothing dry skin. We recommend the L'Oréal Paris Revitalift Derm Intensives 1.5% Pure Hyaluronic Acid Serum for dry skin. This 1.5% pure hyaluronic acid serum replenishes moisture for plumped, youthfully supple skin with a bounce. After just two weeks, you can also expect fine lines and wrinkles to be visibly reduced.
OUR BEST OVERNIGHT FACE MASK FOR DRY SKIN
Everyone deserves to treat themselves to a face mask from time to time, dry skin types included. Of course, the same face mask may not be right for everyone. Dry skin can benefit from using an ultra-nourishing overnight face mask that's worn while you sleep, like the L'Oréal Paris Revitalift Triple Power Anti-Aging Overnight Mask. This luxurious, hydrating leave-on creamy face mask forms a virtual protective mask to cradle skin. Immediately, skin feels more hydrated and looks more radiant. Simply smooth the face mask over your face, neck, and jawline until absorbed, then start catching some shuteye. In the morning, wash your face as per usual to start your a.m. skin care routine.
OUR BEST CLAY FACE MASK FOR DRY SKIN
A charcoal mask can be a surprising match for dry skin. Often, dry skin looks dull and tired-looking, and that's something a clay mask formulated with charcoal can help turn around. The L'Oréal Paris Pure-Clay Detox & Brighten Face Mask draws out impurities, dirt, and pollution, reduces the appearance of dull skin, increases the look of luminosity, and even outs skin tone.
7 TIPS FOR CARING FOR DRY SKIN
Now that you've heard about our best skin care products for dry skin, it's time to create a skin care routine tailored to your skin type. Follow these tips to help care for your dry complexion.
1. CLEANSE YOUR SKIN IN LUKEWARM WATER
Super-hot water can strip your skin of essential oils, so wash your face in lukewarm water instead. Follow the same rule when you're in the shower as well—while a hot shower might feel relaxing, the AAD reveals that washing off in cooler temps is a better idea for your skin.
2. APPLY MOISTURIZER TO DAMP SKIN
Don't completely dry off your face post-cleansing. Instead, apply your moisturizer to damp skin to help lock in hydration. Again, keep this tip in mind when it comes to your body as well—after hopping out of the shower, blot yourself off with a towel, and apply a body lotion while your skin is still damp. Per the AAD, this is the best time to moisturize.
3. INVEST IN A HUMIDIFIER
If you have dry skin, a humidifier could very well become your new BFF. According to the AAD, a humidifier can add much-needed moisture to the air. You may find this useful when it's cold and dry outside or if you spend a lot of time in air conditioning. Here's more on How Using a Humidifier Can Benefit Your Skin.
4. PAY ATTENTION TO YOUR HANDS AND FEET
Your hands and feet work hard throughout the day—so give them the pampering they've earned. Slather on hand lotion after washing your hands, and apply a foot cream before bed.
5. DON'T FORGET ABOUT YOUR LIPS
Another area that can become dry is your lips. Help keep them hydrated by applying a moisturizing lip conditioner. Toss the tube in your tote so that you can easily reapply on the go. If you're going to be wearing lipstick, use a lip scrub (pssst…the L'Oréal Paris Pure-Sugar face scrubs double as lip exfoliators) first to help slough away dead skin cells from your pout.
6. MIX YOUR FOUNDATION INTO YOUR MOISTURIZER
Putting foundation on over a dry complexion might not make for the best look. If you have dry skin, think about mixing a little bit of liquid foundation with your moisturizer and applying it using a makeup blender (try the L'Oréal Paris Infallible Blend Artist Foundation Blender) for a seamless look. As far as picking out a foundation for dry skin goes, avoid face powders, as these can make dryness more noticeable. Instead, reach for ones that have a radiant or dewy finish, like the L'Oréal Paris Infallible Pro-Glow Foundation.
7. REMOVE MAKEUP AT THE END OF THE DAY
Sleeping in your makeup is a major skin care faux pas—in fact, it's one of the worst. We get that after a long day, you may not have the energy to go through your entire skin care routine. But make things easy on yourself by stashing a bottle of micellar water on your nightstand so that you can wipe off your makeup before hitting the sheets, no matter what.
Next up: Taking care of dry skin doesn't have to be difficult. It's all about finding products that are formulated for your skin type and helping to keep your complexion hydrated. For more dry skin tips, read about 8 Skin Care Hacks For Dry Skin that'll help make your beauty regimen easier.
{ "@context": "https://schema.org/", "@type": "WebPage", "speakable": { "@type": "SpeakableSpecification", "cssSelector": ["speakable-content"] }, "url": "https://es.lorealparisusa.com/revista-de-belleza/cuidado-piel/preocupaciones-de-cuidado-de-la-piel/best-skin-care-products-for-dry-skin" }
Descubrir más trucos y consejos
Ver todos los artículos
Shop Featured Skin Care products
Discover More
{ "@context": "http://schema.org", "@type": "BreadcrumbList", "itemListElement": [ { "@type":"ListItem", "position": 1, "item": { "@id": "/", "name": "Home" } } , { "@type":"ListItem", "position": 2, "item": { "@id": "https://es.lorealparisusa.com/revista-de-belleza", "name": "Revista de belleza" } } , { "@type":"ListItem", "position": 3, "item": { "@id": "https://es.lorealparisusa.com/revista-de-belleza/cuidado-piel", "name": "Tratamiento de la piel para todas las edades" } } , { "@type":"ListItem", "position": 4, "item": { "@id": "https://es.lorealparisusa.com/revista-de-belleza/cuidado-piel/preocupaciones-de-cuidado-de-la-piel", "name": "Preocupaciones de cuidado de la piel" } } , { "@type":"ListItem", "position": 5, "item": { "@id": "https://es.lorealparisusa.com/revista-de-belleza/cuidado-piel/preocupaciones-de-cuidado-de-la-piel/best-skin-care-products-for-dry-skin", "name": "best-skin-care-products-for-dry-skin" } } ] }