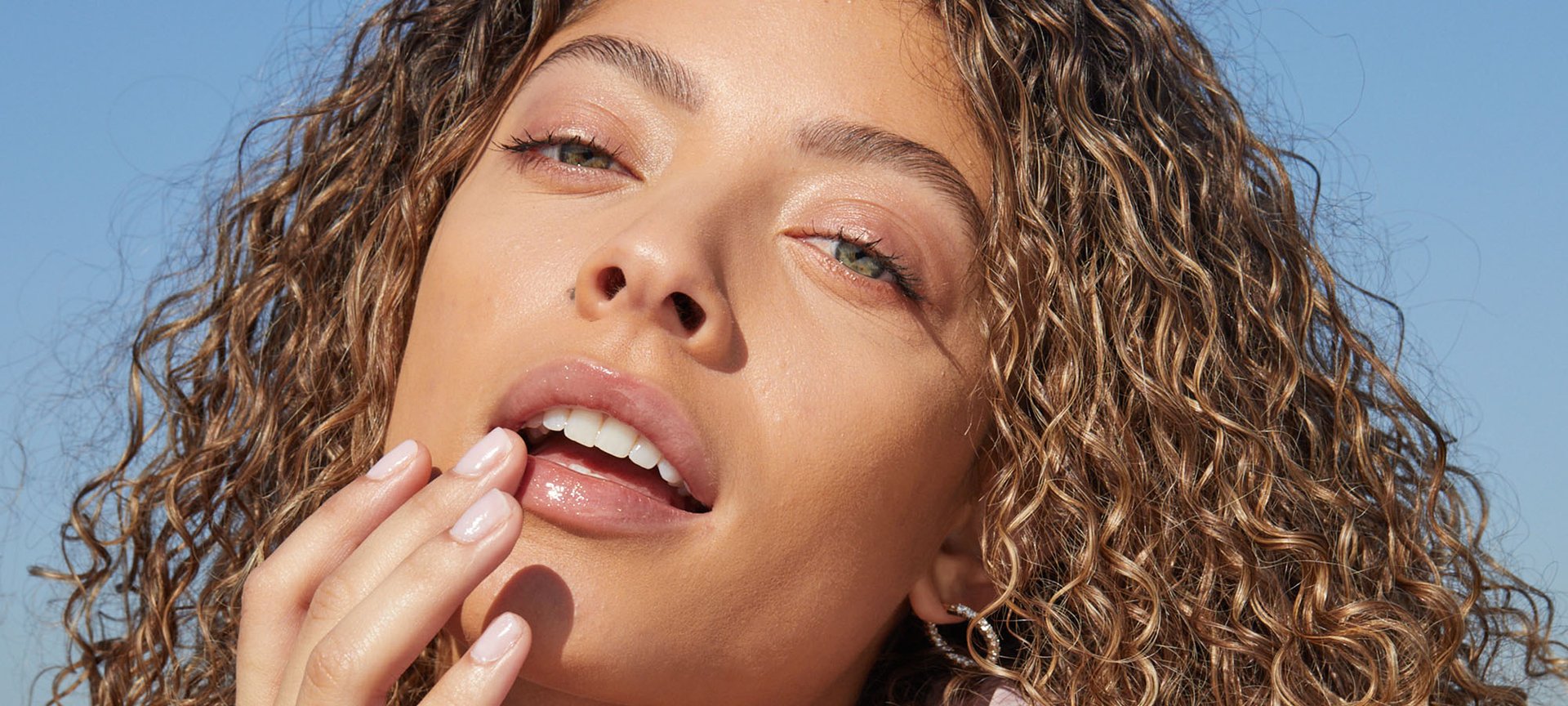 Real talk: Dry lips are the absolute worst — hard stop. On the most basic level the unsightly dead skin on the lips can make for a difficult lipstick application. Not to mention the cracking and flaking of the delicate skin can be downright uncomfortable. Unfortunately, no matter the season, chapped lips can be a very real concern — but you don't have to grin and bear it.
There are steps you can take to help prevent chapped lips in the first place, such as updating your skin care routine and swapping out your favorite lipstick for one with soothing ingredients. We've got all the details on chapped lip causes, how to fix chapped lips, and more.
Keep scrolling to find out what you need to know to keep chapped lips from being a permanent feature in your beauty look.
What Causes Chapped Lips?
Find yourself constantly wondering, "Why are my lips so dry?" It's helpful to know the main dry lip causes — especially if you're trying to prevent them. According to the Mayo Clinic, cold, dry weather, dehydration, and licking your lips are three common culprits of dry, chapped lips. The Cleveland Clinic further cites that sun exposure and contact with an allergen can also cause lips to be chapped.
How Can You Heal Chapped Lips?
You likely already know that, while you can heal chapped lips, you can't snap your fingers and get rid of them — no matter how nice that would be. But there is plenty you can do to help prevent chapped lips in the first place, per the Mayo Clinic.
Maintaining a lip care routine meant for dry lips will help keep them hydrated, smooth, and chap-free. If your lips are already chapped, and you're looking for ways to minimize it, we've got you covered there, too. Follow the tips below whether you want to avoid chapping altogether or are looking to minimize the effect dry air has had on your pout.
Tip 1. Stop Licking Your Lips
You may be tempted to do this out of habit or because you think it's sexy, but licking your lips can actually make them drier — and that's not sexy at all! It may give you temporary relief but it's only causing long term problems. There are much better things to hydrate your lips with than saliva.
Tip 2. Breathe Through Your Nose
This may sound silly, but hear us out: Breathing through your mouth causes moisture inside to dry out, which in turn makes your lips dry. As the Mayo Clinic recommends, it's best to breathe through your nose in order to help prevent chapped lips.
Editor's tip: If you can't help breathing through your mouth when you sleep, apply white petroleum jelly to your lips before bed. The American Academy of Dermatology recommends it as an ingredient that can help heal chapping. It seals in moisture and helps soothe dry, cracked lips.
Tip 3. Exfoliate Your Lips
If you have dead skin cells on the surface of your lips, this could prevent lip conditioners from being able to do their thing. So, scrub away buildup by exfoliating your pout, and you'll be left with lips that feel fresh and look smoother.
While you shouldn't exfoliate already chapped lips—due to risk of irritation—you can use this as a preventative method. Try the L'Oréal Paris Pure-Sugar Resurface & Energize Kona Coffee Scrub, formulated with three pure sugars and real Kona coffee grounds to gently remove dead skin cells. And yes, it's a face scrubs, but it also doubles as lip scrub.
Tip 4. Keep Lip Balm Handy
Right after you exfoliate, you should apply a hydrating lip balm. During the daytime, consider opting for a balm that's formulated with not only nourishing oils but also broad-spectrum sunscreen. While you may not realize it, the sun can burn your lips, contributing to chapping.
If you're a beauty lover and a lip gloss is a must-have for your look, try the L'Oréal Paris Glow Paradise Lip Balm-in-Gloss Pomegranate Extract. This lips gloss and lip balm hybrid is formulated with hyaluronic acid and pomegranate extract to envelop lips in moisture so they're kissably soft.
Tip 5. Use A Conditioning Lipstick
Whether matte lips are your thing or you want to get in on the glossy, shiny look that's on trend right now, reach for a hydrating lipstick that won't leave your pout feeling wrecked and flaky. We've got a few options for you:
The L'Oréal Paris Glow Paradise Balm-in-Lipstick is the lipstick lover's answer to dry lips. Like its gloss counterpart, this lipstick is formulated with good-for-skin ingredients such as pomegranate extract and squalane. It's available in 10 buildable shades that are great year-round and especially perfect for spring.
The L'Oréal Paris Colour Riche Matte Lipstick will coat your lips in rich, matte color while also giving them intense hydration. This is an especially good idea in the winter when the dry air is likely already doing a number on your skin.
The L'Oréal Paris Colour Riche Satin Lipstick and the L'Oréal Paris Colour Riche Reds of Worth Satin Lipstick are formulated with vitamin E and argan oil for soft and smooth intense color that won't smudge or bleed.
Tip 6. Avoid Allergens
As we mentioned before, one way you could be drying out your lips is by coating them with irritants and allergens. If you already have sensitive skin to begin with, you may need to avoid lip products with fragrances or dyes in them, according to the Mayo Clinic.
Tip 7. Stay Hydrated
That's right — a lack of hydration inside your body can affect your lips, according to the Mayo Clinic. Remember to drink plenty of water throughout the day, and your lips — and the rest of your body — will be better for it.
Tip 8. Use A Humidifier
If you've made all of the above changes to no avail, consider investing in a humidifier, which can replenish moisture in the air during dry months. In turn, this will also help keep your lips hydrated. Bonus: A humidifier isn't just good for your lips, but it will also benefit your skin!
Next:The Balm-in-Lipstick Made to Take Your Pout to Paradise
Edited by: Shalwah Evans, Photo Credit: Chaunte Vaughn
{ "@context": "https://schema.org/", "@type": "WebPage", "speakable": { "@type": "SpeakableSpecification", "cssSelector": ["speakable-content"] }, "url": "https://es.lorealparisusa.com/revista-de-belleza/cuidado-piel/preocupaciones-de-cuidado-de-la-piel/get-rid-of-chapped-lips" }
Descubrir más trucos y consejos
Ver todos los artículos
Shop Featured Skin Care products
Discover More
{ "@context": "http://schema.org", "@type": "BreadcrumbList", "itemListElement": [ { "@type":"ListItem", "position": 1, "item": { "@id": "/", "name": "Home" } } , { "@type":"ListItem", "position": 2, "item": { "@id": "https://es.lorealparisusa.com/revista-de-belleza", "name": "Revista de belleza" } } , { "@type":"ListItem", "position": 3, "item": { "@id": "https://es.lorealparisusa.com/revista-de-belleza/cuidado-piel", "name": "Tratamiento de la piel para todas las edades" } } , { "@type":"ListItem", "position": 4, "item": { "@id": "https://es.lorealparisusa.com/revista-de-belleza/cuidado-piel/preocupaciones-de-cuidado-de-la-piel", "name": "Preocupaciones de cuidado de la piel" } } , { "@type":"ListItem", "position": 5, "item": { "@id": "https://es.lorealparisusa.com/revista-de-belleza/cuidado-piel/preocupaciones-de-cuidado-de-la-piel/get-rid-of-chapped-lips", "name": "get-rid-of-chapped-lips" } } ] }