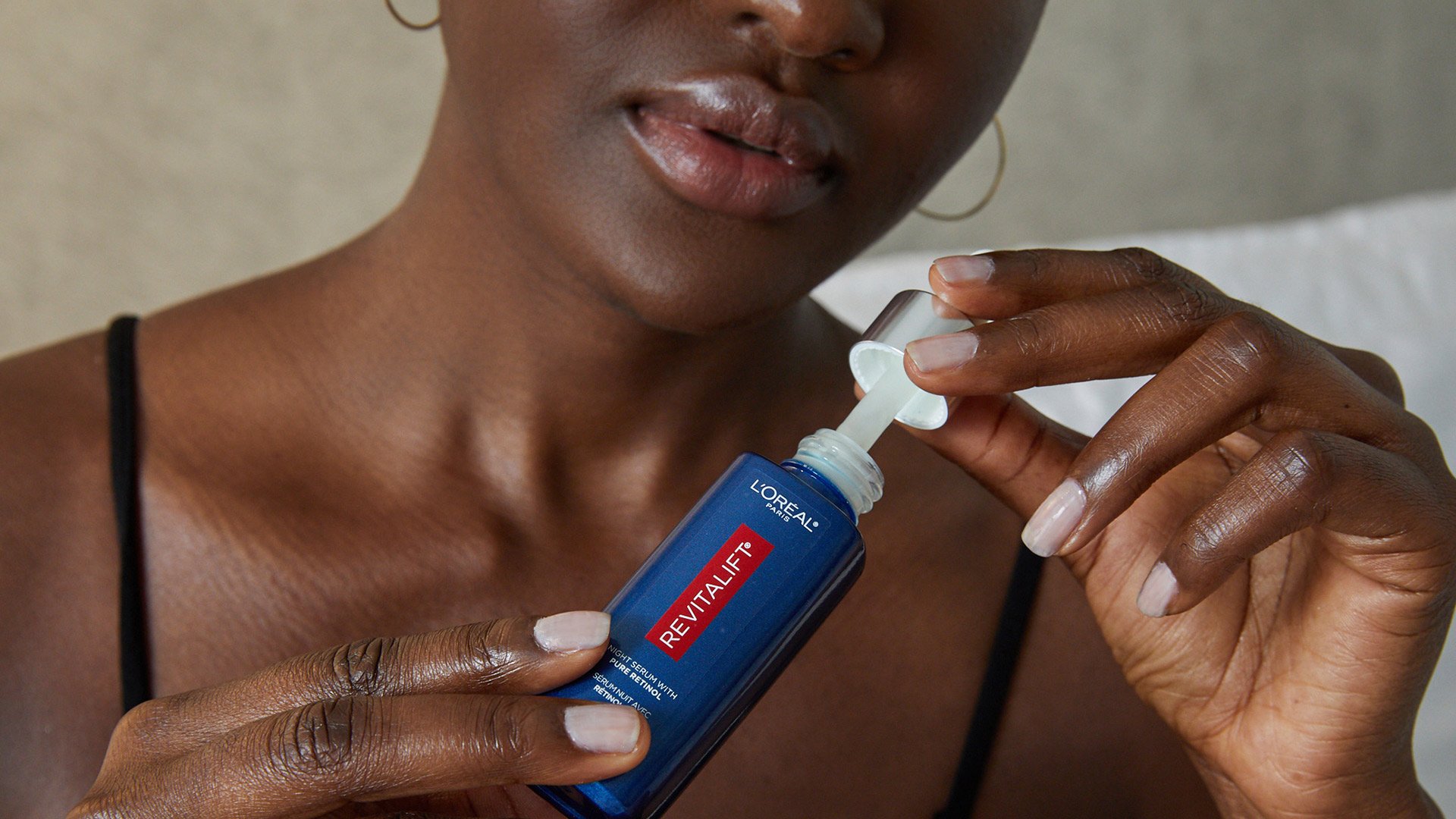 Retinol has become such a popular and highly talked about skin care ingredient, so it's only natural that there's lots of information about it in the zeitgeist. In fact, retinol is actually the most researched molecule. And we know that with lots of information comes a lot of misinformation. But while there are myths that you may have heard about this powerhouse anti-aging ingredient—and even unknowingly repeated—there's research to debunk them. So we consulted with NYC board-certified dermatologist Joshua Zeichner, MD, FAAD to bust the biggest myths about retinol. Plus we share our favorite retinol products for a complete and balanced skin care routine, all available at Ulta.
Retinol Myth #1: Retinol Is Too Harsh For Your Skin
When you first start using retinol, it's normal to experience redness, tingling, or dryness. However, this doesn't mean it's too harsh for your skin. Retinol is a powerful ingredient, and an acclimation period is key.
"Retinol is the best studied ingredient we have to improve the appearance of fine lines and wrinkles," says Zeichner. "[And yes] it can cause irritation when you use it in the first two to four weeks. If you have sensitive skin, stick to a more mild version used in products designed for people with sensitive skin. Alternatively you can mix your retinol serum with a moisturizer to dilute out the concentration."
We love the L'Oréal Paris Revitalift Triple Power Anti-Aging Moisturizer, which includes pro-retinol and vitamin C in its formula. It's formulated to firm, brighten and smooth the skin without feeling greasy or heavy.
Retinol Myth #2: Retinol Derivatives And Pure Retinol Are The Same
Pure retinol and retinol derivatives are not quite the same. While they're often used to address the same skin concerns, pure ingredients tend to work faster on skin. Pure retinol has no other additives and derivatives of pure retinol typically contain other components and additives. According to Zeichner, derivatives are often not as potent.
You can easily add pure retinol to your routine with the L'Oréal Paris Revitalift Derm Intensives Night Serum, 0.3% Pure Retinol. This best-selling retinol serum visibly reduces the appearance of wrinkles in just two weeks while improving your complexion's radiance.
Retinol Myth #3: Retinol Will Always Make Your Skin Dry
Zeichner informs that for the first two to four weeks of using retinol, you may experience dryness, but after that initial period it should improve. You can help add hydration by layering the right moisturizer over a retinol serum or opt for our L'Oréal Paris Revitalift Triple Power Anti-Aging Overnight Mask, which is formulated with three proven anti-aging ingredients: Pro-Retinol, vitamin C, and hyaluronic acid. Those with dry skin can opt to introduce a retinol cream into their routine, which also nourishes the skin.
Editor's Tip: You can also increase hydration to the skin by layering the L'Oréal Paris Revitalift Derm Intensives 1.5% Pure Hyaluronic Acid Serum.
Retinol Myth #4: You Can't Use Retinol Every Day
It's true that you should build up to nightly use, but retinol can absolutely be used every day. Zeichner confirms, saying, "As you adjust to using retinol, I frequently recommend applying it every other night. However, after the first month or two, you can use it every day so long as your skin can tolerate it."
Myth #5: Retinol Is Only For Anti-Aging
Retinol may be a popular ingredient thanks to its anti-aging benefits, but that's not all it can do. It's a key component in any preventative skin care routine.
"Retinol is one of the biggest multitaskers in skin care," says Zeichner. "It provides skin strengthening and brightening benefits, it helps improve radiance of the skin. It is also useful in people who are acne prone, helps the skin shed darkly pigmented cells to lighten dark spots and improve skin tone. It also stimulates collagen to improve the appearance of lines and wrinkles."
The Mayo Clinic even cites retinoids as one of the most common topical treatments for acne, which is often why dermatologists recommend people start retinol usage in their late teens and early 20s. Want to know more? You can read all about when to start using retinol in our article, When Can You Start Using Retinol?
Myth #6: You Can't Use Retinol With Vitamin C
While Zeichener doesn't recommend combining your retinol with vitamin C, he says that you can still reap the benefits of both ingredients in your skin care routine. Just layer one in your morning regimen, and one in your nighttime routine. If you aren't sure whether ingredients in your routine will work well together, consult with your dermatologist before you proceed.
Myth #7: Retinol Exfoliates Your Skin
Retinol is sometimes assumed to be a chemical exfoliant like an alpha hydroxy acid (AHA), but retinol does not exfoliate the skin. Research from The Journal of Clinical and Aesthetic Dermatology states that retinol and AHAs differ in their mechanism of action. According to research in the National Center for Biotechnology Information (NCBI) library, retinoids work to strengthen the skin's barrier function, reduce transepidermal water loss, and protect collagen to prevent it from degrading. Alpha hydroxy acids, on the other hand, do exfoliate, which you should do a couple of days a week to polish away dead skin cells and remove dirt and oil from your pores.
Editor's Tip: Try the L'Oréal Paris RevitaLift Derm Intensives 10% Pure Glycolic Acid Serum in your routine if you're looking for a serum with exfoliating action.
Myth #8: It Isn't A Big Deal To Get A Wax After Using Retinol
When using retinol, it's important to skip waxing as your hair removal method of choice. If you won't take our word for it, the Food and Drug Administration advises against waxing areas where you've used a retinoid (which retinol is a specific type of) because your skin will be more sensitive after waxing. You don't want to be left with major redness or irritation post-wax. Zeichner advises that you should pause your retinol usage at least one week before getting a wax.
Next: Our Best Skin Care Products with Retinol
Photo Credit: Chaunte Vaughn
{ "@context": "https://schema.org/", "@type": "WebPage", "speakable": { "@type": "SpeakableSpecification", "cssSelector": ["speakable-content"] }, "url": "https://es.lorealparisusa.com/revista-de-belleza/cuidado-piel/preocupaciones-de-cuidado-de-la-piel/retinol-myths" }
Descubrir más trucos y consejos
Ver todos los artículos
Shop Featured Skin Care products
Discover More
{ "@context": "http://schema.org", "@type": "BreadcrumbList", "itemListElement": [ { "@type":"ListItem", "position": 1, "item": { "@id": "/", "name": "Home" } } , { "@type":"ListItem", "position": 2, "item": { "@id": "https://es.lorealparisusa.com/revista-de-belleza", "name": "Revista de belleza" } } , { "@type":"ListItem", "position": 3, "item": { "@id": "https://es.lorealparisusa.com/revista-de-belleza/cuidado-piel", "name": "Tratamiento de la piel para todas las edades" } } , { "@type":"ListItem", "position": 4, "item": { "@id": "https://es.lorealparisusa.com/revista-de-belleza/cuidado-piel/preocupaciones-de-cuidado-de-la-piel", "name": "Preocupaciones de cuidado de la piel" } } , { "@type":"ListItem", "position": 5, "item": { "@id": "https://es.lorealparisusa.com/revista-de-belleza/cuidado-piel/preocupaciones-de-cuidado-de-la-piel/retinol-myths", "name": "retinol-myths" } } ] }