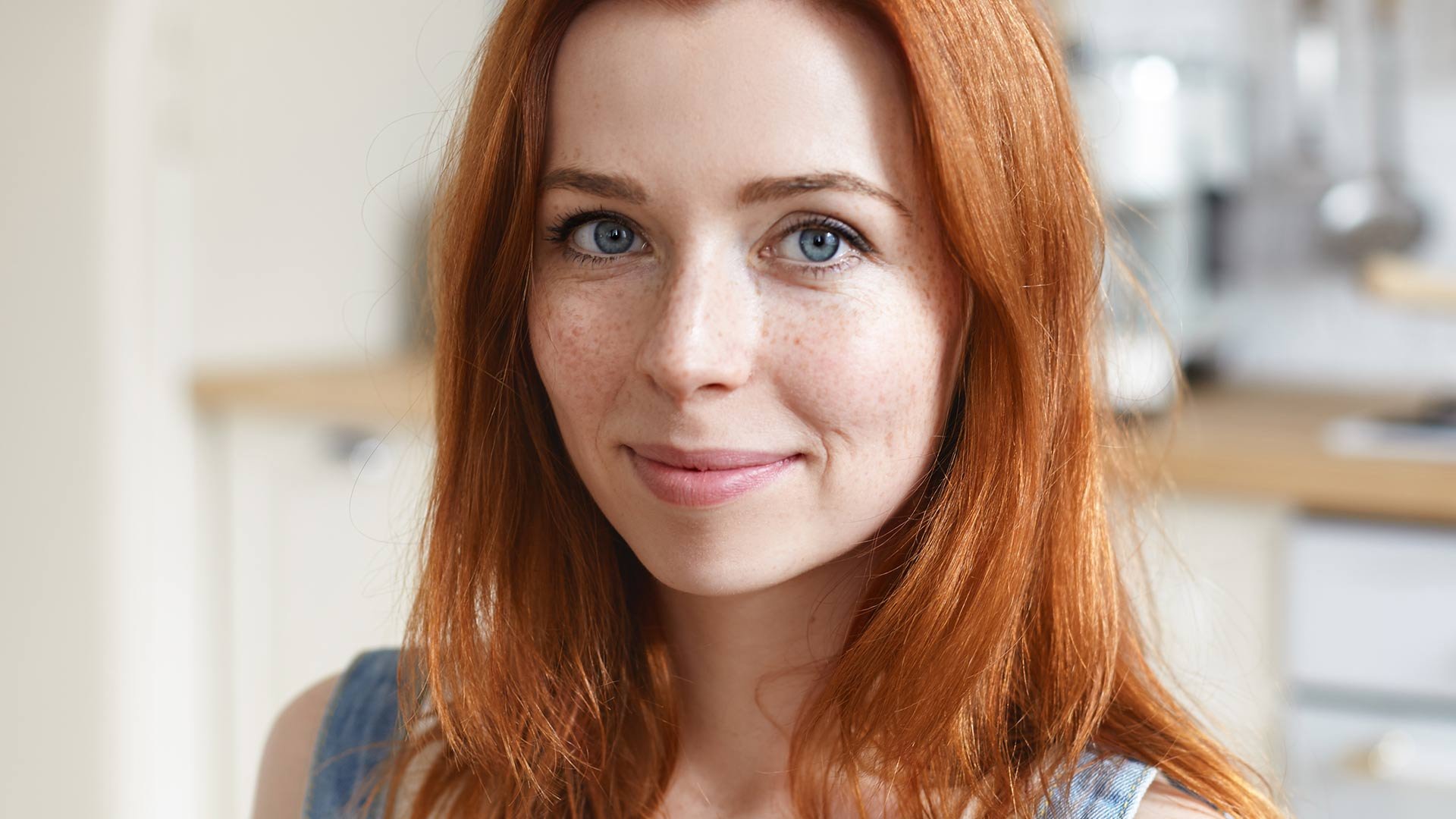 When it comes to pesky skin care concerns, there is no denying that ruddy skin is near the top of the list. Face redness can be an absolute pain to deal with. If it feels like you've tried everything under the sun to no avail, chances are good, you're desperate for some relief. Lucky for you, there are a few ways to minimize the look of a ruddy skin color. All you need are a few tweaks in your skin care routine to get the ball rolling. Follow along as we share everything you need to know about managing ruddy skin, including the right skin care products and makeup essentials to use, to help ease your mind and skin.
WHAT CAUSES RUDDY SKIN?
The truth is, there could be a myriad of reasons why face redness has become your new normal. According to the American Academy of Dermatology, many things can turn your face red, including sunburn, acne, and hot flashes. Beyond that, other causes of a ruddy skin color can include rosacea, psoriasis, eczema, allergic reactions, and skin cancer.
Since various skin conditions and illnesses may be a factor, it's a must to visit your dermatologist and determine what specifically is causing your ruddy skin. They can also help you determine how to manage it.
WHAT DOES RUDDY SKIN LOOK LIKE?
Find yourself wondering what ruddy skin looks like? It's actually pretty easy to spot. As we mentioned above, ruddy skin is known to sport a reddish tone. And no, we're not talking about blushing from embarrassment. If you notice any areas of skin that maintain a reddish appearance like your nose, under your eyes, your cheeks, or basically anywhere on your skin, it's an indicator that you have ruddy skin.
HOW TO MANAGE RUDDY SKIN
Now that you're more educated on the basics of ruddiness, it's time to take action. Follow our four tips below to help minimize the appearance of your ruddy skin color.
1. TAKE SUN PROTECTION MEASURES
By now, if you have even the most basic skin care knowledge, you know that sun protection is a must! Taking the proper sun protection measures works to protect skin from harmful UV rays, which exposure to can result in a painful sunburn that can make your ruddy skin appear even redder. To stay ahead of the game, always apply a broad-spectrum 30 minutes before you go outside and reapply it at least every two hours, per the FDA.
Be sure to take other sun protection measures like limiting your amount of time in the sun (especially between 10 a.m. and 2 p.m., which are peak hours), seeking shade, and covering up exposed areas in long sleeves, pants, a broad-brimmed hat, and UV-blocking sunglasses.
2. DON'T OVEREXFOLIATE YOUR SKIN
When it comes to the art of exfoliation, it's best to opt for a gentle approach to keep your skin in tip-top shape. If not, you run the risk of dealing with various skin concerns such as irritation and redness. To stay in the clear, opt for a gentle face scrub like the L'Oréal Paris Pure-Sugar Nourish & Soften Cocoa Scrub, L'Oréal Paris Pure-Sugar Smooth & Glow Grapeseed Scrub, L'Oréal Paris Pure-Sugar Resurface & Energize Kona Coffee Scrub, or the L'Oréal Paris Pure-Sugar Purify & Unclog Kiwi Scrub. All four scrubs are formulated with a blend of three pure sugars to effectively remove dirt, oil, and debris from the skin.
Beyond the exfoliant you use, how often you exfoliate is also key. Not everyone can handle the same frequency. Face redness and sensitive skin often go hand in hand, which makes it important to give your skin extra care. Pay attention to how your skin responds when you exfoliate. You can start with scrubbing your skin just once a week and build up to a higher frequency if it suits your skin.
3. MOISTURIZE, MOISTURIZE, MOISTURIZE
One of the best things you can do for ruddy skin is to keep a moisturizer handy. Per the AAD, Moisturizing helps hydrate your skin by trapping water, which can reduce irritation and make your skin feel more comfortable.
Try the L'Oréal Paris Hydra Genius Daily Liquid Care - Normal/Oily Skin, L'Oréal Paris Hydra Genius Daily Liquid Care - Normal/Dry Skin or L'Oréal Paris Hydra Genius Daily Liquid Care - Extra Dry Skin. All three of these moisturizers are formulated with aloe vera water and hyaluronic acid for formulas that provide intense hydration that goes the distance.
4. BE MINDFUL OF YOUR SKIN CARE PRODUCTS
Redness can be a sign of irritation, so you want to be mindful that the products you apply to your face won't cause any flare-ups. Take a look at the ingredients to be sure your products aren't the cause of your redness. This can also be a good subject to consult your dermatologist on.
HOW TO DISGUISE RUDDY SKIN WITH MAKEUP
Not only does makeup come in handy to enhance your beauty, but it also works for covering up ruddy skin. Follow our step-by-step tutorial to mask your ruddy skin color whenever you please.
STEP #1: APPLY PRIMER
No matter what makeup look you're going for, you should always apply primer as your first step. Makeup primer comes in handy to give skin an even canvas for a smooth makeup application. Kick things off with the L'Oréal Paris Studio Secrets Professional Magic Perfecting Base. Spread a thin layer over clean skin, and you're ready for step two!
STEP #2: REACH FOR A COLOR CORRECTING CONCEALER
Color-correcting reigns supreme in the beauty world for a good reason. A great way to mask imperfections, this beauty staple can help give your skin the flawless appearance you desire.
If you're familiar with the rules of color-correcting, you know that green concealer is your perfect match. See, red and green sit on opposite sides of the color wheel, which lets us know that the two colors cancel each other out.
Apply a small amount of the L'Oréal Paris True Match™ Color Correcting Crayon in Green onto red areas on your face. Blend the color out with a makeup blender until even.
STEP #3: PERFECT YOUR COMPLEXION
Now that your color-correcting is complete, it's time to focus on creating a flawless face. The L'Oréal Paris Infallible Pro Glow Foundation, works wonders to give your skin a radiant and hydrated finish. Squeeze a small amount of foundation onto the L'Oréal Paris Infallible Blend Artist Foundation Blender. Apply the foundation onto your skin in rolling and dabbing motions and blend until even.
STEP #4: REACH FOR CONCEALER
Next, you'll want to disguise any imperfections still peeking through. Reach for the L'Oréal Paris Infallible Full Wear Concealer Waterproof, Full Coverage to get the job done. Want to brighten up your eyes a bit? Draw an upside-down triangle below each eye and blend evenly to achieve a wide-awake look.
STEP #5: SET YOUR MAKEUP
Congratulations, you've learned how to disguise ruddy skin with makeup! To finish the job, you only need to set your makeup. Using a fluffy makeup brush, sweep the L'Oréal Paris Infallible Pro-Sweep & Lock Loose Setting Face Powder over your skin, and you're all done.
{ "@context": "https://schema.org/", "@type": "WebPage", "speakable": { "@type": "SpeakableSpecification", "cssSelector": ["speakable-content"] }, "url": "https://es.lorealparisusa.com/revista-de-belleza/cuidado-piel/preocupaciones-de-cuidado-de-la-piel/ruddy-skin-color" }
Descubrir más trucos y consejos
Ver todos los artículos
Shop Featured Skin Care products
Discover More
{ "@context": "http://schema.org", "@type": "BreadcrumbList", "itemListElement": [ { "@type":"ListItem", "position": 1, "item": { "@id": "/", "name": "Home" } } , { "@type":"ListItem", "position": 2, "item": { "@id": "https://es.lorealparisusa.com/revista-de-belleza", "name": "Revista de belleza" } } , { "@type":"ListItem", "position": 3, "item": { "@id": "https://es.lorealparisusa.com/revista-de-belleza/cuidado-piel", "name": "Tratamiento de la piel para todas las edades" } } , { "@type":"ListItem", "position": 4, "item": { "@id": "https://es.lorealparisusa.com/revista-de-belleza/cuidado-piel/preocupaciones-de-cuidado-de-la-piel", "name": "Preocupaciones de cuidado de la piel" } } , { "@type":"ListItem", "position": 5, "item": { "@id": "https://es.lorealparisusa.com/revista-de-belleza/cuidado-piel/preocupaciones-de-cuidado-de-la-piel/ruddy-skin-color", "name": "ruddy-skin-color" } } ] }