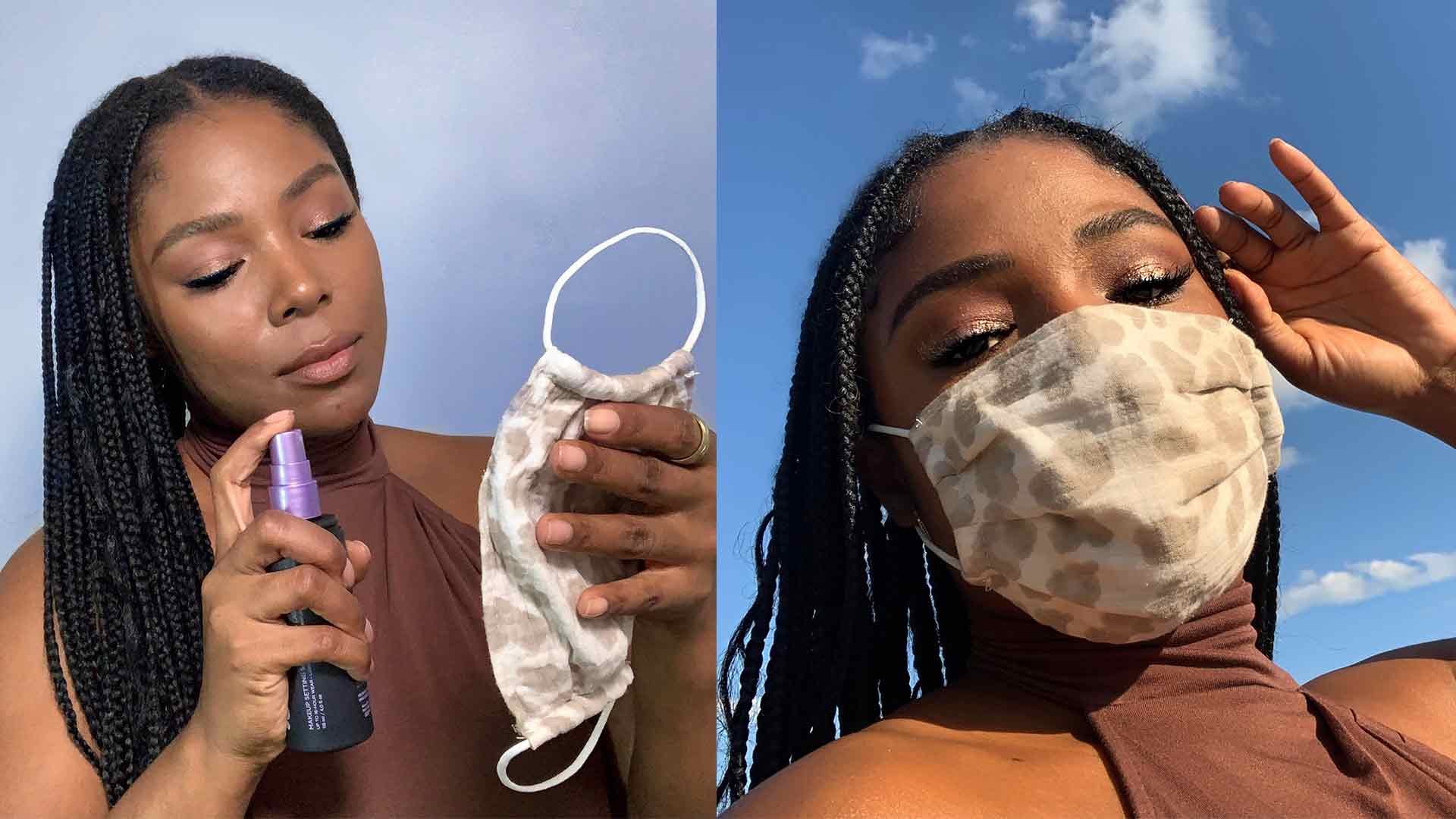 Since our new normal has included wearing protective face masks whenever out in public, the caliber and style of masks available has reached chic new levels each season. And we love a good fashion moment and the opportunity to rock a new accessory just as much as the next gal or guy. But what has face mask wearing done to beauty obsessives like us? Well, it has definitely added some challenges to our skin care regimens (maskne anyone?) and it has put our makeup application skills to the test. There are few things more frustrating than removing your protective face mask only to find most of your foundation attached to it. What a waste! And with mask-induced sweat causing makeup to look cakey, it's enough to make a girl want to put down her brushes.
But before you throw in the towel (or blender sponge), keep reading. We're sharing ways to create a better makeup routine that will help your makeup stay put while under a mask. Your main focus should be on the types of products you use, finishes and textures. And while you may still see some slight transfer (it's inevitable, we won't lie), it will be so minimal that it won't ruin your desired look. Consider this your guide on how to achieve a mask-proof makeup look.
Steps to Creating Mask Proof Makeup
Never Skip Primer
Primer is a must-have that everyone should have in their beauty kit when wearing makeup. And finding the best primer for your skin can be multi-purpose. Not only will it extend the wear of your makeup, but it also acts as a barrier between your bare skin and makeup. We recommend the L'Oréal Paris Infallible Pro-Matte Lock Makeup Primer, which helps smooth out your skin and blur any imperfections. It has a mattifying formula, which is ideal to combat excess oil and grease that can lead to breakouts when trapped under a protective face mask.
Editor's Tip: Apply it dot by dot and blend it out over your entire face or on targeted areas where the mask tends to rub your skin a lot, like under your eyes, and on your nose and cheeks. Then set the primer with a translucent powder to help seal it into your skin.
Use Lightweight Foundation
When choosing what face products to use, stay away from super creamy formulas. They tend to be more blendable, so they can move around on your face more easily. Save those for at-home special occasions. For those mask-wearing outdoor ventures, look for a foundation that's right for your skin's needs and opt for long-wear or powder based products (powder is ideal because it helps set things in place). The L'Oréal Paris Infallible Up to 24H Fresh Wear in a Powder, matte finish is heatproof, sweat-proof, and waterproof—everything you need while wearing a protective mask. It's great for all skin types.
Editor's Tip: Lightly spritz your makeup blender (try the L'Oréal Paris Infallible Blend Artist Foundation Blender) with some setting spray before applying your foundation. This will help seal in your makeup even more and keep everything in place.
Set It Like A Pro
If you want your makeup to stay in place for an extended period of time, do not skip the setting spray, especially when wearing a mask. Your makeup will have to withstand all the movement and adjustments you make throughout the day, so locking it in with a setting spray will provide extra stay-put protection. We love the L'Oréal Paris Infallible Pro-Spray And Set Make-Up Oil-Free Setting Spray. Its formula is lightweight and oil-free, and made to prevent your makeup from smudging. You can also spritz the underside of your mask to add another layer of protection from getting any makeup transfer.
Editor's Tip: In addition to spraying your face, spray the product onto a damp makeup blender and gently tap it into the skin. This will help lift away any excess makeup and also seal in makeup on areas that are at high risk of transfer, including under the eyes, on the nose, chin, and jawline.
Translucent powders are another beauty product you'll need in your mask proof makeup arsenal. They are loose and sheer and used also to set makeup in place, especially if you have oily skin. For an extra layer of protection, use a makeup blender and apply a setting powder like the L'Oréal Paris Infallible Pro-Sweep & Lock Loose Setting Face Powder. It's a micro-fine loose powder that will work to create a soft-focus and keep your makeup from getting cakey.
Editor's Tip: You don't have to apply the powder all over your face if you don't want to. Instead focus on high-risk areas where there will be more movement, such as around your mouth and under the eyes.
Swap Your Creamy Lipstick For A Liquid Lip Stain
We love lippies! And we can't imagine going a day not wearing lip gloss or lipstick, but protective masks have added a level of difficulty to rocking our favorites from day to day. For a stay-put look, you'll need to swap out your go-to glosses and lipsticks for long-lasting ones instead. Try using a matte lipstick or lip stain like the L'Oréal Paris Rouge Signature Matte Lip Stain, which is the perfect liquid lip to use when creating a mask-proof look. Its formula is lightweight and will leave your lips feeling smooth and soft.
{ "@context": "https://schema.org/", "@type": "WebPage", "speakable": { "@type": "SpeakableSpecification", "cssSelector": ["speakable-content"] }, "url": "https://es.lorealparisusa.com/revista-de-belleza/maquillaje/looks-maquillaje/how-to-wear-makeup-with-a-face-mask" }
Descubrir más trucos y consejos
Ver todos los artículos
Shop Featured products
Discover More
{ "@context": "http://schema.org", "@type": "BreadcrumbList", "itemListElement": [ { "@type":"ListItem", "position": 1, "item": { "@id": "/", "name": "Home" } } , { "@type":"ListItem", "position": 2, "item": { "@id": "https://es.lorealparisusa.com/revista-de-belleza", "name": "Revista de belleza" } } , { "@type":"ListItem", "position": 3, "item": { "@id": "https://es.lorealparisusa.com/revista-de-belleza/maquillaje", "name": "Consejos de maquillaje para cada look" } } , { "@type":"ListItem", "position": 4, "item": { "@id": "https://es.lorealparisusa.com/revista-de-belleza/maquillaje/looks-maquillaje", "name": "Looks de maquillaje" } } , { "@type":"ListItem", "position": 5, "item": { "@id": "https://es.lorealparisusa.com/revista-de-belleza/maquillaje/looks-maquillaje/how-to-wear-makeup-with-a-face-mask", "name": "how-to-wear-makeup-with-a-face-mask" } } ] }