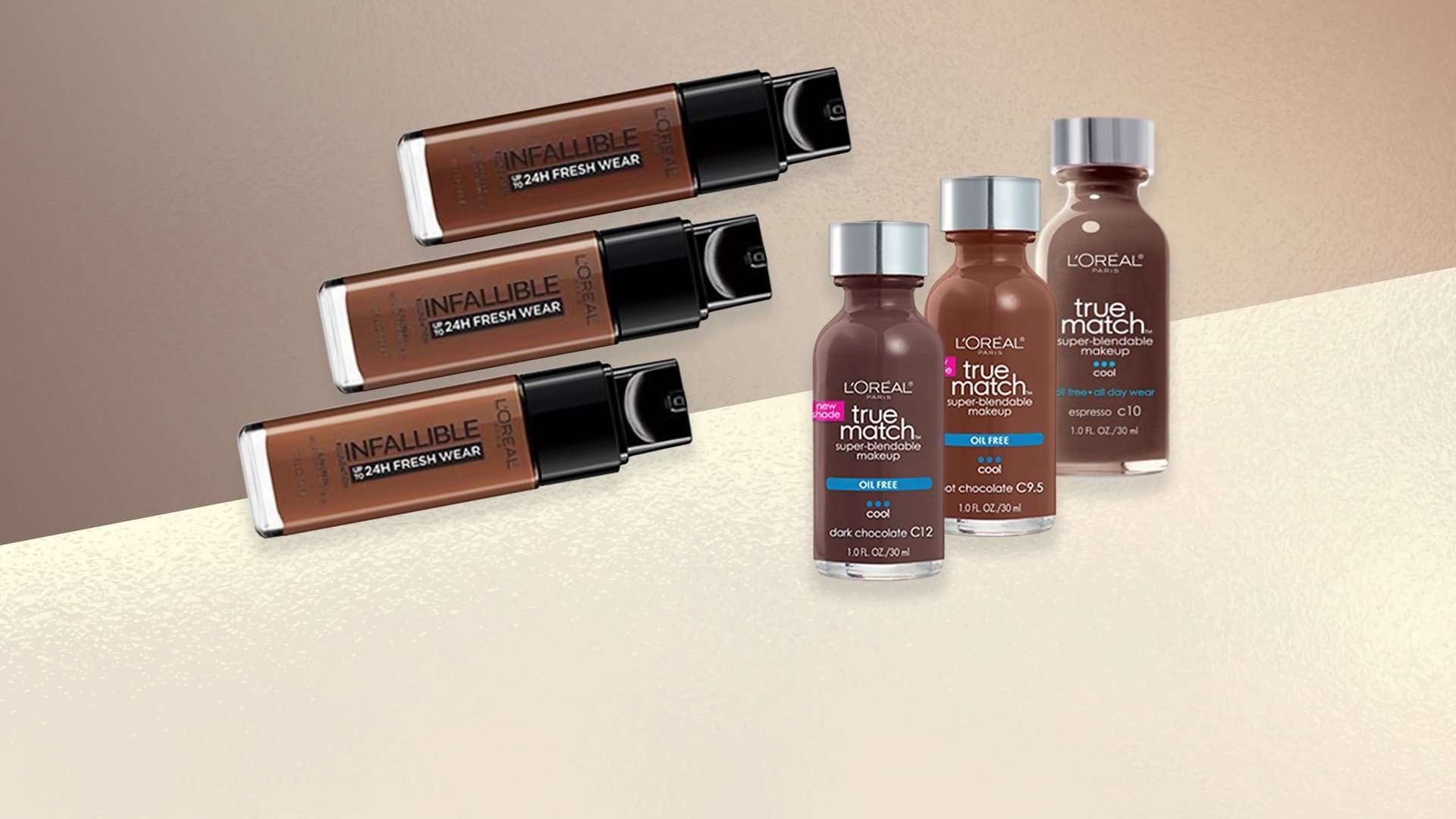 Finding foundation that matches dark skin tones can be quite the challenge. With so many options that either leave an ashy cast on your skin or are simply too light for your complexion, it can all make your head spin. The good news is, nowadays, there are more and more foundation lines that cater to a wider variety of skin tones, allowing you to find your foundation color match. In fact, we know two foundations available in 40+ shades. That's right, the days of mixing two foundations to create your perfect shade are over.
Keep reading as we introduce you to our best foundations for dark skin tones and cover everything you need to know to find makeup for dark skin.
HOW TO FIND FOUNDATION FOR BLACK WOMEN AND PEOPLE OF COLOR
Before checking out our favorite foundations for dark skin, here are a few helpful hints for finding the foundation that best matches your skin.
1. FACTOR IN YOUR UNDERTONE
The fact that you have a deep, dark skin tone isn't all that you need to know. When it comes to choosing a foundation, your undertone also matters—a lot. Hence why people with similar dark skin tones may need completely different foundation shades.
If you aren't familiar with undertones, here's a quick refresher: Your skin tone refers to your complexion and the shade of your skin, whereas undertones are the colors that come through your skin and affect the overall hue. Undertones can be cool, warm, or neutral, and while it may not be overwhelmingly obvious which you have, there is a multitude of ways to find out.
Our tried-and-true method is looking at the inside of your arm. If the veins on your wrist appear blue or purple, you're cool-toned, and if they look green, it's an indication of warm-toned skin. When you aren't so sure which color they are, chances are you're neutral. It's that easy!
2. TEST MULTIPLE SHADES ON YOUR SKIN
You may rely on eyeing foundations in their packaging to find your right shade, but it's not the best method. After all, you never know how something will look until it's actually on your skin. Play it safe and swatch a few shades that look similar in the bottle.
3. MATCH TO YOUR BODY, NOT YOUR FACE
Matching your foundation to the exact color of your face may be standard practice, but you need to switch things up a bit. In actuality, your goal should be to find a foundation that matches your face and your body. Keep things simple and apply a foundation swatch to your neck and chest to get a better idea of which shade will provide a seamless effect.
OUR BEST FOUNDATIONS FOR DARK SKIN TONES
Now that you have a better understanding of makeup for dark skin, it's time to find the right foundation. Below, we're sharing two foundation options with plenty of shades to complement your skin tone perfectly.
L'Oréal Paris True Match™ Super Blendable Makeup: Prepare to blend like a pro! As the name suggests, this foundation has a super-blendable formula that's buildable and oil-free, which pretty much covers all the bases. Not to mention, it's also formulated with Pro-Vitamin B5 and vitamin E and works to keep your skin looking radiant from day to night. This fabulous pick comes in 45 shades that are suitable for every skin tone and undertone. Precisely matching skin tones and texture, there's something for everyone.
L'Oréal Paris Infallible 24 Hour Fresh Wear Foundation, Lightweight: For those who love lightweight foundation, it's time to add this formula to your makeup arsenal. This offering provides medium-to-full buildable coverage that lasts all day and allows the skin to breathe. The formula's three oil absorbers resist sweat, water, and transfer while the ultra-thin liquid goes on smoothly to give a fresh, healthy-looking complexion that lasts. Even better, it's also non-comedogenic and formulated with SPF. With 40 shades to choose from, we have a feeling this foundation will become a favorite in no time.
HOW TO APPLY FOUNDATION TO DARK SKIN
It's never a bad time to make sure you're applying foundation the right way—especially if you haven't been factoring in your skin tone! Don't worry; it's still as easy as 1, 2, 3…4.
1. USE A MAKEUP BLENDER
Applying foundation with your fingers is officially a thing of the past. Using a makeup blender can be more hygienic, and it can also help you achieve a more flawless application. So, apply your foundation directly to the L'Oréal Paris Infallible Blend Artist Foundation Blender, picking up less than you think you'll need. (You can always add more later!)
2. APPLY FOUNDATION TO YOUR FACE AND NECK
Using the makeup blender, bounce and buff your foundation onto your skin. Matching doesn't count if it's only in certain spots, so always bring the product down to your neck and up to your hairline for a uniform look.
3. COVER IMPERFECTIONS WITH CONCEALER
Darker skin tones can often deal with discoloration, making concealer a must. Try the L'Oréal Paris True Match™ Super-Blendable Multi-Use Concealer, using a shade that's slightly lighter than your foundation to cover up any spots.
4. SET WITH A TRANSLUCENT POWDER
Put a stop to shine while helping to make your look last with a final dusting of a translucent face powder, like the L'Oréal Paris Infallible Pro-Sweep & Lock Loose Setting Face Powder.
Next up: For more foundation tips and tricks, check out our article, How to Apply Liquid Foundation.
{ "@context": "https://schema.org/", "@type": "WebPage", "speakable": { "@type": "SpeakableSpecification", "cssSelector": ["speakable-content"] }, "url": "https://es.lorealparisusa.com/revista-de-belleza/maquillaje/maquillaje-facial/best-foundations-for-darker-skin-tones" }
Descubrir más trucos y consejos
Ver todos los artículos
Shop Featured Makeup products
Discover More
{ "@context": "http://schema.org", "@type": "BreadcrumbList", "itemListElement": [ { "@type":"ListItem", "position": 1, "item": { "@id": "/", "name": "Home" } } , { "@type":"ListItem", "position": 2, "item": { "@id": "https://es.lorealparisusa.com/revista-de-belleza", "name": "Revista de belleza" } } , { "@type":"ListItem", "position": 3, "item": { "@id": "https://es.lorealparisusa.com/revista-de-belleza/maquillaje", "name": "Consejos de maquillaje para cada look" } } , { "@type":"ListItem", "position": 4, "item": { "@id": "https://es.lorealparisusa.com/revista-de-belleza/maquillaje/maquillaje-facial", "name": "Maquillaje facial" } } , { "@type":"ListItem", "position": 5, "item": { "@id": "https://es.lorealparisusa.com/revista-de-belleza/maquillaje/maquillaje-facial/best-foundations-for-darker-skin-tones", "name": "best-foundations-for-darker-skin-tones" } } ] }