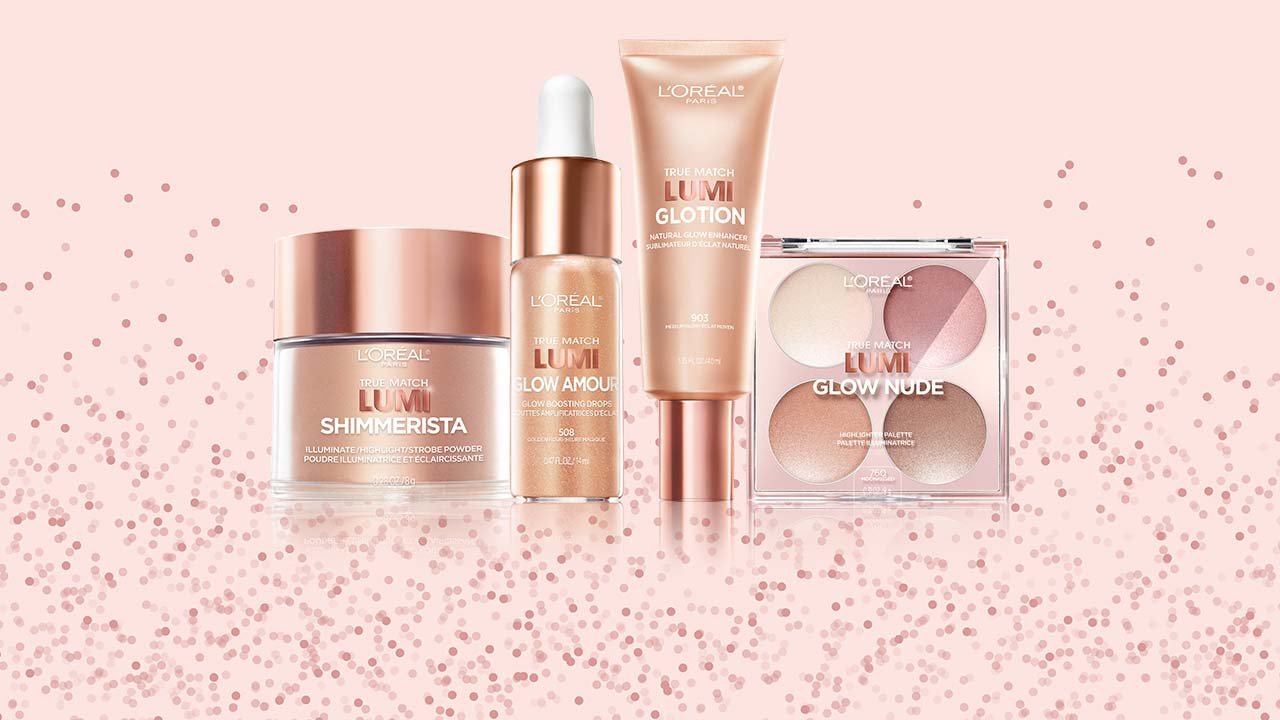 If you've been hoping the high-shine highlighter trend would come and go before you were ever forced to learn how to use one, you're out of luck. Illuminating your face with makeup isn't a fad that'll be gone anytime soon. In fact, it can play an important role in many makeup looks. The reason why highlighter is so popular? Well, this type of face makeup can help create the appearance of a glow and make your favorite features pop. Basically, it's a no brainer that you should be participating in this beauty trend and utilizing luminous highlighters.
Now, you just need to figure out how to apply highlighter the right way. The thing is, there are quite a few different types of highlighter out there. How you apply highlighter depends on the formula you choose. That may sound complicated, but fear not. Thankfully, we're breaking down exactly how to apply highlighter like a pro.
How to Apply Pressed Powder Highlighter
If you're new to highlighter, face powders are as good a place as any to start. All you'll need to get started is a highlighter and a brush to apply it with. Instead of picking up a single shade, try a highlighting palette like the L'Oréal Paris True Match™ Lumi Glow Nude Highlighter Palette, which offers a low glow intensity (i.e. it's nice and subtle!). That way, you'll have multiple illuminating face powders to play with. As for the brush, try one with a fan shape to sweep the pressed powders onto key spots of your face—above your cheekbones, below your brows, in the inner corner of your eyes, down the bridge of your nose, and along your cupid's bow.
How to Apply Rainbow Highlighter
If you were hoping to get more adventurous with your highlighter pick—in order to join in on the rainbow highlighter trend—try the L'Oréal Paris True Match™ Lumi Powder Glow Illuminator in Ice, which includes shades of purple and blue. We swear you won't look crazy, just seriously stylish. Swirl the colors together and dust them onto the high points of your face.
How to Apply Liquid Highlighter
Want to get in on the strobing trend? Pick up a liquid highlighter, like the L'Oréal Paris True Match™ Lumi Liquid Glow Illuminator. You can wear this highlighter alone or mixed with foundation. Apply it with your fingertips and blend into skin. Use above and below your brow bones to enhance your eyes. To bring attention to your cheekbones, apply highlighter in a diagonal line from the middle of your cheekbone toward your hairline. Finally, apply highlighter down the bridge of your nose and dot onto your cupid's bow to define your lips. You can also apply highlighter in a "C" motion around your eyes and cheekbones as well as down the bridge of your nose for an allover glow.
How to Apply Loose Powder Highlighter
Loose powder highlighters might seem intimidating. But they can manage to bring your highlight to new heights. That's definitely worth it in our books. Plus, as long as you're careful to tap excess off your brush and avoid spills, there's no reason everything you own has to end up covered in shimmer—unless you're into that.
Now that you're convinced, let's talk about the L'Oréal Paris True Match™ Lumi Shimmerista Highlighting Powder. To apply this loose powder highlighter, start by shaking the packaging up and down (lid on!) and tap once on the counter. Using a tapered makeup brush, dip it into the powder that's on the inside of the lid, which will help minimize any mess that may be coming your way. Dust the powder onto not only the highpoints of your face, but your body, too. A touch of shimmer on the collarbone and shoulders is perfect for a special occasion.
How to Apply Highlighter Lotion
In case you need any more proof that highlighter is an ever-expanding category, all you need to do is look at glow lotions. Chances are you didn't even know such a thing existed, and yet, here we are. Once your highlighter options are essentially endless—including products you might not have heard of until now—you know something big is happening in the beauty industry.
For those who are still wondering, glow lotions like the L'Oréal Paris True Match™ Lumi Glotion Natural Glow Enhancer are hydrating lotions with an illuminating tint that can enhance your skin's natural complexion. Essentially, it's like a BB cream that highlights instead of providing coverage. To use it, choose the shade that best matches your skin tone and apply the product under or over foundation—either way works. If you have a darker shade on hand, it can even double as a contour product! Just apply along your cheekbones to define your face.
How to Apply Highlighter Drops
For anyone looking for more customizable illumination, we have just the thing for you. Any way you want to glow, highlighter drops can help. The L'Oréal Paris True Match™ Lumi Glow Amour Glow Boosting Drops are a must-have multi-tasker. Not only is it up to you whether you apply them with a makeup blender or your fingers, but you can choose to create all over radiance or a targeted glow. For all over radiance, mix the glow-boosting drops into foundation, skin care products like moisturizer, or primer. If you're after a targeted glow, use the highlighter drops alone or over foundation, applying them to the key spots. See, so many options! Try using one highlighter drop for a natural dewy glow, or two if you're after more intensity.
Congrats: You now know how to apply highlighter like a makeup artist! Next, you'll obviously want to pair your fabulous highlight with precise contouring. Find out The Right Way to Contour for Every Face Shape.
{ "@context": "https://schema.org/", "@type": "WebPage", "speakable": { "@type": "SpeakableSpecification", "cssSelector": ["speakable-content"] }, "url": "https://es.lorealparisusa.com/revista-de-belleza/maquillaje/maquillaje-facial/how-to-apply-highlighter" }
Descubrir más trucos y consejos
Ver todos los artículos
Shop Featured Makeup products
Discover More
{ "@context": "http://schema.org", "@type": "BreadcrumbList", "itemListElement": [ { "@type":"ListItem", "position": 1, "item": { "@id": "/", "name": "Home" } } , { "@type":"ListItem", "position": 2, "item": { "@id": "https://es.lorealparisusa.com/revista-de-belleza", "name": "Revista de belleza" } } , { "@type":"ListItem", "position": 3, "item": { "@id": "https://es.lorealparisusa.com/revista-de-belleza/maquillaje", "name": "Consejos de maquillaje para cada look" } } , { "@type":"ListItem", "position": 4, "item": { "@id": "https://es.lorealparisusa.com/revista-de-belleza/maquillaje/maquillaje-facial", "name": "Maquillaje facial" } } , { "@type":"ListItem", "position": 5, "item": { "@id": "https://es.lorealparisusa.com/revista-de-belleza/maquillaje/maquillaje-facial/how-to-apply-highlighter", "name": "how-to-apply-highlighter" } } ] }