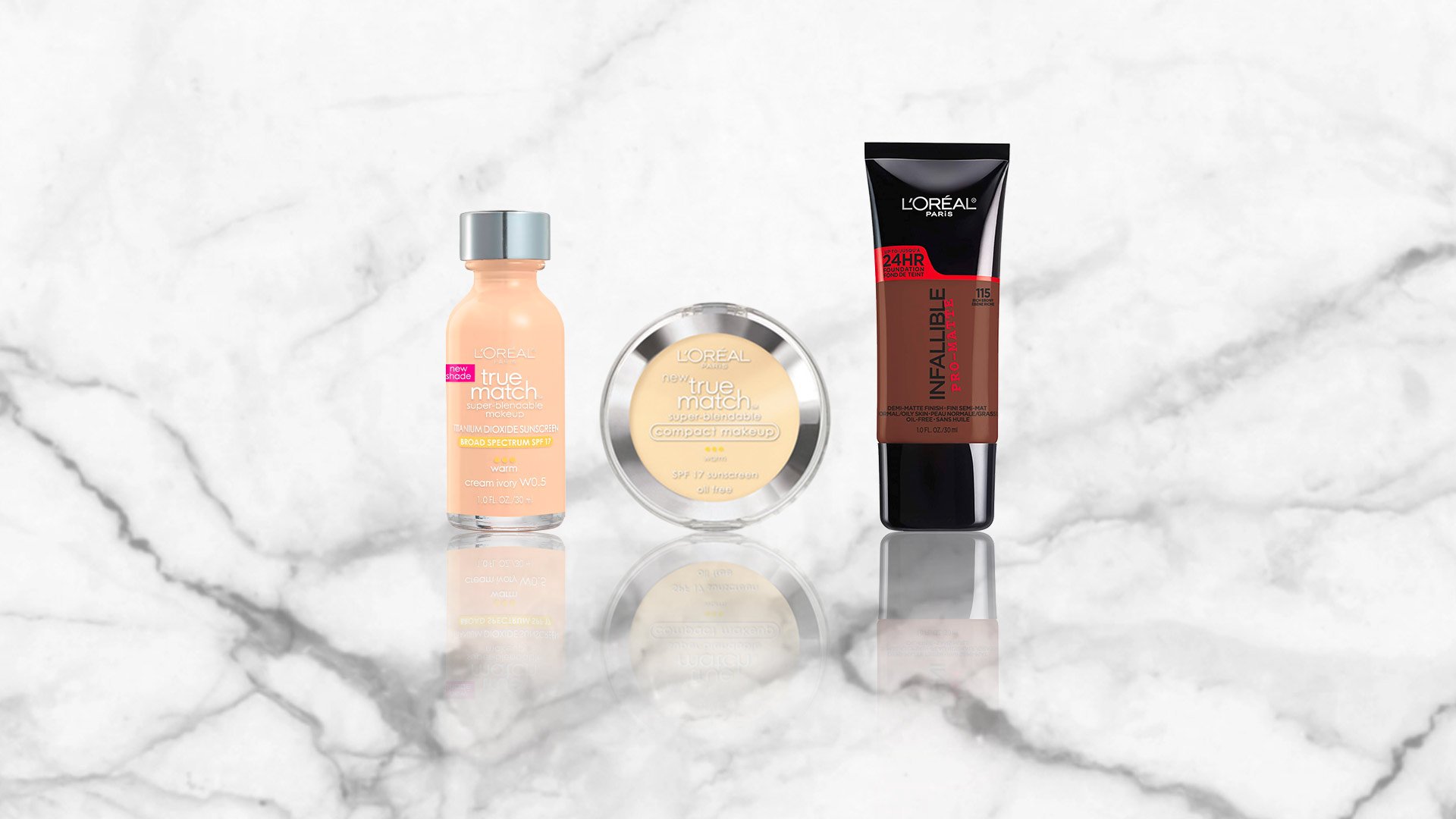 If you have oily skin, you've probably put two and two together that you should use oil-free makeup. Sure, oil cleansers may be your best friend when it comes to your skin care routine (like attracts like, after all), but the same rules don't apply to your foundation. You see, an oil-free foundation is important for maintaining a shine-free complexion, and if you have oily skin, we're willing to bet that's exactly what you're after. If you're not sure where to start on your search for the perfect oil-free formula, let us help you out. Below, we're sharing our three best oil-free foundation formulas, along with some other oil-free makeup products to add to your makeup bag.
OUR BEST OIL-FREE FOUNDATION FORMULAS
If you want to start using oil-free foundation as part of your daily routine, you'll need a reliable formula. Here are three oil-free foundation formulas your oily skin will thank you for.
L'Oréal Paris Infallible Pro-Matte Foundation: Those that have oily skin are typically fans of foundation with a matte finish. After all, we all want what we don't have, right? If that sounds like you, you'll be happy to know that this demi-matte liquid foundation has an oil-free formula. Aside from its matte, lightweight, long-wear formula, the foundation also offers buildable light to medium coverage, making it perfect for everyday wear. The creamy texture goes on smooth and hides imperfections for a clear complexion.
L'Oréal Paris True Match Super Blendable Makeup: You can't go wrong with the classics, and that's precisely the case for this liquid foundation. If you prefer a formula with a natural finish that will seamlessly match your skin tone and texture (and that's oil-free!), this option is for you. With 45 true-to-you shades in a variety of undertones, the range stretches from light to dark with warm, neutral, and cool undertones throughout. The super-hydrating formula provides medium coverage that's so blendable you can't tell where your foundation ends and your skin begins. In addition to being oil-free, it's also free of fragrances.
L'Oréal Paris True Match Super-Blendable Compact Makeup: If you're more of a powder foundation gal, no problem. This oil-free option is formulated with Precise Match™ technology in warm, neutral, and cool tones, so you'll easily find the shade that's right for you. The powder provides the flawless natural coverage, weightless feel, and seamless blendability of a liquid makeup, but snaps shut for the convenience and portability of a compact. Check, check, and check!
3 OTHER OIL-FREE MAKEUP PRODUCTS TO TRY
If you want to make the rest of your makeup regimen oil-free, here are a few other oil-free makeup products to consider.
L'Oréal Paris True Match Blush: Chances are, you'll want to add some color to your complexion. As you know, your blush can also come into contact with oily areas of your face, so using one with an oil-free formula isn't a bad idea. With 12 shades, this oil-free makeup complements your skin's tone and texture and coordinates perfectly with the True Match makeup we mentioned above. It has a range of true-to-life shades, making it the perfect option for giving yourself a faux, natural-looking flush.
L'Oréal Paris Infallible Pro-Matte Powder: Whether your skin is extra oily and you'd like a little backup from a face powder, or you'd simply rather use a face powder to combat shine in place of foundation, look no further than this oil-free option. The formula absorbs excess oil and reduces shine on the skin's surface. As we mentioned, the lightweight pressed powder can be used alone to set foundation after application or throughout the day for quick touch-ups. Shine? Where?
Editor's note: Another way to combat shine throughout the day is to use oil blotting papers. Here's Why Blotting Papers Are a Must for Your Makeup Bag.
L'Oréal Paris Infallible Pro-Spray and Set Make-Up Oil-Free Setting Spray: Speaking of midday touch-ups, if you're someone who simply doesn't have time to blot their face with powder or a blotting sheet throughout the day, we highly recommend investing in a setting spray—an oil-free makeup setting spray, that is. With a few quick spritzes, this oil-free formula will boost your look for smudge-proof, all-day wear. Not to mention, it'll keep your makeup from settling into fine lines. Consider this a staple everyone needs.
Next up: On the note of products everyone needs, if you'd like to be in the loop about must-have makeup, read our article, 20 Makeup Product Essentials Every Woman Should Own.
{ "@context": "https://schema.org/", "@type": "WebPage", "speakable": { "@type": "SpeakableSpecification", "cssSelector": ["speakable-content"] }, "url": "https://es.lorealparisusa.com/revista-de-belleza/maquillaje/maquillaje-facial/oil-free-foundation-formulas" }
Descubrir más trucos y consejos
Ver todos los artículos
Shop Featured Makeup products
Discover More
{ "@context": "http://schema.org", "@type": "BreadcrumbList", "itemListElement": [ { "@type":"ListItem", "position": 1, "item": { "@id": "/", "name": "Home" } } , { "@type":"ListItem", "position": 2, "item": { "@id": "https://es.lorealparisusa.com/revista-de-belleza", "name": "Revista de belleza" } } , { "@type":"ListItem", "position": 3, "item": { "@id": "https://es.lorealparisusa.com/revista-de-belleza/maquillaje", "name": "Consejos de maquillaje para cada look" } } , { "@type":"ListItem", "position": 4, "item": { "@id": "https://es.lorealparisusa.com/revista-de-belleza/maquillaje/maquillaje-facial", "name": "Maquillaje facial" } } , { "@type":"ListItem", "position": 5, "item": { "@id": "https://es.lorealparisusa.com/revista-de-belleza/maquillaje/maquillaje-facial/oil-free-foundation-formulas", "name": "oil-free-foundation-formulas" } } ] }