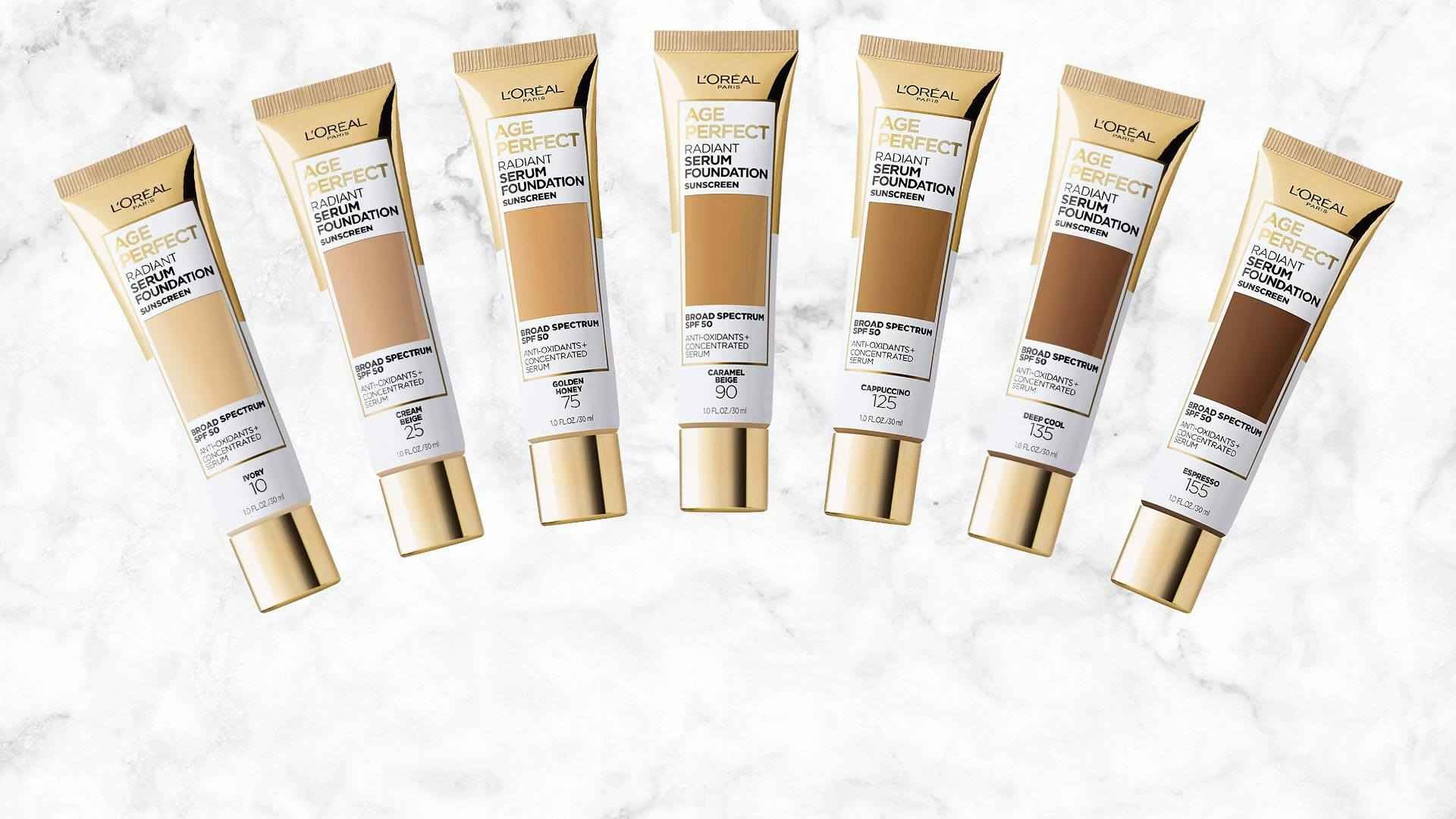 From powder to liquid foundation, you're probably familiar with most of the common foundation formulas on the market. You may even be well-versed on foundation alternatives like BB and CC cream with the rising no-makeup makeup trend of skinimialism. But what about serum foundation? Yup, there's one type you may have missed in your foundation 101 briefing, and we're here to tell you all about it. Below, we're covering everything from what a serum foundation is to who should consider adding one to their routine — dry skin types, listen up!
What Is a Serum Foundation?
As you can probably guess, a serum foundation is exactly what it sounds like — a foundation that includes a serum in its list of ingredients. The liquid formula is a hybrid between makeup and skin care, offering the coverage of a foundation and the skin benefits of a serum. Just as different face serums can benefit your complexion in different ways, the benefits of a serum foundation are dependent on the product you're using, though most tend to provide lasting hydration.
Who Can Benefit From Serum Foundations?
There are myriad skin types that can benefit from serum foundations,the first being mature skin. As you get older, your skin produces fewer natural oils, leading to a drier complexion. Since serum foundations are more hydrating than other foundation formulas, those with mature skin can benefit from using one. They can also be beneficial if you simply have dry skin. As we mentioned, serum foundations have hydrating formulas, meaning they're a great option for those with a dry skin type.
Sensitive skin types might also want to give this type of formula a try. With their skin benefits and lightweight formulas, serum foundations tend to be a match for those with sensitive skin.
Finally, if you love multitasking products, serum foundations are a great option for those who want to care for their skin while perfecting it. It's a two-in-one win-win!
Best Serum Foundations to Try Now
Ready to get started? There are a few formulas we love. First up: the L'Oréal Paris Age Perfect Makeup Radiant Serum Foundation with SPF 50. Specially designed for mature skin, this serum foundation is carefully formulated with vitamin B3 and a hydrating serum. The lightweight formula provides coverage to even skin tone and deliver a natural, radiant finish without settling into lines. It's particularly suited for those with dry, mature skin, as it offers all-day hydration. It's also suitable for those with sensitive skin. Essentially, it provides all the benefits of a foundation with the added advantage of all-day hydration — and even sun care through its SPF 50.
You can also opt for a tinted serum, which has similar coverage and benefits. The L'Oréal Paris True Match Tinted Serum will do just the trick with 1 percent pure hyaluronic acid. It comes in nine versatile shades, has buildable coverage, and guarantees a luminous, lightweight finish that will keep you hydrated all day long. It's a great choice if you want something lighter than a foundation but with the same coverage and built-in serum skin care benefits.
How to Apply Serum Foundation
STEP 1: As with any foundation, you'll want to begin by applying a makeup primer. Look for one with a radiant finish and hydrating formula that will coordinate with your serum foundation, like the L'Oréal Paris Infallible Pro-Glow Lock Makeup Primer. Smooth it over your complexion to prep your skin.
STEP 2: Dot your foundation or tinted serum. Squeeze a small amount onto your fingertip. Dot the formula onto your cheek, then repeat the process, so you have a few dots of foundation on each cheek, as well as your forehead, nose, and chin.
STEP 3: Blend it out. Using a makeup blender, like the L'Oréal Paris Infallible Blend Artist Foundation Blender, buff and blend out your serum foundation for a seamless finish. Add more product as needed to build up to your desired level of coverage.
Photo: Chaunte Vaughn
{ "@context": "https://schema.org/", "@type": "WebPage", "speakable": { "@type": "SpeakableSpecification", "cssSelector": ["speakable-content"] }, "url": "https://es.lorealparisusa.com/revista-de-belleza/maquillaje/maquillaje-facial/serum-foundation" }
Descubrir más trucos y consejos
Ver todos los artículos
Shop Featured Makeup products
Discover More
{ "@context": "http://schema.org", "@type": "BreadcrumbList", "itemListElement": [ { "@type":"ListItem", "position": 1, "item": { "@id": "/", "name": "Home" } } , { "@type":"ListItem", "position": 2, "item": { "@id": "https://es.lorealparisusa.com/revista-de-belleza", "name": "Revista de belleza" } } , { "@type":"ListItem", "position": 3, "item": { "@id": "https://es.lorealparisusa.com/revista-de-belleza/maquillaje", "name": "Consejos de maquillaje para cada look" } } , { "@type":"ListItem", "position": 4, "item": { "@id": "https://es.lorealparisusa.com/revista-de-belleza/maquillaje/maquillaje-facial", "name": "Maquillaje facial" } } , { "@type":"ListItem", "position": 5, "item": { "@id": "https://es.lorealparisusa.com/revista-de-belleza/maquillaje/maquillaje-facial/serum-foundation", "name": "serum-foundation" } } ] }