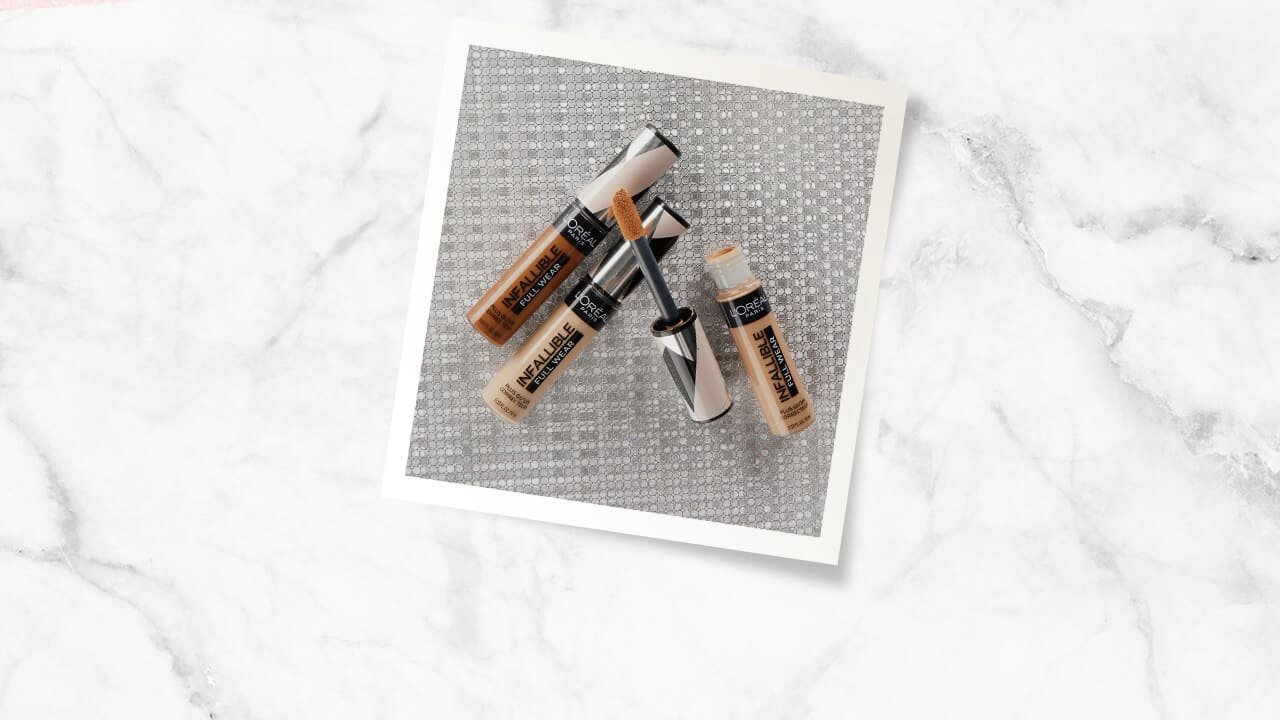 If your concealer can't make it past the afternoon, it's time to upgrade to a waterproof concealer. After all, when you're trying to mask skin imperfections or discolorations, such as dark spots, blemishes, or dark circles, you'll want to use a formula that won't rub, fade, or sweat off after just a couple of hours, and why not use one that's specifically formulated to last?
That's why a waterproof option, like the full-coverage L'Oréal Paris Infallible Full Wear Concealer Waterproof, is non-negotiable whenever you need your makeup to stay put. Not only is this formula waterproof and sweat-resistant, but it also provides high coverage without any chance of fading or flaking. Basically, it does it all. Read on to learn nine reasons you'll want to make sure waterproof concealer has a place in your makeup bag.
1. IT'LL SURVIVE YOUR SWEATIEST WORKOUT
If you've ever asked yourself: Can you wear makeup to the gym? The answer is yes; if you want to, you can totally wear a few products to look amazing through your workout. You'll just need to wear formulas that will hold up through your sweat sesh (because nobody wants a melted makeup look, whether you're at the gym or not!). In addition to reaching for your favorite BB cream and waterproof mascara, you'll also want to use a waterproof concealer.
2. AND A HUMID SUMMER DAY
If you live in a humid climate or the morning weatherman says it's going to be a rainy day, go ahead and use your waterproof concealer (and mascara) to help prevent your makeup from budging or smudging. Unfortunately, your H2O-proof concealer won't stop the weather from wreaking havoc on your frizzy hair, but there's plenty you can do there, too. Here are 5 Hairstyles That Are Perfect for Rainy Days.
3. IT'LL STAY PUT ON VACATION
A good vacation usually means time spent at the beach with frozen drinks, basking (safely) in the sun's powerful rays. While you can opt to go makeup-free for your beach day, if you do choose to wear a little makeup, a waterproof concealer is the way to go. That way, you don't have to worry about your makeup fading—whether you're lounging in a chaise or taking a quick dip.
On the other hand, maybe your ideal vacation includes lots of sightseeing. Whatever you have planned on your itinerary, you'll want to wear a concealer that will last through all of your daily plans. Worried that your concealer will no longer match your skin tone if you get a bit of sun while out and about? Don't! Fortunately, even after you get a glowing tan that says, "I just got back from the tropical vacation of my dreams," there are 25 full-coverage shades of the Infallible Full Wear Concealer to choose from, so you'll still be able to find your match.
Editor's note: When you're getting ready to soak up the sun, just remember to never, ever forget to wear SPF! When you're going to be spending a lot of time outside, wear sunscreen with an SPF value of 30 or higher and re-apply it at least every two hours—or immediately after swimming or sweating.
4. YOU CAN SWIM WITHOUT WORRYING
Does concealer come off in the pool? The answer is normally yes—but it doesn't have to. Even when you're taking a dip into a whole lot of water, waterproof concealer has you covered. The same also goes for hot tubs and swimming in the ocean, so you can participate in all of your favorite water-based activities without concealer being a concern.
5. NO MORE MAKEUP FADING DURING A NIGHT OUT
Sometimes, you don't know what a night out will bring—and those are the best nights! Whether you end up home in bed after one cocktail or out at a karaoke bar until the wee hours of the morning remains to be seen. But either way, it's best to be prepared and make sure your beauty look will last all night. Apply your waterproof concealer before heading out the door, and don't worry about tossing it into your clutch for touch-ups—your concealer will stay put even if you dance up a storm.
6. IT'LL WITHSTAND WEDDING TEARS
Whether you think you will shed some tears or not, when heading to a wedding, or getting ready for your own, it's wise to use a waterproof concealer. Not only will a waterproof formula last throughout the entirety of the festivities, but it will also last through many tears, and it won't transfer onto your beautiful dress!
Editor's note: Want more wedding day beauty tips? Here's your Wedding Hair and Makeup Dos and Don'ts.
7. AND LOOK AMAZING FOR SPECIAL OCCASIONS
Really, any special occasion calls for waterproof concealer. Whether it's a graduation, party, ceremony, or another special event, be prepared for whatever comes your way by wearing face makeup that will go the distance.
8. SEASONAL SNIFFLES WON'T RUIN YOUR LOOK
Both the cold wind and pollen in the air can cause your eyes to water, whether you're actually sick or suffering from allergies. Ensure you can handle what the weather throws your way by wearing a concealer that won't budge when your eyes water or your nose starts to run. Bonus: Our waterproof concealer is also amazing for covering redness!
9. IT WILL BE YOUR SAVING GRACE ON SLEEPLESS NIGHTS
We're all familiar with the plight of dark circles after a sleepless night, but have you considered that waterproof concealer is the answer? You certainly don't want your under-eye cover-up slipping away by midday—and that's where a full-coverage, waterproof concealer comes in handy.
Of course, whenever you wear waterproof makeup—or any type of makeup for that matter—it's crucial that you take it all off at the end of the day! Here is Our Best Makeup Remover for Waterproof Makeup.
{ "@context": "https://schema.org/", "@type": "WebPage", "speakable": { "@type": "SpeakableSpecification", "cssSelector": ["speakable-content"] }, "url": "https://es.lorealparisusa.com/revista-de-belleza/maquillaje/maquillaje-facial/when-to-wear-waterproof-concealer" }
Descubrir más trucos y consejos
Ver todos los artículos
Shop Featured Makeup products
Discover More
{ "@context": "http://schema.org", "@type": "BreadcrumbList", "itemListElement": [ { "@type":"ListItem", "position": 1, "item": { "@id": "/", "name": "Home" } } , { "@type":"ListItem", "position": 2, "item": { "@id": "https://es.lorealparisusa.com/revista-de-belleza", "name": "Revista de belleza" } } , { "@type":"ListItem", "position": 3, "item": { "@id": "https://es.lorealparisusa.com/revista-de-belleza/maquillaje", "name": "Consejos de maquillaje para cada look" } } , { "@type":"ListItem", "position": 4, "item": { "@id": "https://es.lorealparisusa.com/revista-de-belleza/maquillaje/maquillaje-facial", "name": "Maquillaje facial" } } , { "@type":"ListItem", "position": 5, "item": { "@id": "https://es.lorealparisusa.com/revista-de-belleza/maquillaje/maquillaje-facial/when-to-wear-waterproof-concealer", "name": "when-to-wear-waterproof-concealer" } } ] }