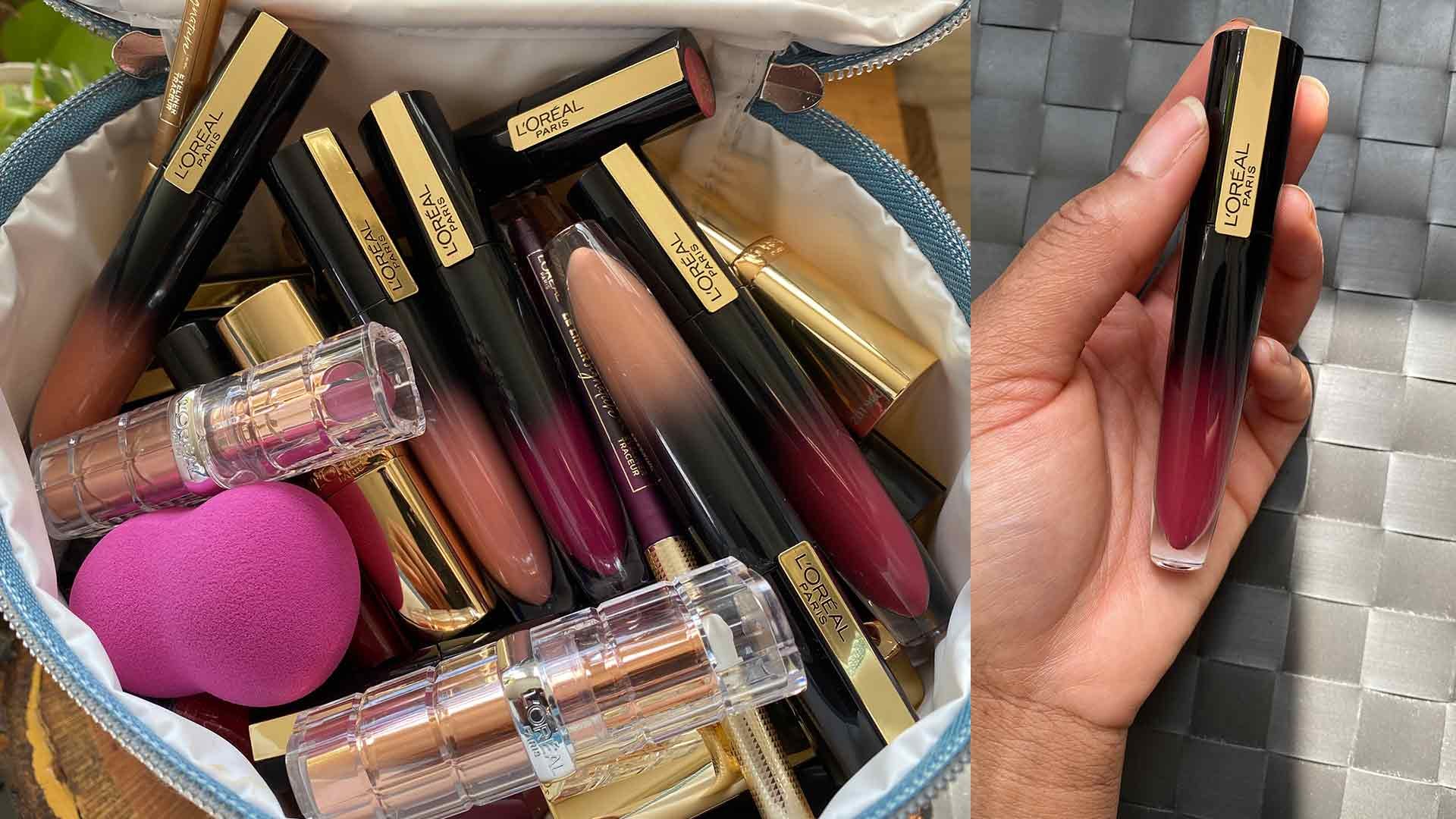 While 2020 and 2021 may not feel like years to embrace the lips thanks to protective face masks, lipstick lovers will never miss an opportunity to indulge in a great new product. And whether you're making up your face to take selfies or to go out (mask on of course), no look is really complete without something on your pout. From liquid lipstick to matte lipstick to metallic lipstick, there are so many different kinds of lip makeup out there to help you add a pop of color to your lips—no matter the occasion. If lipstick isn't your thing that's okay. Here, we're naming the 10 essential lip products everyone should have in their beauty arsenal. It's time to make room in your makeup bag for these goodies!
LIP ESSENTIAL #1: LIPSTICK
Of course we had to start with this classic staple! It's an oldie but a goodie. Whether you decide to wear an Old Hollywood-esque red, a '90s-inspired brick red, a vibrant orange, or a flesh-toned nude, the possibilities are basically endless. The right lipstick shade can help tie any look together—even on those days when you don't have a ton of time to spend on the rest of your makeup look. For a lipstick that can be your new go-to, try the L'Oréal Paris Colour Riche Les Nus Intense Nude Lipstick with a non-drying, smudge-proof formula.
LIP ESSENTIAL #2: LIQUID LIPSTICK
As lipsticks evolve, so do their forms and consistencies. Liquid lipsticks are a great option for anyone who needs long-lasting wear for special occasions and nights spent out on the town. Try the L'Oréal Paris Brilliant Signature Shiny Lip Stain Lipstick, which combines the glossy high-shine finish of a gloss with the lasting wear of a stain. Have some fun by mixing and matching shades to create a unique two-tone lip look that stands out from the crowd. Have a good time with it!
LIP ESSENTIAL #3: LIP STAIN
Speaking of lip stains, this is an absolute must-have in your beauty bag. The L'Oréal Paris Rouge Signature Matte Lip Stain will become your best friend when you want an option that smoothes on like a liquid, dries down to a matte finish, and stays put all day with bold color impact. Take you pick from more than 30 signature shades perfect for any occasion.
LIP ESSENTIAL #4: MATTE LIPSTICK
Who can live without a matte lipstick anymore? I'll give you a hint: no one! There's just something so sophisticated about non-shiny lips. In the summer, go bold by wearing a bright hue, like hot pink or coral. In the winter, go for a darker vampy lip that pairs well with the season. Take your pick from the L'Oréal Paris Colour Riche Matte Lipstick collection, or try the L'Oréal Paris Colour Riche Ultra Matte Highly Pigmented Nude Lipstick.
LIP ESSENTIAL #5: LIP LINER
Applying lip liner before your lipstick can work wonders to help prevent your color from feathering and to create the illusion of fuller-looking lips. Just draw an X on your cupid's bow, then line your lips slightly (and we mean slightly!) outside of your natural lip line. Apply lipstick on top, and boom, you have a pout that looks extra plump! If you're filling your makeup bag to the brim with the aforementioned matte lippies, try lining with the L'Oréal Paris Colour Riche Matte Lip Liner, picking the shade that's the best match for your lipstick.
LIP ESSENTIAL #6: LIP PLUMPER
Another option for a fuller, plumper-looking pout, you'll want to stock your makeup bag with this holy grail product! A swipe of lip plumper will instantly leave you with a pillowy pout—no expert application techniques required. Grab the L'Oréal Paris Colour Riche Plump and Shine Lipstick, Sheer Lipstick, which will give your lips a soft, glossy, and visibly plumped look.
LIP ESSENTIAL #7: LIP GLOSS
Sometimes you just don't want to wear a full lip—and that's okay. Maybe you don't want to hassle with trying to makeup-proof your protective face mask, or maybe you're rocking a dramatic eye and want to keep the rest of your look subtle. That's where a lip gloss can come in handy! Like all other things '90s, lip gloss is reliving its moment in the spotlight. To get in on the trend try the L'Oréal Paris Infallible 8 Hour Pro Lip Gloss, hydrating finish for wash of color that won't fade, feather or migrate for up to eight hours.
LIP ESSENTIAL #8: GLOSSY BALM
In addition to lip gloss, high-shine lip balms are another low-key lip pick on days when you want to keep your makeup simple. For a low-maintenance makeup look, apply your go-to tinted moisturizer, a coat of mascara, and a swipe of lip balm. Just remember to toss the balm in the makeup bag that goes in your purse to touch up your lips while you're out and about!
LIP ESSENTIAL #9: TINTED BALM
A tinted balm is yet another low-maintenance lip product to have on hand for those days when you don't want to wear a ton of makeup. It's perfect for hydrating dry, chapped lips in the winter and sun scorched lips in the summer. It's also the perfect option to pop on when you don't have a mirror handy—it's practically foolproof.
LIP ESSENTIAL #10: LIP PALETTE
Want to take your lips to the next level? Create a super-trendy look—such as ombré lips, contoured lips, unicorn lips, or matte metallic lips—using a lip palette. If you don't already have a lip palette in your makeup collection, try creating your own lip palette by de-potting old lipsticks. Read our article, How to Curate the Perfect Lip Palette, to find out how.
Don't forget to also add a bottle of micellar water to that makeup bag, too. While we love a longwear, fully pigmented lip color, we also want to be able to remove it with ease at the end of the day. Use the L'Oréal Paris Micellar Cleansing Water Complete Cleanser Waterproof - All Skin Types to remove your lip makeup. This no-rinse cleansing option lifts dirt, oil, and makeup—even waterproof products—up and away from the skin. Just saturate a cotton pad with the micellar water and gently wipe it across your lips.
Photo Credit: Shalwah Evans
{ "@context": "https://schema.org/", "@type": "WebPage", "speakable": { "@type": "SpeakableSpecification", "cssSelector": ["speakable-content"] }, "url": "https://es.lorealparisusa.com/revista-de-belleza/maquillaje/maquillaje-labios/essential-lip-products-for-your-makeup-bag" }
Descubrir más trucos y consejos
Ver todos los artículos
Shop Featured Makeup products
Discover More
{ "@context": "http://schema.org", "@type": "BreadcrumbList", "itemListElement": [ { "@type":"ListItem", "position": 1, "item": { "@id": "/", "name": "Home" } } , { "@type":"ListItem", "position": 2, "item": { "@id": "https://es.lorealparisusa.com/revista-de-belleza", "name": "Revista de belleza" } } , { "@type":"ListItem", "position": 3, "item": { "@id": "https://es.lorealparisusa.com/revista-de-belleza/maquillaje", "name": "Consejos de maquillaje para cada look" } } , { "@type":"ListItem", "position": 4, "item": { "@id": "https://es.lorealparisusa.com/revista-de-belleza/maquillaje/maquillaje-labios", "name": "Maquillaje de labios" } } , { "@type":"ListItem", "position": 5, "item": { "@id": "https://es.lorealparisusa.com/revista-de-belleza/maquillaje/maquillaje-labios/essential-lip-products-for-your-makeup-bag", "name": "essential-lip-products-for-your-makeup-bag" } } ] }