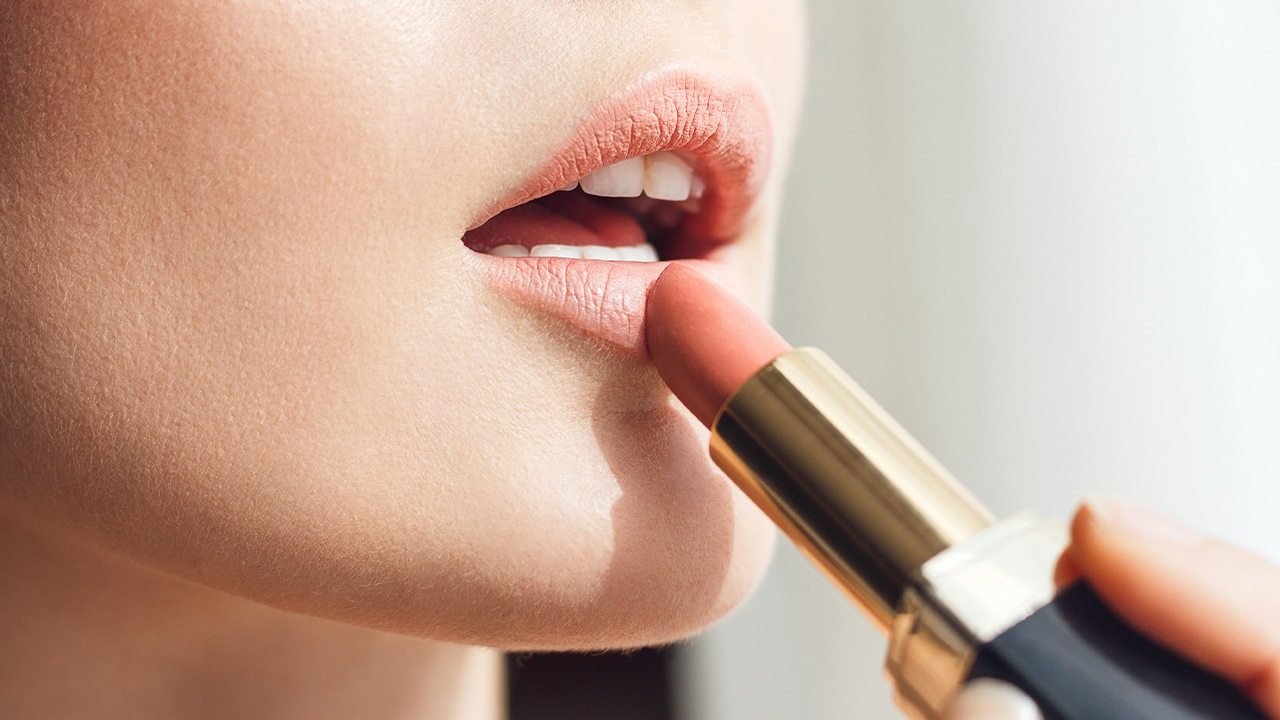 Let's be real: A girl can never have too many shades of lipstick at her disposal. But as a lipstick lover, you've probably come across a variety of issues, from fading throughout the day to simply not being sure exactly how to apply lipstick the right way. Talk about annoying. Speaking of the latter, there are a number of common lipstick mistakes that could be getting in the way of your perfect lip color application, from choosing the wrong lip liner to swiping your lipstick on in the wrong manner. Thankfully, it isn't too late to rehab your lipstick applying skills. Here, we're teaching you how to put on lipstick, along with five of the biggest lip makeup mistakes to avoid. Bonus: We're sharing our best lipsticks to add to your makeup bag!
HOW TO APPLY LIPSTICK
Need some cues for how to put on lipstick? Follow these five easy steps to get the perfect lipstick application, including defining your cupid's bow, each and every time.
STEP #1: CREATE AN 'X'
Reach for a lip liner and find the highest point of your natural lip. Draw a straight line extending down from that point with lip liner. Do the same thing on the other side of your top lip to create an X.
STEP #2: DEFINE YOUR BOTTOM LIP
Now that you've created an X, you'll see that the center of your bottom lip is directly below the middle of the X you just made. Draw the next line along the bottom of your lower lip, extending to the length of your X, to define it.
STEP #3: DRAW TWO 'V' SHAPES
Part your lips slightly, and draw a sideways V connecting your top and bottom lips at both corners of your mouth.
STEP #4: CONNECT
Use short strokes of your lip liner to connect the lines together. For precise application, angle the lip liner and hold it vertically, flat against your lip, with the tip of the lip liner pointing outward.
STEP #5: FILL IN YOUR LIPS
Apply lipstick starting at the center of your lips, moving outward toward the corners. If you start at the corners of your mouth, you can end up drawing outside the lines, which won't make for an ideal beauty look. Starting at the center and moving out will give you more control. First, fill in your top lip, then follow suit with the bottom.
5 LIPSTICK MISTAKES TO AVOID
Sure, you now know how to apply lipstick like a pro, but even the pros make mistakes at times. Brush up on five lipstick mishaps you should make sure to avoid, below.
LIPSTICK MISTAKE #1: PAIRING LIPSTICK WITH THE WRONG LIP LINER
Lip liner lesson 101: Unless you want your lips to look like a coloring book that needs to be filled in, don't choose a lip liner that is too dark. You can avoid this questionable makeup look by choosing a lip liner, like the L'Oréal Paris Colour Riche Matte Lip Liner, L'Oréal Paris Infallible Never Fail Lipliner, or L'Oréal Paris Colour Riche Lip Liner, that either matches your lipstick color or is in the same color family. If you want to achieve a well-defined lip with the liner, color in your entire lip—yep, both your top and bottom lip. Filling in your lips completely with lip liner can help give your lipstick a smooth base and also help you escape the "ring around the mouth" look once your color starts to fade. After you've finished applying lip liner, blend your lipstick all the way to the edge of the liner for a seamless finish.
LIPSTICK MISTAKE #2: CHOOSING A COLOR THAT MAKES YOUR LIPS LOOK SMALLER
We're guessing the goal is to make your lips look bigger, not smaller. You probably realize that overlining your lips or using a lip plumper can help you get there, but your lip color can, too. In fact, certain shades you love may be making your lips look smaller! Have naturally thin lips? Choosing a bold lipstick shade may not be a good idea since this can have the opposite effect of what you want. Instead, opt for a bright shade that has transparency and shine to help make your lips look fuller.
LIPSTICK MISTAKE #3: NOT CLEANING UP AFTERWARD
Failing to clean up around the edge of your lips after applying your lip color can result in a final look that appears smudged and disoriented. For a clean finish that really makes your lips pop, grab some concealer, and outline your lips. Try the L'Oréal Paris Infallible Full Wear Concealer Waterproof, Full Coverage, which provides full coverage and maximum precision thanks to its doe-foot applicator.
LIPSTICK MISTAKE #4: YOU DON'T EXFOLIATE BEFOREHAND
That's right, your lips need exfoliating, too! Failing to slough off dead cells from the surface of your lips can result in a lip color application that appears uneven and scaly. Instead, use a gentle lip scrub before applying your lip color of choice to ensure a smooth finish. For a full rundown on how to best exfoliate your pout, head to our article, How to Use a Lip Scrub Before Applying Lipstick. Here's a hint: You may not even need to buy a special scrub, since some face scrubs can double up and be used on your lips, too!
LIPSTICK MISTAKE #5: NOT TAKING THE REST OF YOUR LOOK INTO ACCOUNT
When choosing a lipstick shade, you should also think about the rest of your outfit and how the hues will play against each other. For example, if you're wearing a red dress, it might be a good idea to try that bright pink lipstick another time since the two might clash. Or, if you're going for a bold smoky eye, let that be the center of attention by rocking a nude lipstick, rather than a bright red. Get the idea?
OUR BEST LIPSTICKS
Before you go about applying your lipstick, you've got to choose the right one! Here are a few of our best options.
L'Oréal Paris Colour Riche Plump and Shine Lipstick, Sheer Lipstick: For a plumped-up pout, grab this lipstick, which delivers lasting shine, all-day moisture, and a cooling, tingling feeling.
L'Oréal Paris Infallible Pro-Matte Les Macarons Scented Liquid Lipstick: A gorgeously colored matte lipstick that smells like Parisian macarons? Yes, please! This liquid lipstick also has a long-lasting formula you're sure to love.
L'Oréal Paris Colour Riche Ultra Matte Highly Pigmented Nude Lipstick: With intense hydration and a super matte finish, this nude lipstick (there are nude shades for everyone!) can easily transition from day to night.
L'Oréal Paris Rouge Signature Matte Lip Stain: One of our all-time favorite lipsticks, this option delivers a stain-like feel with the color impact of a matte liquid lipstick.
L'Oréal Paris Colour Riche Shine Lipstick: With 16 luminous, high-definition shades to choose from, you can't go wrong with this ultra-rich and radiant glossy lipstick.
Worried you're making mistakes in other parts of your makeup routine? We can help with that. Check out these 12 Foundation and Concealer Mistakes You Could Be Making.
{ "@context": "https://schema.org/", "@type": "WebPage", "speakable": { "@type": "SpeakableSpecification", "cssSelector": ["speakable-content"] }, "url": "https://es.lorealparisusa.com/revista-de-belleza/maquillaje/maquillaje-labios/how-to-apply-lipstick" }
Descubrir más trucos y consejos
Ver todos los artículos
Shop Featured Makeup products
Discover More
{ "@context": "http://schema.org", "@type": "BreadcrumbList", "itemListElement": [ { "@type":"ListItem", "position": 1, "item": { "@id": "/", "name": "Home" } } , { "@type":"ListItem", "position": 2, "item": { "@id": "https://es.lorealparisusa.com/revista-de-belleza", "name": "Revista de belleza" } } , { "@type":"ListItem", "position": 3, "item": { "@id": "https://es.lorealparisusa.com/revista-de-belleza/maquillaje", "name": "Consejos de maquillaje para cada look" } } , { "@type":"ListItem", "position": 4, "item": { "@id": "https://es.lorealparisusa.com/revista-de-belleza/maquillaje/maquillaje-labios", "name": "Maquillaje de labios" } } , { "@type":"ListItem", "position": 5, "item": { "@id": "https://es.lorealparisusa.com/revista-de-belleza/maquillaje/maquillaje-labios/how-to-apply-lipstick", "name": "how-to-apply-lipstick" } } ] }