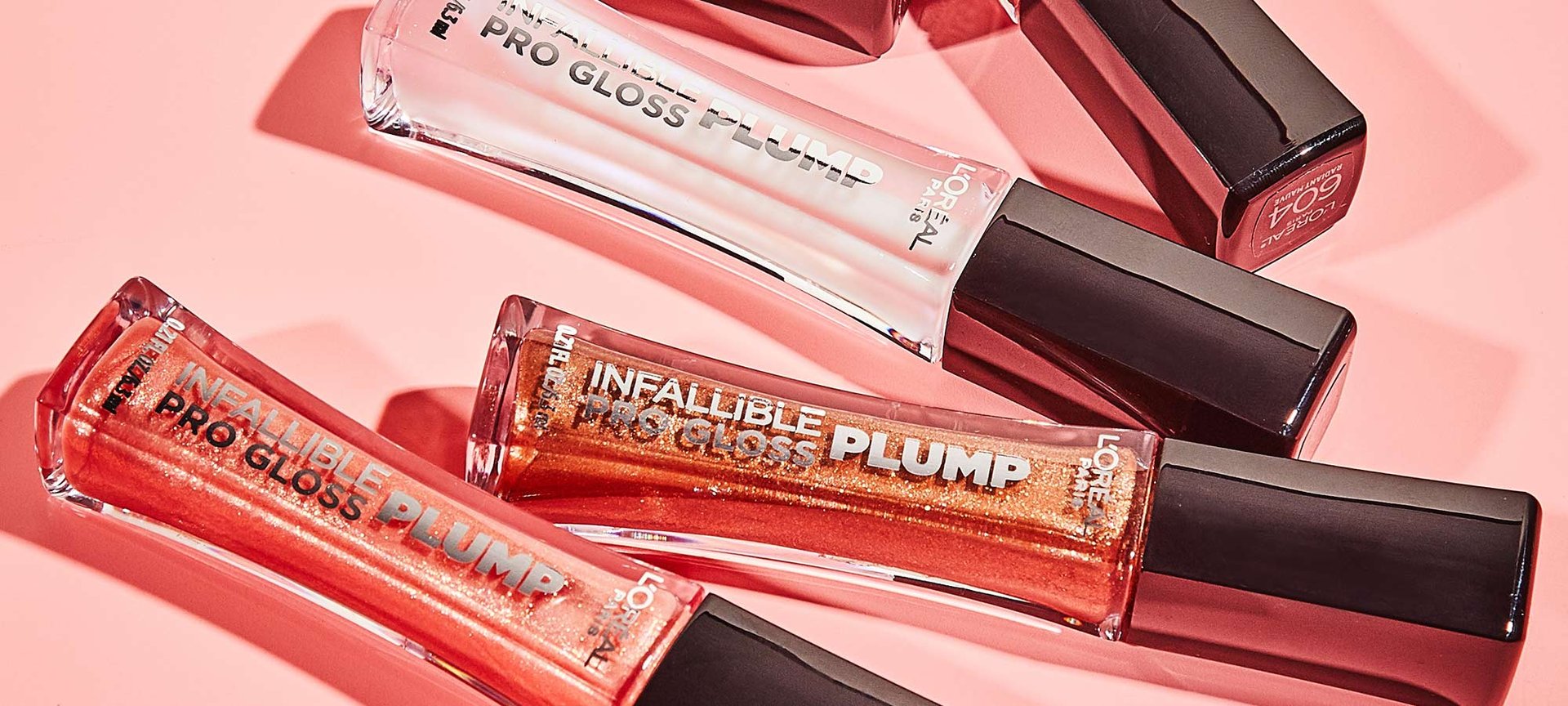 While the creamy, shiny quality of lip gloss makes it one of the most lovable lip makeup products out there, it's true that getting it to stay put can be a challenge. But it's a challenge we're up for, though, and we're happy to report that making lip gloss last all day (and night too), is possible with a few easy tips. From proper lip scrubbing, to priming, layering and more, we've rounded up the best tricks to help you create a long-lasting glossy pout, ahead.
TIP #1: Smooth Your Pout
The lip gloss you use is only one factor in the equation of a long-lasting glossy pout (more on that later). First, it's important to properly prep your lips. Think about it: If your lips are dry and flaky, they could end up absorbing some of your hydrating gloss formula. Not to mention, those dead skin cells could up and flake away—with your gloss—midday. To keep either scenario from occurring, make sure to exfoliate your pout a few times a week with a lip scrub. Simply take a small amount onto dry fingers, massage it over your lips with wet fingers (using circular motions), and rinse thoroughly with lukewarm water. Make sure to smooth on a lip balm before moving onto our next step.
TIP #2: Prime Your Lips
Just like makeup primer eye primer, and lash primer can help boost the lifespan of your makeup, lip primer comes in handy to give your lip gloss some extra staying power. So, make sure to apply one before reaching for your favorite tube. If you don't have a lip primer in your makeup bag you can use a dab of concealer or foundation in a pinch.
TIP #3: Layer Products
Don't reach for your lip gloss just yet. Sure, you want your glossy finish to last, but another frustrating part of fading lip gloss is the sheer color tint disappearing from your lips. Fortunately, there's an easy solution: layering. What we mean is, apply a lip liner or lipstick in a similar color to your gloss before reaching for your star product. This way, even if the color starts to fade, you'll still have a wash of color underneath. Bonus: It'll also boost the color impact of your gloss!
TIP #4: Use the Right Formula
We touched on this earlier, but the right formula—meaning a long-lasting lip gloss formula—is key. Typically, stickier glosses tend to have better staying power, though this isn't a one-size-fits-all rule. If you're on the hunt for some product recs, consider one of the following.
L'Oréal Paris Infallible 8 Hour Pro Lip Gloss is a high-shine gloss that has a long-lasting formula that hydrates your lips. It's available in 26 shades, from fire engine red to subtle nude.
L'Oréal Paris Infallible Pro-Matte Gloss gives you a pigmented, high-shine lip finish. It comes in eight highly pigmented shades and has a lasting formula for all day comfort.
L'Oréal Paris Infallible Pro Gloss Plump is the ultimate option if you're looking to define and plump your lips. It's ultra long-lasting, non-sticky and your lips will instantly look fuller and contoured after application. Plus, it comes in twelve gorgeous shades.
TIP #5: Set With Highlighter
It's common to set your face makeup with powder in order to keep oil, sweat, and other factors from causing your makeup to fade prematurely throughout the day. You may think this is contradictory if you're wearing a gloss, since a powder would surely cancel out the glossy finish you're after, but that actually isn't the case. The trick is to use a powder highlighter, like our L'Oréal Paris True Match Lumi Shimmerista Highlighting Powder on the center of your lips to set the look. Not only will the powder formula help increase the lifespan of your gloss, but it'll also emphasize the high-shine look by drawing and reflecting light on the center of your pout.
TIP #6: Use Setting Spray
If you're wondering about the gloss that falls outside of the center of your lips, we have the solution: setting spray. Simply mist one over your entire face after you've applied your gloss to set your look. Bonus points if you use one with a radiant finish, like the L'Oréal Paris True Match Lumi Shake & Glow Dew Mist, to keep your glow going.
Next: The Best Lipstick and Lip Gloss Combinations for Fall 2021
Photo: Chaunte Vaughn
{ "@context": "https://schema.org/", "@type": "WebPage", "speakable": { "@type": "SpeakableSpecification", "cssSelector": ["speakable-content"] }, "url": "https://es.lorealparisusa.com/revista-de-belleza/maquillaje/maquillaje-labios/how-to-make-lip-gloss-last-all-day" }
Descubrir más trucos y consejos
Ver todos los artículos
Shop Featured Skin Care products
Discover More
{ "@context": "http://schema.org", "@type": "BreadcrumbList", "itemListElement": [ { "@type":"ListItem", "position": 1, "item": { "@id": "/", "name": "Home" } } , { "@type":"ListItem", "position": 2, "item": { "@id": "https://es.lorealparisusa.com/revista-de-belleza", "name": "Revista de belleza" } } , { "@type":"ListItem", "position": 3, "item": { "@id": "https://es.lorealparisusa.com/revista-de-belleza/maquillaje", "name": "Consejos de maquillaje para cada look" } } , { "@type":"ListItem", "position": 4, "item": { "@id": "https://es.lorealparisusa.com/revista-de-belleza/maquillaje/maquillaje-labios", "name": "Maquillaje de labios" } } , { "@type":"ListItem", "position": 5, "item": { "@id": "https://es.lorealparisusa.com/revista-de-belleza/maquillaje/maquillaje-labios/how-to-make-lip-gloss-last-all-day", "name": "how-to-make-lip-gloss-last-all-day" } } ] }