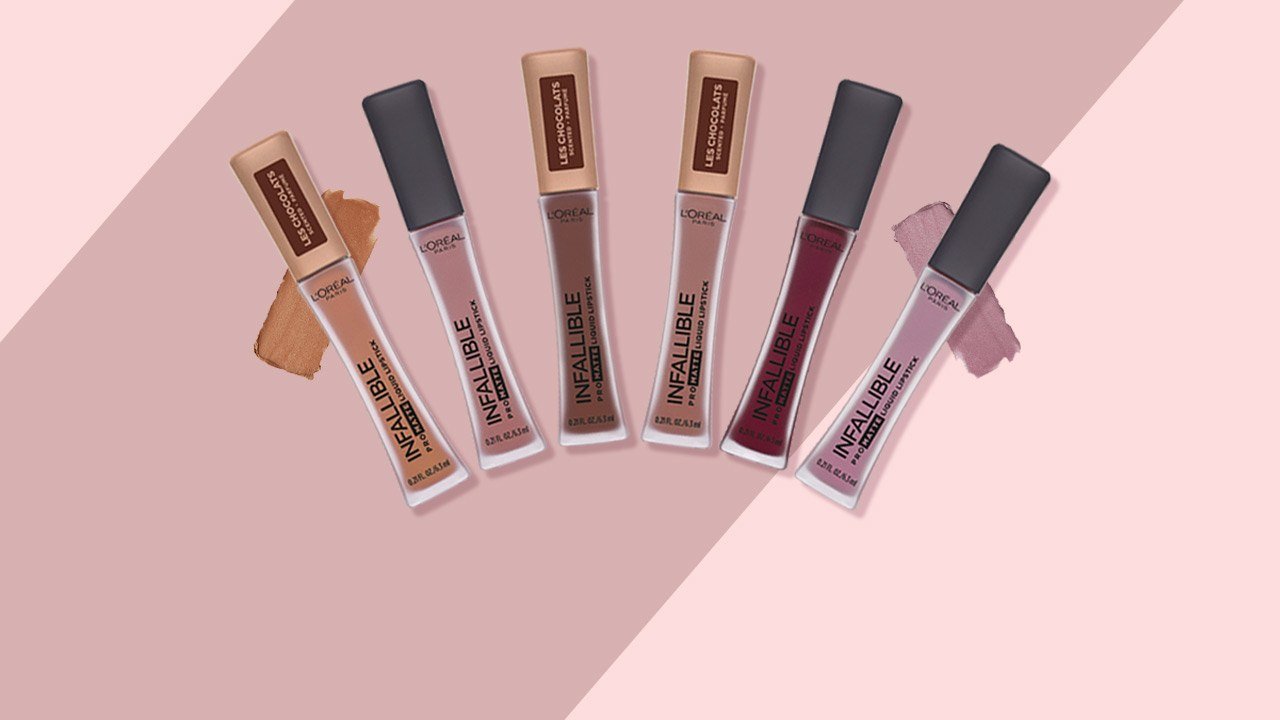 You know how some clothing colors seem to look more flattering on you than others? Well, the same rule applies to makeup shades. The hues that look best on your friends might not work the same on you—and that's totally OK. Since liquid lipstick is one of the most popular types of lipsticks these days, we're here to help you find your liquid lipstick shade match, as well as offer beauty tips for applying and removing this long-lasting lipstick option. So, what're you waiting for? An elevated beauty look showcasing an eye-catching statement lip is just a scroll away.
HOW TO DETERMINE YOUR UNDERTONES
Picking the right shade of liquid lip makeup is all about pairing it with your undertones. To determine what your undertones are, just flip your wrists. If you notice that your veins appear slightly bluish, you have cool undertones; whereas warm undertones are characterized by greenish veins peeking through. Super-simple, right? If this little wrist flip trick doesn't quite do it for you, look to your jewelry box for guidance. If you typically wear silver jewelry, you likely have cool skin; whereas gold is typically matched with warmer tones. Now that you have a better idea of where you land on the cool to warm scale, it's time to dive head first into finding your liquid lipstick shade match.
LIQUID LIPSTICK COLORS TO CONSIDER
Like we told you earlier, liquid lipstick is one of the most popular types of lipsticks these days—and for good reason. Typically, liquid lipstick is long-lasting—and it also comes in a variety of on-trend shades ranging from nudes to darker hues. Today, we're here to help you find your shade match from the L'Oréal Paris Infallible Pro-Matte Liquid Lipstick line and L'Oréal Paris Infallible Pro Matte Les Chocolats Scented Liquid Lipstick, which has a variety of options for you to try from nudes to purples.
Now that you're on board with using a liquid lipstick, it's time to find your perfect color match! Get excited because it's actually really easy to decide which shades will pair best with your skin tone. If you have cool undertones, you'll want to stock your makeup bag with liquid lipsticks that have cool undertones (think: cool pinks, blue-based reds, and eggplant). On the other hand, if you have warm undertones, you'll look best wearing liquid lipsticks with warm undertones (think: true reds, orangey nudes, and apricot). When it comes to finding your most complementary nude liquid lipstick, simply choose a formula that's a shade or two darker than your natural skin tone.
HOW TO APPLY AND REMOVE YOUR LIQUID LIPSTICK
Ready to rock your pretty new pout all around town? Follow these steps to applying and removing liquid lipstick like a pro. Who needs a MUA around when you can do this on your own, right?
Step 1: Exfoliate and hydrate first. Applying liquid lipstick over dry, flaky lips? That'd be a no-go in our book. So, before putting that liquid lipstick anywhere near your lips, exfoliate them with a lip scrub — we love the L'Oréal Paris Pure-Sugar Nourish & Soften Scrub— then follow up by swiping on a hydrating lip conditioner.
Step 2: Prep your pout with lip primer. Once you're done exfoliating and hydrating, apply a lip primer to help ensure your color doesn't feather outside the lines as well as create a smooth base for your liquid lipstick application? No lip primer on hand? No problem? You can dab on a tiny bit of foundation or concealer in a pinch.
Step 3: Apply your liquid lipstick. Apply your liquid lipstick starting at the center of your upper lip. Work from the center to the outer edges of your lips, following the contour of your mouth. Then glide the liquid lipstick across your bottom lip and fill in. And just like that, your lips are looking gorgeous!
Step 4: Remove your liquid lipstick. To take off the long-lasting liquid lipstick at the end of the day, use an oil-based makeup remover or the L'Oréal Paris Micellar Cleansing Water Complete Cleanser Waterproof – All Skin Types. Just saturate a cotton pad with the micellar water and wipe the pad across your lips.
Love lipstick? Click over to our article, 3 Mermaid Lip Looks to Rock All Summer Long, to learn about one of the most must-have color trends of the season.
{ "@context": "https://schema.org/", "@type": "WebPage", "speakable": { "@type": "SpeakableSpecification", "cssSelector": ["speakable-content"] }, "url": "https://es.lorealparisusa.com/revista-de-belleza/maquillaje/maquillaje-labios/liquid-lipstick-shade-by-skin-tone" }
Descubrir más trucos y consejos
Ver todos los artículos
Shop Featured Makeup products
Discover More
{ "@context": "http://schema.org", "@type": "BreadcrumbList", "itemListElement": [ { "@type":"ListItem", "position": 1, "item": { "@id": "/", "name": "Home" } } , { "@type":"ListItem", "position": 2, "item": { "@id": "https://es.lorealparisusa.com/revista-de-belleza", "name": "Revista de belleza" } } , { "@type":"ListItem", "position": 3, "item": { "@id": "https://es.lorealparisusa.com/revista-de-belleza/maquillaje", "name": "Consejos de maquillaje para cada look" } } , { "@type":"ListItem", "position": 4, "item": { "@id": "https://es.lorealparisusa.com/revista-de-belleza/maquillaje/maquillaje-labios", "name": "Maquillaje de labios" } } , { "@type":"ListItem", "position": 5, "item": { "@id": "https://es.lorealparisusa.com/revista-de-belleza/maquillaje/maquillaje-labios/liquid-lipstick-shade-by-skin-tone", "name": "liquid-lipstick-shade-by-skin-tone" } } ] }