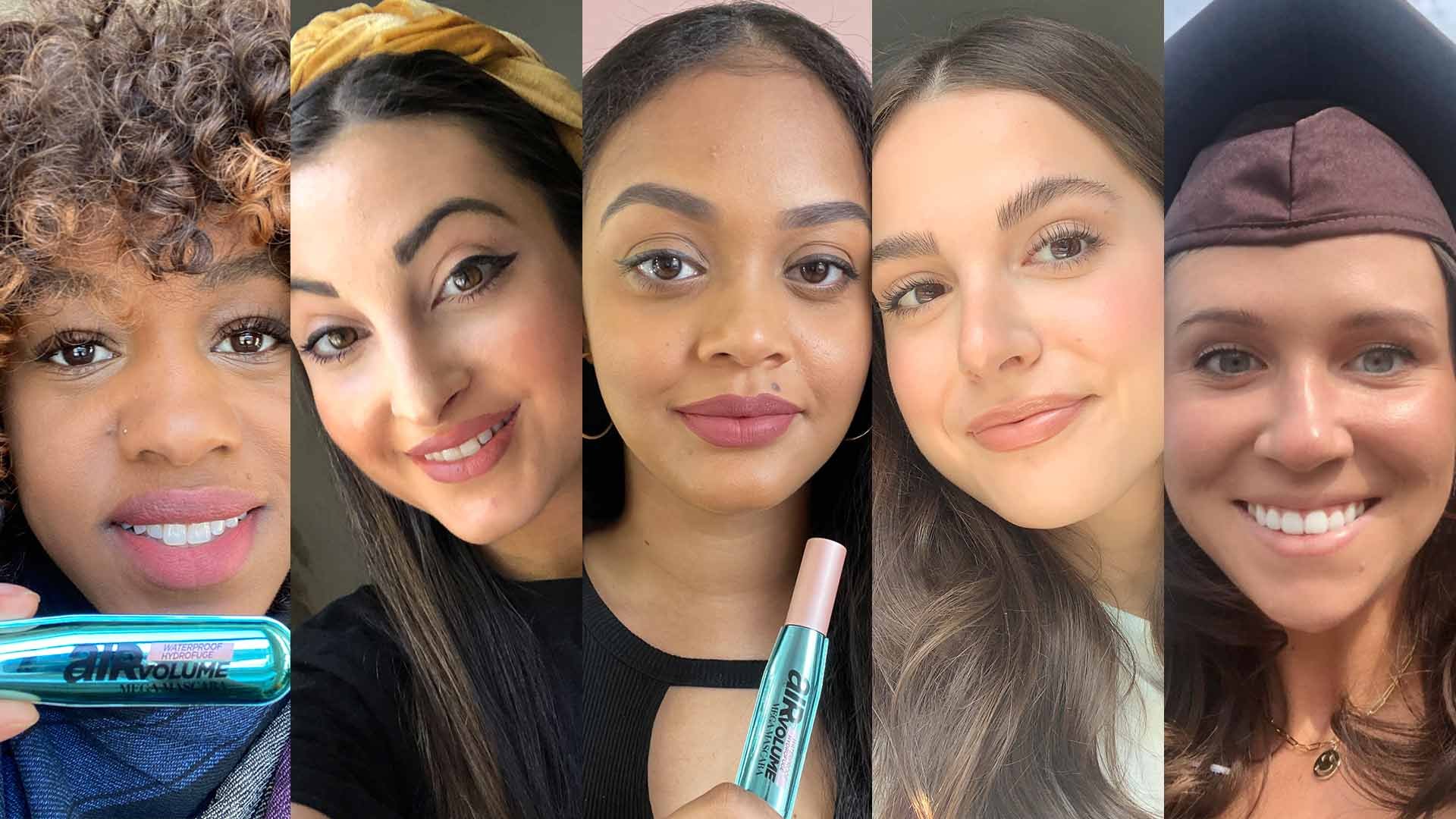 maquillaje de ojos
5 Editors, 5 Summer Events, 1 Waterproof Mascara — Here's What Happened
When it comes to waterproof makeup, our editors don't mess around—especially with mascara. The combination of hot temps, outdoor activities, vaccine appointments and everything opening back up this summer has us all yearning for a formula that will be smudge-, budge- and skip-proof. That's why we couldn't wait to get our hands on the L'Oréal Paris Air Volume Mega Mascara Waterproof to put it to the ultimate summer 2021 test. Keep reading to see how it held up for five editors, through five events under the hot summer sun.
Shalwah, Senior Editor
Activity: Summer Date Night
There's nothing I love more than getting dolled up for a date night when it's warm outside. But I'm awful at applying falsies and my allergies are at a ten year-round. That means itching, burning, watery, tender eyes make wearing mascara more fuss than it's worth at times. So I took Air Volume Mega Mascara Waterproof for a test drive to see how it would last through dinner and drinks in the hot summer sun (many mascaras don't). T I loved that it gave my lashes that light, fluttery effect that I don't get with other formulas. My lashes were lifted and extended, and they stayed put all night—they even survived a mindless rub halfway through dessert. I added falsies to the corners and the Air Volume formula blended them seamlessly into my lashes. What falsies? I also love that the mascara smells fresh and not inky, which is a big plus for me since I'm so sensitive to smells. I confidently made flirty eyes at my hubby all night and didn't have raccoon eyes by the time we got home.
Alanna, Assistant Managing Editor
Activity: Got Vaccinated
True story: I'm a mascara fanatic. I don't leave the house wearing a few coats, so I decided to rock Air Volume Mega Mascara Waterproof, that's right, to my second vaccine appointment. Almost immediately — I loved how easy it was to apply and how lightweight it felt on my lashes. I headed out on a hot day to my vaccine location and by the time I got there, I checked in with a pocket mirror and didn't feel the need to touch up or clean up anything — no smudges, streaks or marks in sight. After my shot, I celebrated with a long walk in 75 degree heat and my mascara held up perfectly. When I got home, I noticed that it still hadn't budged an inch, and it remained that way until I took my makeup off before bed. I can already tell I'll be reaching for this again this summer, next time for my first post-vax beach trip!
Shauna, Associate Editor
Activity: Post-Vaccine Girls Night Out
My best friend organized a girls' night out, and I was more than excited to go outside—and even more happy to put on a full face of makeup for the first time since last summer. To complete my eye makeup look for the night, I decided to test out the Air Volume Mega Mascara Waterproof. And after a few swipes to my top and bottom lashes, I was impressed. My lashes looked more defined and voluminous, and its waterproof claim rings true. Throughout dinner I constantly had to rub my eyes (allergies, sigh) and was pleased to see that my mascara didn't smudge or smear. I absolutely love this product and will definitely be stocking up on a couple more to get me through the summer!
Caitlyn, Assistant Editor
Activity: Graduation
When my university told me and my fellow Class of 2020 graduates that we would be having an in-person graduation ceremony one year later, I knew I needed to find a mascara that would withstand 90 degree heat and a fair share of waterworks. For the big day, I put on a few coats of the Air Volume Mega Mascara Waterproof in the hopes that it would stay put through hours of sitting in the hot sun and tearfully reminiscing on old times with friends. After putting it to the ultimate test, I'm happy to report that this formula completely exceeded my expectations — there wasn't a single smudge on my hooded eyelids or a single flake sitting under my eyes, even after a long day of celebrating. You can bet that this mascara will be a mainstay in my makeup routine all summer long!
Alyssa, Assistant Editor
Activity: Full Day of Errands
I'm all about volume and separation when it comes to my lashes, but unfortunately for me, many of the mascaras that give my top lashes the look I desire fail to stay put on my bottom lashes. I'm plagued with terrible running and smudging beneath my lower lash line and it quickly ruins a beautiful makeup look. When I decided to test out the waterproof version of my beloved Air Volume Mega Mascara on a hot, humid Sunday full of grocery shopping and a long walk uptown, I tried to tame my expectations. To my surprise, I returned home late in the afternoon to smudge-free makeup. The mascara held up beautifully on my lower lashes despite my busy day and the not-so-ideal weather conditions. It will certainly be a summer go-to for me when I want a mascara I know I can rely on!
{ "@context": "https://schema.org/", "@type": "WebPage", "speakable": { "@type": "SpeakableSpecification", "cssSelector": ["speakable-content"] }, "url": "https://es.lorealparisusa.com/revista-de-belleza/maquillaje/maquillaje-ojos/air-volume-waterproof-mascara-review" }
Descubrir más trucos y consejos
Ver todos los artículos
Shop Featured Makeup products
Discover More
{ "@context": "http://schema.org", "@type": "BreadcrumbList", "itemListElement": [ { "@type":"ListItem", "position": 1, "item": { "@id": "/", "name": "Home" } } , { "@type":"ListItem", "position": 2, "item": { "@id": "https://es.lorealparisusa.com/revista-de-belleza", "name": "Revista de belleza" } } , { "@type":"ListItem", "position": 3, "item": { "@id": "https://es.lorealparisusa.com/revista-de-belleza/maquillaje", "name": "Consejos de maquillaje para cada look" } } , { "@type":"ListItem", "position": 4, "item": { "@id": "https://es.lorealparisusa.com/revista-de-belleza/maquillaje/maquillaje-ojos", "name": "Maquillaje de ojos" } } , { "@type":"ListItem", "position": 5, "item": { "@id": "https://es.lorealparisusa.com/revista-de-belleza/maquillaje/maquillaje-ojos/air-volume-waterproof-mascara-review", "name": "air-volume-waterproof-mascara-review" } } ] }