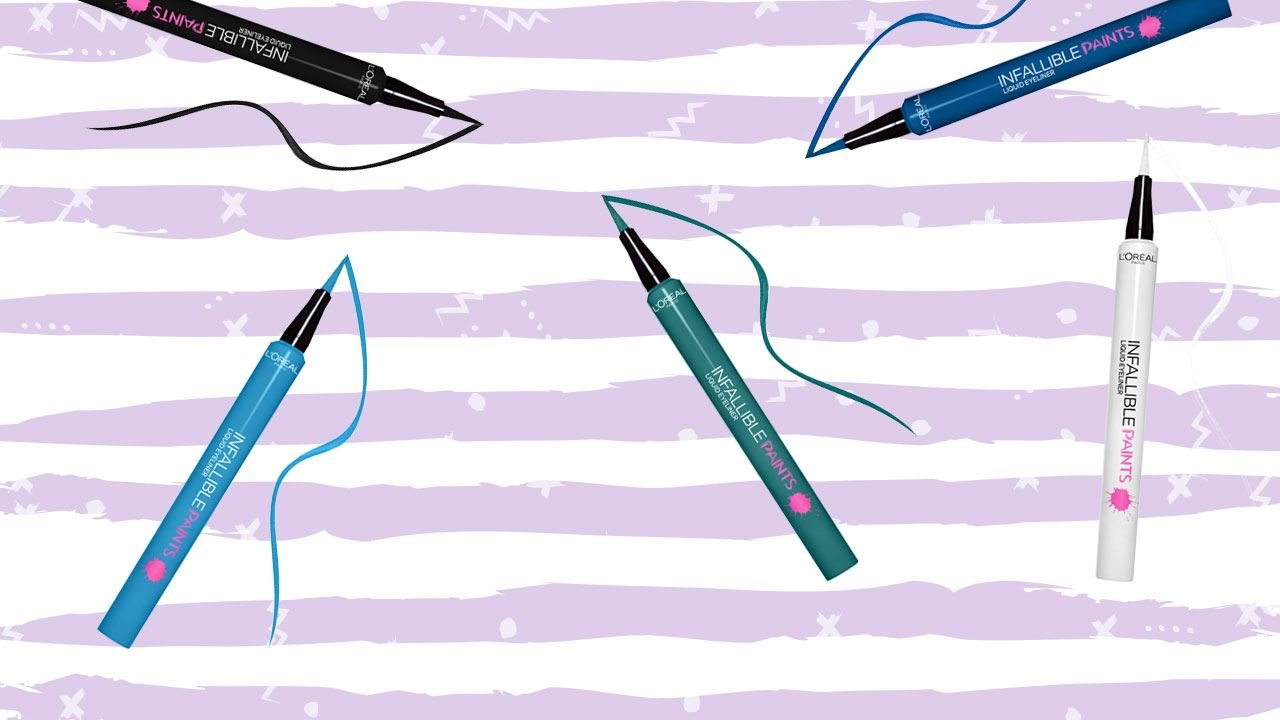 It's time for a quick poll! Have you ever found it difficult to master the art of using liquid eyeliner? You're not alone—we've all been there. You apply foundation, perfect your contour, achieve the perfect glow-y highlight, and nail the two-toned statement eye you've been practicing for weeks, only to attempt applying liquid eyeliner, royally messing it up. The struggle is real.
Whether you have shaky hands and can't quite get a straight line or you can't seem to get the lines on both your lids straight, we know how frustrating it can be. But before you set aside your liquid liner for good, check out our list of eight hacks for using the L'Oréal Paris Infallible Paints Eyeliners.
Infallible Paints Eyeliner Hack #1: Apply It After Eye Shadow
When you apply eye shadow after eyeliner, this can take away from the sharp look that you just spent all that time drawing on. So, make sure to always start with your statement eye and top it off with the liquid liner of your choice.
Infallible Paints Eyeliner Hack #2: Hold It Near the End of the Tube
When you hold your eyeliner pen like a pencil, it can put too much pressure on the point, which is why it can be tough to create a smooth line.
Infallible Paints Eyeliner Hack #3: Tilt Your Chin Up Ever-So-Slightly
Instead of looking straight forward and closing one eye at a time, try tilting your head back with a half-shut gaze when you apply liquid eyeliner. When you do this, it can help you achieve your look with less of a chance of it smearing onto your upper lid.
Infallible Paints Eyeliner Hack #4: Apply It with Your Eyes Open if You Have Hooded Eyes
When you have hooded eyes, eye makeup can be tricky. If you apply it when your eyes are closed, half of it will disappear into your hidden crease once they're open. That's why you want to keep your eyes open and looking straight forward when creating liquid liner looks. If you opt for a cat eye, draw your line across your lid and slightly up over your outer crease. When you close your eyes, it may look a bit like a lightning bolt, but when they're open, your makeup will look picture-perfect.
Infallible Paints Eyeliner Hack #5: Give Yourself a Guideline
Sometimes the hardest part about using liquid liner is knowing where to put it. The same way you sometimes start an art project with pencil before going over it with pen, you can sketch a line in a light pencil shadow so you know exactly where to line your lids.
Infallible Paints Eyeliner Hack #6: Use Dashes
There's a good chance that a lot of your liner woes lay in the fact that you're trying to perfect your lined lids with a single stroke of liner. When it comes to liquid liner, one thing you can try is to apply it in short, little dashes until you reach the outer edge and end it in a flick. When you work with dashes, you'll be able to make sure each small segment is straight—so once they're all connected, your end look will seem flawless.
Infallible Paints Eyeliner Hack #7: Clean Up Smudges with Micellar Water
You don't have to take all your makeup off when you smudge your liner. Just reach for a cotton swab and soak it with some of the L'Oréal Paris Micellar Cleansing Water Complete Cleanser Waterproof – All Skin Types to dab away any mistakes.
Infallible Paints Eyeliner Hack #8: Pick the Right Shade for Your Mood
Along with summer comes the perfect opportunity to change up your everyday look and rock a handful of bright colors. Find your match from the list below!
Jet black: If you're a classic girl and color simply isn't an option, deepen your statement eye with a thick line of ultra-black liner.
Get the look: L'Oréal Paris Infallible Paints Eyeliner in Black Party
Bright white: Place a gentle swipe of white blended along your under-eye area, or go for a more retro look with tiny white wing tips.
Get the look: L'Oréal Paris Infallible Paints Eyeliner in White Party
Cobalt blue: Embrace the season's hottest trend with a swipe of bright blue along your upper lash line, or blend it along the bottom for a more boho vibe.
Get the look: L'Oréal Paris Infallible Paints Eyeliner in Electric Blue
Mermaid aqua: Let your eyes mimic your favorite tropical vacation with a magical blue that perfectly embraces the season's love of mythical creatures.
Get the look: L'Oréal Paris Infallible Paints Eyeliner in Vivid Aqua
Sky blue: Clear blue skies (and eyes) ahead. Add a pretty pop of color to your peepers with this hue.
Get the look: L'Oréal Paris Infallible Paints Eyeliner in Intrepid Teal
Peacock green: Switch up your dark eye look with a trace of moody greenish-blue. Wear it as wings or a graphic dotted eye for boho vibes that we can't get enough of.
Get the look: L'Oréal Paris Infallible Paints Eyeliner in Wild Green
{ "@context": "https://schema.org/", "@type": "WebPage", "speakable": { "@type": "SpeakableSpecification", "cssSelector": ["speakable-content"] }, "url": "https://es.lorealparisusa.com/revista-de-belleza/maquillaje/maquillaje-ojos/infallible-paints-eyeliner-hacks" }
Descubrir más trucos y consejos
Ver todos los artículos
Shop Featured products
Discover More
{ "@context": "http://schema.org", "@type": "BreadcrumbList", "itemListElement": [ { "@type":"ListItem", "position": 1, "item": { "@id": "/", "name": "Home" } } , { "@type":"ListItem", "position": 2, "item": { "@id": "https://es.lorealparisusa.com/revista-de-belleza", "name": "Revista de belleza" } } , { "@type":"ListItem", "position": 3, "item": { "@id": "https://es.lorealparisusa.com/revista-de-belleza/maquillaje", "name": "Consejos de maquillaje para cada look" } } , { "@type":"ListItem", "position": 4, "item": { "@id": "https://es.lorealparisusa.com/revista-de-belleza/maquillaje/maquillaje-ojos", "name": "Maquillaje de ojos" } } , { "@type":"ListItem", "position": 5, "item": { "@id": "https://es.lorealparisusa.com/revista-de-belleza/maquillaje/maquillaje-ojos/infallible-paints-eyeliner-hacks", "name": "infallible-paints-eyeliner-hacks" } } ] }