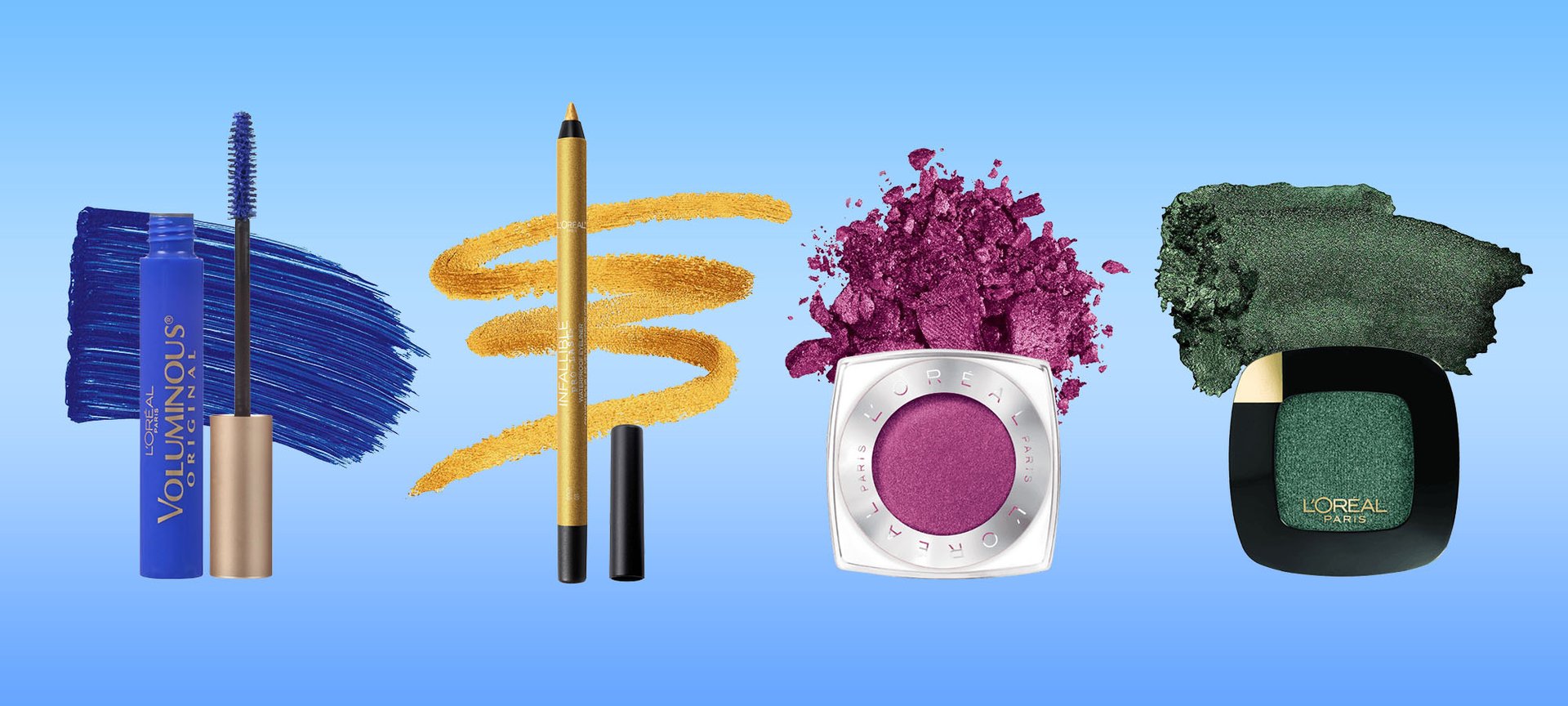 maquillaje de ojos
15 Products To Rock The Jewel-Tone Eyes Trend This Holiday Season
Shine bright like a diamond.

When it comes to lighting up the eye, nothing beats the dazzling effect of precious jewel tones.
Give your eyes a multi-faceted makeover by swapping your black and brown eye makeup for a super-flattering, amethyst, emerald, or sapphire shade. From pigment-packed eyeshadows to gem-inspired eyeliners achieving a bold, statement-making jewel-toned look is easier than ever.
Below, we're sharing all the products you need to create a high-shine jewel-toned holiday look.
The Best Sapphire Eye Makeup
This precious gemstone blue hue is an enchanting color that pairs swimmingly with a sea of different eye colors and skin tones. To create a heart-of-the-ocean-inspired eye makeup look, start with one of these sea-colored shades.
This beautiful sapphire eyeshadow palette is made up of varying shades of blue and teal. The sparkling azure hues have a powder-cream hybrid formula that glides on effortlessly, leaving behind a vibrant pigment with a hint of shimmer too. You can play with one shade or dive into all of the colors in this cerulean range.
This stunningly sapphire eyeliner is the perfect way to bring a hint of boldness to your makeup look. It's formulated for all-day wear and provides a vivid matte finish that will go the distance and features a brush applicator with a shortened stem that allows you to get closer to the eye for precision.
A blue mascara will draw attention to your eyes and ensure that your look is anything but bland. Pair a coat of cobalt mascara with a simple makeup look to add major contrast or make a subtle sapphire statement and only apply it to your bottom lashes.
The Best Gold Eye Makeup
If all that glitters is gold, then your eyes are sure to shine in a dazzling gold eye makeup look. This sun-kissed color comes in a range of shades, from copper to bronze, so you've got plenty of choices to help you create a jewel-toned look that shimmers with sophistication.



This rich, glamorous shade of gold opens up a jewelry box of color for your eyes. Its luxurious powder-cream texture and highly pigmented hue give the eyes a deeply dimensional glow that lasts from dusk until dawn.


This true gold shade will instantly add a touch of regalness to any eye makeup look. Coat your lids in this high-impact, high-shimmer liquid eyeshadow, or pop it onto your inner corners for a look that shines all day long.
This shimmery eye pencil is great for when you just want to add a subtle pop of color to the eyes. It's a long-lasting, smudge-proof eyeliner with a super creamy formula that allows it to glide on easily. For a bolder bronzed look, try pairing it with a different colorful mascara shade, like emerald green to create a multi jewel-toned eye effect.
The Best Amethyst Eye Makeup
The signature shade of royalty, amethyst is one of the most stunning jewel-tone hues. From lavender eyeshadow to eggplant eyeliner, there's a colorful array of amethyst eye makeup options to create a royally stunning jewel-tone look.
This palette features four violet hues ranging from light to dark so you can try out multiple purple shades and use them for a variety of makeup looks. They're just right for creating a flawless gradient, fading from the lightest violet hue into the darkest.

A super pigmented deep purple will make your eyes pop without having to go all over amethyst on your lids. This ink-like formula mechanical eyeliner glides easily across lids to deliver a long-lasting, fade-resistant, high-impact color for your best look.

When it comes to wearing purple mascara, it's all about making a statement. This rich shade of purple will bring out the undertones in your eyes while still offering a bit of contrast. This mascara has the same cult-classic formula that separates and builds every lash with intense volume and thickness in a stunning violet hue.
The Best Garnet Eye Makeup
Garnet is a fiercely flattering red hue that will instantly draw attention to your face no matter where it's placed. From fire-engine red to maroon, your red eye makeup options are nearly endless when it comes to rocking a garnet-inspired jewel-tone eyeshadow look.
While red eyeshadow might seem a tad daring, you can always tone it down by opting for a garnet color. The pinkish-red hues in this palette create a multifaceted eye makeup look that isn't alarming but still remarkably red.
For a subtle shade of garnet, line your waterline with a burgundy eyeliner for an unexpected and understated red makeup look. Use a small eyeshadow brush to smudge out the color a bit for a sultry effect.


L'Oréal Paris Voluminous Voluminous Original Washable Bold Eye Mascara in Deep Burgundy
This vivid burgundy mascara will brighten up your eyes and provide a creative spin to your makeup look. Apply the burgundy formula to your top and bottom lashes just as you would your regular mascara, placing the brush at the base of your lashes and gently sweeping to the tips.
The Best Emerald Eye Makeup
An emerald-toned makeup look draws inspiration from nature and brings the lushness of green jewels to your face. If you want to embrace the gorgeous green hue, here's all the emerald eye makeup to add to your makeup bag.
As far as jewel tones go, emerald green is the most neutral of these vibrant hues, so it looks good on almost everyone. This golden emerald eyeshadow is just enough color to make your eyes pop without looking over the top.
If green eyeshadow isn't a go, you may find that eyeliner is more your speed when it comes to trying an emerald eye makeup look. Take a break from your beloved black eyeliner and try a wild green lash line with this must-have instead.
Jazz up your lashes by adding emerald mascara to your eye makeup look. For a two-toned jewel-colored fringe, reach for two different colored mascaras and apply one shade to your top lashes and the other shade to your bottom lashes.
Next: How To Get A Nude Soft Glam Winter Look, According to A Celebrity Makeup Artist
Written by: Lauren Paige Richeson, Photo Credit: Sarah Duvivier
{ "@context": "https://schema.org/", "@type": "WebPage", "speakable": { "@type": "SpeakableSpecification", "cssSelector": ["speakable-content"] }, "url": "https://es.lorealparisusa.com/revista-de-belleza/maquillaje/maquillaje-ojos/jewel-tone-eye-makeup" }
Descubrir más trucos y consejos
Ver todos los artículos
Mejora tu rutina
Muestra más amor a tu nuevo look:
makeup
{ "@context": "http://schema.org", "@type": "BreadcrumbList", "itemListElement": [ { "@type":"ListItem", "position": 1, "item": { "@id": "/", "name": "Home" } } , { "@type":"ListItem", "position": 2, "item": { "@id": "https://es.lorealparisusa.com/revista-de-belleza", "name": "Revista de belleza" } } , { "@type":"ListItem", "position": 3, "item": { "@id": "https://es.lorealparisusa.com/revista-de-belleza/maquillaje", "name": "Consejos de maquillaje para cada look" } } , { "@type":"ListItem", "position": 4, "item": { "@id": "https://es.lorealparisusa.com/revista-de-belleza/maquillaje/maquillaje-ojos", "name": "Maquillaje de ojos" } } , { "@type":"ListItem", "position": 5, "item": { "@id": "https://es.lorealparisusa.com/revista-de-belleza/maquillaje/maquillaje-ojos/jewel-tone-eye-makeup", "name": "jewel-tone-eye-makeup" } } ] }