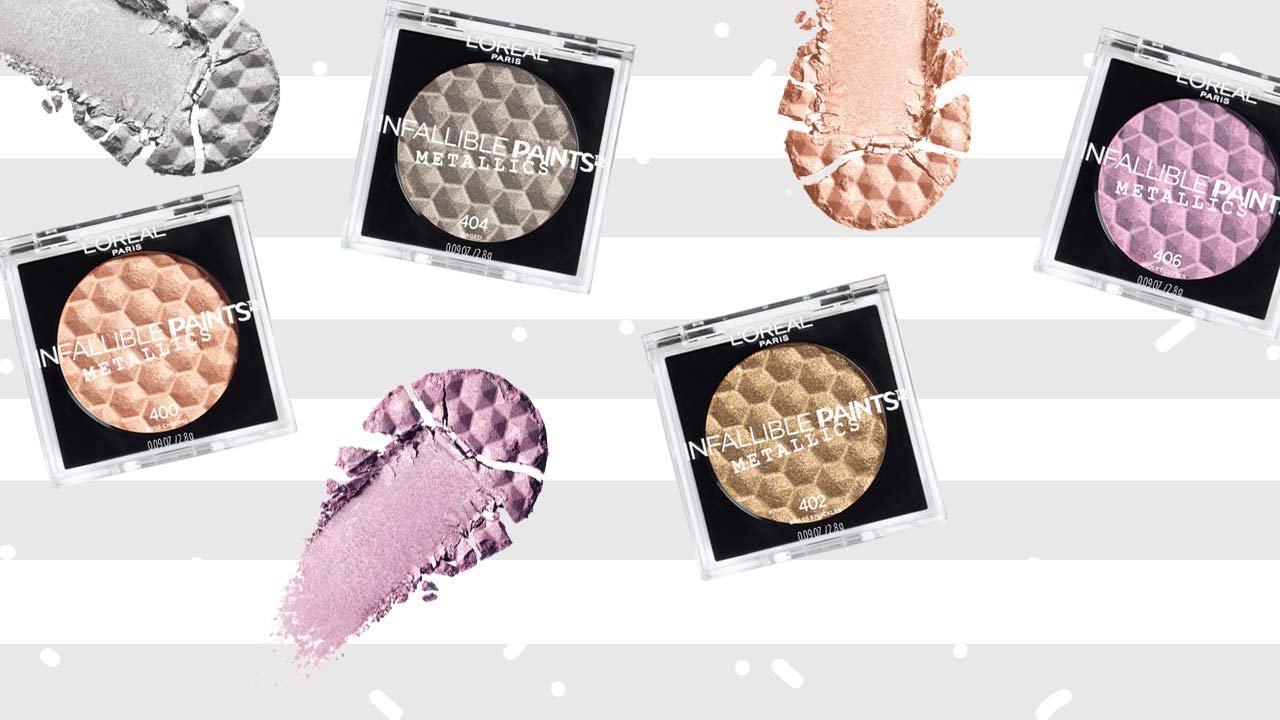 Metallics are having a serious moment here in 2018. From clothing and accessories to lipstick and eye shadow, it's safe to say this finish is on trend right now. While matte nudes will never go out of style—they're a classic for a reason—metallic makeup is definitely a fun departure for when you want to get a little bit more dramatic with your look. And what better time to experiment with foil-like eye shadow than in the summer months? Try the L'Oréal Paris Infallible Paints Metallics Eye Shadow collection, which comes in five gorgeous shades, or the L'Oréal Paris Infallible Crushed Foils Metallic Eye Shadow collection, which comes in three high-shimmer shades. Use the following tips to create a beautiful foil-finish metallic eye makeup look this summer.
METALLIC EYE SHADOW TIP #1: USE PRIMER FIRST
As with any eye shadow you're planning on wearing, it's a good idea to dab on a bit of eye primer to your lids before applying color. An eye primer can help create a smooth base for your metallic makeup application, as well as help prevent creasing and smudging, which, let's be real, can be a common occurrence in the summer. If you don't have an eye primer on hand, you can tap on a tiny bit of foundation or concealer instead.
METALLIC EYE SHADOW TIP #2: STICK TO TWO COLORS, TOPS
With so many shimmery metallic eye shadow shades to choose from, you might find yourself wanting to incorporate a handful of colors into your look. Of course, you can totally do that if you'd like. That being said, if you want to take a slightly more subdued, modern approach to the metallic makeup trend, consider using two eye shadow colors max, so as to not overwhelm your eyes. Another metallic eye shadow tip: When choosing hues, look for ones that have a smooth shimmer as opposed to more noticeable glittery chunks. The smooth finish can help make it easier to blend for a more seamless look.
METALLIC EYE SHADOW TIP #3: KEEP IT CONFINED TO YOUR LIDS (AND UNDER-EYE AREA)
When it comes to metallic eye shadow, the most flattering placement is on your lids and just under your eyes. While you may have other eye shadows that are great for blending all the way up to your eyebrow bone, placing metallic eye shadows that high could come off looking a bit dated and overdone. For that reason, we suggest keeping your glimmer to your lids—or just beyond that if you're going for a smoky eye. Less is definitely more in the case of metallic eye shadow!
METALLIC EYE SHADOW TIP #4: BALANCE FINISHES AND TEXTURES
This means two things. First, when using metallic eye shadows, balancing them out with a matte eye shadow can soften your look for a more contemporary approach to this throwback makeup trend. What's more, regardless of what types of finishes you decide to pair together, stick to one texture—meaning powders with powders, liquids with liquids, or creams with creams so that you're easily be able to blend.
METALLIC EYE SHADOW TIP #5: APPLY METALLIC EYE SHADOW WITH THE RIGHT BRUSH
Fluffy blending brushes definitely have their place—but they're not the right pick for applying metallic eye shadow. Instead, you'll want to opt for a denser bristled brush to achieve the look. When you use a fluffy eye shadow brush, you run the risk of having metallic eye shadow fall onto other areas of your face—leaving you with a mess to clean up. A denser bristle brush will allow for more targeted metallic eye shadow application.
METALLIC EYE SHADOW TIP #6: TRY PAIRING IT WITH SHARP EYELINER
While metallic eye shadow certainly makes a statement all on its own, one way to take it up a notch is with an extra-sharp swoosh of eyeliner along your upper lash lines. If you want to stick with the metallic trend, try using the L'Oréal Paris Voluminous Lash Paradise Liquid Eyeliner in Rose Gold. And, no worries if not, because this lust-worthy liquid eyeliner is also available in black.
METALLIC EYE SHADOW TIP #7: FINISH OFF WITH MASCARA
What makeup look wouldn't benefit from a coat of mascara? Once you're done with your metallic eye makeup, apply the L'Oréal Paris Voluminous Lash Paradise Mascara, sweeping the brush up to the tips of your lashes. For an extra volumizing boost, try swiping on some of the L'Oréal Paris Voluminous Lash Paradise Mascara Primer/Base before applying any mascara—you'll swoon over the results.
METALLIC EYE SHADOW TIP #8: REMOVE IT ALL GENTLY AT THE END OF THE DAY
Metallic makeup can make a colorful statement—so keep a micellar water by your bed for easy removal before you go to sleep. Micellar water is a no-rinse cleansing option that you can use on the go. Try the L'Oréal Paris Micellar Cleansing Water Complete Cleanser Waterproof – All Skin Types. Just saturate a cotton pad with the micellar water and hold the pad over closed eyes for a few seconds.
Now, if you're as mad about metallic as we are, you could even pair your metallic lid look with a metallic lip using the L'Oréal Paris Infallible Crushed Foils Metallic Lipstick. For more glowing makeup ideas, check out our article, How to Wear Gold Highlighter on Every Skin Tone.
{ "@context": "https://schema.org/", "@type": "WebPage", "speakable": { "@type": "SpeakableSpecification", "cssSelector": ["speakable-content"] }, "url": "https://es.lorealparisusa.com/revista-de-belleza/maquillaje/maquillaje-ojos/metallic-eye-shadow-for-summer" }
Descubrir más trucos y consejos
Ver todos los artículos
Shop Featured Makeup products
Discover More
{ "@context": "http://schema.org", "@type": "BreadcrumbList", "itemListElement": [ { "@type":"ListItem", "position": 1, "item": { "@id": "/", "name": "Home" } } , { "@type":"ListItem", "position": 2, "item": { "@id": "https://es.lorealparisusa.com/revista-de-belleza", "name": "Revista de belleza" } } , { "@type":"ListItem", "position": 3, "item": { "@id": "https://es.lorealparisusa.com/revista-de-belleza/maquillaje", "name": "Consejos de maquillaje para cada look" } } , { "@type":"ListItem", "position": 4, "item": { "@id": "https://es.lorealparisusa.com/revista-de-belleza/maquillaje/maquillaje-ojos", "name": "Maquillaje de ojos" } } , { "@type":"ListItem", "position": 5, "item": { "@id": "https://es.lorealparisusa.com/revista-de-belleza/maquillaje/maquillaje-ojos/metallic-eye-shadow-for-summer", "name": "metallic-eye-shadow-for-summer" } } ] }