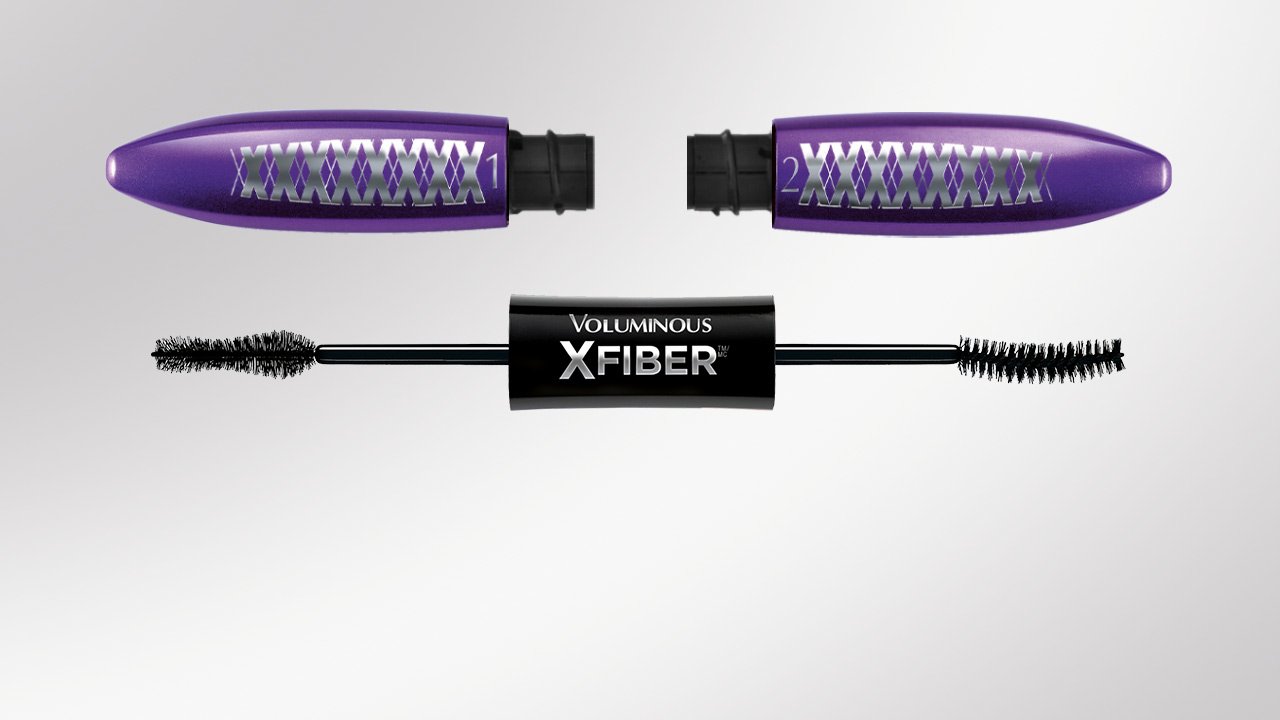 The beauty industry is constantly evolving, with new makeup products hitting shelves practically every day. Seriously, it can be hard to keep up! That's why we totally understand if you're still wondering what a fiber mascara even is. This type of mascara may be rising in popularity, but how does it actually work? And, more importantly, what's the scoop on our L'Oréal fiber mascara? We're here to fill you in on all things fiber lash mascara, including telling you all about our very own fiber mascara, the L'Oréal Paris Voluminous X Fiber Mascara. Keep reading for a full review on our best fiber mascara, so you add it to your next makeup look!
L'ORÉAL PARIS FIBER MASCARA REVIEW
If you're curious about the fiber mascara trend and are in the midst of scoping out the best fiber mascara to try, you're in luck. Below, we've broken down all there is to know about our L'Oréal fiber mascara and combined the info into a thorough review—covering what a fiber mascara is, why you should use one, and how to use one!
WHAT IS FIBER MASCARA?
We're sure you've heard of fiber mascara—but do you really know what it is? Our fiber mascara is dual-ended, with a black lash primer on one end and a fiber mascara on the other. The black primer helps to build the appearance of volume on lashes and creates a smooth and even black base to prep your lashes for fibers. Meanwhile, the intense black mascara features lengthening fibers to lengthen the look of your lashes. These teeny-tiny fibers are deposited smoothly along the length of lashes as you brush on the mascara.
Editor's tip: For more on the different kinds of mascaras, check out our article, Mascara 101: Your Guide to the Different Mascara Formulas.
WHY SHOULD YOU USE FIBER MASCARA?
Now that you get how fiber mascara works, it's time to move onto the fun part: why you should add it to your makeup bag! If you're the kind of gal who likes to stand out on special occasions or add a touch of drama to your appearance on the weekends, then fiber mascara could be the perfect choice for you, as the black primer and lengthening fibers make for a duo that creates a dramatic finish.
HOW DO YOU USE FIBER MASCARA?
When it comes to doing something new, like using a fiber mascara for the first time, we tend not to recommend winging it. You'll be better off giving it an educated attempt. Read our simple four-step guide to using our L'Oréal fiber mascara below, then give it a whirl.
STEP #1: REMOVE ANY LINGERING MAKEUP
Ever removed your makeup before bed, only to wake up with mascara streaks under your eyes? Yeah, us too. To help make sure your lashes are free of old mascara before applying any other makeup, use the L'Oréal Paris Micellar Cleansing Water Complete Cleanser Waterproof – All Skin Types to remove makeup residue, even waterproof formulas. Saturate a cotton pad with the liquid makeup remover and hold it over closed eyes for a few seconds, then wipe away any remaining mascara.
STEP #2: CURL YOUR LASHES
Have straight lashes? Then don't skip this step! Before reaching for your fiber mascara, break out a lash curler. Hold the handy dandy tool up to your eye and place your lashes between the clamps, getting as close to the base of your lashes as you can—without pinching your eyelid. Close the clamp on your eyelashes and hold it for a few seconds. Clamp down for too long, and you risk giving your lashes an '80s 'do—a.k.a. crimping them—instead of curling. After you release, walk the eyelash curler out and repeat once in the middle of your lashes and once at the tips for a complete curl. (Trust us, you'll get the hang of it once you've done it a few times!)
STEP #3: APPLY LASH PRIMER
You've probably heard that lash primers are a must, but wouldn't it be nice not to have to use separate products? There's no need to have two separate mascaras on hand—just flip over our fiber mascara to use the lash primer side. Work the primer through your lashes, coating them in the black formula to help create a smooth, even base.
STEP #4: COAT WITH FIBER MASCARA
Here's where the fiber mascara comes into play. Once you're done priming, start brushing on the fiber mascara. Be sure to coat your lashes on both sides for maximum drama. And there you go! That's all it takes to use our L'Oréal fiber mascara and get a dramatic lash look.
HOW TO COMPLETE YOUR FIBER LASH MASCARA EYE LOOK
What's the best way to incorporate fiber mascara into your makeup routine? We happen to be of the mind that a dramatic lash look calls for equally dramatic eye makeup. Here's a step-by-step tutorial to complete your fiber mascara eye makeup look—just remember to do these steps prior to applying your mascara!
STEP #1: PRIME YOUR EYES
Before you get to applying eye shadow, you'll want to apply an eye primer to your lids to keep your shadow from fading or moving throughout the night.
STEP #2: GRAB YOUR EYE SHADOW
Now, it's time for the fun part: eye shadow! Amp up the drama to keep up with your voluminous lashes by trying something bold like red eye makeup. Paint your lids with a wash of the L'Oréal Paris Colour Riche Monos Eyeshadow in Acro-Matte. Then, apply a dark brown shade, like the L'Oréal Paris Colour Riche Monos Eyeshadow in Quartz Fume, in your crease to deepen the look. Finally, drag that same shade along your lower lash line for a sultry effect.
STEP #3: WING IT OUT
Your last step before breaking out your fiber mascara is to create your sharpest winged eyeliner. Use the L'Oréal Paris Infallible Flash Cat Eye Waterproof Brush Tip Liquid Eyeliner in Black to do just that.
All about that dramatic lash look? Here's How to Apply Magnetic Lashes for another bold lash option.
{ "@context": "https://schema.org/", "@type": "WebPage", "speakable": { "@type": "SpeakableSpecification", "cssSelector": ["speakable-content"] }, "url": "https://es.lorealparisusa.com/revista-de-belleza/maquillaje/maquillaje-ojos/what-is-fiber-mascara" }
Descubrir más trucos y consejos
Ver todos los artículos
Shop Featured Makeup products
Discover More
{ "@context": "http://schema.org", "@type": "BreadcrumbList", "itemListElement": [ { "@type":"ListItem", "position": 1, "item": { "@id": "/", "name": "Home" } } , { "@type":"ListItem", "position": 2, "item": { "@id": "https://es.lorealparisusa.com/revista-de-belleza", "name": "Revista de belleza" } } , { "@type":"ListItem", "position": 3, "item": { "@id": "https://es.lorealparisusa.com/revista-de-belleza/maquillaje", "name": "Consejos de maquillaje para cada look" } } , { "@type":"ListItem", "position": 4, "item": { "@id": "https://es.lorealparisusa.com/revista-de-belleza/maquillaje/maquillaje-ojos", "name": "Maquillaje de ojos" } } , { "@type":"ListItem", "position": 5, "item": { "@id": "https://es.lorealparisusa.com/revista-de-belleza/maquillaje/maquillaje-ojos/what-is-fiber-mascara", "name": "what-is-fiber-mascara" } } ] }