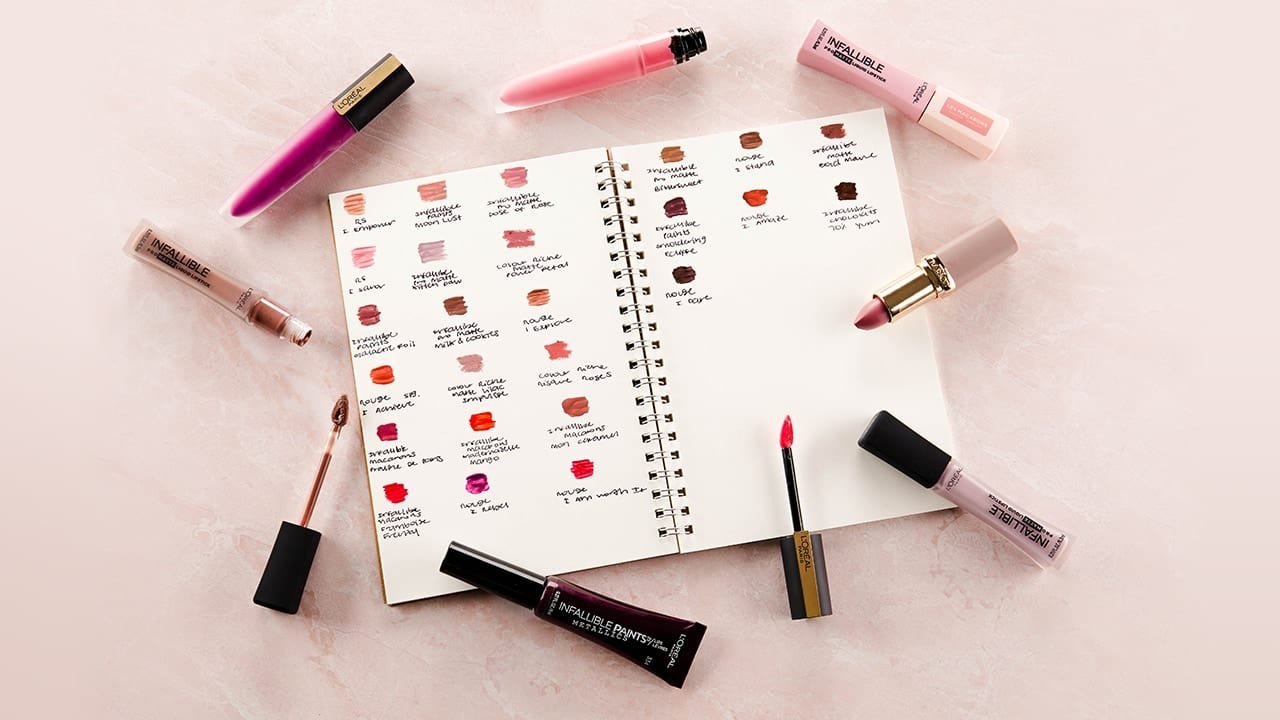 Calling all makeup junkies! Let's be honest—if you're makeup obsessed like we are, you likely have more lipstick, eye shadow, and blush than you can keep track of. And while we're all for a makeup collection full of options, having so many products to choose from can be a little overwhelming when deciding on the perfect makeup look. With products that look slightly different applied than in their packaging, this becomes an even more difficult process. Luckily, there's a new way to keep track of your makeup—and it's perfect for those with a vast makeup collection. DIY lipstick swatch books—and makeup swatch books—have begun taking over Pinterest, as they allow you to quickly assess all the products and shades you own. Keep reading to learn how to make a DIY makeup swatch book of your own!
What you'll need:
Scrapbook or dot journal
Pens, pencils, and markers
Your makeup collection
STEP #1: GRAB YOUR MAKEUP
Before you get to swatching, you'll want to choose the makeup products you want to swatch. Do you have a large collection of lipsticks? Have an array of foundation shades that perfectly match your skin tone for each season? Want to keep track of how pigmented your different eye shadow formulas are? Whatever the case, any makeup products you seem to have a lot of or that you simply want to keep tabs on are worthy of your makeup swatch book. Don't feel like you need to include every product you own and keep in mind that you can always add to your book as you go!
STEP #2: CHOOSE YOUR ORGANIZATION METHOD
Once you have your products, you'll want to decide the best way to organize them. Do you want to group them by brand? By color? By finish? It's totally up to you and what you think will be the most useful when putting your makeup swatch book to use.
STEP #3: GRAB YOUR SCRAPBOOK
Reach for your scrapbook or dot journal. If you're a bit of a perfectionist, a dot journal is a great option—each sheet has a dot grid that will help you keep things straight and orderly. If you'd rather have a makeup swatch book that's a little more carefree, a simple scrapbook will do the job!
STEP #4: CREATE YOUR SECTIONS
Once you have your groups sorted out, it's time to map out their placement! Use a pencil to outline where you want your swatches to be placed. Also, consider their shape. Do you prefer to have a line? A dot? Get creative! You can even use your lip print as a cute way to show off your swatches. Map out the approximate size of your swatches, number them, and label them. Once you've done this with a pencil, grab a pen or marker and trace over everything.
Editor's tip: Leave some extra space by each section for products you'll add to your collection later on!
STEP #5: SWATCH IT UP
Now for the fun part—swatching all of your makeup products! Apply them directly to the paper or use a cotton swab to do so. Take your time to ensure you don't smear any swatches or miss any products.
STEP #6: GIVE IT TIME
If you're filling more than one page in your scrapbook or journal, make sure to give each page of swatches time to dry before moving on. While eye shadows and bullet lipsticks, like the L'Oréal Paris Colour Riche Ultra Matte Highly Pigmented Nude Lipstick, won't require dry time, liquid formulas, like your beloved L'Oréal Paris Rouge Signature, Lasting Matte Liquid Lipstick, could take quite a while. If you need to speed things up, feel free to give your swatches a quick blast with your blow-dryer!
BONUS STEP: ADD SOME REVIEWS
While this step isn't necessary, it can be useful for when you haven't worn a particular product in a while. Add a "reviews" section or an index at the back of your makeup swatch book to add any thoughts you have on a product. Is it long-lasting? Does it need to be partnered with another product? Is it best when worn with a summer tan? Spill all the tea about your collection to help you narrow down your options when you're stuck between a few finalists for a look. It may take some time, but you'll thank yourself later!
Your makeup organization doesn't have to stop at a DIY makeup swatch book. In fact, there are many other DIY options for organizing and displaying your makeup collection. Head on over to our articles, How to Decorate Your Makeup Vanity and 21 Makeup Brush Holder Ideas, for all the inspo!
{ "@context": "https://schema.org/", "@type": "WebPage", "speakable": { "@type": "SpeakableSpecification", "cssSelector": ["speakable-content"] }, "url": "https://es.lorealparisusa.com/revista-de-belleza/maquillaje/tendencias-maquillaje/diy-makeup-swatch-book" }
Descubrir más trucos y consejos
Ver todos los artículos
Shop Featured Makeup products
Discover More
{ "@context": "http://schema.org", "@type": "BreadcrumbList", "itemListElement": [ { "@type":"ListItem", "position": 1, "item": { "@id": "/", "name": "Home" } } , { "@type":"ListItem", "position": 2, "item": { "@id": "https://es.lorealparisusa.com/revista-de-belleza", "name": "Revista de belleza" } } , { "@type":"ListItem", "position": 3, "item": { "@id": "https://es.lorealparisusa.com/revista-de-belleza/maquillaje", "name": "Consejos de maquillaje para cada look" } } , { "@type":"ListItem", "position": 4, "item": { "@id": "https://es.lorealparisusa.com/revista-de-belleza/maquillaje/tendencias-maquillaje", "name": "Tendencias de maquillaje" } } , { "@type":"ListItem", "position": 5, "item": { "@id": "https://es.lorealparisusa.com/revista-de-belleza/maquillaje/tendencias-maquillaje/diy-makeup-swatch-book", "name": "diy-makeup-swatch-book" } } ] }