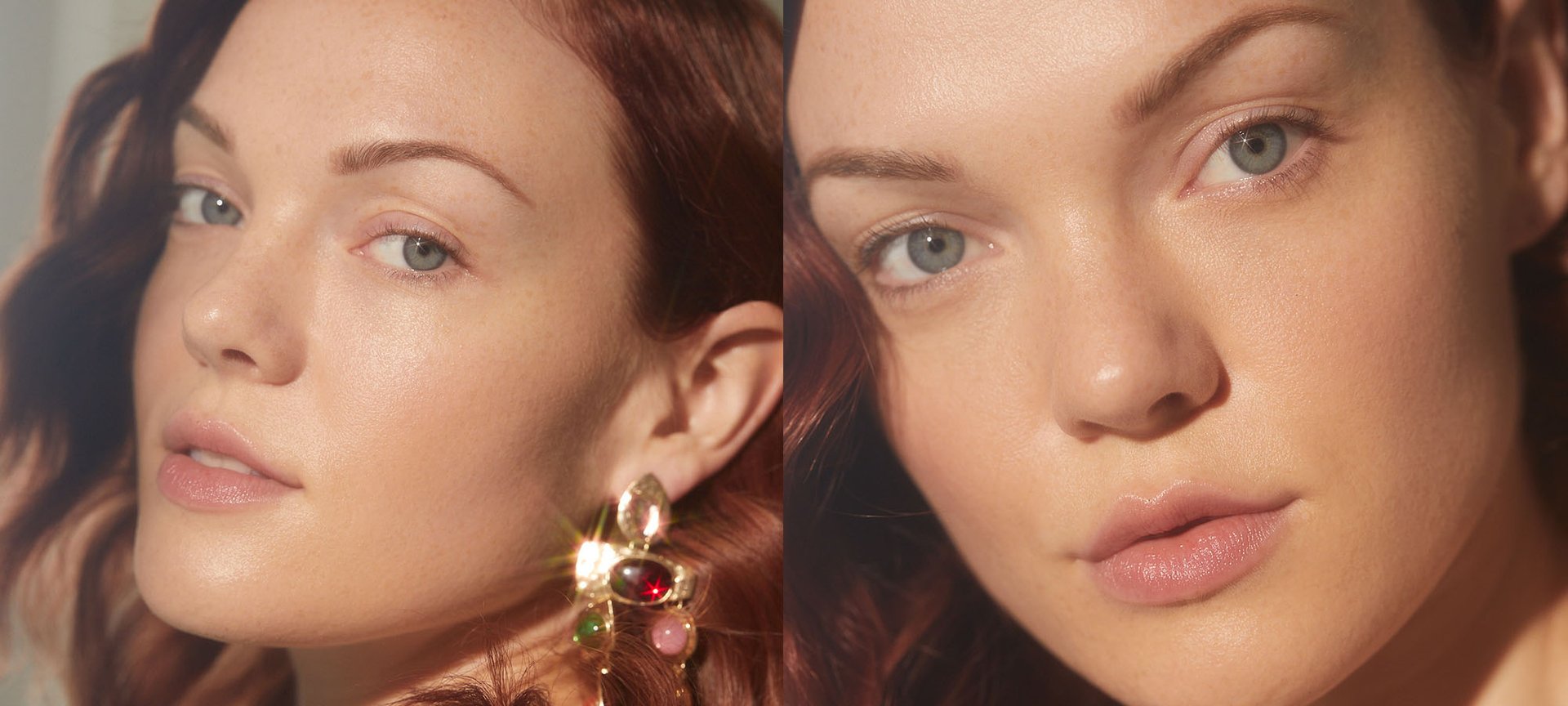 tendencias de maquillaje
How To Get The TikTok Trendy 'Clean Look' With Makeup
It's the ultimate no-makeup, makeup look.
If you're on BeautyTok, chances are you've seen the "clean look" all over your For You Page. If you haven't seen the influx of viral TikTok videos based on achieving the look, here's the 411: the clean look is characterized by a no-fuss makeup routine, including clean skin with minimal makeup, fluffy brows and even sleek hair. The best part is that you can get this ultra-polished look on your own with the help of a few affordable faves from the drugstore. Find our step-by-step guide to achieving TikTok's trendy clean look, ahead.

How To Achieve TikTok's Clean Look
Step #1: Cleanse Your Skin
It all starts with clean, well-cared-for skin. Wash your face with a gentle cleanser and follow up with a micellar cleansing water, like the L'Oréal Paris Micellar Cleansing Water Complete Cleanser Waterproof, to make sure you've removed every last bit of pore-clogging buildup from your skin.

Step #2: Apply Your Serums and Creams
Next, nourish your skin with serums. Apply a few drops of the L'Oréal Paris Revitalift 1.5% Pure Hyaluronic Acid Serum into your palms and gently pat into your skin. Then, follow up with a creamy moisturizer to really lock in all that hydration. The L'Oréal Paris Age Perfect Collagen Expert Day Moisturizer With SPF 30 is an intensely hydrating face cream made with powerful collagen peptides and niacinamide to help tighten and moisturize skin. Plus, it wears well underneath makeup and won't cause a caking effect.

Step #3: Use SPF
SPF should always be included in your skin care regimen and the clean look emphasizes the need for it even more. Not only does SPF protect your skin from the sun's damaging rays and prevent premature skin aging, but it can also give your skin an instant subtle glow. If you're prone to forgetting sunscreen, try the L'Oréal Paris Age Perfect Rosy Tone Broad Spectrum SPF 30 Sunscreen, which is a moisturizer loaded with SPF 30. It's important to note that the U.S. Food & Drug Administration (FDA) recommends adding a quarter-sized amount of sunscreen on top to get the full dosage of SPF.

Step #4: Slick Hair Back
This part is totally optional. We all have different hair types and preferences, so if slicking your hair back isn't possible or you simply don't love the look, feel free to make your own adjustments here. To give the slicked back look a try, though, grab a comb and a maximum hold hair gel like the L'Oréal Paris Advanced Hairstyle Lock It Extreme Style Gel. Gently pull your hair back into a sleek bun, ensuring that the front pieces are laying flat around your crown. Then, smooth a dime-sized amount of the hair gel onto your strands to keep them slicked back and in place.

Step #5: Polish Your Brows
The clean look calls for brows as sleek as your hair. To do so, you'll need a clear eyebrow topcoat to brush your brows out until they're fluffy and to lock them into position. We recommend the L'Oréal Paris Unbelievabrow Longwear Brow Topcoat, Waterproof Universal Transparent for a waterproof, smudge-resistant and transfer-resistant finish that leaves brows sealed for up to 30 hours.

Step #6: Brighten Your Under Eyes
Because the clean look is a minimalist makeup look, there's no foundation needed. You can, however, reach for an under-eye concealer to instantly make your eyes look brighter, and overall make you look more put together. Dab a pea-sized dot of the L'Oréal Paris True Match Eye Cream in a Concealer 0.5% Hyaluronic Acid underneath your eyes using your finger or a beauty sponge.
Editor's Tip: Buff the product in an upward motion from your outer corner towards your brows for a more lifted look.

Step #7: Give Your Lashes Some Love
Finish up your bright-eyed makeup look by coating your lashes with a volumizing and lengthening mascara like the L'Oréal Paris Bambi Eye Mascara. In just a few swipes, the brush lifts and elongates every single lash.

Step #8: Finish With Lip Gloss
Top the whole no-makeup, makeup look off with a shiny lip gloss. The L'Oréal Paris Infallible Pro Gloss Plump Lip Gloss is available in shades ranging from a clear and a nude to a punchy purple and pretty pink, so you're guaranteed to find a color that suits you.
Next: How to Do Skinimalism-Inspired Bridal Makeup
Written By: Caitlyn Martyn, Photography: Chaunte Vaughn, Associate Creative Director: Melissa San Vicente-Landestoy, Art Director: Hannah Packer, Associate Creative Producer: Becca Solovay, Associate Content Director: Shalwah Evans, Makeup Artist: Jonet Williamson, Hair Stylist: Akihisa Yamaguchi, Wardrobe Stylist: Alexis Badiyi, Digital Tech: Erik Dalzen, Photo Assistant: Sam Kang, Model: Alexandra Van Zant
{ "@context": "https://schema.org/", "@type": "WebPage", "speakable": { "@type": "SpeakableSpecification", "cssSelector": ["speakable-content"] }, "url": "https://es.lorealparisusa.com/revista-de-belleza/maquillaje/tendencias-maquillaje/tiktok-clean-look" }
Descubrir más trucos y consejos
Ver todos los artículos
Mejora tu rutina
Muestra más amor a tu nuevo look:
makeup
{ "@context": "http://schema.org", "@type": "BreadcrumbList", "itemListElement": [ { "@type":"ListItem", "position": 1, "item": { "@id": "/", "name": "Home" } } , { "@type":"ListItem", "position": 2, "item": { "@id": "https://es.lorealparisusa.com/revista-de-belleza", "name": "Revista de belleza" } } , { "@type":"ListItem", "position": 3, "item": { "@id": "https://es.lorealparisusa.com/revista-de-belleza/maquillaje", "name": "Consejos de maquillaje para cada look" } } , { "@type":"ListItem", "position": 4, "item": { "@id": "https://es.lorealparisusa.com/revista-de-belleza/maquillaje/tendencias-maquillaje", "name": "Tendencias de maquillaje" } } , { "@type":"ListItem", "position": 5, "item": { "@id": "https://es.lorealparisusa.com/revista-de-belleza/maquillaje/tendencias-maquillaje/tiktok-clean-look", "name": "tiktok-clean-look" } } ] }