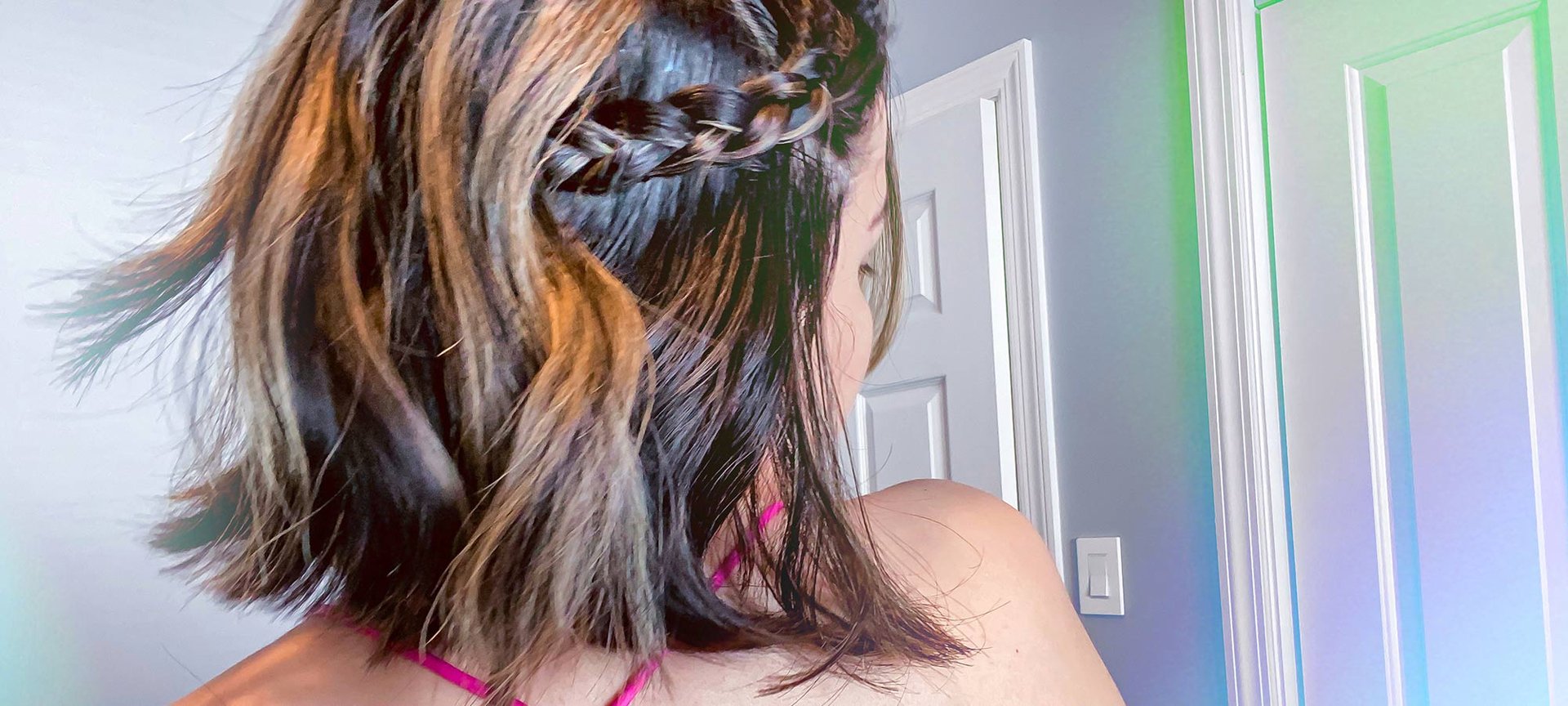 peinados cortos
15 Cute Braid Hairstyles For Short Hair
Short hair can rock braids, too!
Fun, braided hairstyles are often associated with long hair, but if you have short hair and want to sport braided looks, it's totally possible. With the right techniques, short braids can easily take your look to the next level. Between French braids on short hair, short box braids, short crochet braids, and more, the possibilities are vast. Below, we're sharing 15 braided hairstyles that are perfect for short hair.
SHORT BRAID #1: DINO BRAID
When you have short hair, it can be tricky to secure all of your hair into a single plait, but that doesn't limit your options. Some of the best braids for short hair feature a small, single braid with the rest of your short strands flowing. A prime example? The dino braid. Featuring a Dutch braid running down the center of your head, it makes for a beautiful look that you can wear casually or more dressed up for special occasions.
SHORT BRAID #2: SHORT BOB WITH BOX BRAIDS
Protective styles are both functional and stylish. We absolutely adore box braids, and once you imagine them with a chic bob, we have a feeling you'll want to jump on the bandwagon, too. It's easily one of the most flattering braided hairstyles for short natural hair! Head on over to our article, How to Create Box Braids, to bring this look to life.
SHORT BRAID #3: MESSY MINI PONYTAIL BRAID
If you have a bob or lob hairstyle, a ponytail is still totally doable. What's more, it looks super-cute on your length—especially when you add a fun braid to the mix. Opting for a loose ponytail that features a fishtail braid at your hair lengths is a great way to elevate a casual look.
SHORT BRAID #4: STRAIGHT BACK CORNROWS
Easy to style and even easier to maintain, there is a reason why straight back cornrows continue to be so popular. Simply part your hair from your hairline to the nape of your neck, making sure that it's about an inch wide in size. Clip the rest of your hair out of the way. Gather your hair into three even sections, and weave tight braids. Repeat until your mane is filled with straight back cornrows.
SHORT BRAID #5: CLASSIC CROWN BRAID
Want to test out a classic braided style? Try out the crown braid (also known as a halo braid). This braided hairstyle works to keep your tresses off of your face and show off your features. Not to mention, it doesn't skimp on style.
SHORT BRAID #6: WATERFALL BRAID
The waterfall braid is a popular hairstyle because of how glamorous and intricate it looks. It lets your strands flow—often in beautiful beachy waves—while the braided component makes it ultra eye-catching. If you have lob-length hair, this style is perfect for you. If you're looking to don the look with wavy hair, apply the L'Oréal Paris Elvive Dream Lengths Frizz Killer Serum Leave-In to tame frizz and add shine to your strands.
SHORT BRAID #7: HALF-UP BRAIDED TOP KNOT
Looking to show off your length while tying up your tresses? Try out the braided top knot hairstyle. Undeniably chic, this classic style can transition from morning to night with ease. Head on over to our article, How to Weave a Half-Up Braided Top Knot, to learn how to get the look.
SHORT BRAID #8: SWOOPED BANGS WITH A SIDE BRAID
If you love feminine, playful looks, this style checks all the boxes. All you need to do to get the look is brush your hair over to one side for a chic swooped shape. Next, gather the rest of your hair at the nape of the neck, divide it into three even sections, and create a traditional plait. Pull out your fringe for a loose, lived-in look.
SHORT BRAID #9: DUTCH SIDE BRAID
This complicated-looking braid is known for its inverted style, which instantly transforms your look. Often confused with a French braid, this style creates more volume as the pieces are weaved on top of the middle section, rather than underneath like a French braid.
SHORT BRAID #10: DOUBLE BANG BRAIDS
If you have short hair with bangs, this braided hairstyle is the perfect way to get your bangs out of your face while creating a unique, face-framing style. All you need to do is split your bangs into two sections, and braid them back towards your crown in French braids or Dutch braids.
SHORT BRAID #11: DOUBLE FISHTAIL BRAID
In the mood to try out a boho style? The half-up double fishtail braid is the perfect fit. It's simple to create, but it looks intricate and polished. Simply create two fishtail braids with the front sections of your hair on both sides and fasten them in the back with an elastic.
SHORT BRAID #12: HALF-UP JUMBO BRAID WITH WAVY HAIR
Jumbo braids have been getting tons of attention lately, and it's probably due to the statement they make. This style works wonders to frame your face and enhance your features. Start by applying a dime-sized amount of curl mousse, like the L'Oréal Paris Advanced Hairstyle CURVE IT Elastic Curl Mousse to your damp strands, then scrunch and let them air dry. Once your hair is dry, divide your hair into two sections so that the top half is a little bigger than the bottom. Clip the bottom section out of the way, and with the top section, create three-equally sized pieces at the start of your ear. Braid toward your other ear and pin the end of your braid in place. Release the bottom section, fluff your strands, and you're all set.
SHORT BRAID #13: BRAIDED PIXIE CUT
If you think having a pixie cut means you can't experiment with braids, think again. By keeping the sides of your hair short and maintaining a bit of length up top, you can create small braids that add dimension to your 'do.
SHORT BRAID #14: BRAIDED UNDERCUT
If you're into the undercut look but you're afraid to take the plunge and commit to a chop, try out the braided undercut. You can mimic the appearance of an undercut by French braiding your hair on one side of your head and leaving the other side down.
SHORT BRAID #15: BRAIDED HEADBAND
A great way to add some dimension to your hair while keeping your strands off of your face is by creating a headband braid. All you need to do is create a braid with a medium section of hair on one side of your head, pull it over your head and fasten it with a bobby pin behind your ear. Leave your fringe or a small section of hair out in front of the braided headband to create a more lived-in look.
Photo Credit: Melissa San Vicente-Landestoy
{ "@context": "https://schema.org/", "@type": "WebPage", "speakable": { "@type": "SpeakableSpecification", "cssSelector": ["speakable-content"] }, "url": "https://es.lorealparisusa.com/revista-de-belleza/peinado/peinados-cortos/braids-for-short-hair" }
Descubrir más trucos y consejos
Ver todos los artículos
Shop Featured Hair Style products
Discover More
{ "@context": "http://schema.org", "@type": "BreadcrumbList", "itemListElement": [ { "@type":"ListItem", "position": 1, "item": { "@id": "/", "name": "Home" } } , { "@type":"ListItem", "position": 2, "item": { "@id": "https://es.lorealparisusa.com/revista-de-belleza", "name": "Revista de belleza" } } , { "@type":"ListItem", "position": 3, "item": { "@id": "https://es.lorealparisusa.com/revista-de-belleza/peinado", "name": "Encuentra tu próximo look sexy" } } , { "@type":"ListItem", "position": 4, "item": { "@id": "https://es.lorealparisusa.com/revista-de-belleza/peinado/peinados-cortos", "name": "Peinados cortos" } } , { "@type":"ListItem", "position": 5, "item": { "@id": "https://es.lorealparisusa.com/revista-de-belleza/peinado/peinados-cortos/braids-for-short-hair", "name": "braids-for-short-hair" } } ] }