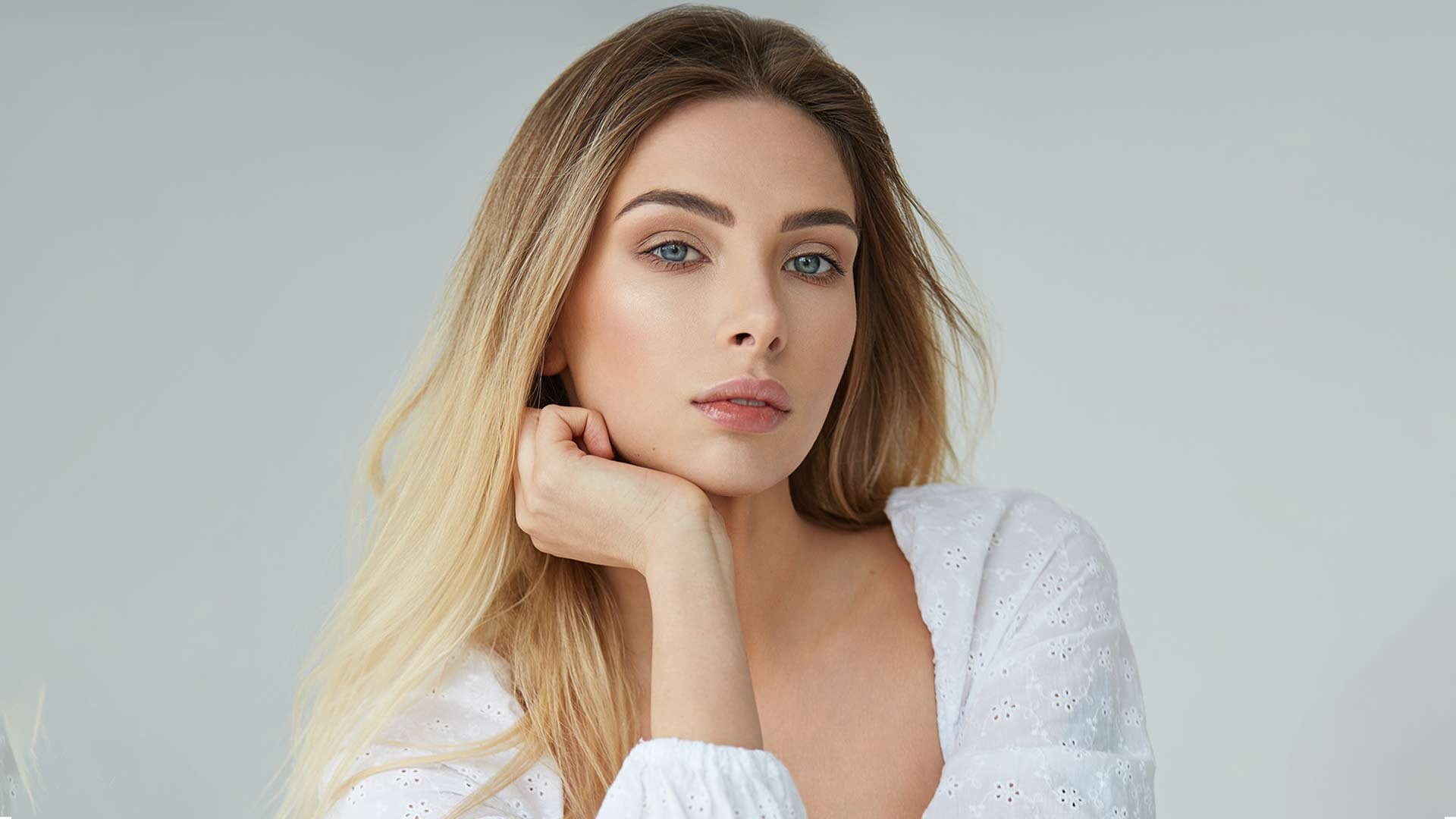 Gone are the days that grown out roots were something to disguise. It could be hard to believe that a look that showcases new growth and gives the impression that you skipped your last salon appointment would be in style. But times have officially changed.
Grown out roots have become a trend rather than a beauty faux pas. Now, beauty gurus and A-listers alike are rocking the look. A quick peruse through Pinterest posts on grown out roots is all the proof you need that this beauty look is an "it-girl" staple. If you're ready to hop on the bandwagon, we're here to show you the way. Ahead, we're sharing five ideas for sporting grown out roots. Plus, we're highlighting hair-care tips to keep your mane in mint condition.
#1: SHADOW ROOTS
What it entails: This look involves your stylist applying a hair toner or gloss in a shade that matches your natural hue. This is first applied to your roots using a smudging technique. Then, it's used on the mid-lengths of your hair to give the illusion of natural highlights. As a result, you won't have to make frequent trips to the salon to cover up harsh lines. This method keeps your dark roots intact as your mane grows out.
Pro-tip: You can also consult with your stylist about achieving a colorful take on the technique in order to give your mane loads of contrast. It's up to you whether you opt for a bright hue or keep things subdued with a muted shade. You'll just need to add regular touch-ups to your routine.
#2: TWO-TONE COLOR
What it entails: Two-tone color consists of rocking your natural hue from your roots down to the mid-length of your mane and coloring your ends a different, dyed shade. It gives your strands tons of contrast and allows you to put two shades on full display.
DIY tip: You can bring two-tone grown out roots to life, simply by allowing your mane to grow out. To accentuate the two shades, add some texture into the mix. Spritz your dry strands with the L'Oréal Paris Advanced Hairstyle BOOST IT High Lift Creation Spray to create a voluptuous and textured look.
#3: NATURAL ROOTS
What it entails: This trendy number consists of an inch or two of dark roots that transition into dyed strands without a fade. This gives you a natural look and a barely-there rooted appearance. While most grown out roots can be a bit bolder in appearance, this variation gives your mane a subtle touch of depth and contrast. You'll typically see this look on blondes and other light-colored manes.
Pro-tip: Ask your colorist to apply your desired color an inch away from your roots to pull off the look. On the flip side, you can also request for a lighter shade on your roots if your natural hue offers too much contrast.
#4: OMBRÈ
What it entails: Ombré is a long-lasting hair color trend that features a gradual transition of color from root to tip, with a dark base and light ends. It, like most grown out root styles, ensures that you won't have to rush into the salon for touch-ups.
DIY tip: Use the L'Oréal Paris Colorista Bleach Ombré Bleach to lighten the ends of your hair. Once complete, pick a semi-permanent hair color from the L'Oréal Paris Colorista Semi-Permanent Hair Color line to add some vibrancy to your strands. This hair dye lasts between four and eight shampoos, so you can try the trend without a full commitment.
#5: SOMBRÈ
What it entails: Sombré is a highlighting technique that gives your mane a subtle ombré look. It's achieved by strategically placing a blend of colors—dark hues at the roots and lighter shades weaved through lengths and ends—to create a more natural-looking fade.
Pro-tip: Consult with your stylist about which shades will pair best with your skin tone.
HOW TO CARE FOR GROWN OUT ROOTS
Now that you have the intel on different ways to wear grown out roots, you need to learn how to keep your mane in shape. Here are a few hair-care tips to help you stay ahead of the game.
TIP #1: REACH FOR A COLOR-SAFE HAIR-CARE SYSTEM
Since you've switched things up on the hair color front, your hair-care routine should follow suit. So, you'll need to swap out your go-to shower essentials for color-safe picks. While your roots are not colored, it's important to use color-treated products to keep your ends in tip-top shape. Try the L'Oréal Paris Elvive Color Vibrancy Protecting Shampoo and L'Oréal Paris Elvive Color Vibrancy Protecting Conditioner to keep your mane shiny and radiant.
Once or twice a week, use the L'Oréal Paris Elvive Color Vibrancy Repair and Protect Balm in place of conditioner for extra hydration. Leave the hair mask on for three to five minutes after shampooing, then rinse out.
TIP #2: ALWAYS WASH WITH LUKEWARM WATER
A hot and toasty shower may feel like the ultimate delight, but it's not the best option for your strands. Simply put, super-hot H2O can strip your hair of its natural oils, leaving you with a dry-looking mane. Play it safe and always turn down the dial.
TIP #3: EMBRACE YOUR NATURAL TEXTURE
Heat-styling tools can style your strands to perfection, but sometimes it's smart to switch things up. Consistent heat usage can take a toll on your hair and cause your color to fade. Show your strands some extra love with heat-free styling products. Apply a generous amount of the L'Oréal Paris Advanced Hairstyle BOOST IT Volume Inject Mousse to damp hair, scrunch, and go. Once complete, you'll have bouncy strands to play with.
On the other hand, if you do decide to use your hot tools, you'll need to reach for a heat protectant to shield your strands. Spritz your hair with the L'Oréal Paris Advanced Hairstyle SLEEK IT Iron Straight Heatspray before applying heat. This offering works to calm frizz, seals in shine, and provide 450-degree heat protection.
{ "@context": "https://schema.org/", "@type": "WebPage", "speakable": { "@type": "SpeakableSpecification", "cssSelector": ["speakable-content"] }, "url": "https://es.lorealparisusa.com/revista-de-belleza/coloracion/ideas-coloracion/grown-out-roots" }
Descubrir más trucos y consejos
Ver todos los artículos
Shop Featured Hair Style products
Discover More
{ "@context": "http://schema.org", "@type": "BreadcrumbList", "itemListElement": [ { "@type":"ListItem", "position": 1, "item": { "@id": "/", "name": "Home" } } , { "@type":"ListItem", "position": 2, "item": { "@id": "https://es.lorealparisusa.com/revista-de-belleza", "name": "Revista de belleza" } } , { "@type":"ListItem", "position": 3, "item": { "@id": "https://es.lorealparisusa.com/revista-de-belleza/coloracion", "name": "Ideas atrevidas de profesionales de la coloración" } } , { "@type":"ListItem", "position": 4, "item": { "@id": "https://es.lorealparisusa.com/revista-de-belleza/coloracion/ideas-coloracion", "name": "Ideas de coloración" } } , { "@type":"ListItem", "position": 5, "item": { "@id": "https://es.lorealparisusa.com/revista-de-belleza/coloracion/ideas-coloracion/grown-out-roots", "name": "grown-out-roots" } } ] }