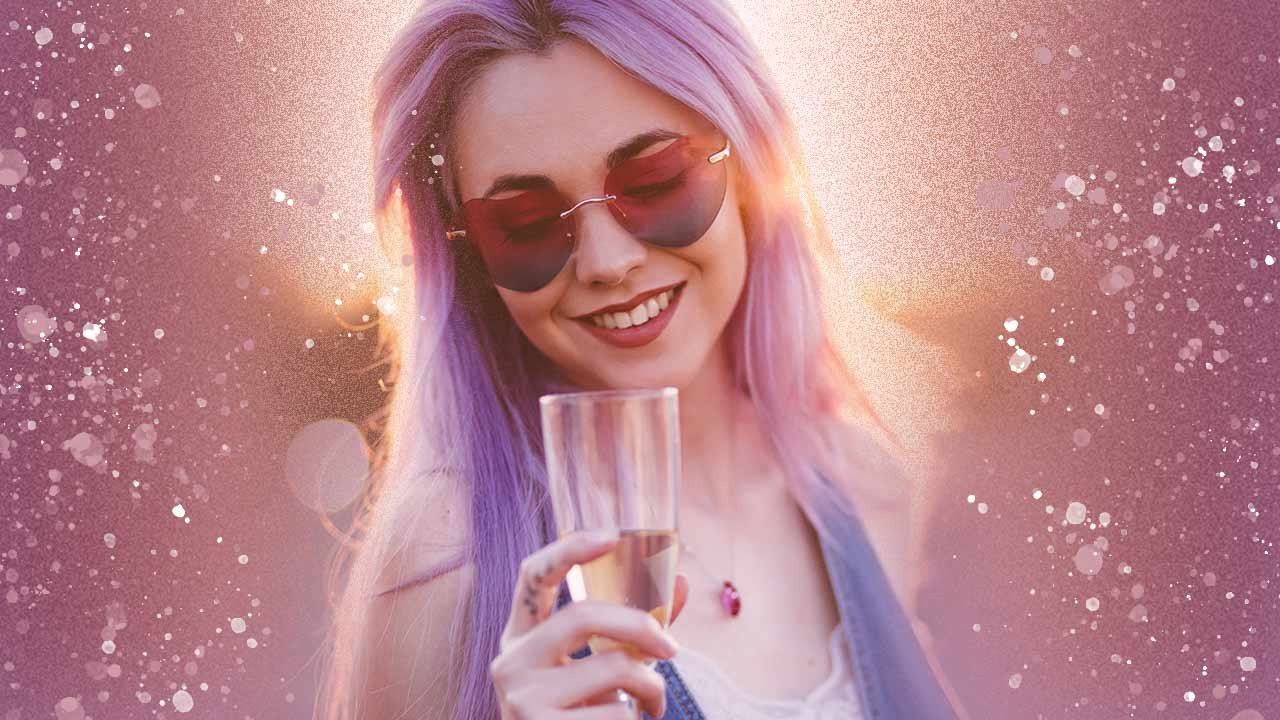 The purple hair craze isn't slowing down anytime soon. With makeup brushes coming back out for all of our post-vaccination events, fun and creative hair colors to match our makeup looks are bound to be everywhere. And we still can't get enough of pretty lavender hair. There's just something about this soft purple hue that's so magical—not to mention customizable to complement every skin tone, and for each season of the year. If you're looking into trying a lavender hair color keep reading because we're sharing ten ways to give lavender hair a try, as well as some lavender at-home hair dye recs so you can DIY the look.
LAVENDER HAIR COLOR IDEA #1: ROOTED LAVENDER
Love the idea of lavender hair but not sure if you're cut out for the upkeep? A rooted lavender hair color may be just what you need to take the plunge. The low maintenance option allows your natural hair color to transition to a lavender shade, increasing the time between necessary touch-ups.
LAVENDER HAIR COLOR IDEA #2: LAVENDER ROOTS
This style is like the opposite of a rooted lavender look in that your roots get a dose of the pretty purple color instead of your lengths and ends. If you have gray hairs that you want to disguise, this is a stylish way to do it while test driving the fun hue. For a quick fix, spritz the L'Oréal Paris Colorista Hair Makeup Temporary 1-Day Hair Color Spray in Pastel Lavender over your roots to get the look.
LAVENDER HAIR COLOR IDEA #3: LAVENDER HIGHLIGHTS
Another great way to try lavender hair without opting for an all-over color while adding dimension to your mane is with highlights. Whether you opt for traditional thin foils, face-framing strands, or a bit of balayage, there are plenty of ways to customize the look—not to mention it can work on any base color. For a temporary DIY, use the L'Oréal Paris Colorista Semi-Permanent Hair Color in Purple to give yourself those soft purple highlights that'll wash out in just a few shampoos.
LAVENDER HAIR COLOR IDEA #4: SILVER LAVENDER
If you like the idea of an icy hue you'll love silver lavender hair! The color involves a mix of icy, silver, and cool lavender highlights placed throughout a platinum mane. We recommend making an appointment with your colorist to get the custom color.
LAVENDER HAIR COLOR IDEA #5: LAVENDER OMBRÉ
We love a good ombré hair moment so naturally we had to add lavender ombré to this list. The best part about this hair color idea is that you can put the colors in whatever order you desire, and you can mix different shades of lavender for a monochromatic gradient or go from lavender to a bold berry hue if you want. Summer is the perfect time to try a two-tone hair color that lets a bright pink and purple play together.
LAVENDER HAIR COLOR IDEA #6: LAVENDER MONEY PIECE
If you want to make a statement with your mane, put your bold hue at the forefront with a lavender money piece. This highlighting technique lets you bring some interest to your locks with face-framing lavender strands. Make an appointment with your favorite stylist or colorist so that you can get your highlights placed in the desired spot to make your lavender standout for all the right reasons.
LAVENDER HAIR COLOR IDEA #7: LAVENDER DIP-DYE
Another great way to simply dip your toe—or strands, really—into the lavender trend is with lavender dip-dyed hair. This look lets you try a hint of lavender on just the ends of your hair for a little pop of color. How much lavender you want depends on you, but keep the length of your hair in mind so that you don't end up with a rooted lavender looks instead,
LAVENDER HAIR COLOR IDEA #8: PEEK-A-BOO LAVENDER
A peek-a-boo lavender hair color is the perfect way to give the trend a try if you'd rather keep your fun color hidden on certain occasions, and on display for others. This technique will color the under layer of hair a beautiful lavender shade that can be seen when you put your strands into an updo.
LAVENDER HAIR COLOR IDEA #9: BRIGHT LAVENDER
Ready to fully embrace the lavender hair trend? Look no further than a bright all-over lavender hair color! You know what they say—go hard or go home. If you want to make a statement with your mane, we encourage you to give it a try.
Editor's Tip: If it feels like a big commitment and you need some guidance before you go all in, use the L'Oréal Paris Haircolor Concierge to schedule a one-on-one video consultation with a professional colorist, or to speak with a live expert who can address your hair color questions.
LAVENDER HAIR COLOR IDEA #10: PASTEL LAVENDER
Last but not least, we love the look of a pastel lavender mane. Pastels are on-trend for any time of year, but we particularly love this hair color come spring and summer. Keep in mind that if you're starting with a darker base—like black or brown hair—and want to give a pastel lavender hue a try, you'll likely need to bleach your hair beforehand. If that's the case, your best bet is to head to the salon to ensure your pastel hue reflects your hair color inspiration!
Photo Credit: Simone' Tullos Johnson
{ "@context": "https://schema.org/", "@type": "WebPage", "speakable": { "@type": "SpeakableSpecification", "cssSelector": ["speakable-content"] }, "url": "https://es.lorealparisusa.com/revista-de-belleza/coloracion/tendencias-coloracion/lavender-hair-colors-and-dye" }
Descubrir más trucos y consejos
Ver todos los artículos
Shop Featured products
Discover More
{ "@context": "http://schema.org", "@type": "BreadcrumbList", "itemListElement": [ { "@type":"ListItem", "position": 1, "item": { "@id": "/", "name": "Home" } } , { "@type":"ListItem", "position": 2, "item": { "@id": "https://es.lorealparisusa.com/revista-de-belleza", "name": "Revista de belleza" } } , { "@type":"ListItem", "position": 3, "item": { "@id": "https://es.lorealparisusa.com/revista-de-belleza/coloracion", "name": "Ideas atrevidas de profesionales de la coloración" } } , { "@type":"ListItem", "position": 4, "item": { "@id": "https://es.lorealparisusa.com/revista-de-belleza/coloracion/tendencias-coloracion", "name": "Tendencias de coloración" } } , { "@type":"ListItem", "position": 5, "item": { "@id": "https://es.lorealparisusa.com/revista-de-belleza/coloracion/tendencias-coloracion/lavender-hair-colors-and-dye", "name": "lavender-hair-colors-and-dye" } } ] }